Katsuouji Temple & Daruma Osaka
Katsuouji (Katsuoji), The Victory Temple, lies in the mountains north of Osaka, in the city of Miho, pilgrims come to pray for personal triumphs: passing exams, finding a job, getting a driver's license.
Katsuouji Temple 勝尾寺: To the Winner Goes the Eye
by Alan J. Wiren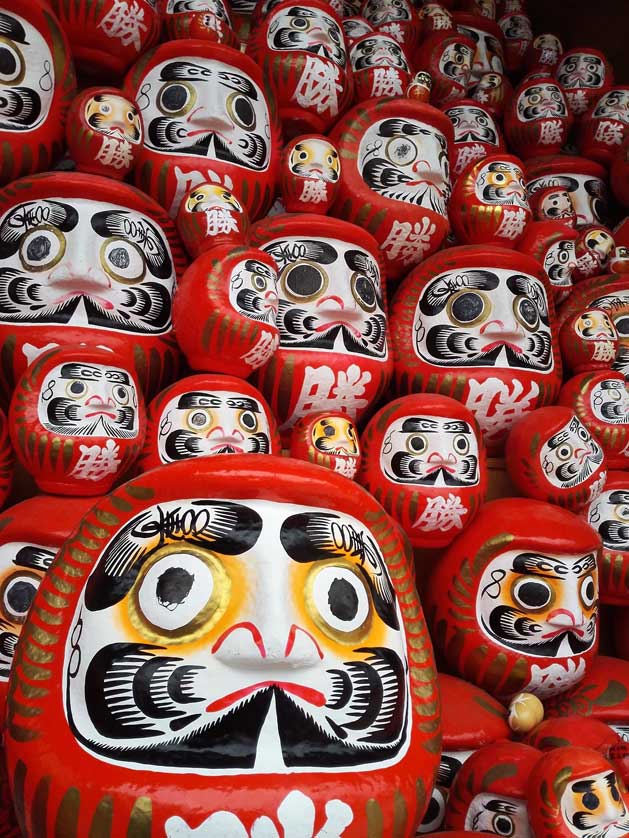 Daruma Dolls, Katsuouji Temple, Osaka, Japan
In the mountains north of the plain of Osaka, in the city of Miho, nestles Katsuoji, nicknamed "The Victory Temple", but "victory" seems too narrow a word to encompass the hopes of all her modern pilgrims.
Japanese military leaders have prayed there for victory, but most come, now, to pray for more personal triumphs: passing exams, finding a job, getting a driver's license. No aim is too great or to small.
The idea of winning is not at the temple's roots. Katsuoji's history began with twin brothers who were Buddhist priests and chose to retire from the world and devote themselves to prayer. It was not too long before the world came after them.
In 727 the brothers built their little hut on the side of a mountain north of Osaka. The mountain was one regarded as having great spiritual power. Thirty-eight years later, Prince Kaisei, son of Emperor Konin, joined the brothers as a student of Buddhism.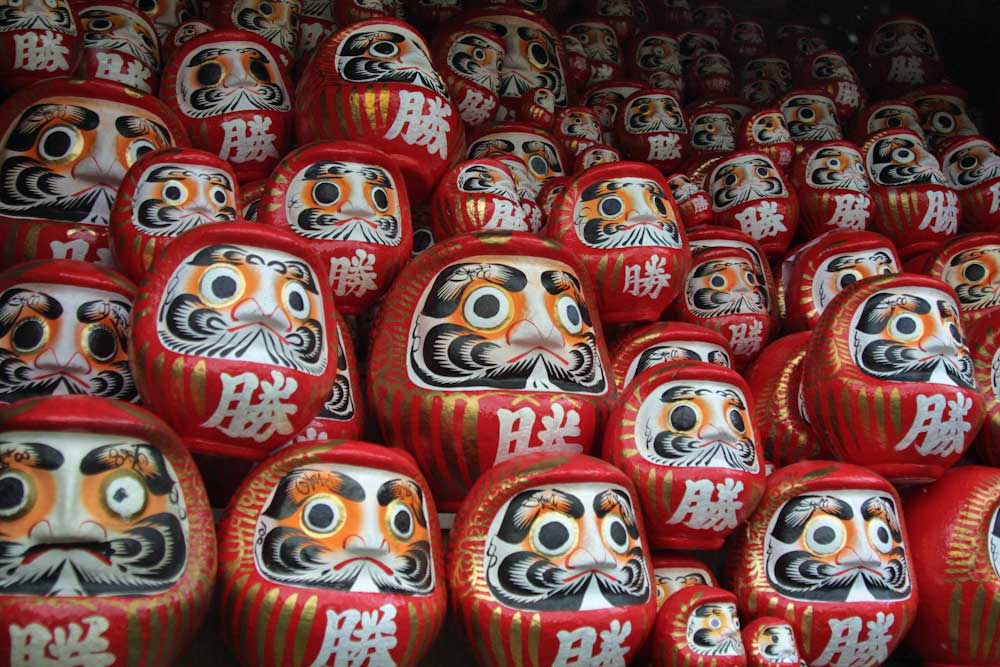 Daruma Dolls, Katsuouji Temple, Osaka, Japan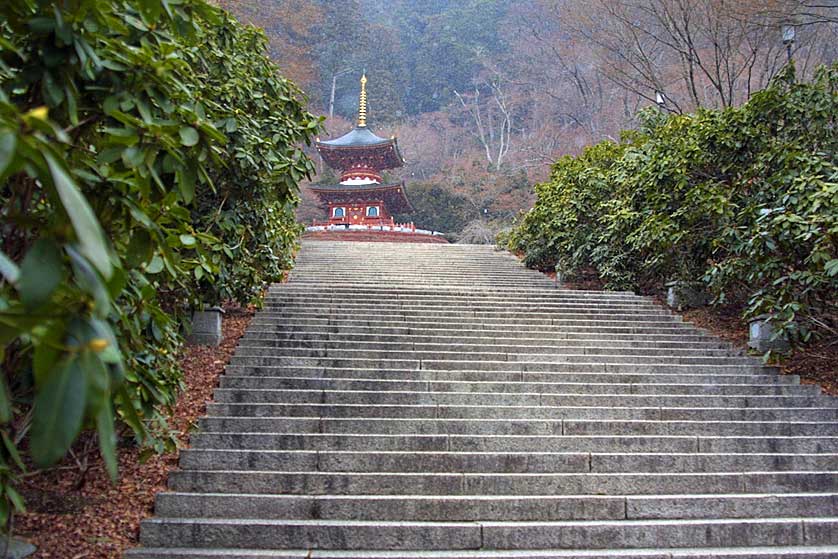 Katsuouji Temple, Osaka, Japan

Prince Kaisei
During his tenure, Prince Kaisei built a temple called Mirokuji (temple of Miroku) on the site. Miroku is an incarnation of Buddha who has vowed to save all souls who have not found enlightenment on their own, and is expected to appear in a little over five and a half billion years.
In the year 780, a priest named Myokan contributed a deity to the temple. Myokan was said to be a reincarnation of Kannon, the goddess of mercy (another manifestation of Buddha). Legend tells that Myokan brought together eighteen children at Mirokuji, where, together, they carved a sandalwood statue of Kannon with one thousand hands.
The work was done between the eighteenth of July and the eighteenth of August, and some say this began the Japanese tradition of consecrating the eighteenth day of each month to Kannon. The statue became the main deity of the temple.
Offering hope for the future and mercy in the present, Mirokuji grew in both size and popularity. During the tenure of Gyojun, Mirokuji's sixth holy priest, something happened that changed not only the name of the temple, but its reputation and patronage as well. The emperor Seiwa got sick.
In the ninth century, the cure for a Japanese emperor was prayer, and the imperial court prayed with all their might -- to no avail. Emperor Seiwa attributed his recovery to the prayers of Gyojun at Mirokuji.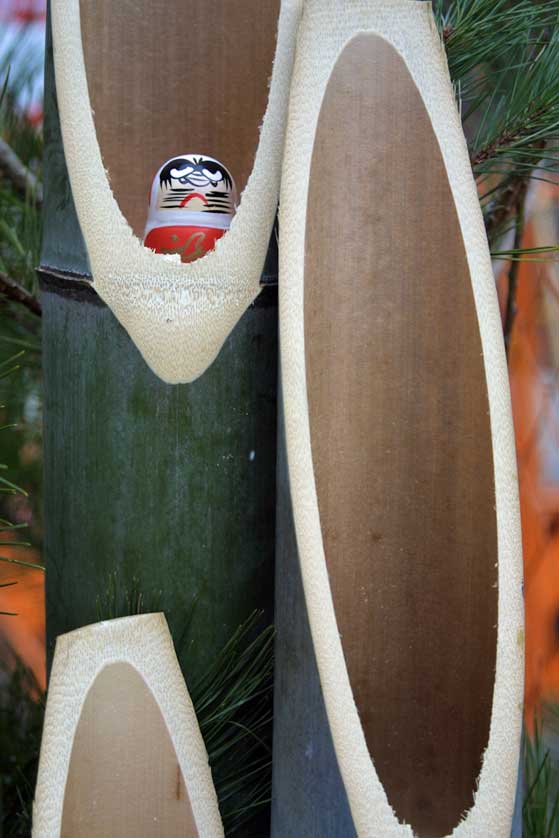 Daruma in a cut bamboo, Katsuouji Temple, Osaka, Japan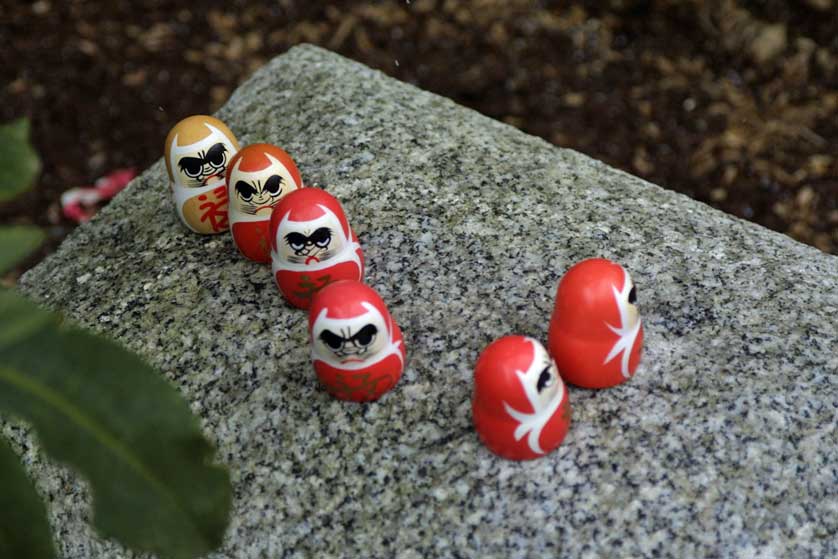 Katsuouji Temple, Osaka, Japan
Mirokuji Becomes Katsuouji
In acknowledgment of the power of the prayers offered for him by Gyojun, the emperor granted him the right to rename Mirokuji as Katsuouji. This name is composed of three characters. Katsu means "win", Ou means "emperor", and ji means "temple". So the name that Emperor Seiwa gave to the temple was meant to show that the power of the temple's prayers had bested that of even the imperial house.
The temple, however, did not adopt the name as it was given. The character for "emperor" was replaced with one that is pronounced with a similar sound, o (not the extended ou sound of the character for "emperor"), and with the meaning of "tail".
"Winning Tail Temple" is the name it goes by today, although when the local people speak of it, they still use the pronunciation, Katsu-ou-ji.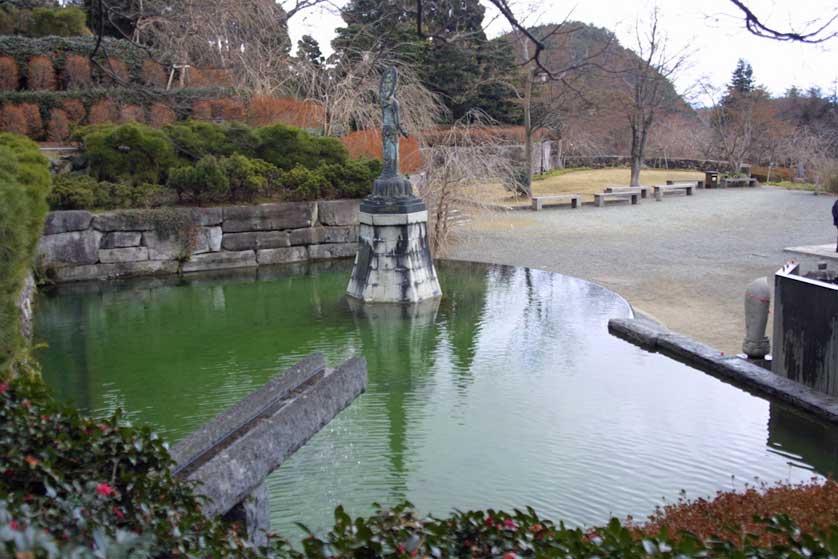 Statue and pond, Katsuouji Temple, Osaka, Japan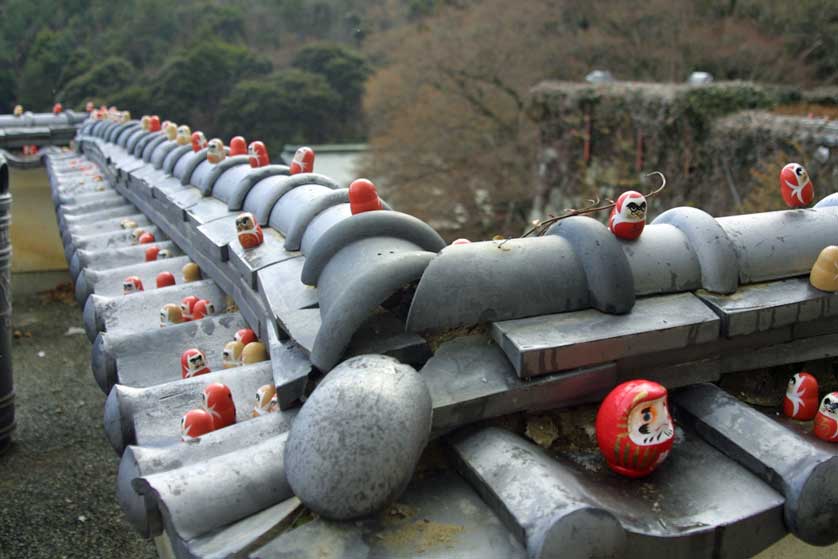 Katsuouji Temple, Osaka, Japan

Winners' Luck
Gyojun's modesty did not prevent Katsuoji from gaining the reputation of a temple of winners' luck, and it became a destination for people with hopes of victory, when victory was in fashion. The Genji and Ashikaga clans are known to have prayed there during Japan's Warring States period.
In modern times, Katsuoji's reputation has brought upon itself a kind of peaceful invasion. The temple seems to overflow with daruma, little, round dolls that are a talisman of determination and success in Japan.
Daruma Dolls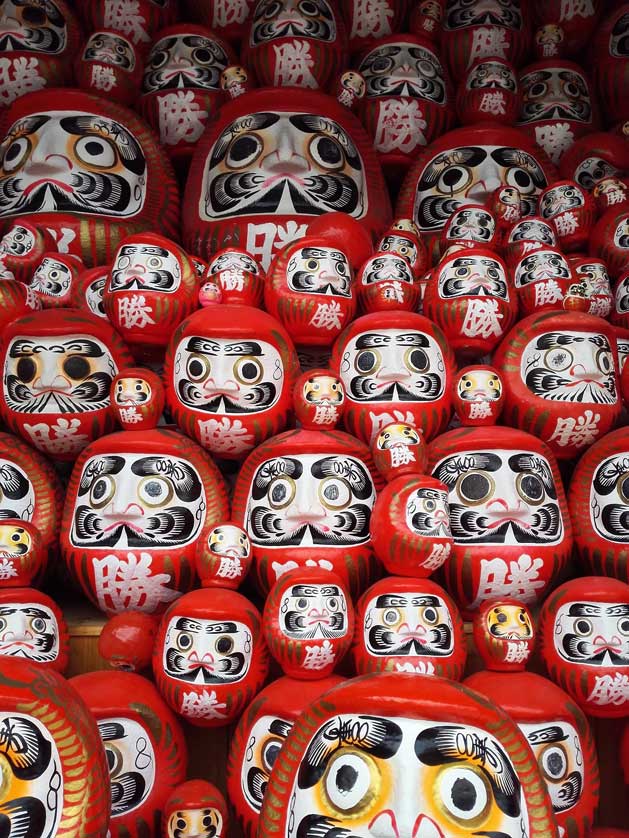 Daruma Dolls, Katsuouji Temple, Osaka, Japan
The daruma doll represents the founder of Zen Buddhism, Bodhidharma, who according to legend, sat in meditation for so long that his arms and legs atrophied and fell off.
Thus the dolls are rounded at the base and, when knocked over, return to their upright, standing position.
Long lines of tiny Daruma, in their bright red robes, stand like guards along Katsuoji's gates: they peep out from crevasses in the rocks, perch on tree branches, and huddle in the ancient stone lanterns. There are Daruma for sale at Katsuoji.
There are little Darumakuji: a two-inch high Daruma doll with a slip of folded paper printed with one's fortune inserted into its hollow base. There are more traditional Daruma, which range from the size of a fist to the size of a beanbag chair, and whose eyes are blank, white circles.
If you buy one of these with a goal in mind, you should write your aspiration on the back, and at the same time paint a black circle in just the Daruma's right eye.
Fill in the Daruma's Left Eye
When you have achieved your target, you may then fill in the Daruma's left eye. If you bring the doll back to Katsuoji, they will paint the circle in the left eye for you in a deeply meditative and thankful manner, and you can add your Daruma to the great mound of two-eyed dolls that silently testify to Katsuoji's power. Otherwise, paint it in yourself and keep it as your own personal testimony to its (and your!) power.
While Katsuoji embraces its reputation as a place of winning power, it has also remained true to its beginnings as a place of spiritual dedication and compassion.
Like many others in Japan, the temple grounds were destroyed during war time, but they have been beautifully restored thanks to gifts of historically wealthy and powerful families.
One of her most aesthetically pleasing features is a wide pool, fed by a trickling waterfall. In front of the pool you will find a figure of the goddess Mizuko Kannon. Katsuoji's monks pray at regular intervals throughout the day to aid her mission: salvation for the souls of stillborn children.
The quiet mountain side is still an excellent place to escape to. Katsuoji maintains a meditation training center with facilities for individuals and groups, and sleeping accommodations and baths for up to four hundred.
Access - Getting To Katsuoji
Katsuoji, north of Osaka is a thirty minute bus ride from Kita Senri Station on the Hankyu Line. Tel. 072 721 7010 Fax. 072 722 6665. www.katsuo-ji-temple.or.jp. The temple is close to Minoo Park.
Text and Photos by Alan Wiren
Other articles by Alan Wiren
All the themes of the city