Cat Street Tokyo
Cat Street Tokyo 旧渋谷川遊歩道路 キャットストリート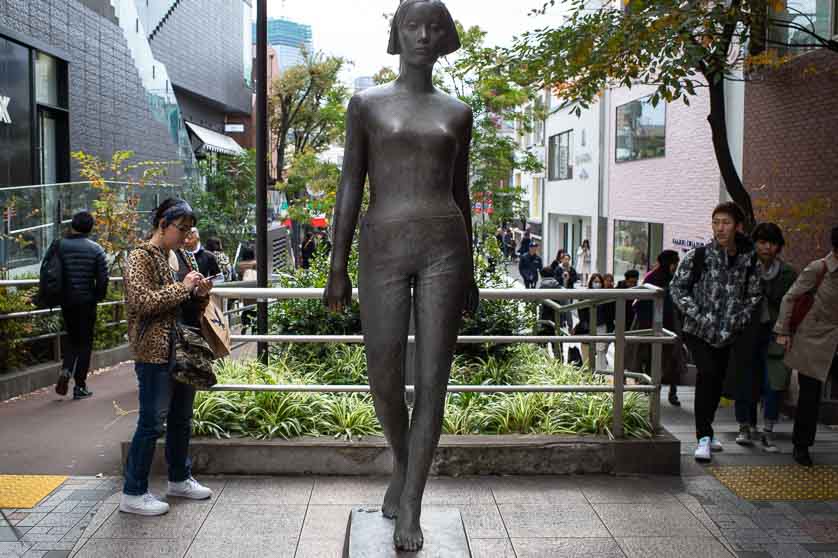 Entrance to Cat Street from Omotesando—towards Shibuya, Tokyo
Cat Street is the nickname for a mostly pedestrianized alley in Tokyo that runs between Harajuku and Shibuya. Cat Street is a haven of hip culture dedicated to youth fashion. The formal name for the street is Kyu-Shibuya-gawa Yuhodoro (or "Old Shibuya River Pedestrian Lane"), often shortened to "Yuhodo." From Harajuku, its highest elevation, it goes down to and across Omotesando Boulevard (landmarks: Ralph Lauren store and Gyre shopping center), and continues as a pedestrianized street down to Miyashita-koen intersection in Shibuya.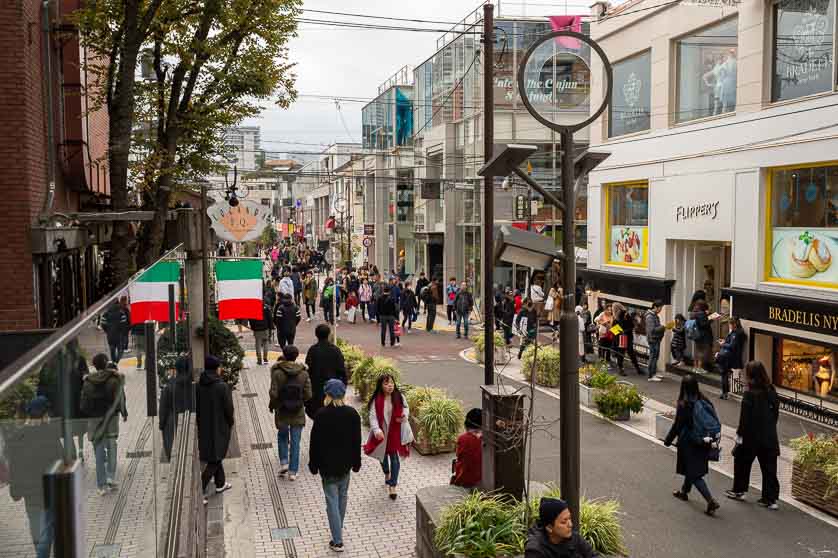 Cat Street, Shibuya, Tokyo
History
Cat Street was created on the bed of a stream that was diverted underground in 1964, as part of the preparations for the Tokyo Olympics. (Part of the Olympic village from that time can be seen at the top of Omotesando Boulevard, a stylishly designed apartment block called "Co-op Olympia.")
Cat Street Shopping
The very upper - Harajuku - end of Cat Street is mainly residential, with an increasing concentration, as you walk down, of fashion boutiques (including second-hand clothing), bars, food stalls, eateries and cafes. The fashion and food here tends to hole-in-the-wall and slightly off-the-wall; but also with many well-known and high-end name-brand stores along and off either side of it.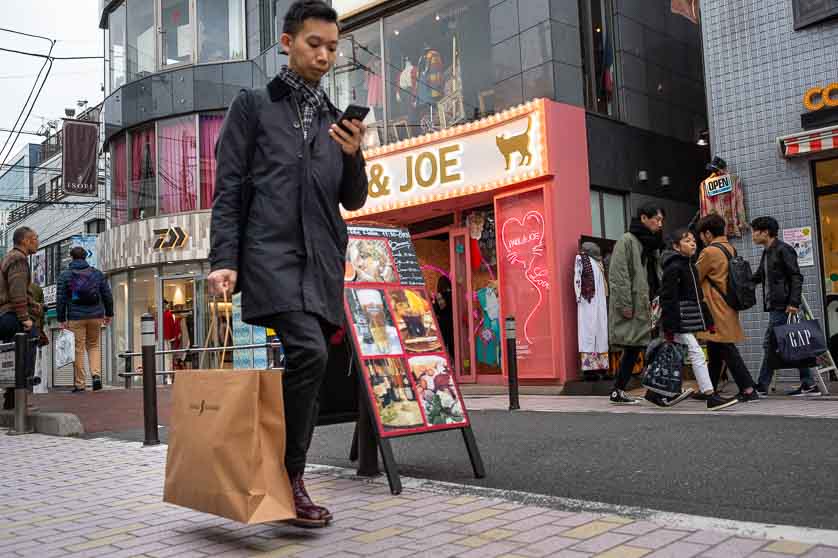 Shopping on Cat Street, off Omotesando, at the Shibuya end, Tokyo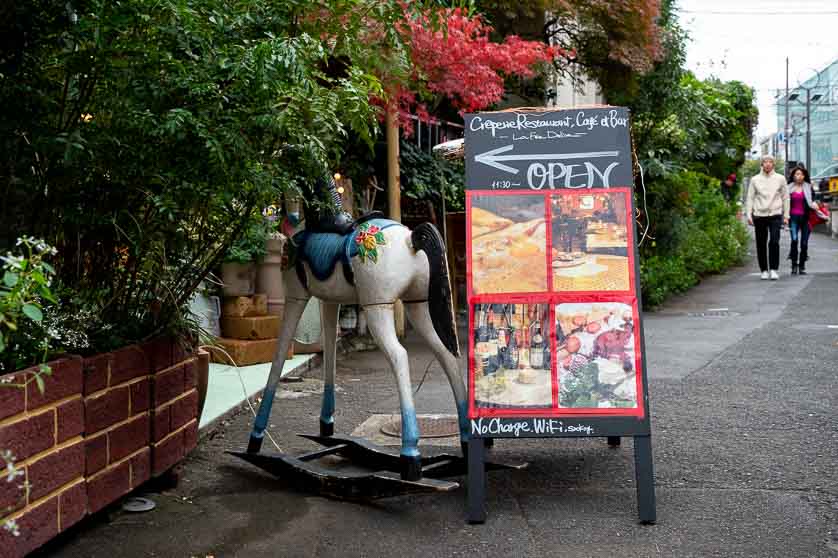 Cafe entrance off Cat Street, Shibuya, Tokyo
Cat Street Atmosphere
Cat Street is very different from the jam-packed, excitable, self-absorbed teenage scene that is Takeshita-dori Avenue in Harajuku. Cat Street has an understated vibe, much like the Minami-Aoyama fashion district a little to the east/south-east. Despite its relative fame, Cat Street is a back-street with mostly a back-street feel: not overly busy, not in-your-face, not hard-sell, but with plenty of novel, memorable merchandise to wear, eat and drink, all the same.
Cats?
Finally, Cat Street is catty in name only: an alley for cool cats who aspire to strutting the catwalk, rather than actual Felis catus. Do not expect to find anything feline here, and you won't be disappointed.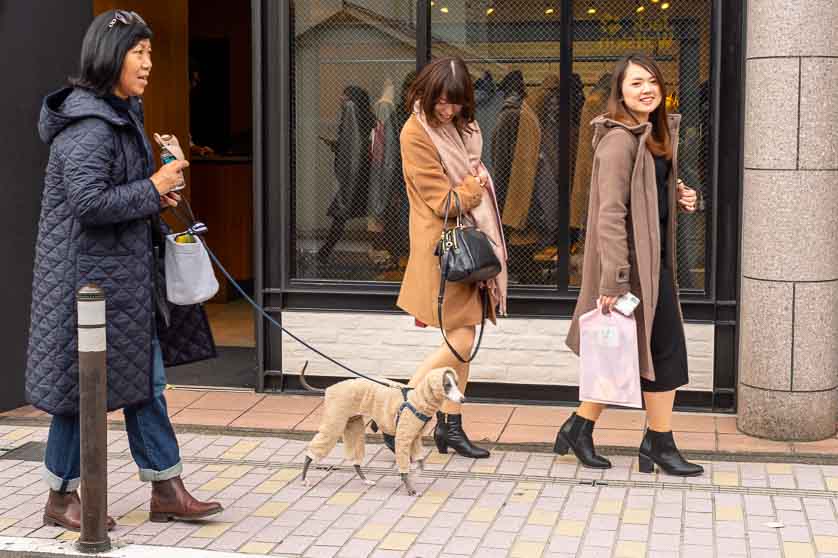 Walking the dog on Cat Street
Access
Cat Street is 1.25 km long, so offers plenty of different access options from various railway stations. Click on a station name below for directions to Cat Street.
From Harajuku Station
From the Takeshita Entrance of Harajuku Station, cross the road and go under the archway to Takeshita-dori Avenue, the usually jam-packed pedestrianized alley that is the center of the Harajuku fashion scene, with its frilly, trademark Lolicom ("Lolita complex") look. 350 meters on, you come out at Route 305 ("Takeshita-guchi" intersection). Keep going straight across Route 305. The fifth street on your right is Cat Street, which extends both right and left: a further 280 meters to your left, and almost a kilometer to your right, across Omotesando Boulevard and all the way to Shibuya.
If you're more into the elegance of Omotesando Boulevard rather than the crowded brouhaha of Takeshita-dori, from Harajuku Station take the Omotesando Exit, cross the street, go right as far as Omotesando Boulevard, which slopes down to your left. Just before the pedestrian bridge across the boulevard, Cat Street extends right and left off Omotesando. Turn right to go down Cat Street in the Shibuya direction.
From Meiji-jingumae "Harajuku" Station
-From Meiji-jingumae "Harajuku" station on the Chiyoda Line and Fukutoshin Line, do a U-turn out of Exit 4, go across Meiji-dori Avenue (Route 305) and keep going 150 meters down Omotesando Boulevard to just before the pedestrian bridge.
Omotesando Station
-From Omotesando Station on the Ginza Line, Hanzomon Line and Chiyoda Line (although from the Chiyoda Line, it is best to get out at the next stop: Meiji-jingumae "Harajuku" Station, go out Exit A1 and walk 400 meters along Omotesando Boulevard to the pedestrian bridge. Cat Street intersects Omotesando Boulevard left and right just after the pedestrian bridge.
Shibuya Subway Station
From Shibuya Station on the Hanzomon and Fukutoshin subway lines, take Exit 13, cross Mitake-dori Avenue, staying on Route 305. 75 meters along, Cat Street forks off to the right, just before you get to the pedestrian bridge. The pedestrianized shopping zone starts from about 180 meters along.
Shibuya JR Station
From Shibuya Station on the JR Yamanote Line, take the Miyamasuzaka Exit, cross the Miyamasuzaka Intersection (on the other side of the bus station) diagonally and walk 330 meters up Meiji-dori Avenue (Route 305), crossing another big intersection, Miyashita-Koen on the way. Cat Street forks off to the right, just before you get to the pedestrian bridge. The pedestrianized shopping zone starts from about 180 meters along.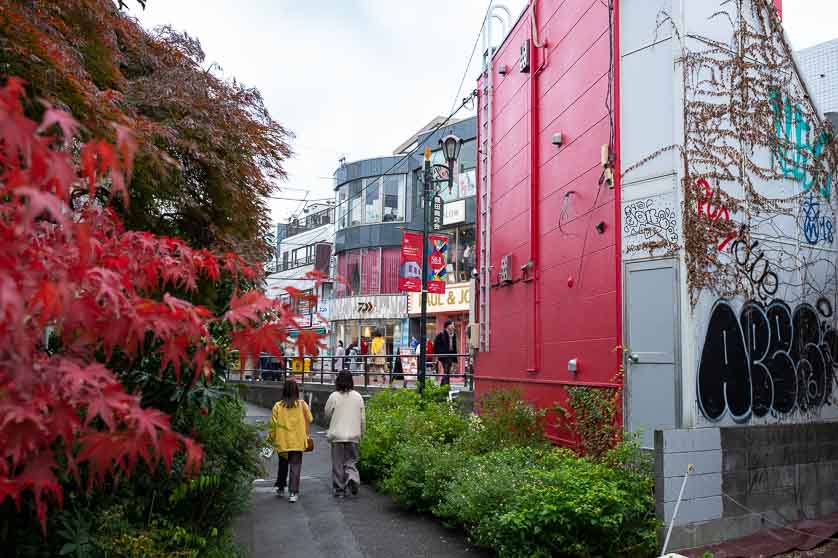 Side ally off Cat Street, Shibuya, Tokyo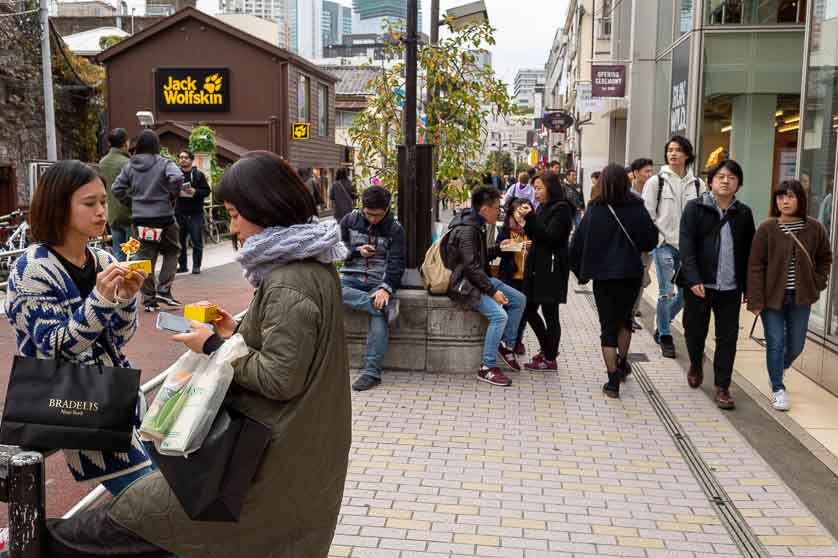 Enjoying snacks on Cat Street, Shibuya, Tokyo
Accommodation Near Cat Street
The following are recommended budget, mid-range, and luxury accommodation options near Cat Street.
The Millennials Shibuya is a future-themed capsule hotel with all the mod cons, just west of Cat Street, in Shibuya. The capsule bed is spacious, there is a clean, modern bathroom with a clean towel available, and common areas with fridge, tea/coffee facilities, etc. where you can relax - and even a 24/7 business center. A great budget option.
Dormy Inn Premium Shibuya-jingumae is a suberbly well-equipped business hotel not far from Cat Street, partway between Harajuku and Shibuya. As well as a bathroom/toilet in every room, there is a Japanese-style public spa bath for guests to enjoy, plus a coin-operated launderette and drink vending machines onsite. Non-smoking. Vegetarian meals available. Free WiFi.
The Shibuya Tokyu REI Hotel is at the Shibuya end of Cat Street, a short walk from Shibuya station. While the rooms here are not the biggest, the hotel is very conveniently located, clean, comfortable, and good value for money.
The Trunk Hotel is a clean, modern, stylish accommodation that is a hybrid of Western and Japanese in its interior decoration and facilities. For the independent traveler, with all the conveniences of home, including a well-equipped kitchen. Spacious, comfortable luxury, and with very helpful staff on hand. Just off Cat Street at the Shibuya end, in quiet surrounds.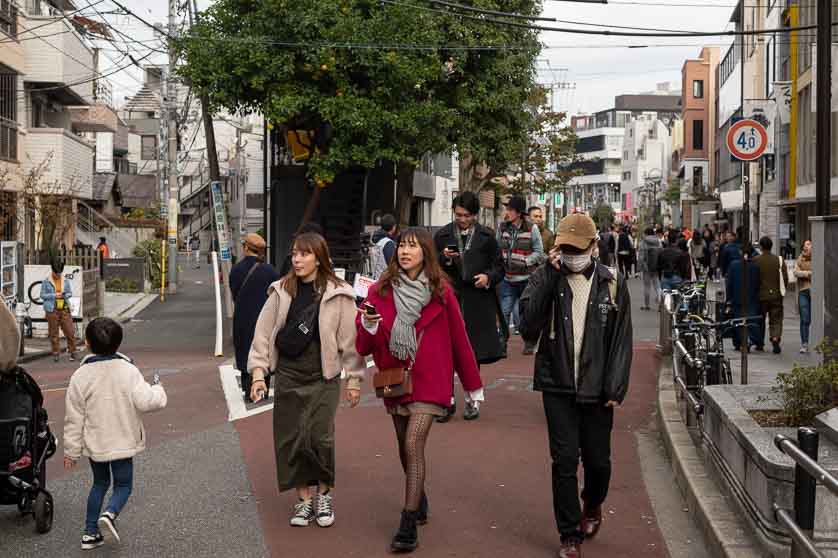 Start of Cat Street at the Shibuya end, Tokyo
Cat Street in Tokyo is a youth alternative fashion shopping and dining alley in the Jingumae district of Shibuya ward, Tokyo, that intersects with the famous Omotesando fashion street. It has nothing to do with actual cats.
All the themes of the city