Hachijo Island
Hachijo Island 八丈島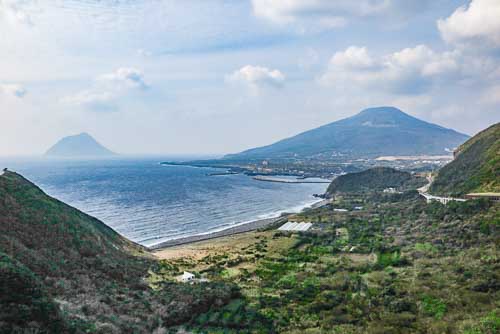 Hachijo Fuji-san (right) and Hachijo-kojima Island (left) from Osaka Tunnel, Hachijo Island
Hachijo Island (Hachijo-jima) is a lush, green, sub-tropical island in the Philippine Sea formed by two adjacent volcanos, and is the most southerly island of the Izu Island chain. It is about 50 minutes by plane from Haneda Airport, Tokyo, and is administered by the Tokyo Metropolitan Government.
Hachijo Island attracts visitors for its jungle-like greenery, ocean, bird life, and distinctive cultural heritage, especially its sericulture and kihachijo silk-weaving. Being volcanic in origin, the island has several natural thermal springs in its south-west for bathing and relaxation.
Scuba diving and snorkeling are popular pastimes for visitors to Hachijo-jima, with its coral, tropical fish, and underwater lava formations. There are numerous diving stores, all in proximity to the airport. The island's beaches - the water warm almost until winter - attract surfers. However, swimmers beware: Hachijo has a very rugged, mostly inhospitable coastline with only one half-decent beach (and camping site), Sokodo, directly east of the airport.
The island's two main mountains are the volcanos Mt. Mihara (650 m) in the south-east and Mt. Nishi (850 m) in the north-west. Mt. Nishi is more commonly referred to as Hachijo Fuji-san for resembling Japan's most famous peak. Both make for good hiking, and of course great views. Trail maps are available at information spots.
Hachijo Island is a major exporter of Phoenix roebelenii palms, and also cultivates aloe vera, so you will encounter numerous plantations of both.
Tiny, uninhabited Hachijo-kojima Island, about 4 km west of Hachijo Island, is a volcano formed around the same time as Hachijo.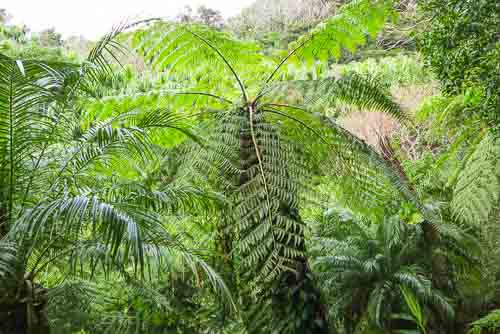 Tree ferns, Uramigataki, Hachijo Island
Driving on Hachijo Island
Hachijo is a small island, easily navigable, and most of its roads are wide and well maintained. Only in the south-east of the island is driving discouraged because of the winding, narrow, one-car-width roads primarily for use by farmers. Rental cars are available, but book early.
NB Attractions are poorly signposted on Hachijo Island. Drive slowly and attentively and be prepared to have to turn around (safely!) and retrace.
The island has a municipal bus service (blue and white buses), but buses are infrequent.
Hachijo History
Human habitation on Hachijo Island dates back about 6,000 years, to the Jomon period. Like Sado Island in the Japan Sea and other islands in the Izu chain, Hachijo Island was a convict island during the Edo period. It is now a popular domestic tourism destination that booms in summer, but is verdant and temperate even in mid-winter.
Bird of paradise plants and Phoenix roebelenii palms, Hachijo Island
Hachijo Sights
Hachijo Island's main attraction is the rugged, often wild, volcanic island itself and its teeming natural heritage. A trip here is generally closer to a wilderness than a resort experience and rambling is rewarded with discoveries of unspoiled beauty. The following are places to start.
The main settlement of Mitsune is just east of the airport and is the best place for shopping and restaurants, however be warned that everything closes very early.
The Hachijojima Visitors Center is a large, modern facility on the immediate south side of Hachijojima Airport, and is a good place to start your Hachijo experience. The Visitors Center has information on all the attractions available on the island, as well as engaging, well-designed exhibits on the island's geography, geology, history and wildlife. There is information available in English, and a highly recommended 15-minute introductory movie.
Reeves's muntjac, or kyon, Botanical Park, Hachijo Island.
Hachijo Botanical Park (Hachijo Shokubutsu Koen) surrounds the Visitors Center, and is an undulating 20 hectares (50 acres) of walkways, gardens, and landscaped plazas featuring the island's flora. It includes an enclosure of Reeves's muntjacs (kyon in Japanese), which are delicate, dog-sized deer-like animals from China. There is a scenic look-out on a prominence, and a "bird sanctuary" (two hides overlooking a pond).
Park accessible 24/7. Visitor Center open 365 days, 9 am-4.45 pm. Free car parking.
The Hachijojima History and Folk Museum (八丈島歴史民俗資料館), a minute's drive south of the Visitor Center along Route 215, is a big, old structure showcasing a wide range of the island's resources and activities from wildlife, to seashells, to ancient pottery to the silk making process to traditional everyday living. It is also a repository for old historical documents and photographs. The spacious grounds contain more examples of traditional sailing, pottery and architecture. An interesting, variegated collection. Hours 9 am - 4:30 pm. 360 yen for adults.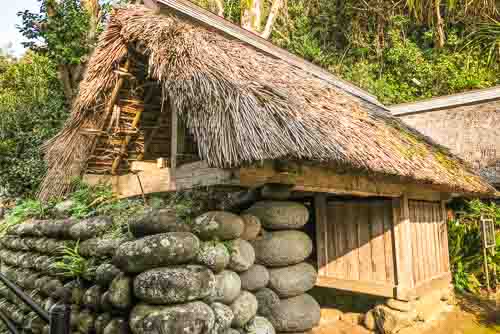 Furusato Mura, with round stone wall, Hachijo Island.
Furusato Mura is a reconstructed traditional village in the area of the island's first settlement, called Jinyaseki ("settlement ruins"). Walls of precisely laid spherical stones line the roads, dating from 1528. You can walk there from the Hachijojima History and Folk Museum along Hachijo's most ancient road. By car it is another 750 meters on (look for the public telephone box). Picturesque Furusato Mura is on the southern edge of the stone wall district and has various thatched dwellings, storage houses and stables. Entry is free.
Through the Osaka Tunnel (built in 1907) is the island's geothermal area, on the southern and eastern slopes of Mt. Mihara. The tunnel is high up, approached by a bridge, and there is a parking spot in front of its northern mouth to stop and admire the view from.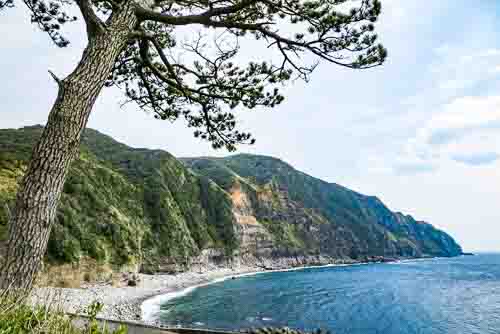 Old Aigae Port, Hachijo Island.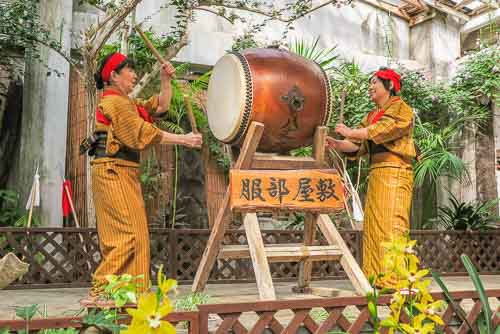 Traditional drumming performance at Hattori Yashiki, Hachijo Island
About 5 km on from Osaka Tunnel is Uramigataki, Hachijo Island's most enchanting natural walkway through a wild, wooded valley. The main attraction is a gentle waterfall which visitors can walk behind. Especially for the colder months is the outdoor, covered Yutori-no-Yu Uragamitaki Onsen thermal pool open to the green surrounds - and complete with changing room - that visitors are free to use. Bring swimwear and a towel.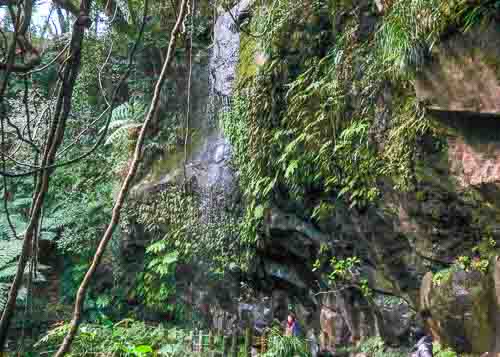 Uragamitaki Falls, Hachijo Island
Hachijo Thermal Springs
There are six onsen (thermal baths, or hot springs) in this area, two of which, the Kirameki footbath at the former Aigae Port, and the above-mentioned Uramigataki Hot Spring, are free. Miharashi is the recommended pay-for facility, and includes outdoor pools with a magnificent ocean view. 10:30 a.m. - 9:30 pm (last entry 9 p.m.), closed Tuesday except when Tuesday is a national holiday. 500 yen for adults.
Hot spring passes are available on Hachijo Island:
-a one-day pass for one-time use of each hot spring (700 yen, sold at the hot springs)
a two-day "Buspa" pass for free use of all buses and three hot springs: Fureai-no-Yu, Yasuragi-no-Yu, and Miharashi-no-Yu (1,000 yen, on sale at the bus station and on buses).
Hachijojima Geo-Power Museum is a small museum run by the Tokyo Electric Power Company, located right beside the island's geo-power plant. Interesting displays on the geology of the island and how its geothermal power is generated make it worth a short visit. Hours 9:30 a.m. - 4 p.m. 100 yen for adults.
Aigae Port is an old fishing port at the foot of the cape at the south of the island. It is no longer used for fishing and offers a picturesque ocean view that can be enjoyed from the free, covered "Kirameki" thermal footbath (bring a towel). Aigae is also a popular snorkeling spot.
The Seaside Golf Club has a 9-hole golf course on the coast just a little west of Aigae Port. Set in rugged surrounds, this at-one-with-nature course right over the ocean even has a hole entailing a driver shot across a gaping valley! Open 7 am to sunset, basic fee of 4,000 yen.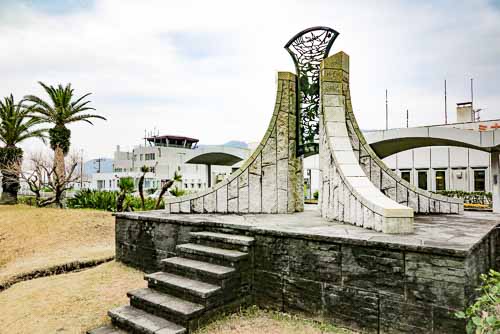 Hachijo Airport, Hachijojima Island.
Hotels on Hachijo Island
Hachijo has a number of resort hotels as well as cheaper ryokan (Japanese-style inns) and minshuku (guest houses) to choose from. Recommendations include the 3-star Lido Park Resort Hachijo, the Hotel Lido Azzurro with spacious rooms and an immediate view over the ocean, the very well appointed Hachijo View Hotel, the Funamiso guest house and the Gardenso guest house. See here for a full accommodation listing for Hachijo.
Access - Getting to Hachijo Island
Air
ANA has three flights a day between Haneda Airport in Tokyo and Hachijo Island, early morning, midday, and mid-afternoon. The flight time is approximately 55 minutes.
Sea
Tokai Kisen ferry company has a ferry that leaves Tokyo at night, from the Tokyo Takeshiba Terminal, and arrives at the terminal port of Hachijo Island the next morning after stopping on the way at Miyakejima and Mikurajima islands. The trip back to Tokyo leaves Hachijo Island in the morning and arrives in Tokyo that evening. The trip takes about 11 hours.
A second-class ferry berth to Hachijo-jima costs about the same price as flying, and a first-class berth is about twice the price of going by air.
Hachijojima Map
Hachijo Island is the southernmost of Tokyo's Izu Islands and is a haven for nature lovers.
All the themes of the city