International House (I House)
国際文化会館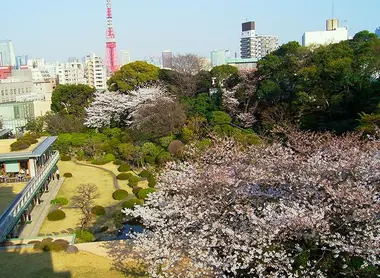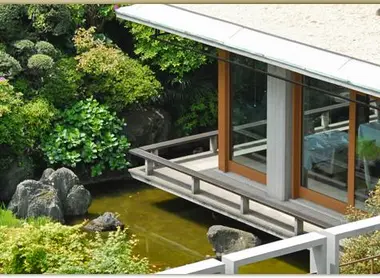 The Knowledge Garden
At the heart of the Roppongi district, an institution untouched by the frenetic pace of the capital, the International House, preserves knowledge and an elegant garden.
Behind the imposing stone wall forming a protective enclosure, the International House of Japan, known by insiders as I-House, has quite the location. The foundation aims to promote cultural exchange and intellectual cooperation between peoples. All lovers in search of knowledge and discovery are welcome. Seminars, conferences, exhibitions, concerts and other live performances and often on the schedule.
People strolling around can enjoy the place from the tea room or Sakura restaurant accessible to all and gaze upon the incredible garden. The garden was designed by landscaper Jihei Ogawa (1860-1933), seventh generation of a famous Kyoto family who at the beginning of the twentieth century innovated quality projects, bypassing conventional standards of their ancestors. The main building's modern architecture was completed in 1955 by Kunio Maekawa, Junzo Sakakura, followers of Le Corbusier (1887-1965), and Junzo Yoshimura, and fits smoothly with the classic Japanese landscape. Today, the site remains a rarity before the real estate boom in Roppongi. When night falls, the garden becomes a bat's playground while night owls abandon the serenity for the nearby bars and nightclubs.
---
Address, timetable & access
All the themes of the city