Mount Jinba
Mount Jinba: Mount Jinba, 857 meters tall, is a popular hiking destination situated right on the border between Tokyo and Kanagawa.
Mount Jinba, Hachioji, Tokyo 陣馬山 八王子 東京
by Johannes Schonherr
Horse statue on top of Mount Jinba, Hachioji, Tokyo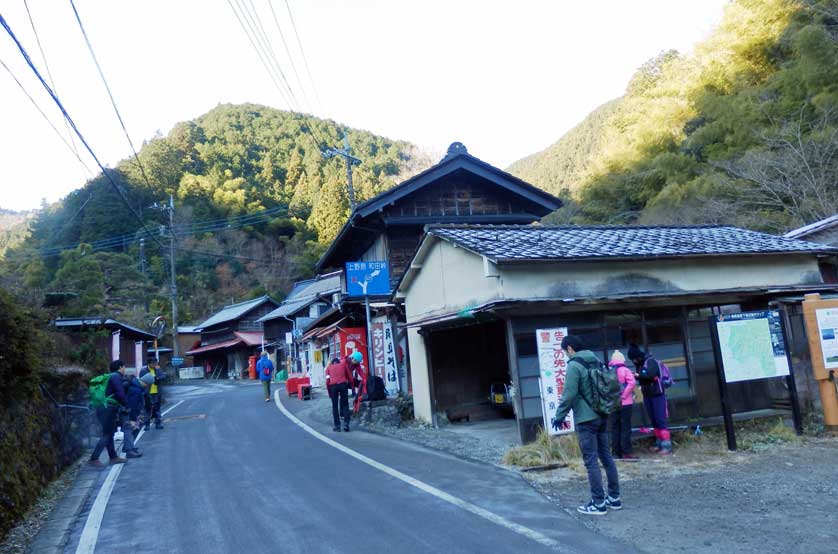 Jinba Kogen Shita, the starting point for the hike up the mountain
Mount Jinba, 857 meters tall, is a popular hiking destination situated right on the prefectural border between Tokyo and Kanagawa. It is by far not as crowded as nearby Mount Takao but on sunny weekend days, the number of hikers sustains three soba noodle restaurants on its top.
The hike up the mountain from the nearest bus stop on the Tokyo side, Jinba Kogen Shita, is about 5 kilometers. Three different trails lead up to the summit. They range from very leisurely to rather steep.
Jinba roughly translates as "horse camp". In ancient times, a local lord kept his horses on the wide grassy top of the mountain, it is said, and that the name originates from that time.
Today, a large white statue of a horse on the very summit of Mount Jinba provides a good photo setting for arriving hikers.
On clear days, the mountain also affords good views of Mount Fuji behind a number of forested ranges as well as towards the Okutama mountains and, in the distant haze, downtown Tokyo with the Sky Tree clearly sticking out next to a barrage of high rises.
The area is famous for its autumn colors but it is worth a visit in any season.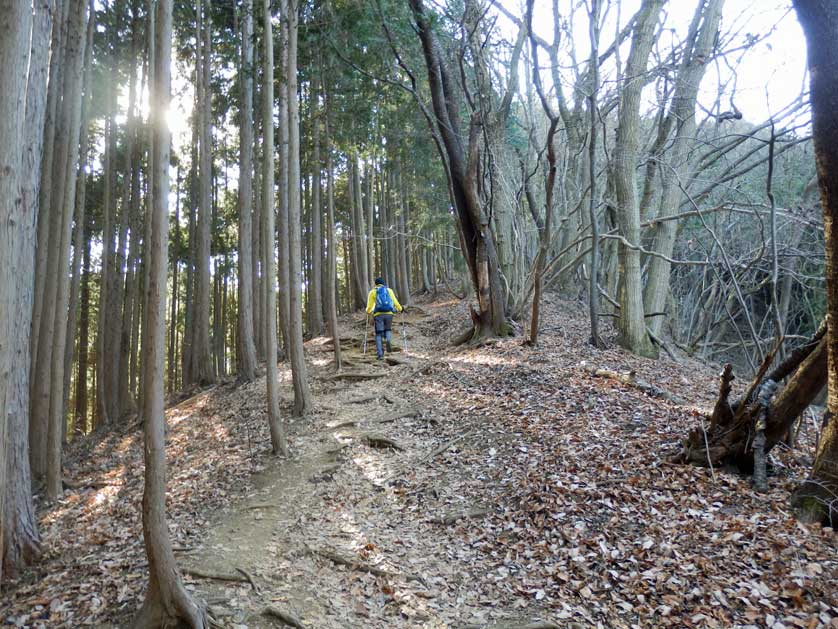 A hiker on his way up Mount Jinba

Hiking Mount Jinba
The easiest way to reach the Jinba from Tokyo is by taking a JR Chuo Line or a Keio Takao Line train to Takao Station. Take the North Exit of the station and walk over to bus stop 1.
From there, about once an hour a bus leaves bound for Jinba Kogen Shita. Ride that bus to its final destination. The bus ride takes about 35 minutes and costs 560 yen. Suica / Pasmo cards are valid on the bus. (Here is the Bus schedule in Japanese.)
At the Jinba Kogen Shita bus stop, you are already deep in Tokyo's mountain area. There are a few vintage buildings, the one next to the bus stop houses the Yamashitaya Jinba Soba Restaurant.
It's a popular place for a bowl of noodles and a beer either before the ascent or while waiting for the bus after returning from the hike.
The restaurant is open on weekends and holidays from 7.30 am in the morning to 5.30 pm in the afternoon - basically all the time buses arrive or leave. Opening times on weekdays are 11.30 am to 5.30 pm , closed on Thursday. (Tel: 042 651 6916, website in Japanese: jinbasan.com)
From the restaurant or the bus stop, walk up Route 521, a paved but very little used mountain road.
After about 1 kilometer, you arrive at a signboard pointing left that spells out 陣馬山新ハイキングコース入口 (Entrance to the New Mount Jinba Hiking Course). There is also a sign in English, directing towards "Top of Mt. Jinba".
This "new hiking course" is both the most popular and the most challenging trail. It soon becomes rather steep. The roots of trees form a sort winding stairway. At some points, the hiker is supported by a rope but if you are in a fairly good health condition, even as an inexperienced hiker you can easily make your way up.
An alternative would be to follow Road 521 to Wada Toge Pass. Where the road reaches the pass, a small rest house offers refreshments and food in the form of hot cup ramen.
At Wada Pass, you have two choices, the straight trail up, largely consisting of a man-made stairway or the so-called "traverse route". The signs are in English.
Walking the traverse route leads you up very, very smoothly. Perhaps even more useful is the traverse route on the way down. You just walk it without hobbling down from tree root to tree root as on the new hiking course.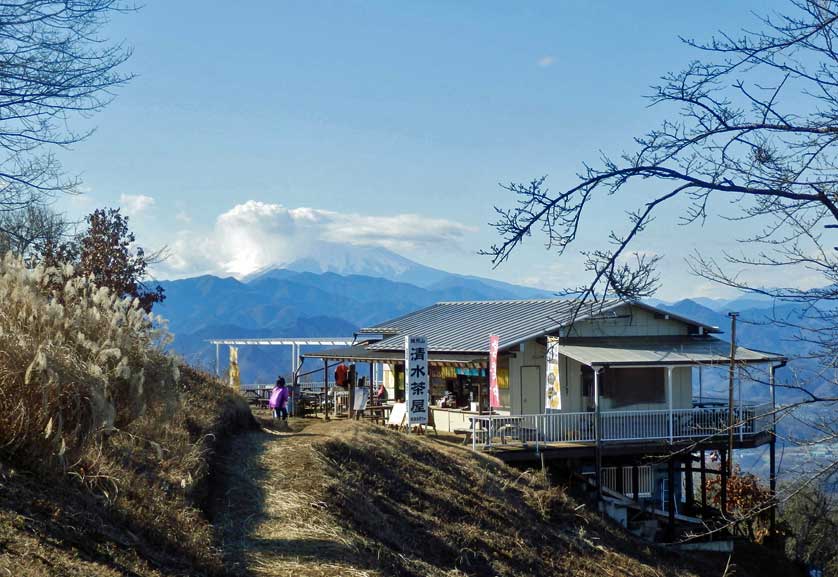 Tea house / noodle restaurant on top of Mount Jinba

Jinba Peak
Arriving on top of Mount Jinba, many hikers take a photo with the horse statue before deciding on one of the three tea houses / noodle restaurants.
The top of Jinba is fairly wide and covered with grass. It's easy to imagine why some old lord would want to keep his horses here. They had plenty of food, they could develop their muscles by running up and down the slopes - and they were out of sight. Rival lords wouldn't know exactly how many horses the Jinba lord kept.
Next, for most visitors, will be the view towards Mount Fuji. Even on an otherwise very clear day, clouds getting caught up on the mountain can easily obscure a full view.
Downtown Tokyo on the opposite side of the mountain top tends to be under a layer of brownish smog even below an otherwise bright blue sky. The Sky Tree can still easily be made out as well as the city's high rises. They seem to form a distant, tall wall.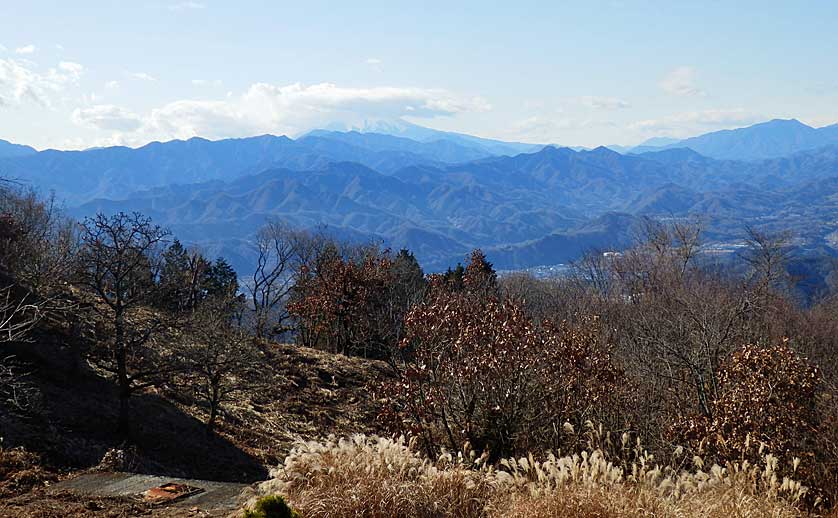 View from Mount Jinba towards a partly cloud-covered Mount Fuji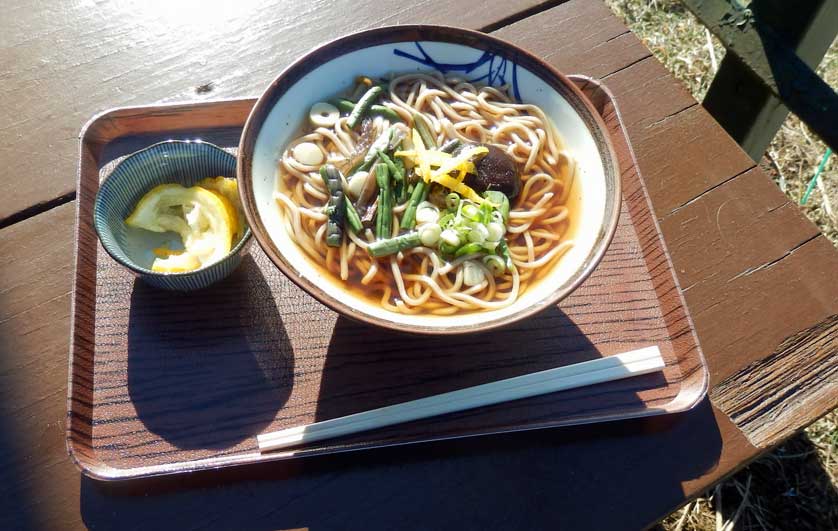 Bowl of Jinba Soba as served by the Shingen Tea House on top of Mount Jinba

Jinba Soba
The three tea houses on top of the Jinba all offer soba noodles, miso soup, coffee, beer and cups of sake.
Look for the Jinba Soba. That is noodles in a broth with Shiitake mushrooms and various vegetables, spiced up with yuzu, a lemon fruit. Delicious.
The opening times of the restaurants depend on the season and the weather. On sunny days, they open at about 9 am. They might close early or don't open at all on little frequented winter weekdays and when the mountain is covered with snow.
Hiking up from the Kanagawa Side
It is also possible to hike up Mount Jinba from the Kanagawa side. Take a JR Chuo Main Line train to Fujino Station, then take a bus to Wada from there. From Wada Village walk up to Wada Pass or take the direct hiking trail.
You can find more information on this route on the Fujino Town website (in Japanese) at info-fujino.com/hiking/224.html#more-224.
Route 521 between Wada Pass and Jinba Kogen Shita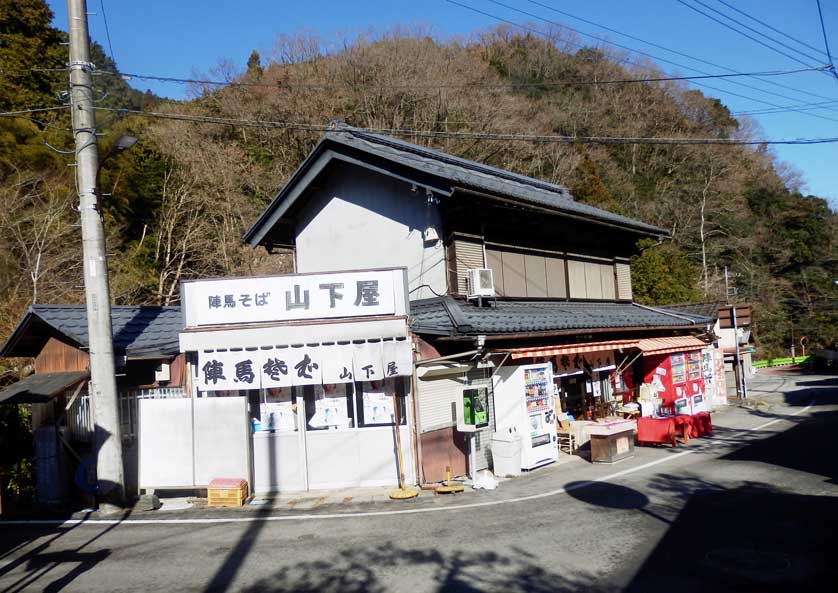 Yamashitaya Jinba Soba noodle restaurant, Jinba Kogen Shita
Walking to Mount Takao
A trail connects the peaks of Mount Jinba and Mount Takao, following a long ridge line. The hike takes about 7 hours. Bring your own supplies, there are hardly any rest houses on the way.
If you do the hike, it might be better to start from the Jinba and walk towards Takao. Mount Takao is connected to Tokyo by train while bus service to and from Jinba runs only once per hour and stops early in the evening.
Book Hotel Accommodation in Tokyo Japan
All the themes of the city