Shinbashi
Shimbashi 新橋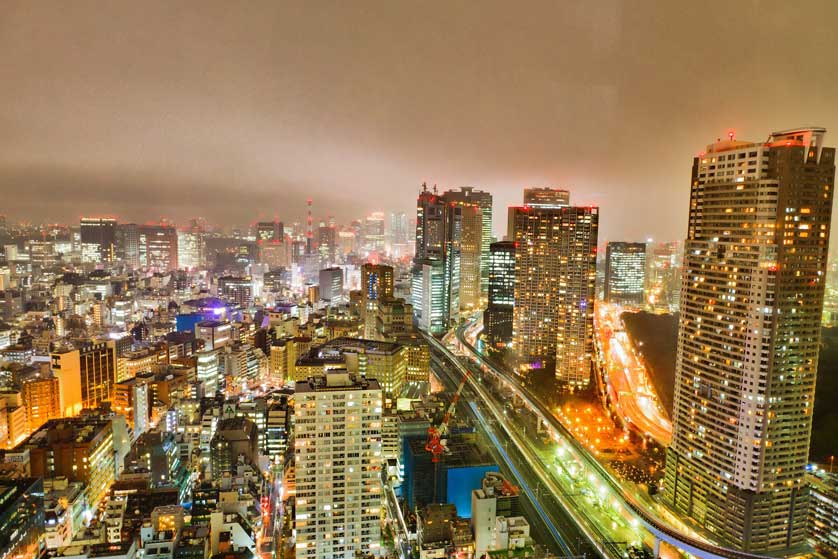 Shimbashi area from the World Trade Center
Shimbashi (also spelt Shinbashi) is a mainly business and entertainment district of central Tokyo, south of Hibiya Park and the Imperial Palace Tokyo. It is the quintessential "salaryman" (office worker) and "OL" ("office lady") quarter of the metropolis. As such, it is in stark contrast with the recently refurbished gleaming skyscraper district of Shiodome on the other side of the JR Yamanote railway line.
Shimbashi's bars and eateries have a definitely shitamachi ("low town") flavor, yet Shimbashi is very centrally located: only two stops south of Tokyo Station. This combination of perceived affordibility and locational convenience, plus that fact that no less than seven different railway lines converge on Shimbashi, means that the area is a natural point of arrival from all directions, besides its many local office workers.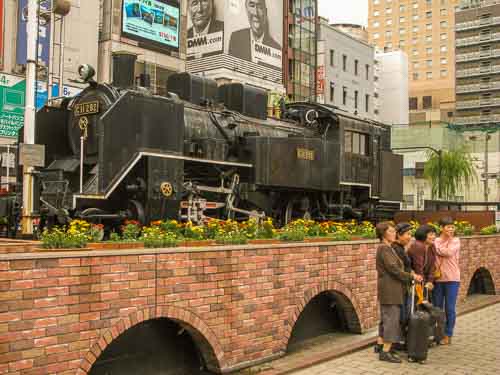 Steam locomotive outside Shimbashi Station
Shimbashi History
Historically, Shimbashi is best known for being Tokyo's first railway terminal, for the Tokyo to Yokohama line, from 1872 to 1914. The station was actually in what is now the adjacent district of Shiodome, and the name "Shimbashi" is still understood in popular parlance to include the high-rise Shiodome area (i.e., the Higashi-Shimbashi, or "East Shimbashi," district) and even right through to Higashi-Ginza.
Steam Locomotive Plaza (SL Plaza)
Shinbashi's most distinctive landmark is the grandly displayed steam locomotive in the plaza outside the Hibiya Exit of JR Shinbashi Station. It is a C11 292 model steam train manufactured in 1945 by Nippon Sharyo. The train is a popular meeting spot, and is attractively decorated in a dancing light display at year-end.
Karasumori Shrine, Shimbashi
Karasumori Shrine
The southern end of SL Plaza is dominated by the New Shimbashi Building with its distinctive white latticed façade. A little down the street behind it, if you're coming from SL Plaza, is Karasumori Shrine, which has a history stretching back over 1,000 years to the Heian period. It is an attractively modern-looking little shrine that incorporates the original traditional elements, and is the focus of a local festival every second May.
Old Shimbashi Station
The current Shimbashi station began life in 1909 as "Karasumori Station." Shimbashi station at that time had already existed since 1872 in Higashi-Shimbashi, about five minutes' walk east of today's Shimbashi Station. The original Shinbashi Station is therefore Japan's second oldest after Shinagawa Station.
The former Shimbashi station was excavated in the 1990s, its original façade reconstructed, with original artifacts from the old station preserved and displayed inside. Read more about Old Shinbashi Station Museum.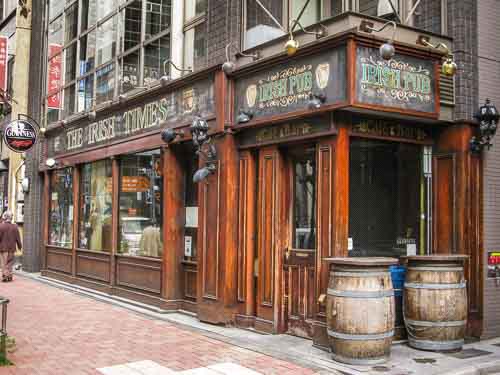 Irish Times pub, Shinbashi
The Rose and Crown English pub, Shinbashi
Shimbashi Eating and Drinking
The main entertainment area of Shimbashi is the block just across the street from SL Plaza, accessible from the Hibiya Exit of the station. Especially at night, this is strictly drunken "salaryman" territory, full of karaoke and other bars tending to red light, and pestering touts.
However, there are plenty of more relaxed streets besides this main one, and Shinbashi has a wide range of traditional pubs and restaurants, both Japanese and Western, including an Irish pub and an English pub.
Gay bars are plentiful in Shimbashi but, unlike Shinjuku Ni-chome, are not clustered in any particular quarter but spread throughout the area, as with gay bars in Ueno. You should therefore look them up before you go.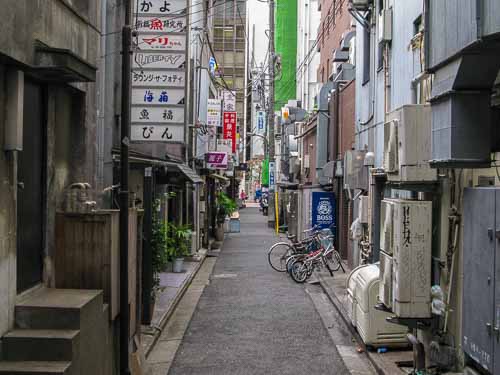 Typical alley lined with pubs in Shimbashi
Shimbashi Shopping
LABI, the electrical goods chain, has two large stores in Shimbashi just across from SL Plaza: the six-floor LABI Digital right behind the SL Plaza locomotive accessible from the Hibiya Exit of Shimbashi Station,, and the eight-floor LABI Lifestyle on the other side (the east side) of Shimbashi station, at the Shimbashi Eki Ginza-guchi Mae intersection, less than a minute's walk north of the Ginza Exit.
The New Shinbashi Building dominates SL Plaza, and is full of food and clothing stores, as well as a large number of voucher stores.
Shinbashi has a very large number of stores selling second-hand golf equipment.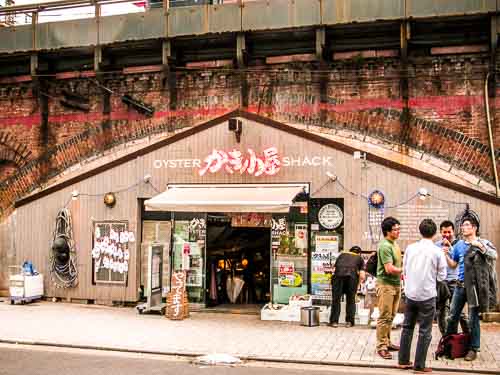 Oyster Shack restaurant, Shinbashi.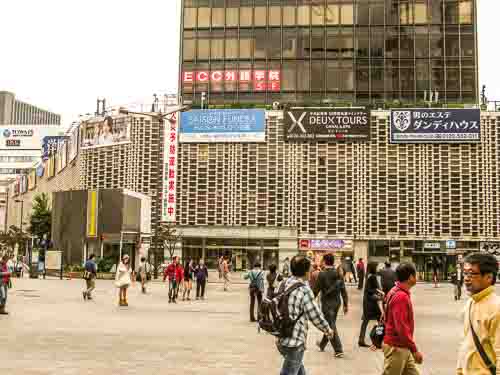 The New Shinbashi Building on SL (Steam Locomotive) Square
Near Shimbashi
Shinbashi is within walking distance of numerous Tokyo attractions, including the spacious Hibiya Park, the all-women Takarazuka Theater in nearby Yurakucho, the futuristic Shiodome skyscraper district, the luxurious Ginza shopping district, and, a little further south, Tokyo Tower.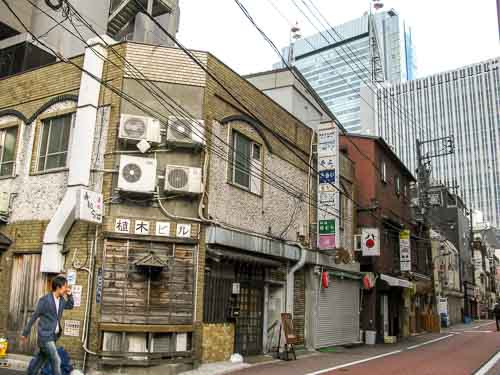 Shinbashi backstreet, with the contrasting Shiodome in background
Hotels in Shimbashi
The nearest hotels to Shinbashi station are just a short walk away. Most Shimbashi hotels are business hotels suited for the budget traveler.
Hotel Sunroute Shimbashi is a reasonably priced hotel in the heart of the Shimbashi district, with compact but very clean and comfortable rooms, and only 5 minutes walk from Shimbashi Station. Free Wi-Fi in all rooms, fridge, kettle, en suite bathroom, coin laundrette on the 4th floor, and a café on the 2nd floor. Surrounded by facilities such as convenience stores, restaurants, bars, fast food, and more.
Hotel Check In Shimbashi is a very short walk from Shimbashi Station and offers standard business hotel level facilities and service for a reasonable price.
Tokyu Stay Shimbashi opened in 2014 in Shimbashi, a little south of the station, easy walking distance away. A bus stop out front of the hotel makes for extra traveling convenience. Rooms feature their own washer/dryer for guests' convenience.
Hotel Unizo Shimbashi is very near Shimbashi Station, and is a reasonably priced hotel whose price is reflected in somewhat small, but clean and adequate, rooms.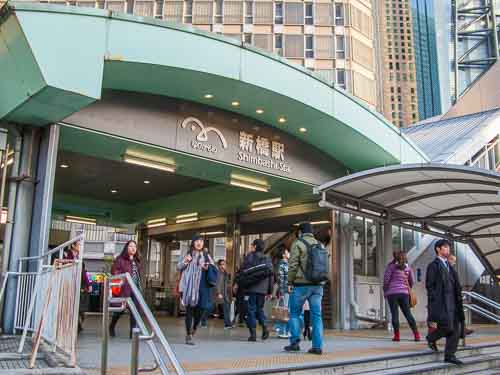 Shimbashi Station, Yurikamome Line - on the east side of JR Shinbashi Station
Access To Shimbashi
Six railway lines serve Shimbashi:
-Toei Asakusa Line: direct access to the traditional area of Asakusa. The entrance to Shinbashi Station on the Asakusa subway line is on the east side of JR Shinbashi Station, in front of the Karasumori Entrance.
-Tokyo Metro Ginza Line: to Ginza, Nihonbashi and Ueno. Entrances to Shinbashi Station on the Ginza subway line are at the northern end of JR Shinbashi Station.
-JR Yokosuka Line: to Shinagawa, Yokohama and Kamakura. The Yokosuka Line is a JR line, accessible from inside JR Shinbashi Station.
-JR Yamanote Line: to Shibuya, Shinjuku and Akihabara. The Yamanote Line is a JR line, accessible from inside JR Shinbashi Station.
-JR Keihin-Tohoku Line: all the way north to Omiya, or south to Yokohama. The Keihin-Tohoku Line is a JR line, accessible from inside JR Shinbashi Station.
-JR Tokaido Main Line: from Tokyo all the way west to KansaiShs (involves changing trains). The Tokaido Main Line (Tokaido Honsen) is a JR line, accessible from inside JR Shinbashi Station.
-Yurikamome Line: direct access to the Tokyo Bay attractions of Daiba and Toyosu. The entrance to Shinbashi Station on the Yurikamome Line is on the east side of JR Shimbashi Station, across from the Karasumori Entrance.
Shinbashi is a traditional unpretentious Tokyo in the heart of the city, and is especially popular with visitors for its economical and very conveniently located hotels.
All the themes of the city