Tokyo Tama Region Tours
Voyagin offers a number of cultural heritage tours and activity tours in the untouched nature of the Tama region of western Tokyo.
by Johannes Schonherr
Adventures in the Tama Region of Western Tokyo 多摩地方 東京
23 special wards form Tokyo's urban center. Shinjuku, Shibuya, Roppongi, Asakusa, Ikebukuro and Ueno, to mention just a few popular destinations, are all within the 23 wards.
But Tokyo-to, the Tokyo administrative region, is much larger than the 23 wards and stretches far out to the west and deep into wild mountainous areas.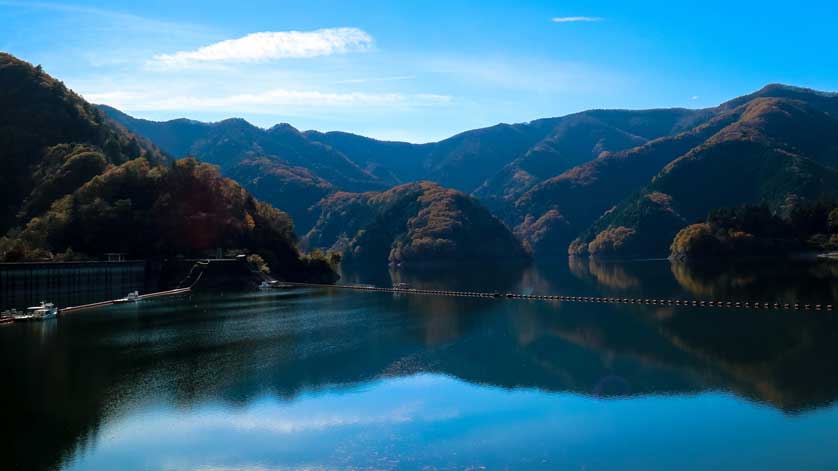 Tama Lake, Tokyo
These unspoiled areas that are within easy reach by train from Shinjuku Station but offer a very different picture of Japan from the commonly associated high rises and crowded streets of central Tokyo.
This western area of Tokyo is known as the Tama Region. Altogether it consists of 26 cities, three towns and one village.
The cities of Kokubunji, Fuchu and Tachikawa for example are, although very close to urban Tokyo, already part of Tama. These cities house major shrines like Okunitama Shrine in Fuchu, fine Japanese gardens like the Tonogayato Gardens in Kokubunji, large parks such as the Showa Memorial Park in Tachikawa and fascinating museums like the Polar Science Museum, also in Tachikawa.
But the real Tama is further out west from Tachikawa. One could say it starts in Ome, a charming small town in the foothills of the Okutama Mountains that is, besides its historic Railway Park, known as a main gateway into the Chichibu Tama Kai National Park.
The Chichibu Tama Kai National Park covers almost all of the large and deeply forested mountain area stretching from western Saitama Prefecture through Tokyo's western Tama area into Yamanashi Prefecture and over into Nagano Prefecture.
Right at the junction of Tokyo, Saitama and Yamanashi prefectures, you find Mount Kumotori, rising to a height of 2017m, the highest mountain in Tokyo.
West of Ome is scenic Mount Mitake (929m), easily to ascend by cable car. Its top houses a sprawling, ancient Shinto shrine and on clear days offers pristine views over Tokyo.
The western-most town of Tokyo is Okutama. Deep in the mountains, Okutama is probably best known for Okutama Lake, a huge reservoir fed by the waters of the Tama River.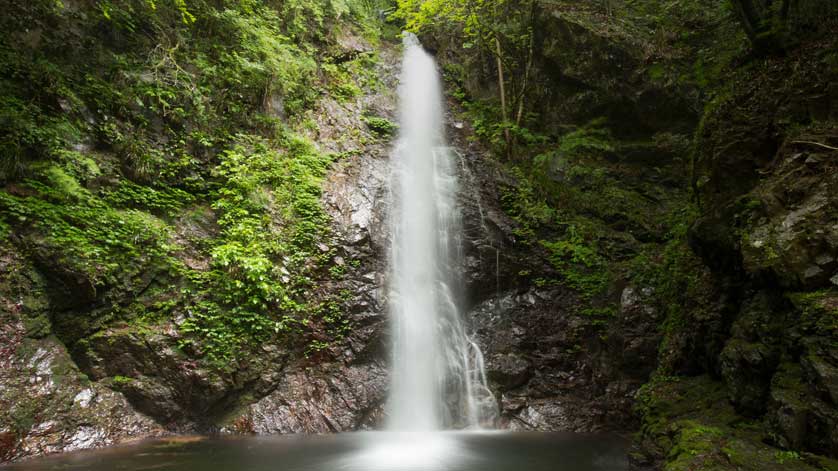 Tama area of western Tokyo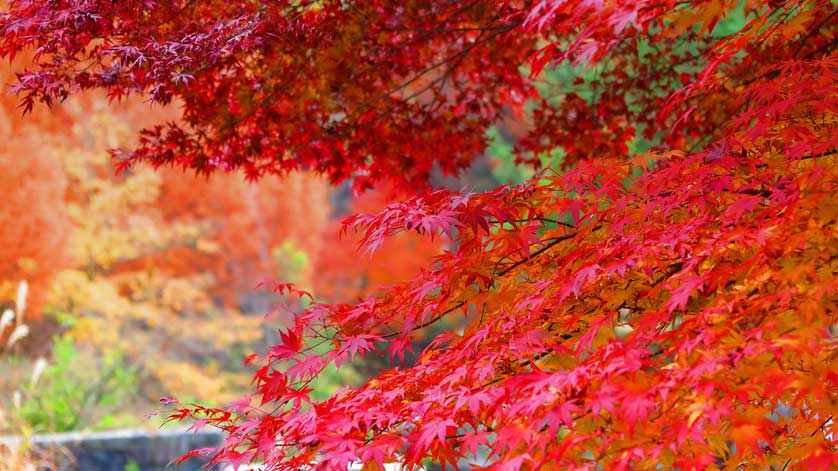 Fall leaves in the Tama region of western Tokyo
Voyagin Tours
While some attractions in the mountains of furthest Tama are easily accessible to casual visitors, others are not.
Tokyo tour company Voyagin offers a number of tours to the region that lead into the deepest of deep Tama. All tours can easily be booked online, none require any knowledge of Japanese. All tour guides are fluent in English.
The Voyagin tours fall into two main categories: outdoor activities and the exploration of the area's rich cultural heritage.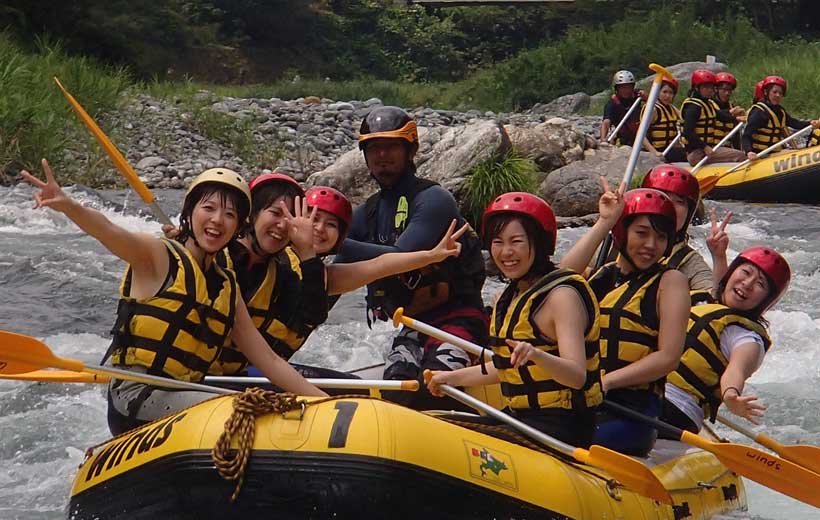 White Water Rafting Tour on the Tama River
Kayaking on Lake Shiromaru
Outdoor Activities
For those interested in sporty outdoor activities, Voyagin also offers a great variety of programs set in untouched nature.
These activities include Kayaking for Beginners on Lake Shiromaru in Okutama, Hydrospeed (Riverboarding) on the Tama River in Ome, a White Water Rafting Tour also on the Tama River and a mountain biking tour called the Akigawa Valley West Tokyo Bike tour in Akiruno.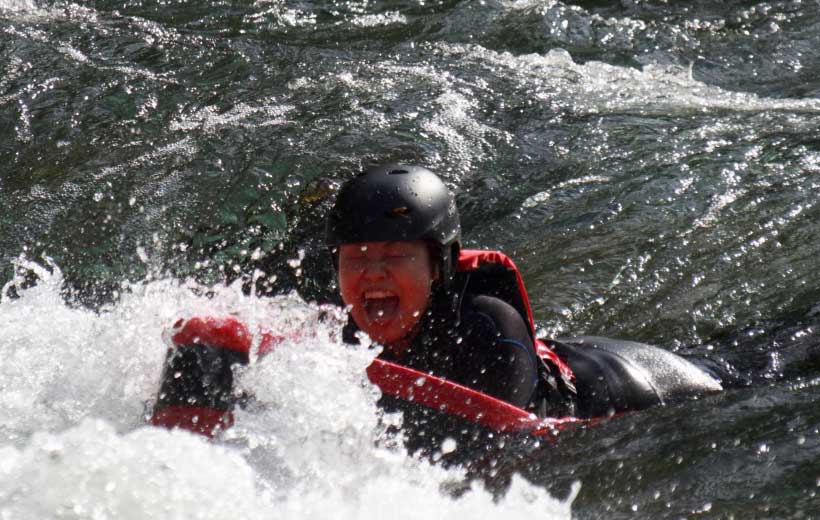 Hydrospeed (Riverboarding) on the Tama River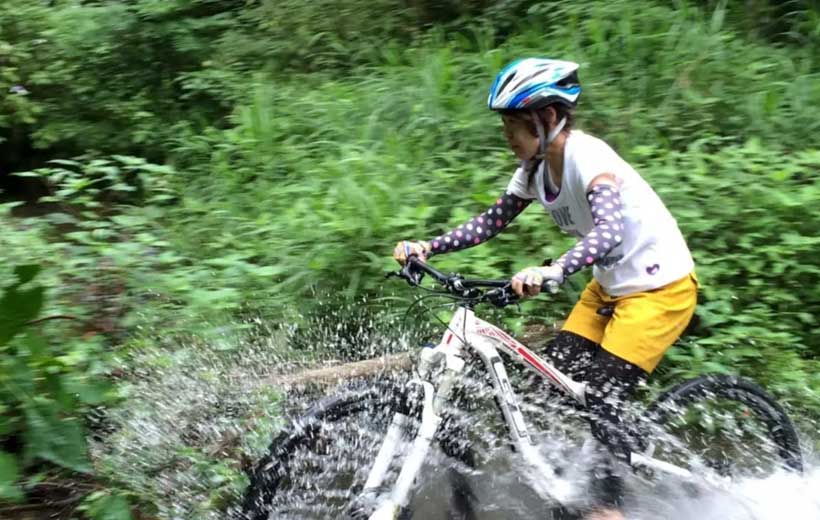 Akigawa Valley West Tokyo Bike tour
For more details on all tours and activities, please check the very informative Voyagin website detailing their Tama experiences and tours.
More workshops, more activities are in the planning stage, such as a washi (Japanese paper) making workshop for example. The website will keep you updated.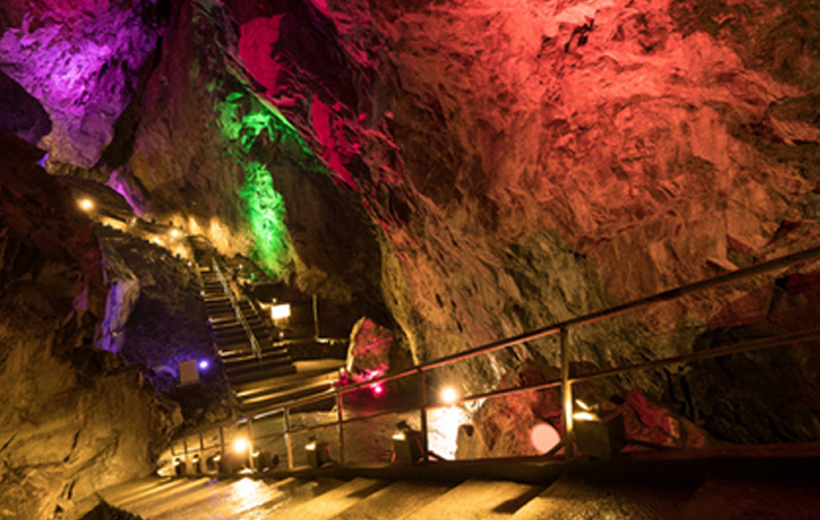 Nippara Limestone Cave
Cultural Heritage Tours
Nippara Limestone Cave
A definite highlight is a guided visit to the Nippara Limestone Cave in the hinterlands of Okutama, far off the beaten track. This is not only one of the largest limestone caves in eastern Japan, featuring colorfully illuminated bizarre rock formations, but it has a very rich cultural history too.
For many centuries, Buddhist monks lived in the cave and / or used it for their rigid training. The monks left hidden statues and created unique names for the many rock formations found here.
Informed guidance in English provides much background on both the geological history of the cave itself as well as on its historical occupants.
Read more on the Nippara Limestone Cave.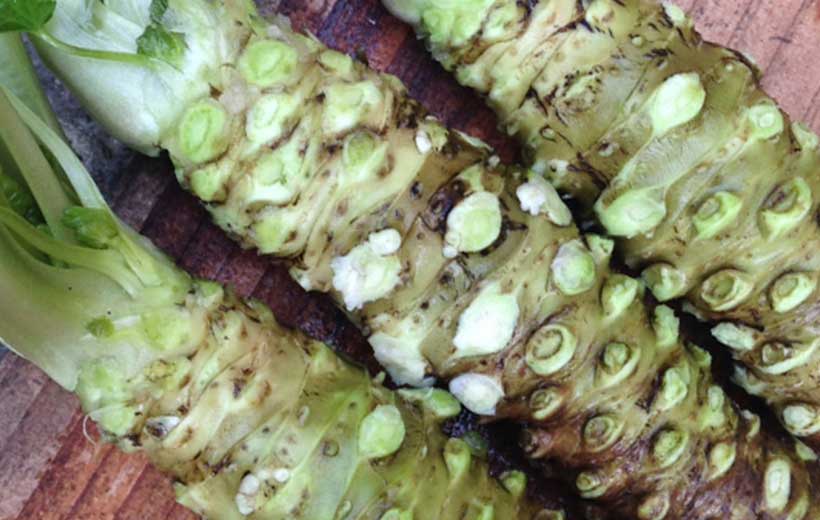 Wasabi Farm Tour, Okutama
Wasabi Farm Tour
Everyone, even the least bit familiar with Japanese cuisine, has encountered "wasabi", the spicy green paste used to liven up the taste of sushi and sashimi. Real wasabi is however not a green paste from a plastic package - it is a root that tastes best when consumed within five minutes of grinding. Only the best of the best sushi restaurants will offer that service.
Now, wouldn't it be an experience to visit a real wasabi farm to see by yourself how the plant has traditionally been grown and harvested? It would certainly be a good topic to discuss with your friends the next time you meet at your favored sushi bar.
Voyagin offers exactly that experience, a Wasabi Farm Tour in rural Okutama with English guidance and a tasting of the freshest wasabi root available.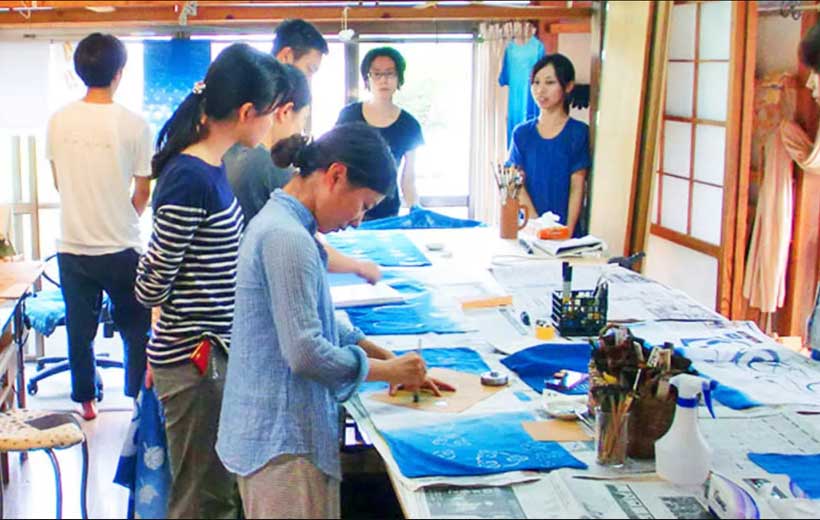 Indigo Dyeing Workshop in Hinohara
Indigo Dyeing in Hinohara
Japanese blue is a color you often see used for traditional Japanese clothing such as kimono and yukata but also for scarves and smaller items. It may border on black at times, it may be almost grey at others but it is a unique and quite strong blue color.
Japanese blue is created by dyeing clothes with indigo. Indigo is a plant and if you participate in the indigo dyeing workshop in summer, you can boil indigo leaves by yourself and thus create your own indigo ink.
At all times of the year, you can dye T-shirts, postcards, silk scarves and the like, create your own patterns and designs and take your creations home as a souvenir.
The Indigo Dyeing with Natural Materials workshop in Hinohara is held in a traditional Japanese house deep in the Tama mountains.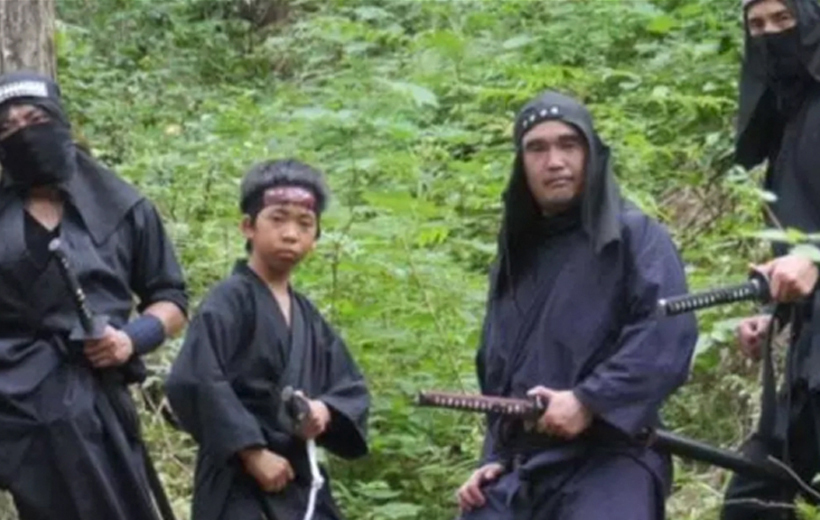 Outdoor Ninja Training
Outdoor Ninja Training
Ninja are more commonly associated with the Kansai area in western Japan, with the historic imperial cities of Nara and Kyoto in particular. Ninja clans have, however, also had a strong presence in the eastern part of the country. In the deep forests of western Tama, a few of the old ninja families still preserve the old teachings - passing them on to new generations.
You too can study the mental and physical ninja skills with an expert teacher by participating in the Outdoor Ninja Training workshop held in a secluded area deep in the Tama forests.
The training offered includes sword-fighting and other martial arts as well as an enlightening lesson on the true spirit of the shinobi - aka the ninja.
The training will leave you with an unforgettable experience of traditional Japanese martial arts and spiritual philosophy in a setting of natural beauty - while learning skills that are beneficial for modern life as well.
Access
Access to Ome and Okutama: Take the JR Chuo Line from Shinjuku Station to Tachikawa or Ome, change in Ome to the Ome Line. Okutama Station is the final stop out west on the Ome Line.
Access to Akiruno: take the Seibu Haijima Line from Seibu Shinjuku Station (that's not the general Shinjuku Station but in close walking distance) to Haijima and change there to the JR Itsukaichi Line.
Book Hotel Accommodation in Tama Japan
All the themes of the city