The Cocoon Tower
モード学園コクーンタワー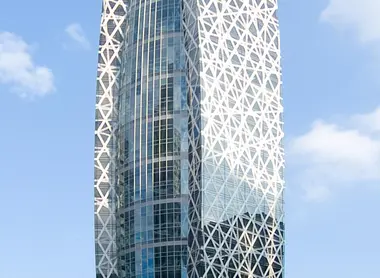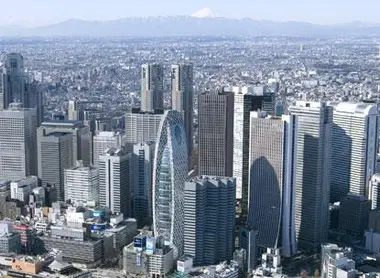 Le nouveau visage de Shinjuku
La Mode Gakuen Cocoon Tower (de son nom complet) est l'un des building les plus innovants de Tokyo. Achevé en 2009, il détonnedans le paysage architectural relativement sobre de Shinjuku.
Designed by Kenzo Tange, commissioned by the Fashion Gakuen school, the Cocoon Tower was conceived as a cocoon to protect its students. The building is indeed a school, rare for a building 204 meters in height! This is also the second highest school building in the world after Moscow University.
A real cocoon
With its white aluminum beams entangled between the bluish windows like a cocoon, the building is aptly named. Its curves give it a lively and natural appearance, while its neighbors, banks and municipal offices, adhere to the usual strict straight lines.
The tower houses the Gakuen Fashion School, but also a medical school and an information science. 10,000 students attend this vertical campus daily, with furnished lounges on all 3 floors.
Modernization of a district
The Cocoon Tower also helped modernize the Shinjuku neighborhood and create a more fluid back and forth between Shinjuku Station and the business district. In fact, a long white corridor connects the two points and provides access to the tower via walking carpets.
The place undeniably brings Shinjuku into the next century, and pushes for more audacious architecture in Tokyo.
All the themes of the city