Go for a swim under the stars
東京のナイトプール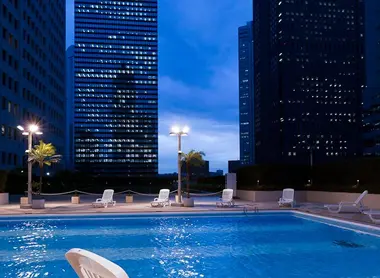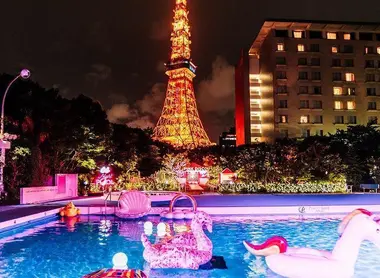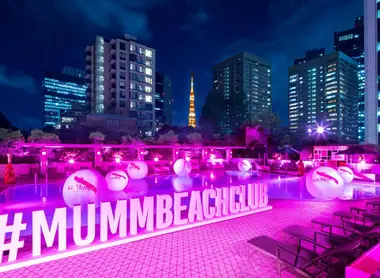 late night swimming in Tokyo
Some pools are open late at night in Tokyo, often located in luxury hotels; they are accessible for a fee. A moment of relaxation after a busy day under the stars of Tokyo!
In September, it is still hot in Japan. We have plenty of time to wait for autumn and its first chills, so why not treat yourself to the last bath in an enchanting place and the heart of Tokyo as a bonus?
Read: Nagashima Spa Land
Hotel New Otani, Garden Pool
A place in the center of Tokyo, but very quiet, a haven of peace and greenery is placed there, with a Japanese garden of 40,000 m 2, which belongs to the hotel. It was here that the fashion for swimming pools opened at night was initiated, in a luxurious atmosphere, with lights everywhere, the ideal water temperature, background music, everything is calculated so that your happiness is total.
Peckish? There is no stress; the Poolside Dining "Outrigger" serves you directly on the terrace; there is no need to change. Salads, burgers, curry, ice cream from Pierre Hermé and drinks and cocktails are available.
If you want, even more, DJ nights take place every Friday and Saturday.
Address: 4-1 Kioicho, Chiyoda, Tokyo 102-0094, Japan
Hours: 6 p.m. to 10 p.m.
Price: 10,000 yen ($$85/80€) on weekdays, 12,000 yen ($102.50/97.50€) on weekends, towel and bathrobe included.
Tokyo Prince Hotel, Garden Pool
You are here dominated by the Tokyo Tower, surrounded by the greenery of Shiba Park. Since the opening of the Tokyo SkyTree, the other tall tower has been somewhat neglected, but make no mistake, and this is where the fun is. In collaboration with Cancam magazine, the spearhead of Fashion Kawaï, the year's concept is the Pink Disco. You bathe with pink objects all around you, so it's very colorful and joyful. You can borrow a giant buoy for free for even more fun, so don't hesitate!
Address: 3 Chome-3-1 Shibakoen, Minato, Tokyo 105-8560, Japan
Hours: 6 pm to 9 pm.
Price: women 4,320 yen ($37.50/32.50€); men 6,480 yen ($55/50€); couple 9,720 yen ($80/$75€), towel included.
Keio Plaza Hotel, Sky Pool
The Shinjuku district is located in the heart of the city: it's teeming everywhere, and gigantic buildings surround you, but you have your feet in the swimming pool's water on the hotel's roof. If that's not classy, then what is?!
Towel and flip-flops are available; after a fun swim, the party can continue at the hotel bar for a great evening.
Address: 2 Chome-2 Nishishinjuku, Shinjuku-ku, Tokyo-to 160-0023, Japan
Opening hours: from 3 pm to 8 pm.
Price: 4,000 yen ($35/30€) on weekdays, 5,000 yen ($42.50/39€) on weekends
See also: Nishi-Shinjuku, a business district like no other
ANA Intercontinental Tokyo #MUMM Beach Club Garden Pool
Welcome to a luxurious oasis in the heart of Roppongi, the district of embassies and futuristic new buildings. This swimming pool accessible by the ANA Intercontinental hotel was created in conjunction with the champagne brand Mumm for a "sparkling" and a dewy image as this fine beverage can offer connoisseurs. The atmosphere is romantic, delicate, and gentle, with the refined cuisine of a great chef to crown the tour.
On Thursday, you are still entitled to a DJ evening ... to dance with finesse!
Address: 1 Chome-12-33 Akasaka, Minato-ku, Tokyo-to 107-0052, Japan
Hours: 6 pm to 10 pm
Price: 7,000 yen ($60/55€) on weekdays, 14,000 yen ($120/110€) on weekends, towel included
All the themes of the city