Where to see geishas in Tokyo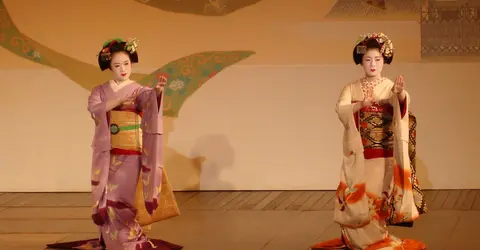 Discretion in the capital
When we think of geishas, we immediately imagine the streets of the Gion district in Kyoto. If the former imperial capital is not on your route or if you have not had the chance to meet geishas there, know that you can meet some in Tokyo! Follow our guide.
It's a dream for most travelers who come to Japan for the first time: at the bend of a small typical Japanese street, come across a geisha dressed in her kimono and protected from the sun by her parasol . These traditional entertainment and arts professionals generally perform only for regulars, in establishments known to be very expensive and often reluctant to let foreigners in. But all hope is not lost! Here is a selection of places where you can attend geisha performances, depending on your budget.
Omotenashi Nihonbashi
At the Nihonbashi Information Center , you can watch an hour-long performance where geishas play shamisen and perform various traditional dances. As tradition dictates, you can participate in various games with the geishas to enjoy a unique experience. Omotenashi Nihonbashi also offers other activities such as renting a kimono for total immersion!
Useful information :
Address: 2-2-1 Nihonbashi Muromachi, Chuo-ku, Tokyo
Opening hours: The first 4 Saturdays of the month from 6 p.m. to 7 p.m. Reservation until 5 p.m. the day before on the site .
Price: 5,500 yen (41€50); 3,500 yen (26€40) for children under 12
Access: Mitsukoshimae station (Tokyo Metro Ginza and Hanzomon lines) or Shin-Nihonbashi (JR Sobu line)
hanamachi
The hanamachi are where you're most likely to encounter geisha, as these are the neighborhoods where they are trained and where the restaurants and teahouses in which they perform are based . There are 6 in Tokyo: Shinbashi, Yoshicho, Hachioji, Mukojima, Kagurazaka and Asakusa. You will be able to feel a more traditional atmosphere there than in the other districts of the capital. Try booking dinner at one of the establishments through your hotel or Japanese acquaintances, since service is rarely accessible in English (let alone French).
We advise you to take a walk in the Kagurazaka district at dusk , since that is when the few geishas who are still there go to their appointments. Even if you are unlucky, this is an opportunity to discover the history of Kagurazaka, now considered the French quarter of Tokyo!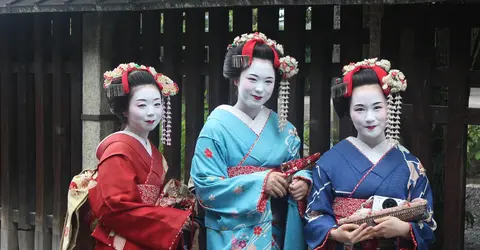 Asakusa Tourism and Culture Center
On the 6th floor of this modern building, you can attend a traditional dance and music show performed by geishas. And that for free ! Tickets are distributed at 10 a.m. on the ground floor, but beware, places are limited (about 100 people) so it is better to arrive early enough. At the end of the presentation you will also have the opportunity to take pictures with the geishas .
Useful information :
Address: Asakusa Culture and Tourism Center 2-18-9 Kanimarimon, Taito-ku, Tokyo
Opening hours: every Saturday in June, July 14, September 22 and 29, every Saturday in October, November 10, 17 and 24 - two screenings at 1 p.m. and 2:30 p.m. (for 2018)
Access: Asakusa station (Toei Asakusa, Tokyo Metro Ginza and Tobu Skytree lines)
On the Internet
You will find offers to meet geishas on many sites offering activities for tourists in Japan. Dinner or a show with an English-speaking interpreter is the easiest way to be closer to tradition. In a few clicks you can book the one that suits you best according to your budget.
All the themes of the city