Ice cold brew in Tokyo summer
夏に東京でビールを飲む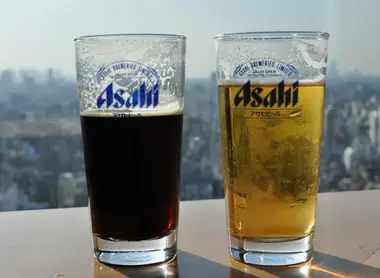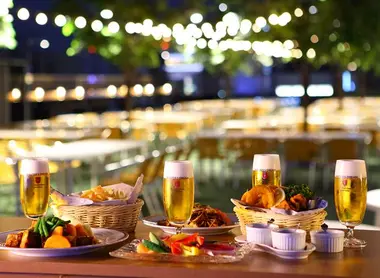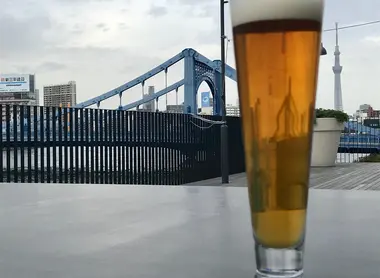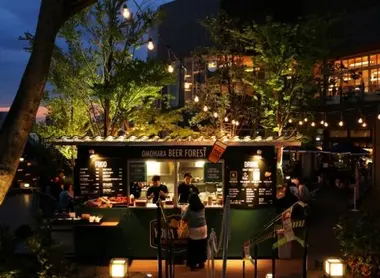 A little summer foam in Tokyo
What's better than an ice-cold mug of beer in Tokyo's blistering summer heat? Check out our favorite places to relax and cool down with a cold one!
The Japanese discovered beer in the 19th century, imported by the Dutch. Today, it is one of the most consumed alcoholic beverages and sake. The four most prominent brands, Asahi, Kirin, Sapporo, and Suntory, share the bulk of consumption, mainly light and refreshing lagers. But Japan has also known for its Craft beer ( ji biru地ビール) craft beers produced by local breweries. Many Tokyo bars offer fine selections of these bottled beers with colorful labels, with more original tastes than traditional lagers.
See also: The aperitif in Japan.
During the summer, temperatures rise quickly, as does the humidity. What could be better than a cold beer to quench your thirst? Tokyoites then habitually take over the famous outdoor beer gardens from June to September to enjoy unlimited beers. Between craft beers and pints on tap, here are the best places to enjoy a beer in Tokyo in summer .
Taste craft beers in Tokyo
The Omohara Forest is a magnificent rooftop on the 6th floor of the luxurious Tokyu Plaza shopping center in Omotesando. The principle is simple: from June to September, the Yona Yona brewery sets up a stand offering a selection of craft beers. A cozy and relaxed atmosphere, surrounded by greenery, in the heart of summer!
Useful information :
Address: 4-30-3 Jingumae, Shibuya-ku, Tokyo
Opening hours: 4 pm to 10 pm on weekdays, 12 pm to 10 pm on weekends.
Access: Harajuku or Omotesando stations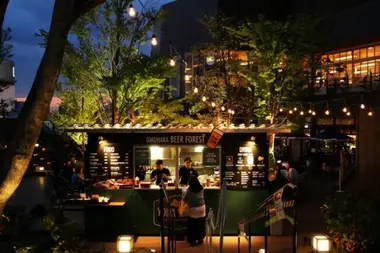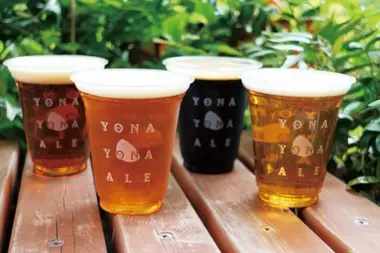 Craft Beer Market Jimbocho Terrace
Near the Imperial Palace, this large bar offers a selection of less than 30 craft beers and a sizeable Japanese-style terrace, complete with tatami mats. Their Thai cuisine will perfectly accompany the different beers from all walks of life, from Pale Ale to Stout.
Useful information :
Address: Terrace Square 1F, 3-22 Kanda-Nishikicho, Chiyoda-ku, Tokyo
Opening hours: Monday to Saturday, 11:30 am - 2 am on weekdays, 4 pm - 11:30 pm on Saturday
Access: Jimbocho or Takebashi stations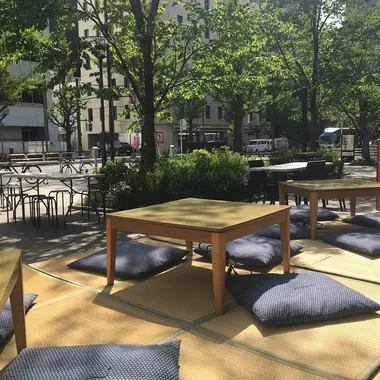 Located on the banks of the Sumida River, the Pitmans has made barbecue its specialty. The outdoor tables allow you to enjoy the calm of draft beers, accompanied by a few grilled chops. At nightfall, the view of the illuminated Tokyo Skytree is perfect!
Useful information :
Address: 1 Chome-1-7 Kiyosumi, Koto, Tokyo
Opening hours: Every day from 7 am to 9:30 pm.
Access: Kiyosumi-shirakawa station
To discover: Japanese craft beers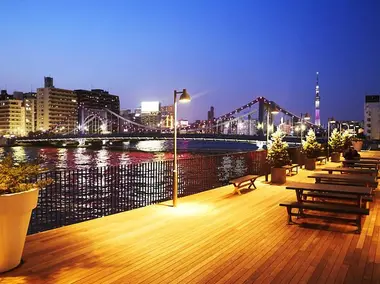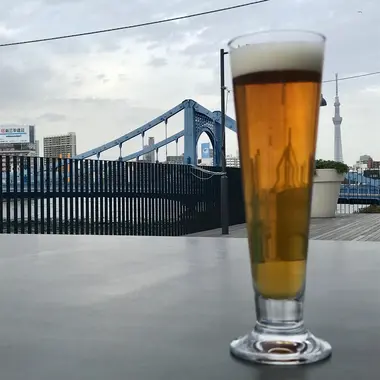 East of Shinjuku, this giant beer garden has been a reference in Tokyo for several years. Like most Beer Gardens, it works with an all-you-can-eat for 2 hrs starting at 3,900 yen ($35/30€). The place, huge, is ideal for getting an idea of the phenomenon and living in Tokyo!
Useful information :
Address: Meiji Jingu Gaien 1-1, Kasumigaoka-machi, Shinjuku-ku, Tokyo
Hours: Weekdays5 pm to10 pm. Weekends12 pm to10 pm.
Access: Shinanomachi Station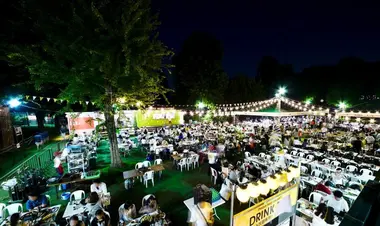 In the heart of the luxury district, Ginza, this Beer garden offers several all-you-can-eat options, including highballs and Suntory beers. Located on the 13th floor of Yurakucho's Kotsu Kaikan department store, with live music, it provides a great view of Marunouchi.
Useful information :
Address: 2 Chome-10-1, Yurakucho, Chiyoda, Tokyo
Opening hours: Every day from 5 pm to 10 pm.
Access: Yurakucho or Ginza-itchome station
To read: The best beer gardens in Tokyo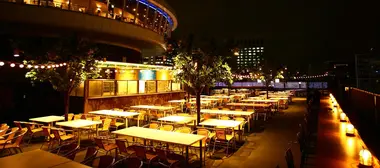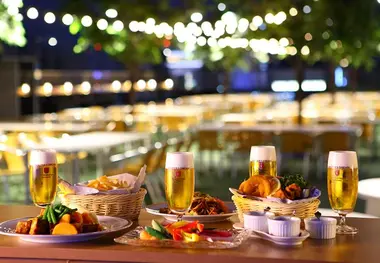 All the themes of the city