Oiwake Minyo Sakaba
Oiwake Minyo Sakaba, Asakusa, Tokyo 追分 民謡酒場 浅草 東京
Johannes Schonherr
Minyo is a genre of traditional Japanese folk songs, in Edo times and before typically sung during long, monotonous hours in the fields or to support the coordination of the moves of work groups in, say, construction or fishing.
Minyo were also sung when people gathered on winter nights to weave baskets or rice straw mats; they were sung at village festivities, as part of weddings and Shinto ceremonies. In ancient times, minyo were part of daily life.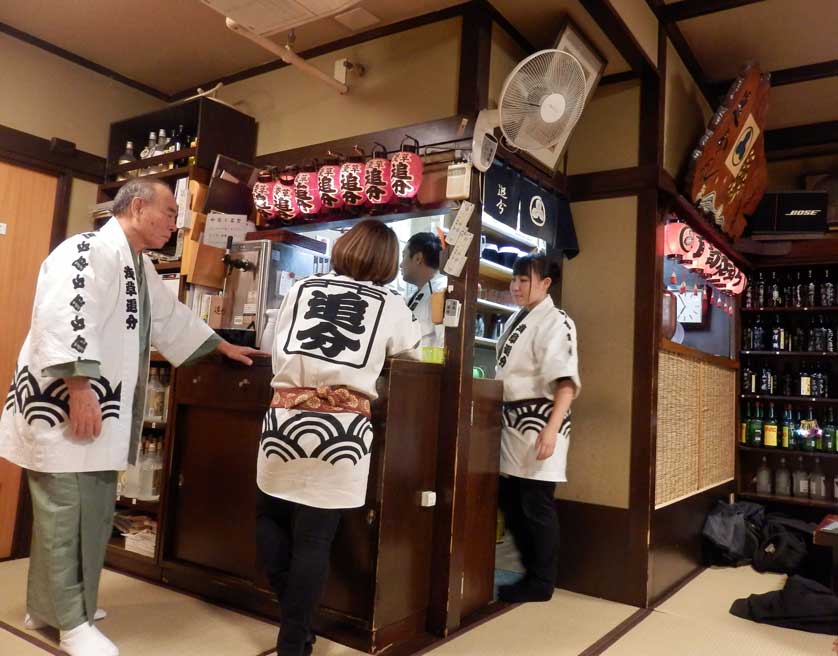 Oiwake Minyo Sakaba, Tokyo; The musicians also serve the food and drinks.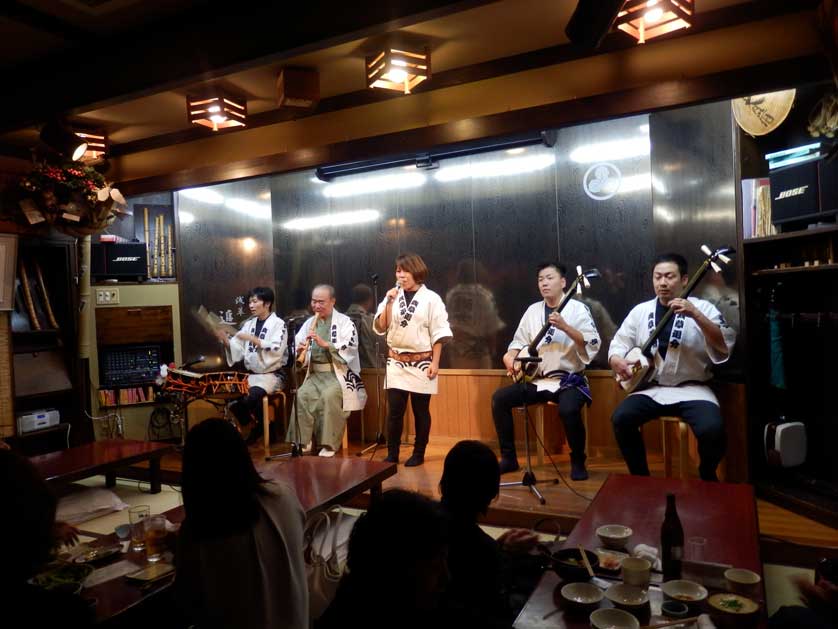 Concert at Oiwake Minyo Sakaba, Asakusa, Tokyo
Regional Minyo
Different regions developed different minyo traditions, reflecting the type of life led by a significant part of the population in a particular locality. Thus, minyo from coastal regions might celebrate good catches of fish while others may praise the beauty of the local landscape. Love or the misfortunes of love are a common theme, some minyo feature quite a bit of humor. Like say, the famous lines in the song Aizu Bandai-san, a song from the Aizu region of Fukushima Prefecture celebrating the beauty of Mount Bandai with a refrain thrown-in asking and answering the question:
Why has Ohara Shosuke no money?
Because Ohara Shosuke likes to sleep long,
Because Ohara Shosuke likes to drink sake in the morning,
Because Ohara Shosuke likes to go to the bathhouse in the morning.
That's why Ohara Shosuke has no money.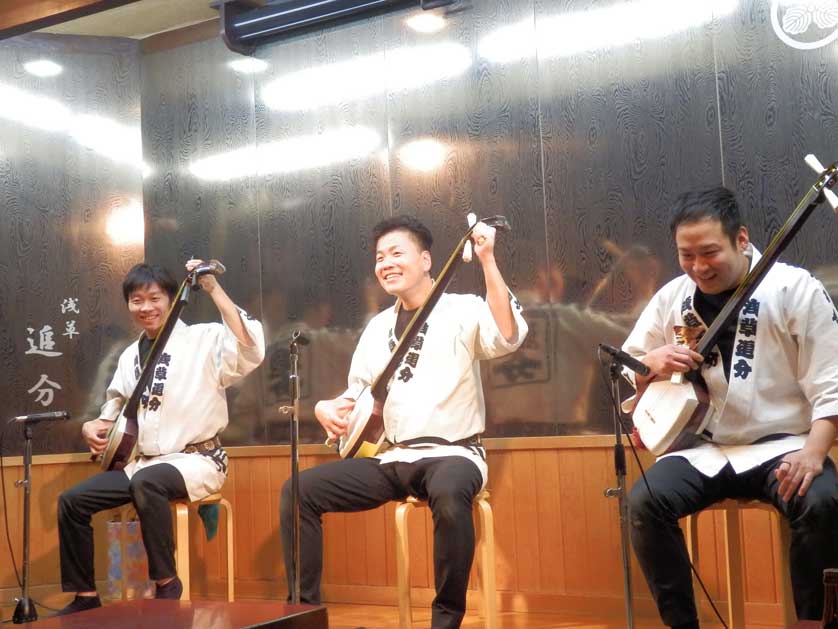 Shamisen concert at Oiwake Minyo Sakaba, Asakusa, Tokyo
Instruments
Typical instruments accompanying minyo songs have traditionally been the shamisen, a sort of Japanese guitar, the shakuhachi, a bamboo flute, and taiko drums.
The lyrics of many minyo are not strictly fixed and vary from village to village, from singer to singer.
In short, you might call minyo a sort of Japanese traditional blues. Both genres have their roots in rural work, village festivities and religious gatherings. Both are decidedly working class and yes, both have sprouted into mainstream commercial music in the course of the 20th century.
While the blues gave birth to rock and pop, minyo spawned enka in the postwar years. Enka being overly sentimental songs about the hometown back when, songs especially popular with a generation that had to move to the big cities to make a living but in their hearts longing for the traditional life in the village / small town.
Enka is still big business, enka shows get lots of airtime on TV. Traditional minyo songs don't.
Instead, minyo moved to the minyo sakaba. Drinking establishments offering traditional Japanese food and sake along with live minyo concerts.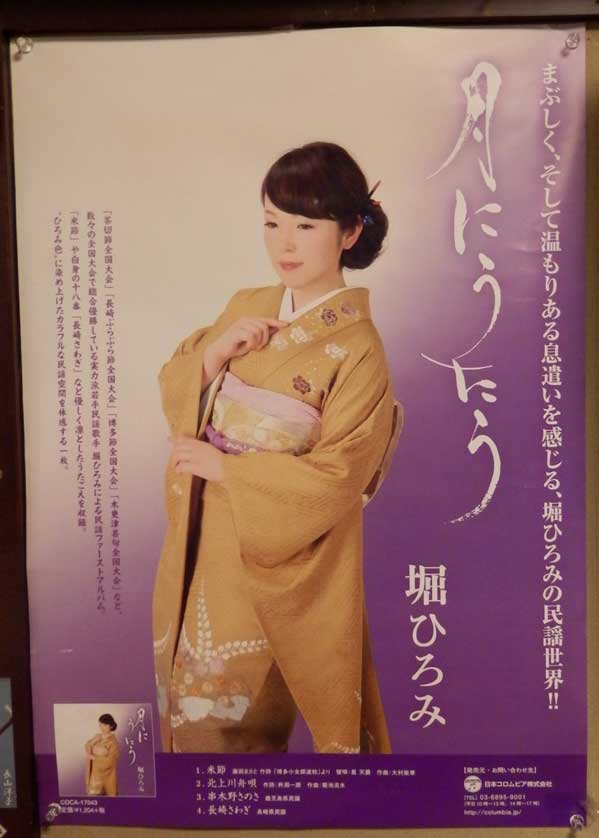 Hiromi Hori poster at Oiwake Minyo Sakaba
Oiwake Minyo Sakaba
The Oiwake Minyo Sakaba in the traditional Tokyo entertainment district of Asakusa is one the oldest and one of the most widely known Tokyo minyo houses. In continuous operation since the mid-1950's, the Oiwake is a center for contemporary minyo culture.
Enter the Oiwake on a random evening at about 6 pm to 6.30 pm. Take off your shoes, sit down at one of the low tables and order a drink and a few dishes. Nabe hotpot cooked at your table, sashimi or other traditional Japanese food; a few more Western style dishes are on the menu as well.
The waiters and waitresses you order from are also the performers to go on stage that night.
At about 7 pm the first show starts. Expect excellently performed shamisen play (some of Japan's best shamisen players are on the bill every night), expect the old songs performed by old masters as well as by young singers striving for expertise.
Like any music club worth its salt, the Oiwake is a tough training ground for young talent. Here, musicians' careers are formed.
Even the youngest musicians here have gone through long training periods before getting admitted to the stage - and before being allowed to serve you food and drinks.
The Later Shows
After the 7 pm show, usually lasting about 40 minutes, musicians come to each table to talk to the audience. Casually talking about minyo and listening to the comments of the audience.
While the first show is a set performance of artistic excellence, anything might go for the later shows of the night at 9 pm and 10.30 pm.
If, say, the whole audience leaves after the first show and is replaced by another, later, audience, the 7pm show might simply be repeated. If, however, people just remain sitting and drinking, another show will be performed. Chatting with the audience, the musicians try to find out what songs the audience might want to hear.
But sometimes, the evening takes unexpected directions. At a recent visit to the Oiwake, some audience members expressed the desire to go on stage themselves. Singing their favored minyo songs while being accompanied by professional musicians. A wish that was happily accepted. A middle-aged man took to the microphone - and he was amazingly good.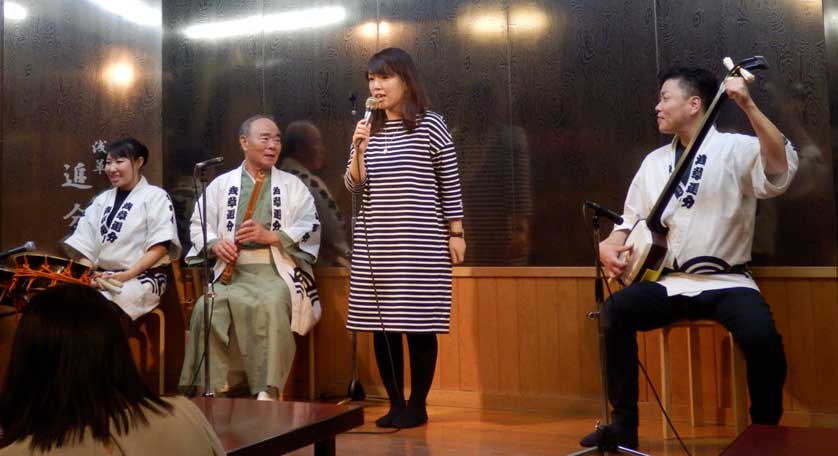 Hiromi Hori makes an unofficial appearance at the Oiwake Minyo Sakaba
Then, just very casually, a young woman in a striped skirt went on stage. Her heartful rendition of an old song was simply mind-blowing.
Well, in fact, she was Hiromi Hori, a graduate of the Oiwake who has become one of Japan's top minyo singers and who is now also the co-announcer on the weekly NHK-FM Nippon no Minyo radio broadcast.
She had just slipped in for a quick visit with her old friends, she said. The Oiwake is that kind of a place. Fans, regular performers and stars of the genre easily mingle in the relaxed atmosphere, enjoying their favorite old songs.
Access
Subway
Iriya Station of the Hibiya Line, Exit 2, 10 minutes by foot.
Tawaramachi Station of the Ginza Line, Exit 3, 10 minutes by foot.
Tsukuba Express
Asakusa Station, Exit A2, 7 minutes by foot.
Opening times
Tuesday to Sunday, 5.30pm to 11pm. The 19th of every month is a special concert night. Please see the note below.
Admission
2,000 yen music charge per person, one drink and one food order per person required.
Note: On the 19th of every month, a particularly famous musician or band will give a concert at the Oiwake. On that night, the club is open from 6pm to 9pm. The admission charge of 7,500 yen also includes 5 small dishes and a free drink. Please make a reservation if you plan to attend.
Address
Oiwake Minyo Sakaba
3-28-11, Nishi Asakusa, Taito-ku, Tokyo 111-0035
Tel: 03 3844 6283 (in Japanese)
Oiwake website: oiwake.info (providing basic info in English)
Oiwake on Google Maps
Minyo radio broadcasts:
Saturday from 12.30 pm to 12.55 pm on NHK-FM (Minyo o tazunete – Discovering Minyo)
Sunday from 11 am to 11.50 am on NHK-FM (Nippon no Minyo, co-hosted by Hiromi Hori)
Oiwake Minyo Sakaba
Book Hotel Accommodation in Tokyo Japan
Oiwake Minyo Sakaba is a live concert venue in Asakusa, Tokyo for minyo - Japanese traditional folk music akin to the blues.
All the themes of the city