Night cruise in Tokyo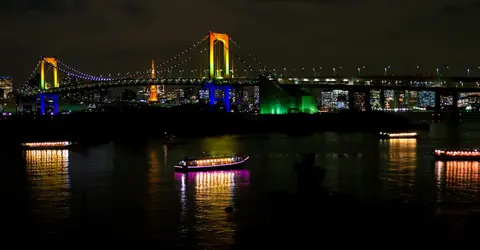 Dinner cruise on the waters of Tokyo Bay
Day or night, Tokyo offers a magnificent skyline. And especially on the bay, where boat cruises unveil another face of Tokyo... Here are four excellent cruises for you to consider!
Tokyo Bay Restaurant Cruise "Twenty-One" Cruise
If the name of this cruise sounds French, it's no coincidence!
Beef steak on the Rainbow Bridge background, Tokyo Tower-style salmon with cream, and dessert in front of the SkyTree, the "Ving t et Un" cruise is a tasty blend of traditional French cuisine and Japanese landscapes.
Lasting two hours, Tokyo BayRestaurant Cruise's gastronomic cruises are a fun way to discover the capital. With three departures (one for lunch, one for afternoon tea, and one for dinner), they allow you to admire a multi-faceted Tokyo: the bustling metropolis by day and the romantic capital by night. All against the backdrop of small dishes prepared by the chef!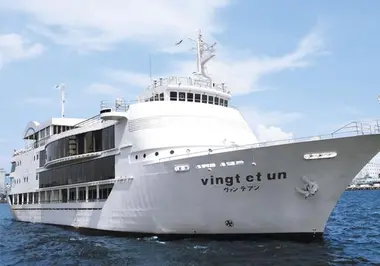 The night cruise departs at 7:20 pm from Takeshiba Pier. Guests are requested to board a few minutes before departure and should be seated at the table they have pre-booked on the official Tokyo Bay RestaurantCruise website. The price of the cruise then varies according to the menu chosen, a formula among the three menus offered: the Prime Set at 9,500 yen ($80/75€), the RainbowSet at 12,000 yen ($100/90€), and the Ving t -et -Un Set at 15,000 yen per person ($120/115€). The price includes meals, drinks, and the night cruise.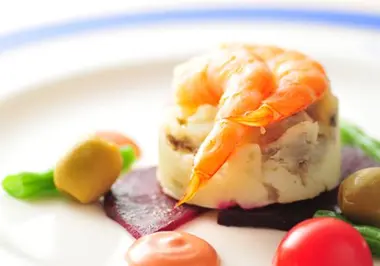 Further information
Address: 1 Chome-11-1 Kaigan, Minato-ku, Tokyo-to 〒105-0022
Schedule: 7:20 pm-9:20 pm.
Price: adult: from 9,500 yen to 15,000 yen ($77.50-120/72.50 to 115€), child: from 7,600 yen to 12,000 yen ($65-100/60-92.50€), exact prices and reservations on the official website of Tokyo Bay Cruise Ving and A
Directions: One-minute walk from Takeshiba Station (Yurikamome Line)
Official website: http://www.vantean.co.jp/english/tabid/119/Default.aspx#en04
Tokyo Bay Restaurant Cruise "Symphony" Cruise
Like the previous cruise, the "Symphony" is a gourmet cruise that travels around Tokyo Bay for the Tokyo Bay Restaurant Cruise company. It then offers four departures to admire Tokyo day and night, and leaves from the Hinode Passenger Terminal descend gently towards Odaiba.
Unlike the "Vingt-et-Un," the "Symphony" cruise extends its gastronomic horizon to several continents.
And whether you are a fan of French cuisine or Japanese dishes, you will undoubtedly find what suits you since the menu has around ten different menus for dinner!
Be careful, though; the prices of the "Symphony" formulas are a little more expensive than those of the "Ving-et-Un" cruise. And you will have to pay between 8,200 and 20,600 yen (between $75-165/70-157.50€) per person to enjoy a dinner under the lights of the SkyTree.
Although the menus offered are not necessarily within reach of all budgets, the "Symphony" still has its advantages when you have a small budget.
Indeed, the cruise also offers formulas without dinner, which is more suitable for those who would like to enjoy Tokyo's view at night. This is the case, for example, of the "Simple Cruise" at 3,800 yen ($35/30€), which only takes into account the price of the crossing, or even the lounge formula at less than 6,000 yen ($50/45€), which offers unlimited access to the lounge and the boat bar.
Further information
Address: 2 Chome−7-104, Kaigan, Minato-ku, Tokyo-to 〒 105-0022
Hours: 7:00 pm-9:30 pm.
Price: from 3,800 to 20,600 yen ($32.50-165/30-157.50€), exact prices and reservations on the official cruise website
Directions: Next to Hinode Station (Yurikamome Line)
Official website: https://www.symphony-cruise.co.jp/en/cruising_plan/dinner/index.html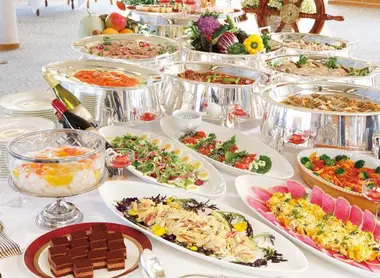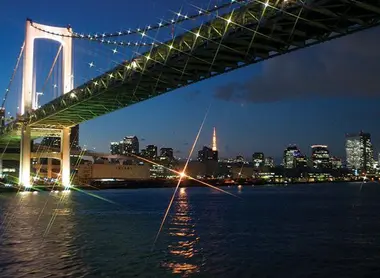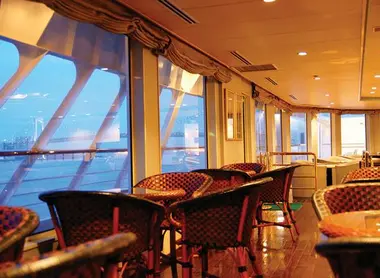 Edomaekisen "Odaiba Course" Cruise
The cruise company Edomakisen organizes a lovely crossing of Tokyo Bay throughout the year. And it is aboard a Yakatabune, a traditional pleasure boat, that you can this time admire the RainbowBridge and the Tokyo Skytree!
Six departures are thus organized throughout the day from the edges of Shin-kiba Pier, and an all-you-can-eat buffet (drinks and Japanese appetizers) is even available to boaters for 6,000 yen ($50/45€) on weekdays and 6,500 yen ($52.50/47.50€) on the weekend!
The crossing takes two hours.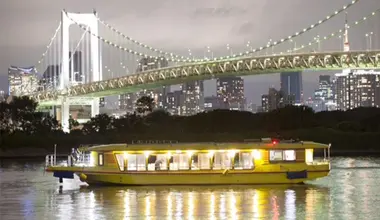 Further information
Address: 1 Chome Shinkiba, Koto, Tokyo 〒136-0082
Hours: 8:00 pm-10:00 pm.
Price: 6,000 to 6,500 yen ($50-52.50/45-47.50€), reservations on the official cruise website
Directions: Next to Shin-Kiba Eki Mae Station (Yurakucho Line)
Official website: http://www.edomaekisen.com/en/course/index.html
TokyoCruise Tokyo Wan Noryosen Summer Cruise
Organized every summer from the end of June to the end of September by the organization Tokyo Cruise, the "Tokyo Wan Noryosen" is a crossing of Tokyo Bay of nearly two hours, allowing you to discover the capital aboard a noryosen, a small steamer Japanese luxury.
Departing from Takeshiba Pier, you will then go down to Odaiba to admire the marvels of the city... in a yukata!
And this is the particularity of this little cruise!
Very light, the yukata is a summer essential in Japan. This is why many Japanese have enjoyed wearing it during matsuri or fireworks displays for centuries.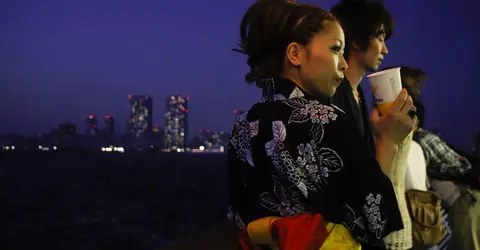 Presenting itself as a matsuri on the water, the "Tokyo Wan Noryosen" cruise was inspired by the summer custom of transposing it onto a boat. And for only 2,600 yen ($22.50/20€), you can now access an all-you-can-eat buffet where okonomiyaki and yakitori will give you the impression of taking part in a real matsuri.
Although the evening is spent in yukata, wearing traditional clothing is not compulsory. And you can very well come in street clothes if you like. That said, it entitles you to a reduction of 1,000 yen ($8.50/8€) on the cruise! It would be a shame to miss it!
Further information
Address: 1Chome-11-1Kaigan, Minato-ku, Tokyo-to〒105-0022
Hours: 7:15 pm-9:00 pm.
Price: 2,600 yen ($22.50/20€), 1,600 yen if yukata ($14/11€), reservations on the official cruise website
Directions: One minute walk from Takeshiba Station (Yurikamome Line)
Official website: https://www.nouryousen.jp/index.shtml
All the themes of the city