Manza onsen
万座温泉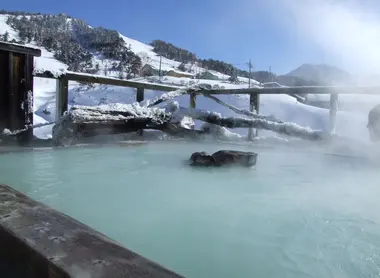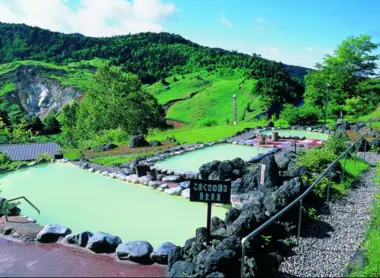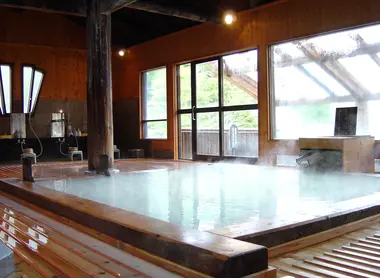 Baths and mountains
Slip into white and milky waters that can reach 80 ° C near Tokyo? This is possible in Manza Onsen, 200 km from the capital.
Isolated until recently, the Japanese spa resort Manza Onsen is nestled on the slopes of Mount Kusatsu Shirane at 1,800 meters above sea level.
Living at the rate of the approximately 5 million liters of water gushing every day from its sources, Manza Onsen is said to offer the richest sulfur baths in all of Japan.
Sulphurous waters ( Iou Sen ) are distinguished by their color turning milky white on contact with air, but also and above all by their strong smell of rotten eggs ...
But it takes more to discourage onsen aficionados. Indeed, these waters are known to be beneficial for respiratory and joint problems, blood circulation or to beautify the skin .
To benefit from these virtues, nothing could be easier. Just push the doors of one of the many ryokan in Manza Onsen or hotels for a night or just a day. Each has an indoor onsen or rotenburo , outdoor baths, with views of the surrounding mountains.
If you want to enjoy the joys of the onsen as a couple, there are also many mixed baths, especially at the Manza Prince Hotel . On your arrival, remember to ask the tourist office for the pass card which will allow you to access the onsen at a reduced price.
Flower power
In the heart of Joshin-Etsu-kogen National Park, this spa complex also makes a good base for board sports in winter and hiking from spring, when the mountains are adorned with thousands of rhododendrons. For even more scenery, take the Asama-Shirane road, the volcanoes road , to Mount Asama, near Karuizawa . You will discover the lunar landscape of Onioshidashi Park and its Buddhist temple.
---
Address, timetable & access
Address

Timetable

From Tokyo, take the train to Takasaki and then Karuizawa Onsen, then the bus to Manza Onsen.
All the themes of the city