Asakusa Kannon Onsen
浅草観音温泉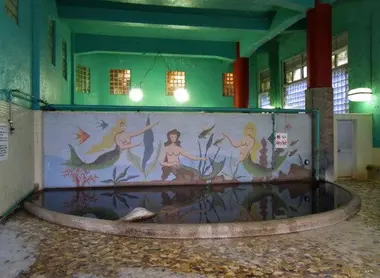 In the former
Asakusa Kannon Onsen, a discreet place of ablution, near Sensoji, has preserved the atmosphere of the Japanese public establishments of the postwar period.
The first building visible at the end of the left side of Sensoji Garden, the Asakusa Kannon Onsen offers a very affordable relaxation area to escape the frenzy of the crowd. This humble establishment has the merit of being frequented by both tourists and locals. It is advisable to arrive at opening time to make the most of your visit, but overall, it's not a crowded place.
Tattoos tolerated
The environment seems to be frozen in time. The wooden furniture, pots and colorfully painted walls recall the 1950s. Women can enjoy a lovely mosaic depicting mermaids when they are in hot water. The water only has the name onsen though, as it is in fact filtered and chlorinated, it is not from a natural source. The men have the choice between two baths, one so hot that only the bravest will enter, and the other of the same style as the women's.
Note for tattooed visitors, the owners do not really mind and there is little risk of you being disturbed. You should take your own soap and shampoo as the ones found on site are pretty basic. Asakusa Kannon Onsen does not in itself constitute an authentic experience of a traditional Japanese bath, but it still a good way to participate in the practice of this popular national art.
---
Address, timetable & access
All the themes of the city