Four places to see sunflowers near Tokyo
東京のそばで向日葵を見る場所
Air of Van Gogh near the Japanese capital
Sunflowers are described as the flowers of summer! Here are four places to admire them: just a stone's throw away from Tokyo!
1. Sakura Furusato Square (Chiba)
Impossible to make a list of the best places to visit in terms of flowers without mentioning the famous Sakura Furusato Square. Located in Sakura Town around Lake Inba-numa, this lovely park produces flowers all year round!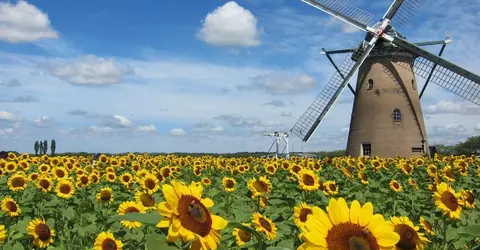 Laid out in a European style, the park welcomes tulips and cherry trees in the spring and sunflowers in the summer.
See: 10 places to see tulips in Japan.
With its 20,000 plants against the backdrop of a Dutch mill, Sakura Furusato Square takes on the appearance of Van-Gogh paintings! A pretty landscape, which every year delights many visitors who come to rest at the foot of the sunflowers during the park's annual free picnic.
Useful information :
Address: 2714 Usuita, Sakura, Chiba
Hours: 10 am to 4 pm.
Prices: free entrance
Access: a few minutes by bus from Keisei-Usui station (Keisei line) with the Sakura City Loop Bus, Furusato Square stop.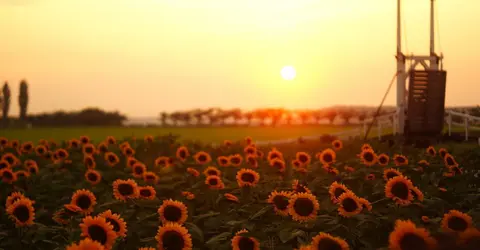 2. Narita Yume Farm (Narita)
A 300 m² agricultural farm in the town of Narita, the Narita Yume Bokujo has specialized in dairy products since 1887. It is very popular with the green classes for its animals and milk production and is also very popular with flower lovers!
And especially in summer, since it hosts more than 100,000 sunflowers among the region's tallest!
Read: Pasona, a farm in Tokyo.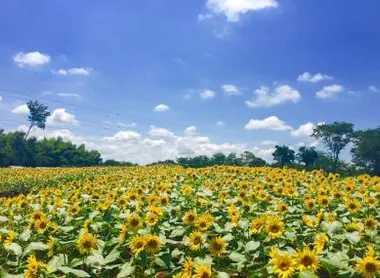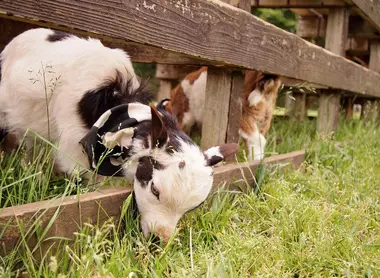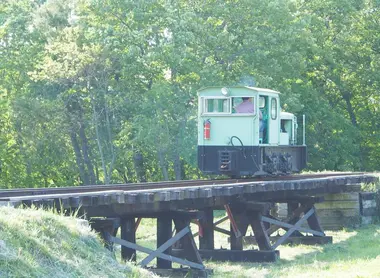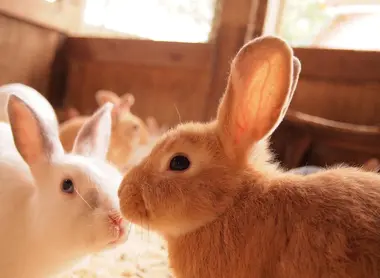 Also, note that the farm has a restaurant with a terrace. If some are interested in a 100% organic meal with a view of the sunflowers…
Useful information :
Address: Narita Yume Bokujo, 730Nagi, Narita-City, Chiba, 289-0111
Hours: 9 am to 5 pm.
Prices: Adult 1,400 yen ($11.50/11€), child 700 yen ($$5.75/5.25€)
Access: 20 min by bus from Narita Airport Terminal 2 (Narita line) Shishui Premium Outlet stop, and 7 min by car from Minami-Shisui station (Sobu line).
3. Showa Memorial Park (Tachikawa)
Located in Tachikawa, the Showa Memorial Park was built in 1983 to pay homage to the 50-year reign of the Showa-era Emperor (1926-1989).
Although the park is known for its museum entirely dedicated to the Emperor, it is for its gardens that stand out when the fine weather returns.
Azaleas, tulips, cherry trees, and spring flowers gently give way to sunflowers when summer arrives.
See also: Admire the cherry trees in Tokyo.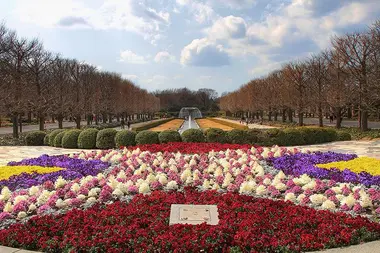 Two areas are even dedicated to them: one near the Sunakawa entrance, where 40,000 sunflowers as tall as a man welcome visitors, and the other a stone's throw from the park's swimming pool, where the 10,000 plants measuring 1m20 fill the children of joy.
The Showa Park sunflowers bloom a little later than the others; we advise you to come in mid-August to admire them in full bloom.
Useful information :
Address:190-0014 Tokyo, Midoricho Tachikawa 3173
Hours: 9:30 a.m. to 5 p.m.
Prices: entrance and museum, adult 750 yen ($6.50/6€), child 650 yen ($5.50/5€)
Access: 10 min on foot from Tachikawa Station (JR Chuo Line)
4. Zama Farm (Kanagawa)
The Zama farm located in Kanagawa prefecture has been growing sunflowers since 1994. With more than 450,000 plants annually, it is the most extensive place in our selection!
Every summer in mid-August, the farm organizes a festival to come and admire them.
In 2018, from August 13 to 18, visitors will be able to come and enjoy the farm's specialties against the backdrop of summer music and a colorful landscape.
On the menu? Beer, cider, and sunflower shochu! An excellent way to discover the work of the farm while admiring the beauty of seasonal flowers.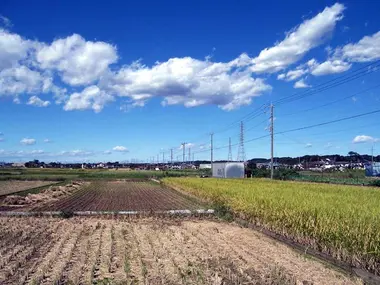 Note that the festival is only the second part of a more significant event dedicated to the region's sunflowers. The first part takes place in Kurihara in July.
Useful information :
Address : 〒252-0026 Kanagawa-ken, Zama-shi, Shindenjuku, ZamaBokujo
Hours: 10 am to 5 pm.
Prices: free admission
Access: 10 min by car from Zama station (Odakyu line)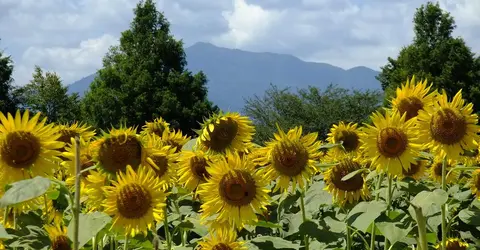 All the themes of the city