Shimokitazawa Shopping
Shimokitazawa ("Shimokita" for short) is one of Tokyo's top shopping districts for vintage used clothing and accessories, and exudes a cutting edge street fashion vibe.
Shimokitazawa Shopping 下北沢 買い物
Shimokitazawa (AKA "Shimokita") at the eastern edge of Setagaya ward is one of Tokyo's top street fashion districts. The meandering pedestrian-friendly alleys of this area are lined with stores selling mainly used clothing, and often out-of-the-ordinary clothing accessories. They run the gamut from rock-bottom casual to recycled high-street fashion.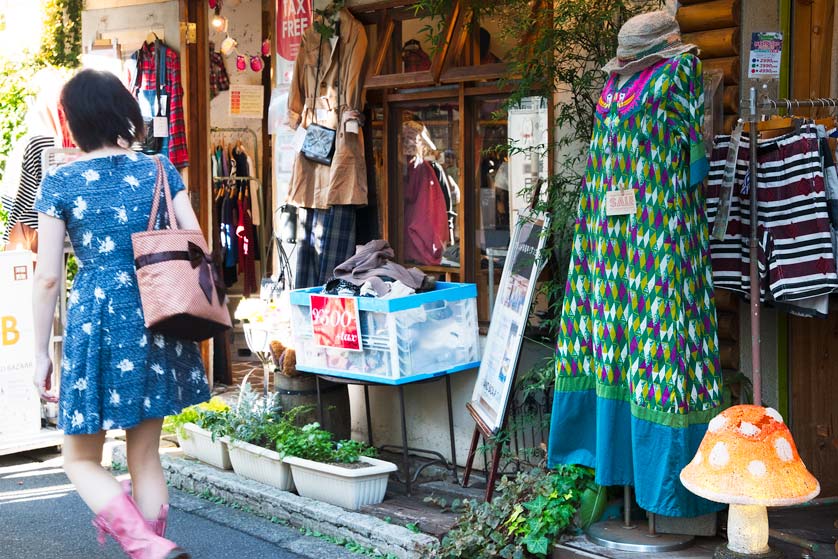 Shimokitazawa, for some of Tokyo's best vintage clothing shopping
Note that, as with all clothing sold in Japan, size may be a problem if you're bigger than the average Japanese, especially when it comes to long-sleeve length and waist size.
Mention, too, must be made of the many shoe stores in Shimokitazawa; but shoe shopping, too, can be a problem in Japan for those with big gaijin feet, radically narrowing the choices available.
Shimokitazawa Station (on the Odakyu Odawara Line, 10 minutes from Shinjuku, and the Keio Inokashira Line, 3 minutes from Shibuya) divides Shimokitazawa distinctly into north and south. Access between north and south is via a narrow passageway surrounded by ongoing construction work.
Shopping Map Shimokitazawa
North of Shimokitazawa Station
North of the station is the somewhat quieter end of the Shimokitazawa area in terms of crowds, but offers as rich a line-up of shopping opportunties as the southern end - especially for vintage clothing. The following introduces some north-of-the-station shopping highlights. (Read also about Shimokitazawa cafes and restaurants.) See also what's South of Shimokitazawa Station
New York Joe Exchange
New York Joe Exchange is a big "buy, trade, sell" store for used clothing and for accessories such as bags, shoes, belts, and ties, where everything is under 10,000 yen and the average price is 2,000 yen. Every second Sunday of the month they hold a New York Joe Expensive day at premises next door, for fashion items over 10,000 yen. This characterful, nearly always crowded, loft-like store is built on what were the premises of an old-style sento bathhouse! (Check out the bathroom tiles on much of the floor.)New York Joe Exchange also has a store in Kichijoji.3-26-4 Kitazawa, Setagaya ku, Tokyo 155-0031.Hours: Noon-8pm every day.New York Joe Exchange website (Click on "English")
Haight & Ashbury
Haight & Ashbury is a fancifully interior-decorated store that deals in vintage recycled chic men's and women's wear. A large part of what Haight & Ashbury deals in is "antique" clothing, including everything from genuine 19th century attire to '70s disco-era sartorial classics.2F Palazzina Building, 2-37-2 Kitazawa, Setagaya ku, Tokyo 155-0031.Hours: Mon-Fri 1pm-9pm, Weekends/public holidays: noon-9pm. Open every day.Haight and Ashbury website
Shimokitazawa Killers
Shimokitazawa Killers is a colorful riot of a store selling both new and used mainly punk and hardcore clothing and accessories: leather jackets, boots, t-shirts, rubber wearables, badges, pins, sunglasses and much more. Over a dozen punk brands stocked here. Periodically hosts punk parties at nearby venues.1F, Moriyama Heights Building, 6-5-25 Daita, Setagaya-ku, Tokyo 155-0033.Hours: 2-8pm. Closed Tuesday.Shimokitazawa Killers website (Japanese only)
B.C Stock Shimokitazawa
B.C Stock Shimokitazawa is an outlet store for Baycrew's: a Japanese fashion and lifestyle company that owns numerous smart-street-look fashion brands, such as B.C Stock, Spick & Span, Journal Standard, Iena and Edifice. Located down a small alley, B.C Stock handles all these brands, for men and women, as well as a selection of second-hand clothes, making the store a true Shimokitazawa denizen. Think alternative catwalk. One of three such stores in Tokyo. (Note that the "B.C." is pronounced French-style, i.e., "beh, seh"!)
2-30-3 Kitazawa,Setagaya-ku,Tokyo, Japan 155-0031
Hours: 11am-8:30pm (until 8pm on Sundays & public holidays)
Baycrew's website
Flamingo
Flamingo Shimokitazawa is a vintage clothing cum antique furniture store on the ground floor of a distinctive brick building, specializing in imported regular and vintage clothing and knick-knacks, mainly from the United States. Carefully selected, good quality classic clothing for men and women shares space with tasteful interior decoration and personal accessory merchandise such as second-hand figurines, vases, bags etc. Flamingo has several branches throughout Tokyo.1F Lisa Building, 2-25-12 Kitazawa, Setagaya-ku, Tokyo 155-0031Hours: Weekdays: noon-9pm, weekends/public holidays 11am-9pm.Flamingo Shimokitazawa website (Japanese only)
Mode Off Shimokitazawa
Mode Off Shimokitazawa is the local presence of the nationwide Mode Off chain (a division of the Hard Off group). Located in an architecturally designed building unusually smart for the area, Mode Off Shimokitazawa has a huge range of vintage clothing for both genders, and with all the clothing accessories you could want, including used watches and jewelry. Mode Off Shimokitazawa is unique amoung Mode Offs in offering a better range of high-end used fashion items from the big international brands.Shimokitazawa Green Garden Building, 2−26-14 Kitazawa, Setagaya-ku, Tokyo 155-0031Hours: 11am-9pm every day.Mode Off Shimokitazawa webpage (Japanese only)
Shimokita Garage Department 東洋百貨店
Shimokita Garage Department Store, or "Toyo Hyakkaten" in Japanese, offers big dollops of apparel grunge north of the station, and is made up ofover twenty individual stores in a shared space, department-store-style. Most of the characterful little shops housed here are for second-hand clothing, but include several jewelry and accessory stores - several with original goods, shoe stores, and even bicycles. A jumbly bedlam of shopping that definitely deserves a wander through. (You might even catch a musical performance taking place here.)2-25-8 Kitazawa, Setagaya-ku, Tokyo 155-0031Hours: noon (11am for some stores) - 8pm (9pm for some stores).Shimokita Garage Department website (Japanese only)
Rag Tag Shimokitazawa
Rag Tag Shimokitazawa is the kempt Shimokitazawa branch of a small nationwide used clothing chain, and buys and sells second hand fashion brands (street to couture) clothing and bags. Unlike the name might suggest, the merchandise here is sold in as spotless a condition as possible. Rag Tag has a notification service by where the store will email you if an item you are looking for comes in. (However, their online store is not recommended as descriptions regarding condition of clothing may be unreliable.)2-34-12 Kitazawa, Setagaya-ku, Tokyo 155-0031Hours: 11am-8pm, open every day.Rag Tag Shimokitazawa webpage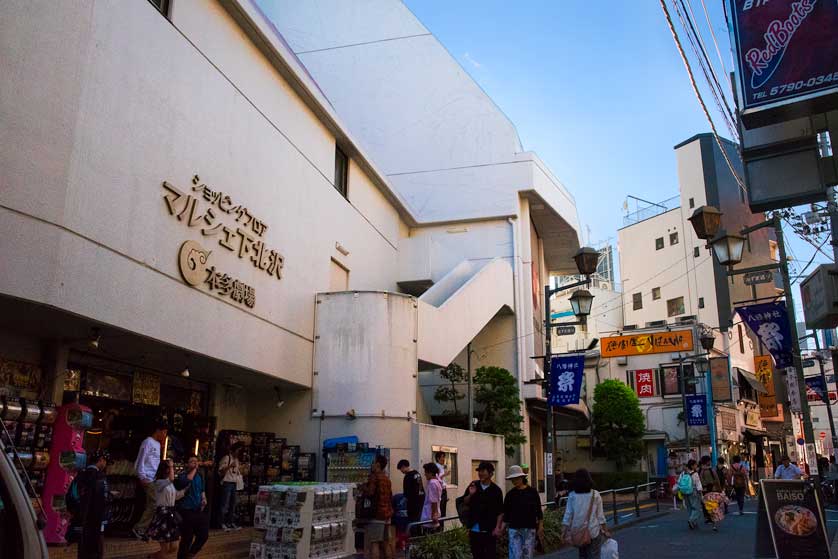 Marche Shimokitazawa, the area's biggest shopping and entertainment building
Village Vanguard Shimokitazawa
Village Vanguard Shimokitazawa, on the ground floor of the big Marche Shimokitazawa shopping plaza, styles itself an "exciting bookshop." Exciting it sure is, but it is way more than just a bookshop. The Shimokitazawa branch of the nationwide Village Vanguard offers one of the tingliest shopping experiences in the area, with pleasant surprises guaranteed as you browse the incredibly variegated shelves. At heart, however, books - or more precisely, manga - form the core of this store, with masses of manga to browse, as well as other genres such as photography books. Expect cute, edgy, exotic, adorable, and more, in a store that is way closer to a pop culture, home decoration and quirky souvenir emporium than just a "bookshop." 1F, Marche Shimokitazawa Building, 2-10-15 Kitazawa, Setagaya-ku, Tokyo 155-003110am-midnight, every day.Village Vanguard Shimokitazawa webpage (Japanese only)
Marche Shimokitazawa
Marche Shimokitazawa (pronounced mar-shay) is a big multi-story commercial building accessible down the first alley on your right a few meters after going under the railway line from the South Exit. Marche Shimokitazawa is sub-culture central for the area. In addition to the above Village Vanguard Shimokitazawa, Marche's approximately two dozen stores include Broken Doll, a store dedicated to the Japanese punk band of the same name, selling band-related goods such as CDs and personal accessories like hardcore "Syringe Earrings," klnky garter belts, freaky "cyber respirators" and more (2nd floor, Wed-Sun, 1pm-8pm). There are other underground fashion and accessory boutiques, an off-the-wall make-up boutique, tattoo parlor, nail salon, and second-hand kimono store, to name a few. Much of Marche Shimokitazawa is taken up by the Honda Theater, the biggest of the several theaters in the area.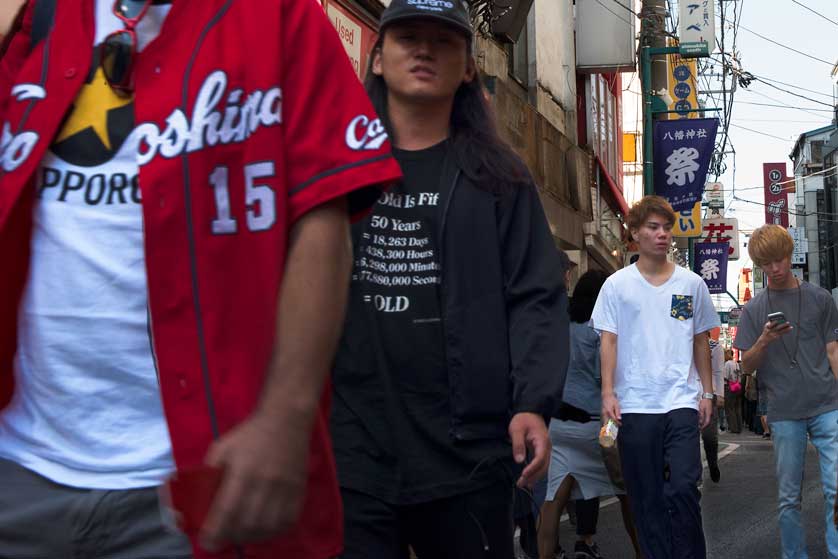 Shimokitazawa street style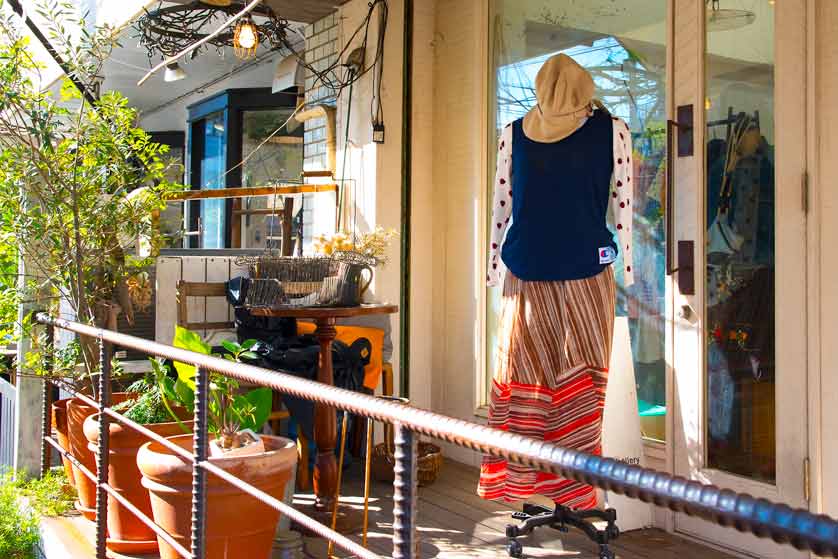 Shimokitazawa vintage fashion store
South of the Station
South of Shimokitazawa Station is the busier part of the area with a more conventionally commercial atmosphere. Drug stores, fast food, phone stores, bank branches and more pack the area around the station. However, this quickly gives way to a more locally flavored retail landscape as you move further away from the station. South of Shimokitazawa station is also where most of the live houses and theaters are.
Chicago
Chicago Shimokitazawa is a big, classic American-style thrift store - as the prominent "Levi's" sign in the window makes clear. Chicago has a huge amount of quality used merchandise for rock-bottom prices, and boasts Shimokitazawa's biggest selection of imported used Hawaiian shirts. In spite of the very American name, Chicago also has a big range of (literally) cool traditional Japanese wear in the form of yukata (summer kimono).5-32-5 Daizawa, Setagaya-ku, Tokyo 155-0032Hours: 11am-8pm, every day.Chicago Shimokitazawa webpage
Stick Out
At Stick Out all items of second-hand clothing are 700 yen (+ sales tax)! This little store on the second floor has a well-deserved reputation for good-quality used wear and friendly service. Always busy. Not so far from the station but requires some careful navigation.2F, 2-14-16 Kitazawa, Setagaya-ku, Tokyo 155-0031Hours: 11am-8pm, every day.Stick Out website
Grapefruit Moon Shimokitazawa
Grapefruit Moon - think "flower power." This haven of everything hippy is a trip into 70s culture and fashion. Used 1960s and 1970s clothing and shoes, vintage American trinkets and memorabilia, old LPs, and everything else reminiscent of the psychedelic age adorns the racks and shelves here. Expect to pay a little more, but for genuine merchandise in great condition.2-2-11 Kitazawa, Setagaya-ku, TokyoHours: noon-9:30pm, every day.Grapefruit Moon Shimokitazawa webpage
Recipe Shimokita
Recipe Shimokita is a large modern shopping building dating from 2009 that is very near the South Exit of Shimokitazawa Station. Stores in Recipe Shimokita include Foodium Daiei supermarket (1F open 24 hours, B1 floor open 9am-1am), uniqlo budget clothing and home goods store (2-4F, 10am-9pm) and the Daiso 100-yen store (5F, 10am-9pm). Exit the South Exit, and take the first turn on your right.2-20-17 Kitazawa, Setagaya-ku, Tokyo.Recipe Shimokita website (Japanese only)
Shimokitazawa Shopping Video
Follow David of JapanVisitor through the grungy alleys and often crazy stores of Shimokitaza: a kaleidoscopic overview of what shopping (and dining) in Shimokitazawa feels like.
Access to Shimokitazawa
Shimokitazawa is most easily accessed from Shibuya Station by way of the Keio Inokashira Line, or Shinjuku Station by way of the Odakyu Odawara Line.
Nearby Shimokitazawa
Sangenjaya is another suburban fashionista district - more laid back and spacious than Shimokitazawa - just over 2km south, walkable in 30 minutes, or accessible by taking the Keio Inokashira Line to Shibuya and then the Tokyu Toyoko Line to Sangenjaya.
Shibuya is a highly commercial, always-crowded, shopping-packed fashion center of Tokyo just four stops (7 minutes) east on the Keio Inokashira Line.
All the themes of the city