Venus Fort
ヴィーナスフォート

Venus Fort is part of the Palette Town complex in Tokyo's waterside Odaiba district, and is one of the many attractions the area offers.
Venus Fort Tokyo
Venus Fort is Tokyo's answer to the European Renaissance. The boxy exterior of this three-floor shopping, dining and entertainment complex belies a vast, airy, grandiose and elaborately ornate interior, replete with Italianesque statuary, architecture, painting, and scenery. And, of course, as much shopping as you can handle, much of it duty-free for tourists.
The most omnipresent visual in the time-warp that is Venus Fort is its lofty "sky" above, a constantly morphing play of Old Master ethereal blues and sunset pinks on a domed ceiling. The play of clouds and various flavors of light takes place over a repeating one-hour cycle.
There are several other stunning features throughout Venus Fort in the form of historical - and histrionic - follies that will take your breath away.
Fountain Plaza is the star of the Venus Fort show: a towering high roofed plaza beset with a circle of stone columns, and focused on a giant fountain borne aloft by six lissome Greco-Roman goddesses in the middle of a classically tiled sunflower-pattern floor.
Church Plaza is the Fort's next biggest space, and is just as awe-inspiring in its squarer, more austere lines, dominated as it is by what looks a lot more like a hefty Roman temple than a church.
Venus Fort Shopping
There are three floors of shops in Venus Fort: Venus Family on the 1F, Venus Grand on 2F, and Venus Outlet on 3F.
Venus Family occupies the first floor and is more kids oriented than the two upper floors, with its "Dear Kids Park," a free rest and play area for children, and clothing and other shops aimed at youngsters. There are diaper changing and nursing areas on this floor, as well as on floors 2 and 3.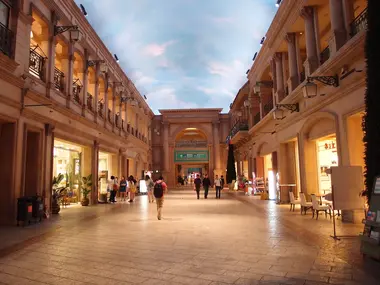 Venus Grand is on the second floor and, as the name implies, is the most awe-inspiring floor in its design, featuring Broad Avenue that takes you from the spectacular Fountain Plaza, to the Olive Plaza with its real olive trees, to the breathtaking Church Plaza. From Olive Plaza you can go to the nearby History Garage automobile museum in the nearby MegaWeb Toyota City Showcase. Shops include Tokyo's biggest Lego store, jewelry stores, restaurants and a lot of fashion stores. Near the 2F information area is a replica of the Mouth of Truth in Rome, where you put your hand in and make a wish.
Venus Outlet is on the third floor and offers a mix of youth fashion brand goods for affordable outlet prices, a Hobby Street section, watch and glasses stores, and a Dining Court with a range of cuisines available. There is also the convenient Ginoito clothing alteration service, open 11 am to 8 pm, which offers on-the-day alterations of clothing you bought that might need a little extra work for the perfect fit.
Lockers
There are coin lockers where you can store personal belongings that you won't need while shopping - on all three floors of Venus Fort.
First floor lockers: outside and near the Nitori home furnishing & interior shop
Second floor lockers: near Zara and near the ATMs for Shinsei Bank and Seven Bank
Third floor lockers: near elevator no.4.
---
Address, timetable & access
Venus Fort
Address

1 Chome-3-15 Aomi, Koto City

135-0064

Japan

Phone

+81 3-3599-0700

Timetable

Venus Fort is open from 11:00 a.m. - 9:00 p.m. every day.
Restaurants: 11:00 a.m - 11:00 p.m. (last order at 10:00 p.m.)
Please note that Venus Fort is set to undergo major redevelopment, forcing the 3-story shopping plaza to close down. The closing date is set on the 27th March 2022.

Price

Free

Access

The nearest stations to Venus Fort are:Tokyo Teleport Station on the Rinkai Line and Aomi Station on the Yurikamome Line
All the themes of the city