Ginza Shopping
Ginza shopping: read about the main shopping attractions in Ginza, Tokyo's ritziest and most luxurious fashion retail district.
Tokyo Area Guide: Ginza Shopping 銀座 ショッピング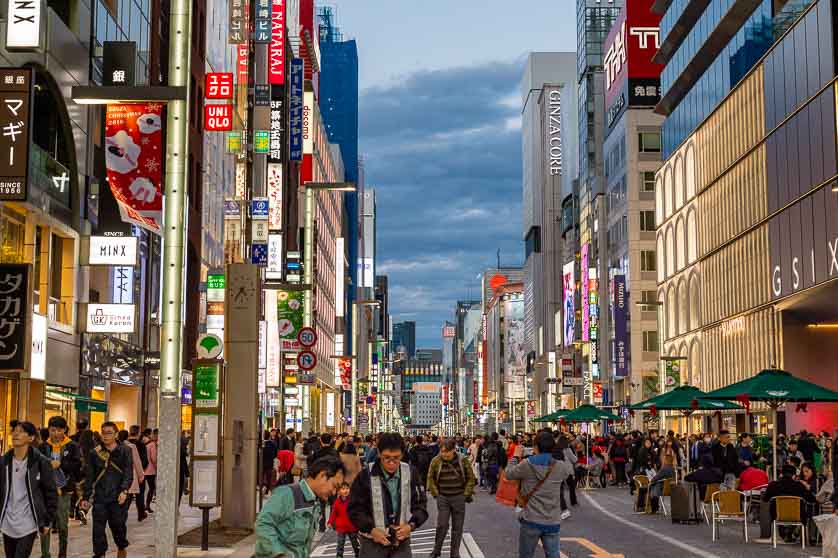 Ginza by night
Ginza has been Japan's pinnacle of shopping classiness and opulence since the early 1900's, typified by its grand, long-established department stores. Today, Ginza draws thousands of tourists from other parts of Japan and Asia for its reputation of elegance and haute couture.
The recession has seen an influx of casual clothing brands in addition to the scores of iconic top-class stores that line Ginza's streets. But having a store in Ginza adds class to any brand image, and stores here strive to outdo each other in elegance and chic.
Ginza shopping is centered on a 1 km stretch of Chuo-dori ("Central Avenue"), three streets running parallel west of Chuo-dori, and numerous elegant tree-lined little streets that connect them. Chuo-dori Avenue is pedestrian-only on Saturdays, Sundays and public holidays from noon until 5 pm (October - March) or 6 pm (April - September).
As well as regular stores, Ginza is also dotted with hundreds of small art galleries.
Ginza provides the "G Free" Ginza Free WiFi service for anyone visiting the area. (However, please be aware of the privacy-related risks of using free WiFi.)
The center of Ginza is the Ginza 4-Chome (yong-chomay) intersection on Chuo-dori and Harumi-dori. It is overlooked by the iconic old Wako Building with its clock tower on the north side, and the Mitsubishi Dream Center across from it on the south side.
Mitsukoshi Department Store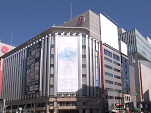 Mitsukoshi Department Store (Mitsukoshi Hyakkaten) is Ginza's landmark department store on the area's foremost intersection: Ginza 4-chome. It has 12 above-ground and 4 underground floors, with food on the B2 and B3 floors - by far the best floors to stop in on if you're sightseeing. Half the B2 floor is made up of stalls selling Japanese confectionery. The B3 floor features wines, delicatessens, seafood, meat and sake. "Ginza Terrace" on the 9F is also worth a visit: a green grassy park-like space for R&R. The store comprises the original building and a conjoined annex to the east on Harumi-dori. The store shares its plot with Ginza 4-Chome Post Office.Hours: 10 am-8 pm.11F & 12F restaurants: 11am-11pm.1F & 2F cafes, 9F Ginza Terrace: 10 am-11pm.Open 365 days.4-6-16 Ginza, Chuo-ku, Tokyo 104-8212.Tel. 03-3562-1111Mitsukoshi Department Store Map
Ginza Six, Ginza's newest shopping sensation
Ginza 6
Ginza Six, opened in April 2017, is a massive 14-story luxury shopping building at Ginza-6 intersection that is home to almost 250 stores - the majority of them representing leading fashion brands. There are dining opportunities galore, a rooftop garden, and even a noh theater. A major retail presence - and an awe-inspiring experience in its own right. A must-visit if you're going to Ginza.
Hours: 10:30 am-8:30 pm. Restaurants: 11 am-11 pm. Tourist Service Center: 9 am-9 pm. Tax-Free Counter: 10:30 am-8:30 pm. Ginza Six Garden: 7 am-11pm. Read more about tax free shopping in Japan
6-10-1 Ginza, Chuo-ku, Tokyo 104-0061.Tel. 03-6891-3390Ginza Six Map
Matsuya Department Store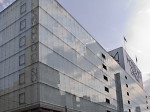 Matsuya Department Store (Matsuya Hyakkaten) has been a Ginza presence since 1925 and is now housed in a modern white structure covered in LEDs. Its 7 above-ground floors are devoted mainly to clothing, mostly for women. Being in a new building, Matsuya is Ginza's best department store in terms of the spaciousness and navigability of its above-ground floors. However, while its two underground food floors - fresh food on B2 - are as well stocked as any Japanese department store, they are somewhat cramped and generally unremarkable. For foreign shoppers there is a tax refund counter and overseas shipping service on 3F. There is art on 7F/8F and restaurants on 8F.Hours: 10 am-8 pm. 8F restaurants: 10 am-10 pm. Closed 1 Jan only.3-6-1 Ginza, Chuo-ku, Tokyo 104-8130.Tel. 03-3567-1211Matsuya Department Store Map
Wako Department Store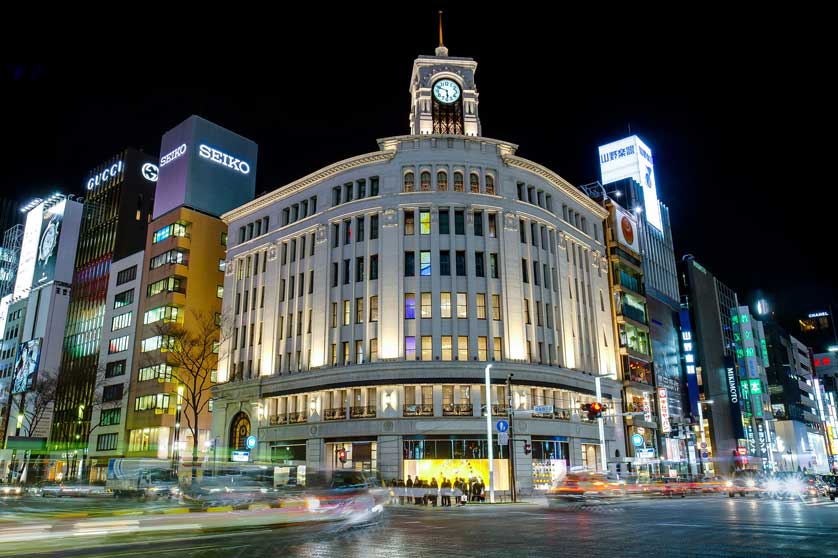 Wako Department Store, Ginza, Tokyo
Wako Department Store, dating from 1947, is a 6-floor, high-end department store selling clocks and watches, men's and women's clothing and accessories, jewelry, and interior decor. It does not sell any food, and is rather staid compared with the area's other department stores. It has a next-door annex with cakes, sweets, a tea salon and restaurant, a store on Namiki-dori Avenue (3 streets west of Chuo-dori) that offers considerably more merchandise than the Main Store, as well as individual specialty "salons" nearby. See the Ginza Wako website for details.
Main Store Hours: 10.30 am-6 pm. Closed 31 Dec & 1 Jan only.
4-5-11 Ginza, Chuo-ku, Tokyo 104-8105.Tel. 03-3573-4761Ginza Wako Department Store Map
Tokyu Plaza Ginza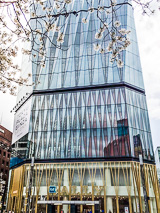 Tokyu Plaza Ginza is a strikingly modern, 11-floor shopping and dining complex in Ginza, towards Yurakucho Station, that opened in March 2016. Over 130 stores offer everything from men's and women's clothing and fashion accessories, to lifestyle goods, cosmetics and cosmetic treatments and services, restaurants and cafes - with lots of well-known Japanese and international names, and cuisines representing Japan and the world. Check out the elegant 6F Kiriko Lounge, a spacious cafe like a first-class lounge, with a 27 meter high ceiling, bathed in daylight. See the Tokyu Plaza Ginza website for details.Hours: Floors 1-9 (shopping, cafes, services): 11 am - 9 pm; Floors B1 & B2 (Ginchika Marche foodstuffs & delicatessens): B1 11 am - 9 pm, B2 11 am - 11 pm; Floors 10 & 11 (Ginmachi Dining) 11 am - 11 pm; Floor 6 (Kiriko Lounge) 11 am - 11 pm (but until 9 pm on Sundays & public holidays).Ginza 5-2-1, Chuo-ku, TokyoTel. 03-3571-0109 (11 am - 9 pm)Access from Exits C2, C3, Ginza or Yurakucho Stations. See a map of Tokyu Plaza Ginza Map (search map for "Tokyu Plaza Ginza").
Apple Store Ginza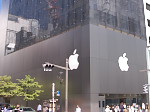 Apple Store Ginza is a fittingly chic metallic cube on the corner of the main Chuo-dori and Matsuya-dori (Ginza 3-chome intersection). Its five floors feature all the latest Apple products and a busy schedule of workshops and seminars.Hours: 10 am to 9 pm, every day. (Genius Bar from 8am)3-5-12 Ginza, Chuo-ku, Tokyo 104-0061Tel. 03-5159-8200Apple Store Map
Hakuhinkan Toy Park

Hakuhinkan is Japan's most venerable toy emporium, dating from 1899 and with 5 floors of almost everything related to toys, stuffed toys plushies, dolls, games, hobbies, entertainment and more - including dining. Barbie and Japan's own Likka-chan are on B1. The Hakuhinkan Theater (i.e. performance venue) is on 8F. Delightful and extremely variegated browsing and shopping for kids and grown-ups alike.Hours: 11 am-8 pm. 5/6F restaurants: 11.30 am-10 pm. Toy Park open 365 days.8-8-11 Ginza, Chuo-ku, Tokyo 104-8132.Tel. 03-3571-8008Hakuhinkan Toy Park Map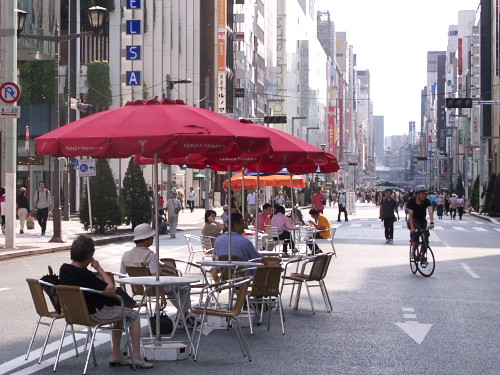 Pedestrian Chuo-Dori, Ginza, Tokyo on Sundays
For a full listing of Tokyo Museums & Art Galleries click here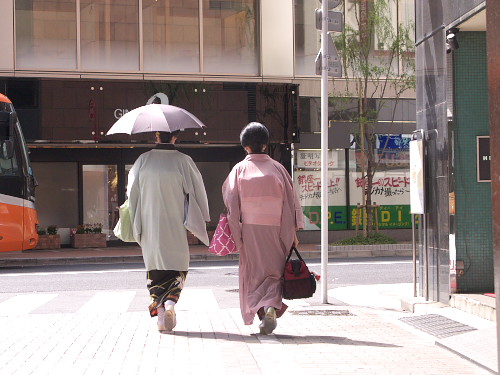 Ladies shopping in kimono, Ginza, Tokyo
Book Hotel Accommodation in Ginza Tokyo
All the themes of the city