Yonoya Kushiho
よのや櫛舗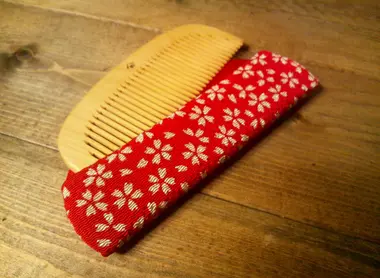 The courtesans' purveyor
Established in Asakusa since 1717 this artisan comb-maker maintains the traditional techniques for making these essential accessories for the hairstyles of high society ladies.
Yonoya Kushiho is now in its seventh generation of artisans comb-makers, and its accessories are still just as famous. The front of this little store, drowned in the flood of souvenir shops of Asakusa, catches the eye by the simplicity of its windows.
No frills inside, the object is sufficient in itself. The boxwood combs by the master Saito, impress by the expertise they display. The precision with which each ornament is crafted and the delicate teeth make it a precious object. What is more, there is something for every taste. From the most discreet pin to the most extravagant comb. There is always the incomparable of finely selected wood from Ibusuki in the Kagoshima Prefecture.
Prices seem exorbitant, but are actually ridiculously low for such handcrafted objects. The store manager also proves to be an excellent adviser. He enthusiastically teaches Western novices the various techniques of fixing the ornamental comb on a bun. Leaving with something so fine, carefully placed in a velvet case, will delight any woman who has once dreamed of being a courtesan.
---
Address, timetable & access
All the themes of the city