Hikifune Takagi Shrine
曳舟の高木神社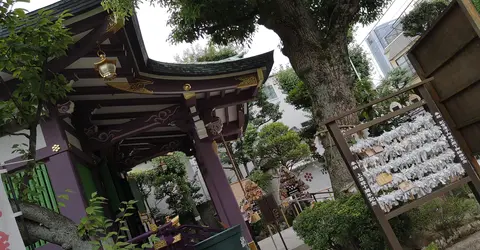 The Onigiri Shrine
Located near Hikifune station, the small Takagi shrine is a special place of worship. It does not go unnoticed between its purple color and its onigiri statuettes! However, it remains little-known... And even today, few visitors are aware of this little Tokyo pearl!
A purple shrine in honor of rice balls
Built in 1468 in the Hikifune district, Takagi is a small Shinto shrine located a stone's throw from the Tokyo Skytree .
One of its particularities? Sa pretty, unusual purple color for a Shinto shrine, but not only!
Indeed, the sanctuary is also populated with onigiri figurines ! And whether in the form of small statuettes or ema (piece of wood where you write your wishes), everything is like small rice balls.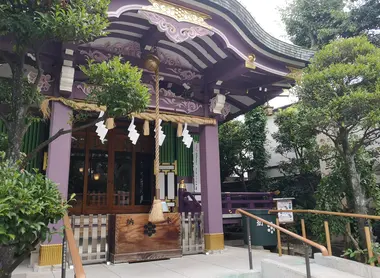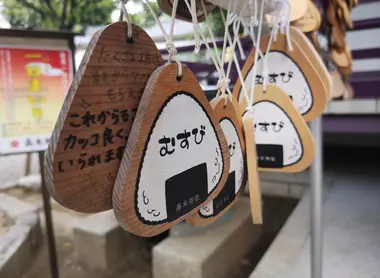 A kawaii emblem that the sanctuary has exploited to the end, since the o mikuji are also the effigy of the flagship food of the konbini !
Pierced with an arrow on which rests a sticker in the shape of a rice ball , the Shinto predictions of the Takagi shrine are among the most original omikuji in Tokyo. And their singular design would almost make them regret having to hang them up when they bring bad luck!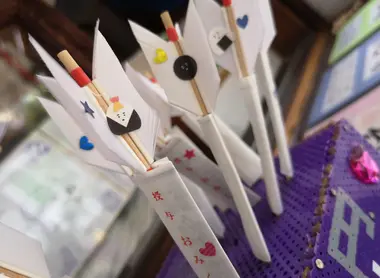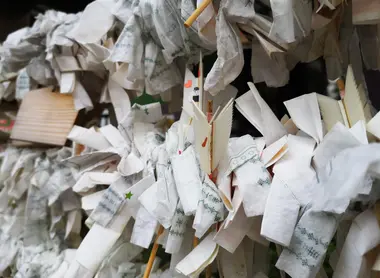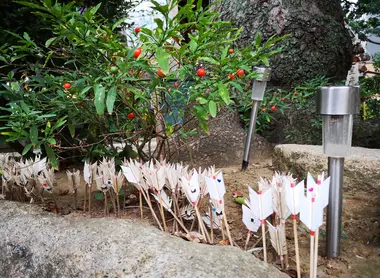 A pun at the origin of the theme of the sanctuary
Contrary to what one might think, Takagi Shrine is not a place where foodies come to pray for more rice.
Responding to sweet name " Takagi Musubi no Kami ", the local deity is actually associated with marriage and spiritual ties. A deity who therefore has nothing to do at first sight with the onigiri , except for his name.
Indeed, the references to onigiri actually come from a funny joke that the current management of the sanctuary decided to play!
Although the word " Musubi " refers to a very important Shinto concept referring among other things to the link that exists between all things, the latter also designates '' omusubi '', the other name given to Japanese rice balls.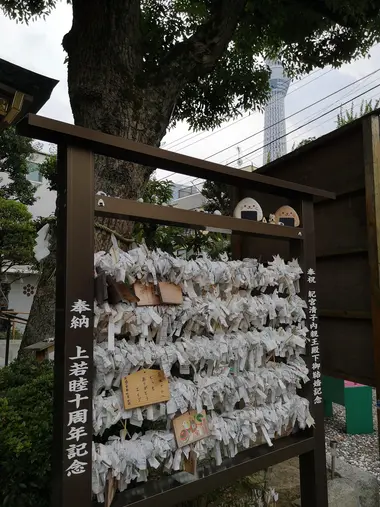 The current management of the sanctuary having found the pun to his liking, would have decided to play on the proximity of the two words to give a touch of originality to the sanctuary of the district and attract the attention of visitors. A bet that does not yet seem to have been entirely won, since the sanctuary is still very little known by travel guides specializing in the Japanese archipelago.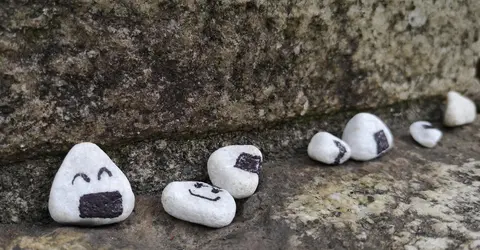 ---
Address, timetable & access
Address

Timetable

A few minutes from Hikifune station (Tobu-Skytree line).

Price

free

Access

9a m-5 pm
All the themes of the city