Jomyo-in Temple
浄名院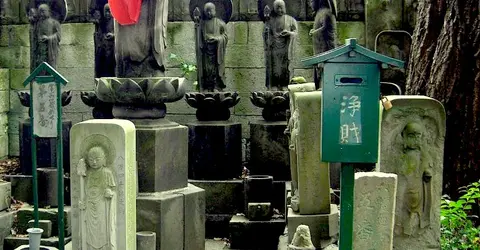 Le champ aux idoles
Dissimuléentre le cimetière de Yanaka et le temple Kaneiji dans le parc d'Ueno, leJomyo-in intrigue de par ses milliers de statuettes en pierre.
Dedicated to Jizo, god of pilgrims and children, Jomyo-in is said to have over 84,000 idols in Jizo's image. However, these differ from the usual representative statuettes where red or white bibs are worn deemed to protect children. Here, the statutes are enthroned in a stone frame and aligned in multiple rows in the garden of the temple. It is customary to pick up the pieces of broken rock and place them close to the nearest statue.
Before becoming a full-fledged temple, the Jomyoin was the residence of one of the priests of the Kaneiji temple and today, it still stands in its shadow. On October 6th, a ceremony celebrates the hechima, a squash native to Okinawa, said to cure respiratory diseases.
---
Address, timetable & access
All the themes of the city