Komagatado Hall
Komagatado Hall is a tiny Buddhist temple on a street corner, a short walk from the famous Sensoji Temple in Asakusa, Tokyo, and is intimately connected with Sensoji's history.
Komagatado Hall, Asakusa 駒形堂 浅草
The Sensoji Connection
Komagatado Hall is a tiny but ancient temple on a street corner at the southern edge of the Asakusa district of Taito ward, Tokyo. Asakusa is famous for its big Sensoji Temple and the huge Sanja Matsuri, Tokyo's biggest festival, that takes place every spring at Sensoji Temple's Shinto shrine. The nearby, but somewhat isolated, Komagatado is less famous and conspicuous than Sensoji but has an intimate historical connection with it.
Komagatado Hall, Asakusa, Tokyo
Komagatado History
The exact roots of Komagatado Hall are unclear. One account is that it is where the main gate of Sensoji Temple once was. A more colorful account is that it is the spot where two fishermen hauled from the Sumida River a statue of the Bodhisattva Kannon in 628 A.D., which led to the founding of Sensoji Temple. Apparently, the village headman identified the statue as being of the Buddha, dedicated his life to propagating the Buddha's teachings, and turned his home into what became Sensoji Temple.
Komagatado Hall is right beside the Sumida River (a little north, today, from its original site) and, from Japan's medieval period, is where pilgrims to Sensoji Temple arriving by ferry would land and first pay their respects. Today it faces west, away from the Sumida River that flows by it, but until 1742, in one of its many rebuildings, it faced east looking over the river. The latest rebuilding of the Hall was in 2003.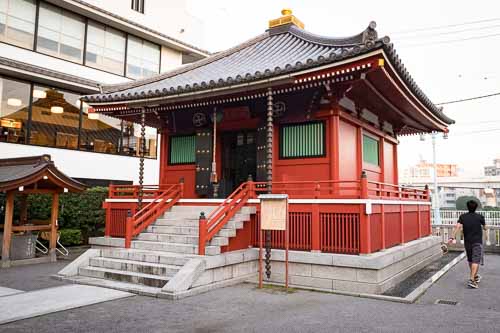 Komagatado Hall, Asakusa, Tokyo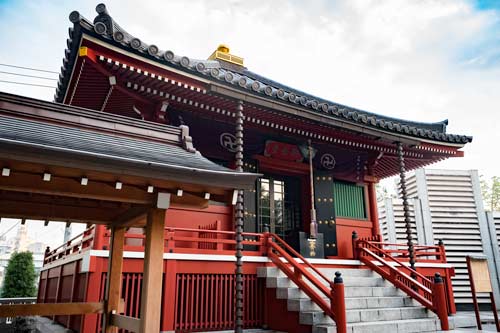 Komagatado Hall, Asakusa, Tokyo
Komagatado Today
The Buddhist image enshrined here is the Bodhisattva Bato-kannon, which depicts the Kannon with a horse's head. The horse having been the main engine of transport in old times, Bato-kannon is the god of traffic safety. This bodhisattva's peculiar form gave rise to the name komagata, which means "horse-shaped," and is also the name to the small district slightly south, between Komagata Bridge and Umaya Bridge, where Komagatado Hall was first located. The Hall is open on the 19th of each month for viewing of the Bodhisattva Bato-kannon statue. April 19 is the date of the Hall's own annual festival.
Access
Komagatado Hall is just a three minute walk south of the main Kaminarimon Gate of Sensoji Temple and then going a little east at Komagatabashi-nishizume intersection where Asakusa-dori and Edo-dori meet. The Hall is at the Asakusa end of Komagatabashi Bridge, across the road from Exit A2-a (usable until 10pm) of Asakusa Station on the Asakusa Subway Line.
All the themes of the city