Shinganji Temple
Shinganji Temple, in the free and easy youth hangout that is Shimokitazawa, Tokyo, is a four-century year old temple dominated by a giant ginkgo tree dating from its founding.
Shinganji Temple 森巖寺
Shinganji Temple is a four century old Buddhist temple in the trendy, grungy Shimokitazawa district in Tokyo and was built as the final resting place of a prominent member of the Tokugawa clan that ruled Japan until 1868.
Shinganji is dominated by a towering gingko tree that dates from the time of the temple's founding, in the early 17th century, making it over four centuries old. It is a designated tree of Setagaya ward.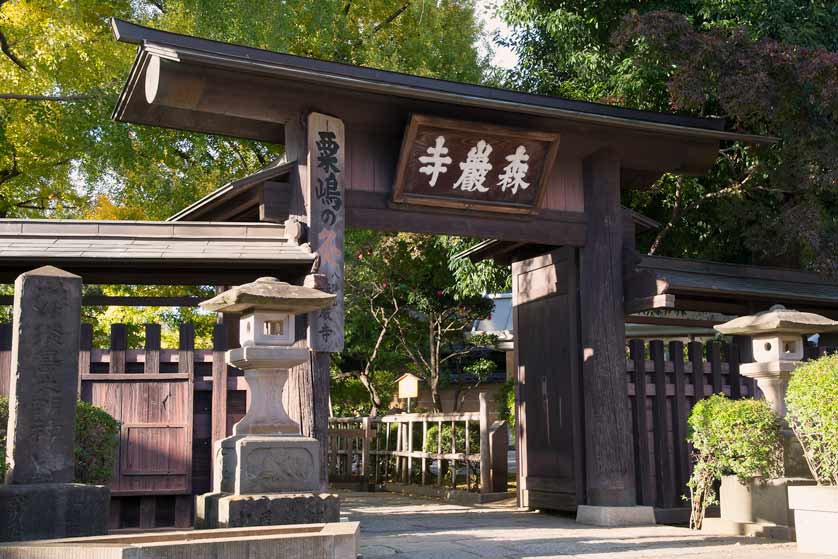 Gate of Shinganji Temple, Shimokitazawa, Tokyo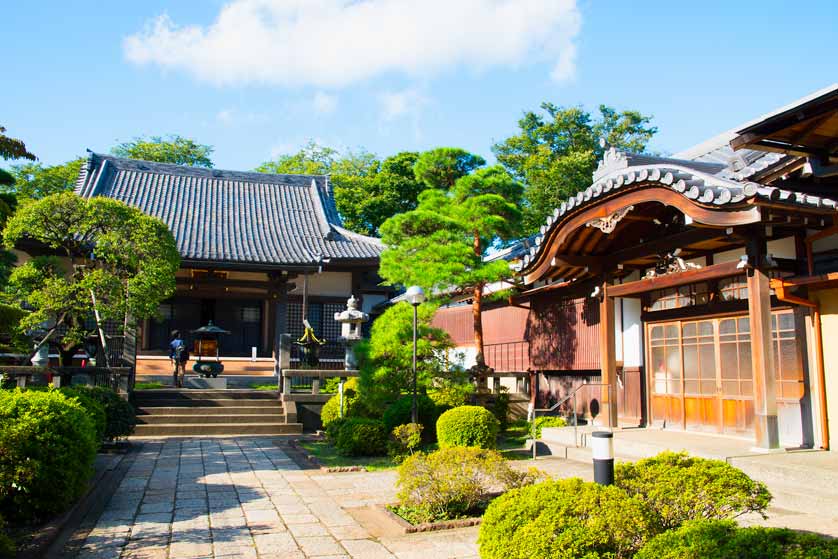 Hondo (Main Hall) of Shinganji Temple, Shimokitazawa, Tokyo
Another unique feature of Shinganji is its Needle Grave, topped by what looks like a gravestone. It is here every February 8th that old, worn needles are "buried," in a gesture of respect for needles as implements of labor, which is extended to veneration of all tools. The roots of the ritual are unknown, but it has been a fixture of the Shingaji calendar for at least 150 years.
Next to the Awashima-do Hall of Shinganji is an unusual glass, hexagonal shrine to the goddess Benzaiten (the Japanese version of the Hindu goddess, Saraswati).
There has been a kindergarten on the grounds of the temple since 1952, fenced off but part of the precinct.
History of Shinganji Temple
Shinganji Temple was founded by the daimyo, Yuki Hideyasu (1574-1607) as his burial ground. Because he was a member of the ruling Tokugawa clan that ruled as the Shogunate, he wished to be buried in the city where the clan ruled from. The Tokugawa family crest of three hollyhock leaves can be seen here and there on the main temple building.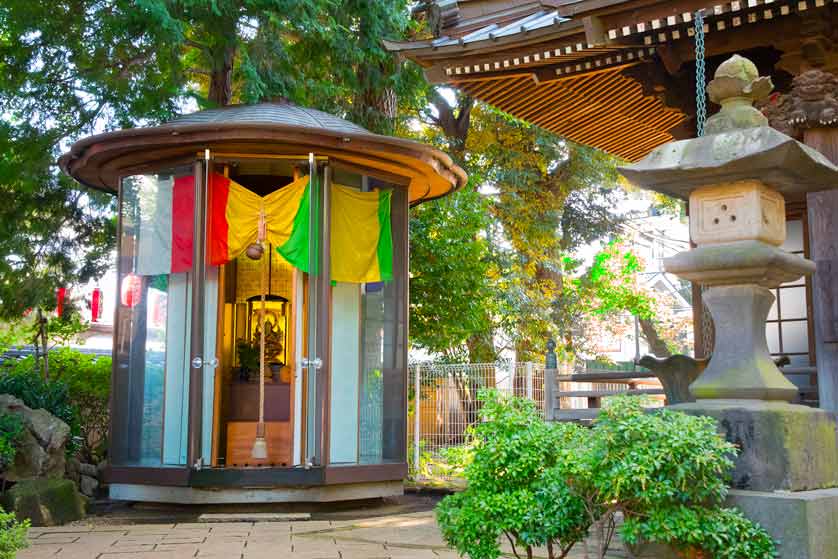 Shrine to the goddess Benzaiten, Shinganji Temple, Tokyo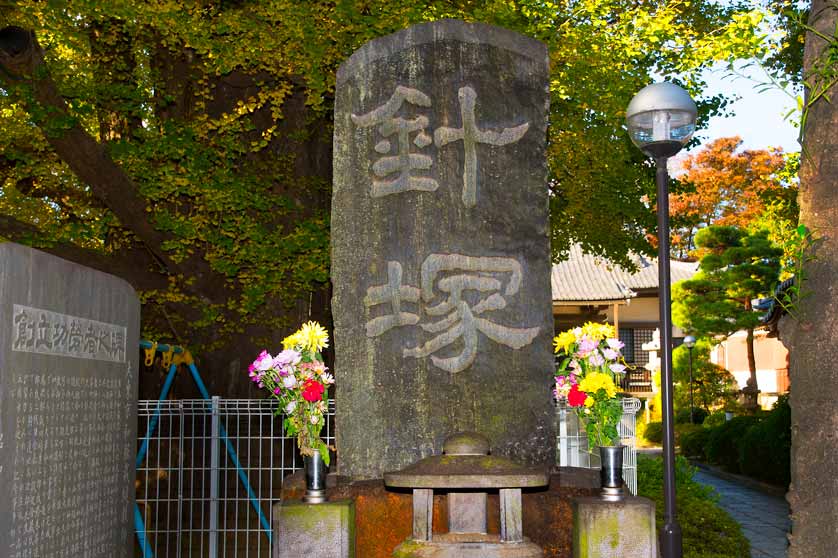 Needle Grave, Shinganji Temple, Shimokitazawa
Festivals & Rituals
Shinganji Temple has its Memorial Service for Dead Needles (Hari Kuyo) on February 8 every year, centered on the Needle Grave in front of the Awashima-do Hall.
Two months later, on April 8, Shinganji has a memorial service for its founder, Yuki Hideyasu (1574-1607), who died on this day.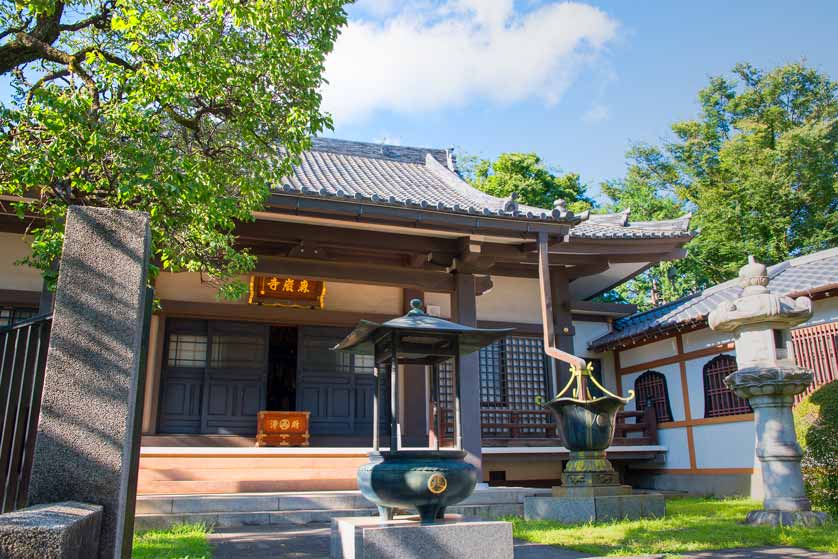 Main Hall (Hondo), Shinganji Temple, Shimokitazawa, Tokyo
Access
Kitazawa Hachiman Shrine is less than 10 minutes walk south of Shimokitazawa Station on the Keio Inokashira Line and the Odakyu Odawara Line (which connects to the Chiyoda Subway Line).
Nearby
Kitazawa Hachiman Shrine is less than a minute's walk from Shinganji, and predates it. This beautiful, wooded shrine has numerous minor shrines on its grounds, and is the site of the Shimokitazawa district's main community festival every year.
3-27-1 Daizawa, Setagaya-ku, Tokyo 〒155-0032Free entry
Book Hotel Accommodation in Tokyo Japan
All the themes of the city