Yomiuri Land
よみうりランド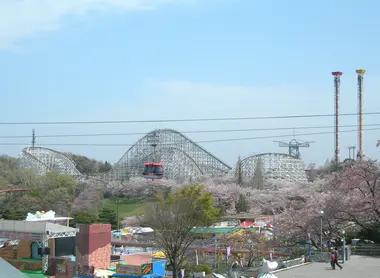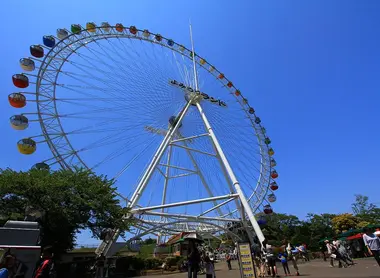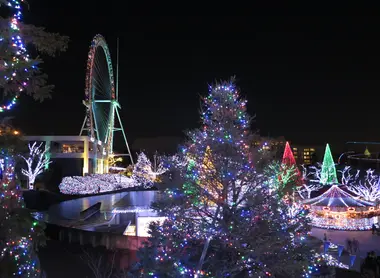 The closest amusement park to the capital
If your youngsters are tired of the city and sightseeing why not treat them to a day at an amusement park just 30 minutes from Shinjuku Station? They can discover a large number of attractions and depending on the season, you can enjoy cherry blossoms, an outdoor swimming pool or Christmas lights, minus the crowds.
Yomiuri Land is the largest amusement park located near Tokyo. 44 various activities are offered, from classic or less classic roller coasters to drop towers for adults or children, including creative workshops. So there is something for all tastes and all ages. The ferris wheel, the park's landmark, offers views of Mount Fuji, Tokyo Tower, and the Tokyo Skytree on a clear day.
For thrill seekers
Bungee Jump : to launch from the top of 7 floors from 22 meters high.
Bandit : a roller coaster course set among trees with a speed of up to 110 km/h, one of the fastest in the world.
Momonga Standing and Loop Coaster : a standing roller coaster. This type of attraction was born in Japan in 1982 in three different parks including Yomiuri Land. Passengers are in a standing position, held by an adjustable harness located above their shoulders.
Crazy Hyuuuu, Crazy stooon : a drop tower.
Laser Athletic – The Temple of the Sun : here, it is a question of escaping a system of laser traps
For the little daredevils
Wan Wan Coaster Wandit : a roller coaster specially adapted for children, a kind of 'caterpillar'.
Formula Battle Race kids : karts for children.
Frog Hopper : a falling tower for children.
Creative and crazy activities at Goodjoba
Goodjoba is a space offering various original creative or interactive workshops divided into 4 themes: cars, fashion, food and stationery.
In the " Car factory ", children can, for example, build a car that they can drive themselves.
In season
The Gondola Sky Shuttle cable car flies over a thousand cherry trees that bloom in the spring. A unique view of these mythical trees that are more often admired from below than from above.
Pool WAI : the park's welcome outdoor pool to escape the sweltering summers of the Japanese capital. Five pools and 3 slides will refresh you. Open from June 30 to September 9 (for 2018).
Jewellumination : these Christmas lights produced by Motoko Ishii, a famous Japanese light designer, are among the most beautiful in the archipelago. From mid-October to mid-February.
See also: 5 typically Japanese amusement parks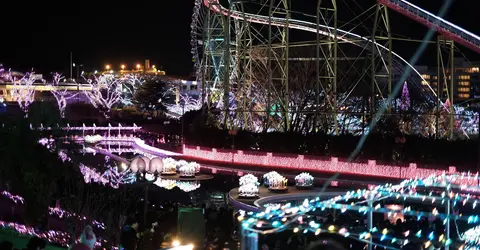 ---
Address, timetable & access
Address

Timetable

Yomiuriland-mae Station (Odakyu Odawara Line)

Price

Between 1,800 and 5,400 yen (14€ and 42€20) for adults depending on the formula chosen (day pass, entrance or entrance and certain attractions). From 1,500 to 4,300 yen (11€70 to 33€60) for middle school students and from 1,000 to 3,800 yen (7€80 to 29€70) for children aged 3 to 12.

Access

Hours vary by day and month. You have to check their website.
All the themes of the city