Geisha Evenings in Kanazawa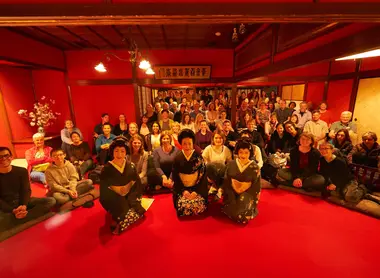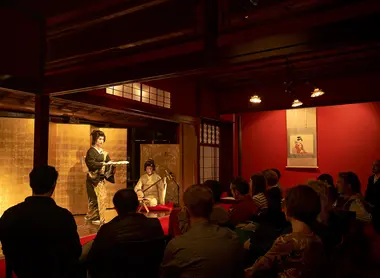 A unique and fascinating experience
Guided by Lady Baba, the owner of the place, discover the world of geishas by attending a show filled with humor and tradition. A service entirely in English to take advantage of the explanations on the history of this universe full of secrets. Book your tickets quickly!
A unique journey
If you go to Kanazawa, don't miss the exceptional show performed by real geishas and commented by the owner of the largest ochaya , literally "tea room" to which we add the honorary prefix "o-", of the city. The ochaya , far from being classic tea rooms, are establishments located at the level of the geisha quarters in which customers come to be entertained. Usually, access is reserved for regular and very wealthy customers. It is only for a few years and mainly in Kyoto that tourists can discover the world of the night associated with geishas.
Read: A day trip to Kanazawa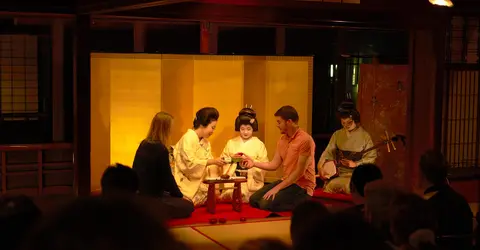 A neighborhood steeped in history
Named Kaikaro , this magical place in Kanazawa will transport you to the heart of the magical and secret universe of traditional entertainment . You'll find it in the Higashi-chaya district, where samurai and other male members of high society have been entertained for centuries. Obviously built on the models of traditional Japanese houses , or machiya , the ochaya often have a discreet exterior facade , and an interior made up of rooms with tatami mats .
An unforgettable evening accessible to all
Dances, taiko (Japanese drum), and historical explanations are on the agenda. At the end of the show, about ten members of the public are invited to participate in games with the geishas , to be even closer to the tradition. 90 minutes of finesse and elegance, a once-in-a-lifetime opportunity. Don't hesitate to bring your camera to take pictures of the performances ! So that this moment is engraved forever in your souvenir album.
To read: Traditional instruments
In order to make the most of Lady Baba 's explanations and humor, it will not be necessary to master the local language since the whole evening is animated in English ! It is the owner of the place, a Japanese woman who traveled to England to be able to communicate with the curious who come to her establishment, who will be your guide for the evening.
See also: What is it to be a geisha?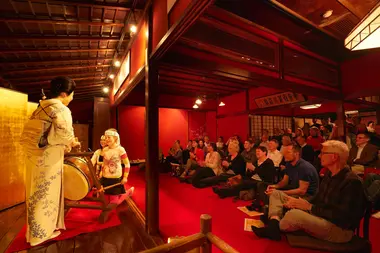 ---
Address, timetable & access
Address

Phone

+81 (0)76-253-0591

Timetable

From Kanazawa Station: Bus bound for Morimoto Station, get off at Hashibacho stop and walk 3 minutes

Price

From 3,500 to 9,000 yen (from 25 to 65 euros)1,000 yen (around €7) reduction for children aged 7 to 15 and online reservations, to be requested at the point of sale on site

Access

From October 1 to November 9, 2018, every Monday, Wednesday and Friday From 6 p.m. to 7:30 p.m. (doors open at 5 p.m.)

Website

http://geishaevenings.jp/
All the themes of the city