JR Nara Station
奈良駅

JR Nara Station: read a guide to JR Nara Station a main point of access by train and bus to Nara from Osaka and Kyoto.
JR Nara Station in Nara, is the main point of rail access to this historic city, along with nearby Kintetsu Nara Station.
Rail connections from JR Nara Station
JR Nara Station, run by JR West, is on the Kansai Main Line (Yamatoji Line), for trains to Horyuji Station for Horyuji Temple, Oji, Tennoji, JR Namba, and Osaka Station. The JR Nara Line connects JR Nara Station with Uji and Kyoto Station.
The Sakurai Line (Manyo-Mahoroba Line) has trains to Tenri, Sakurai and Takada.
The Katamachi Line (aka Gakkentoshi Line) connects Kizu Station in Kyoto Prefecture with Kyobashi Station in Osaka. Some trains on this line terminate here from Kizu in the morning and late evening.
The interior of the station is pleasantly designed in Nara style with a wooden ceiling, recalling the great temple architecture of this historic city. There is a small Tourist Information Center within JR Nara Station plus the much larger Nara City Tourist Information Center just outside the East Exit to your left.
Within JR Nara Station is entrance to the Vierra department store which has a nice range of both modern and traditional Japanese souvenirs including sake from Nara Prefecture, pickles, green tea, dolls, soft toys and cosmetics including washi paper face cleaners known as aburatorigami, something of a Nara specialty.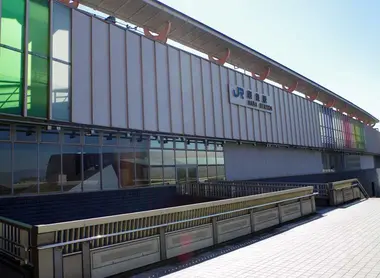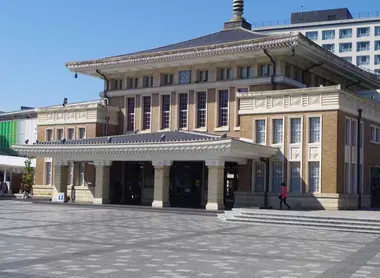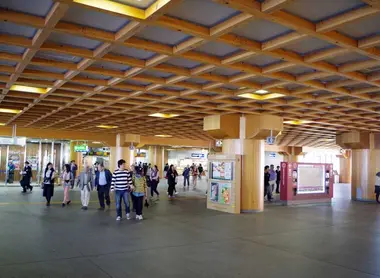 Buses From JR Nara Station
JR Nara Station is a major hub for both local buses in Nara and long-distance highway buses.
From the east side of Nara JR Station the yellow Nara City Loop Line Bus runs clockwise (Bus #2) and anticlockwise (Bus #1) passing close to such sites as Nara Park, Todaiji Temple, Kasuga Taisha Shrine and Gangoji Temple in the Naramachi district, the old merchant quarter. Also from the East Exit, buses #50, #82 and #92 pass Kofukuji and the Nara Hotel before going south to Tenri. Bus #51 goes to Shimoyama and #53 to Kubonosho.
Bus #70 runs to Kasuga Taisha Shrine from Toshodaiji, while the #97 connects Yakushiji and Horyuji with Kasuga Taisha Shrine. Bus #72 follows basically the same route from Nishinokyo Station to Todaiji and then south to Takabatake-cho.
From JR Nara Station West Exit buses #12 and #14 run out to the Heijo Palace Site, the Daigokuden Hall and the Suzakumon Gate. If you ride buses #70 #72 and #97 towards the Heijo Palace Site get off at the Sanjoji-yonchome stop and walk 400m north. Bus 160 from the west side also goes to Suzakumon Gate.
From Bay 4 at the East Exit different limousine highway bus companies run bus services to Nagoya (Meitetsu), Shinjuku Station (Nara Kotsu) and Tokyo Disneyland, Yokohama & Kaihin-Makuhari Station for Makuhari Messe (Nara Kotsu).
There is an Airport Limousine Service to both Kansai International Airport (KIX) and Itami. The journey to KIX takes about 90 minutes and costs 2,050 yen; to Itami is 75 minutes and 1,480 yen.
Around JR Nara Station
As previously mentioned the Vierra department store is an excellent place to pick up a range of Nara-themed products and get something to eat. There are a number of good restaurants here (udon, an izakaya, MOS Burger) as well as a MaxValue supermarket if you want to pick up a picnic.
At the East Exit is the grand building of the Nara City Tourist Information Center whereas at the West Exit is the Silkia Nara event hall and the Nara Centennial Hall 100, a multi-use space incorporating two auditoriums that can be used for concerts, plays and events, a gallery and restaurant.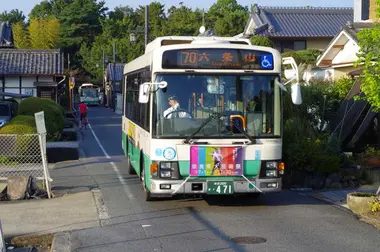 Explore Kansai with a Kansai Wide Area Pass
All the themes of the city