Gangoji Temple
Gangojii Temple in the Naramachi district of Nara can lay claim to being one of the most ancient temples in Japan.
Gangoji Temple 元興寺
Gangoji Temple, located among the narrow streets of the Naramachi district of Nara, is a UNESCO World Heritage Site and can lay claim to being one of the most ancient temples in Japan.
Although not as famous as the "Big Three" must-see temples of Nara: Kofukuji, Todaiji and Horyuji, Gangoji Temple is definitely worth your time, especially if you are exploring the many quirky museums and craft shops of Naramachi. Gangoji has not so far caught the attention of Japan travel guide writers and is thus free of the crowds visiting Nara's other historic temples.
Gangoji was one of the seven great temples of the Heian Period in Nara: Daianji, Gangoji, Horyuji, Kofukuji, Saidaiji, Todaiji and Yakushiji.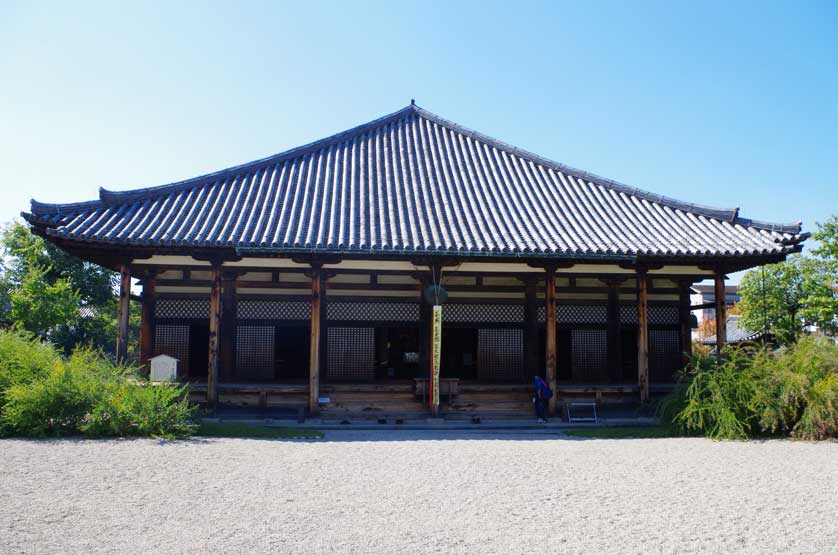 Gangoji Temple, Nara
Gangoji Temple, Nara
History of Gangoji Temple
Gangoji Temple was originally founded in 588 during the Asuka Period, when Buddhism was in its infancy in Japan. At this time the ruling Soga clan were busy importing not just a new religion but also models for new political institutions and new cultural ideas and practices from Korea and China.
Gangoji Temple was originally established as Hokoji Temple, also known as Asuka Temple (Asukadera) due to its location. The design of the temple is clearly influenced by architectural influences from mainland Asia and many of the priests who first served as Hokoji were from Korea and China. The King of Paekche in Korea is believed to have sent artists, carpenters, metal workers and potters to help produce the temple's paintings and distinctive round tiles - the first to be made in Japan and used in a style called gyogi-buki.
When the capital moved to Heijo Kyo (Nara) in 710, Hokoji followed suit in 718 and was rebuilt at great expense and renamed Gangoji. The temple prospered due to state sponsorship and around 747 Gangoji's great treasure the Chiko Mandala is believed to have been completed. The mandala is named after an abbot of the temple.
With a decrease in state support from the latter part of the Heian Period, the temple had to rely more on its lay followers. In the 13th century the Gokuraku-do (Mandala Hall) was renovated with public support as it became an important center of Jodo sect Buddhism.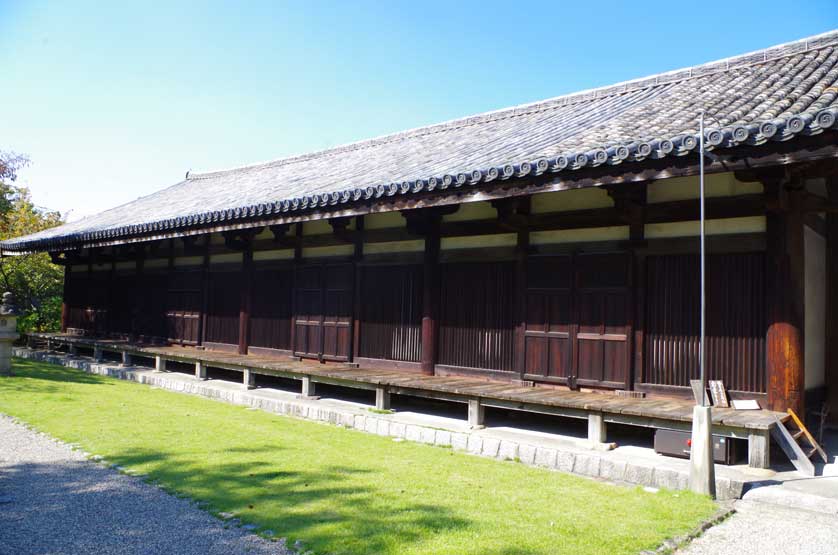 Contemplation Hall, Gangoji Temple, Nara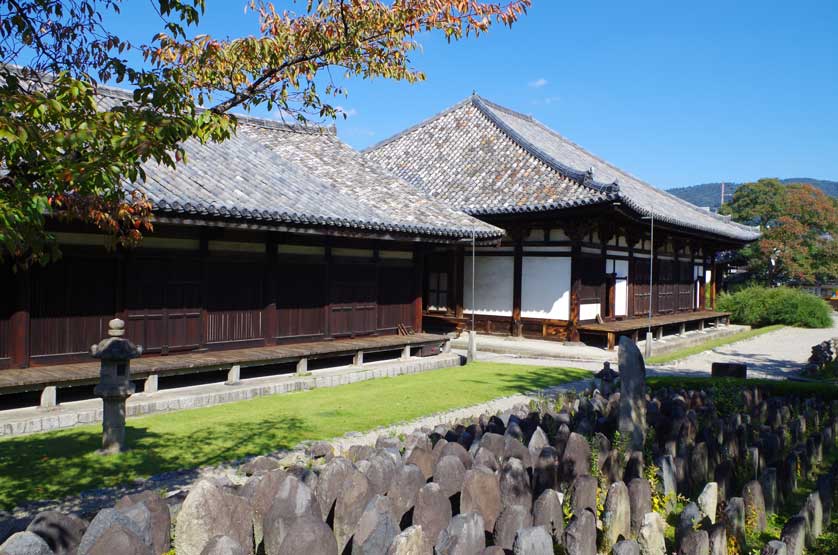 Gangoji Temple, Nara
Gangoji Temple Buildings
Gangoji is noted for its Gokuraku-do (Hall of Pure Land/Mandala Hall), a designated National Treasure and the Zen Shitsu (Contemplation Hall), also a National Treasure. Both buildings have been damaged, restored, damaged and restored again in a cycle over the passing centuries. Some of the roof tiles on both buildings date are the 6th century originals. Both halls are said to be the architectural remains of dormitories built for the monks in the 8th century.
Gangoji's Treasure House contains a miniature Five Storied Pagoda (Goju-shoto), an object of veneration in itself but nowadays thought to have been built as a scale model for the many pagodas built in Nara in subsequent times. It is the only five-storied pagoda to have been built in Japan during the Nara Period and is a National Treasure.
The two storey building houses other historic treasures including statues, paintings, ritual objects and wooden beams from earlier buildings on the site. The Five Storied Pagoda is surrounded by rare Buddhist statues from India including three from ancient Gandhara.
Visitors enter through the East Gate (東大門), an important cultural property, transferred from Todaiji Temple in 1411.
The grounds of Gangoji are pleasant to stroll and contain a number of stone lanterns and grave markers.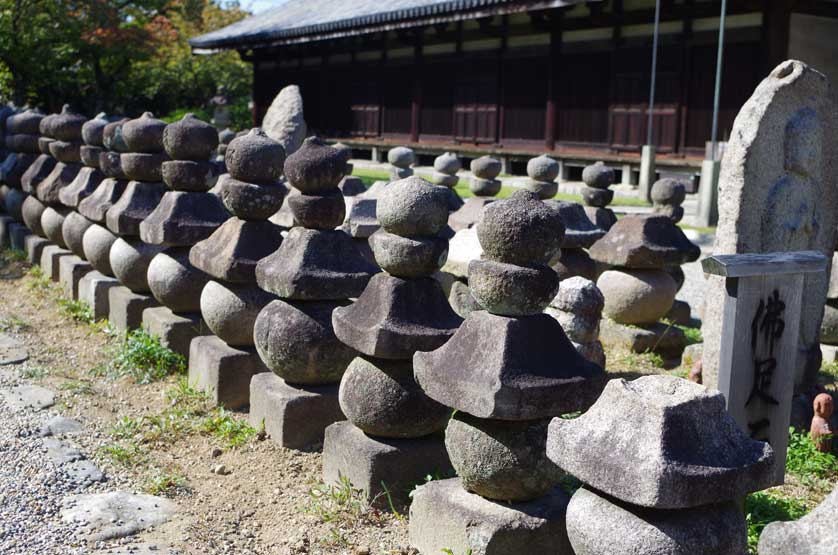 Gangoji Temple, Nara
Gangoji (gangoji.or.jp)11 Chuin-choNara630-8392Tel: 0742 23 1377Hours: 9 am-5 pm
Admission: 500 yen for adults which includes entrance to the Treasure House.
Gangoji is directly south of Kofukuji in Naramachi close to the Nara Hotel, Nara City Museum of Calligraphy (Sugioka Kason Museum of Calligraphy), Sarusawa-ike Pond, Daijoin Temple Garden and Naramachi Koshi-no-ie. The nearest bus stop is Fukuchiin-cho on bus routes #50, #51, #53, #82 and #92 from both JR Nara Station or Kintetsu Nara Station. Gangoji is a 15 minute walk south of Kintetsu Nara Station and around 20 minutes east on foot from JR Nara Station. At the Naramachi Information Center walk east and take the first road right (to the south) to reach the temple.
Access - how to get to Nara
Air
Airport limousine services to Kansai International Airport and Itami Airport or JR train and change at Tennoji Station in Osaka.
Rail
Access to Osaka on JR West (about 45 minutes on the express) or Kintetsu Line from Namba and Tsuruhashi. Access to Kyoto on either Kintetsu Railways (35 minutes on the Super Express Tokyu) or JR West (40 minutes on the Miyakojima Express).
Bus
There are overnight bus services to and from Shinjuku Station in Tokyo and day time Meitetsu buses to Nagoya.
Tourist Information Center
Nara City Tourist Information OfficeTel: 0742 24 4858Kintetsu Nara Station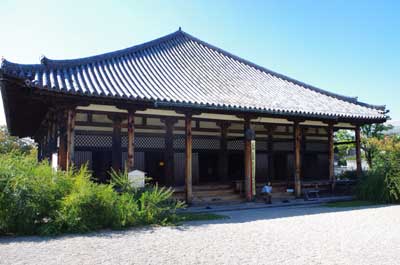 Gangoji, Nara, Nara Prefecture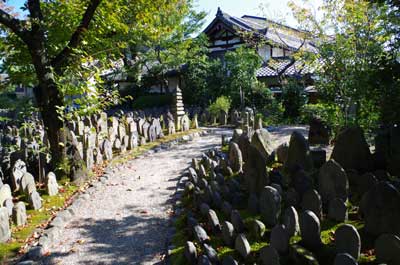 Gangoji, Nara, Nara Prefecture
Book Hotel Accommodation in Nara
All the themes of the city