Oirase Gorge
Oirase Gorge 奥入瀬渓流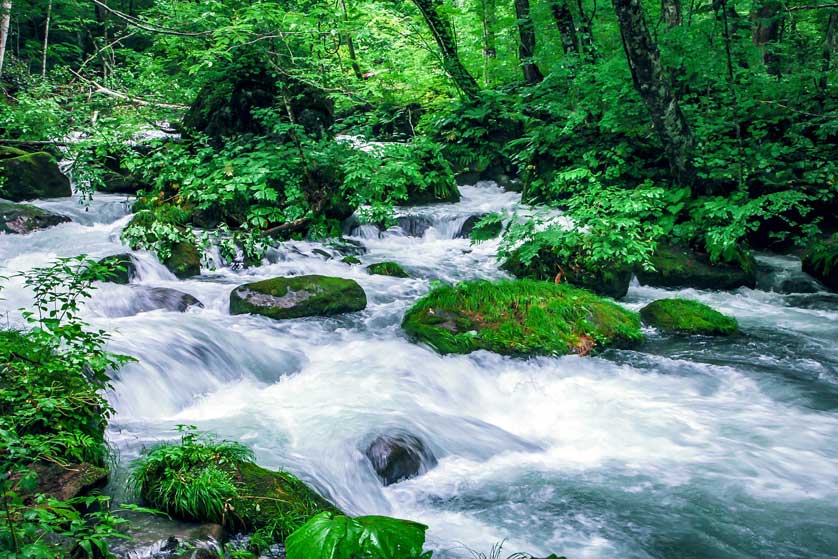 The Oirase Gorge and rapids near Lake Towada
The Oirase Gorge in Aomori Prefecture in northern Japan can claim to be one of the most beautiful river valleys in Japan if not the most beautiful.
Oirase Gorge runs 14km between Yakeyama at the foot of Hakkoda-san and Nenokuchi on the shore of Towada-ko (Lake Towada). The Oirase Stream drains from Lake Towada down a gentle gradient of 200m to Yakeyama. At the center of the gorge is the charming Ishigedo rest area.
The crystal-clear Oirase River flows mostly parallel to the road through a beautiful deciduous forest, known for its spectacular colors in autumn with fantastic shades of yellow and red leaves. The gorge is marked by a number of interesting rock formations which are marked by signposts. These include Fudo Rock, Byobu Rock, Makado Rock and Tengu Rock.
A number of icy rapids and plunging waterfalls add to the beauty of the place. The many waterfalls and rapids have been given colorful names such as: Soryu Waterfall (Two Dragon Waterfall), Tomoshiraga Waterfall (Happy Marriage Waterfall), Kudan Waterfall (Nine Stairs Waterfall), Shiraito Waterfall (White String Waterfall), Shirakinu Waterfall (White Silk Waterfall), Tamadare Waterfall (Bead Curtain Waterfall) and Shimai Waterfall (Sister Waterfall).
Oirase Gorge is a favorite with cyclists and hikers and is a must-see if you are in Aomori Prefecture for any length of time. A well-marked hiking course runs mostly off the road along the banks of the river and hikers can synchronize their walk with buses running to and from Aomori.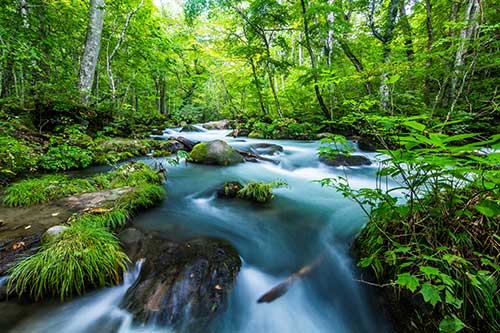 Oirase Gorge, Oirase River, Aomori, Tohoku, Japan
Yakeyama is the established starting point for people traveling the Oirase Gorge and there are a number of guest houses and inns in the village as well as places to hire a bicycle. There are also a couple of small museums here: the Oirase Keiryu-kan Museum and the Oirase Yasui-kan Museum. At Ishigedo there is a rest center with toilets and a small shop/snack bar. It is also possible to leave possessions here. If you hire a bicycle at either the Oirase Keiryu Kanko Center or in Nenokuchi you can leave your luggage to pick up later while the centers are open.
From Ishigedo it is 8.9km on the hiking trail to Nenokuchi, around 2-3 hours of walking. You can send on your luggage in a taxi between Ishigedo and your accommodation in the area around Towado Visitors' Center on Lake Towada, where many people stay. The cost is about 5,000 yen. Try either Aomori Taxi 0176 23 5155 or Towada Taxi 0176 23 3155. Taxis are reasonably plentiful even on rainy days.
Visitors arriving by shinkansen at Shin-Aomori Station can also leave their luggage in a locker here.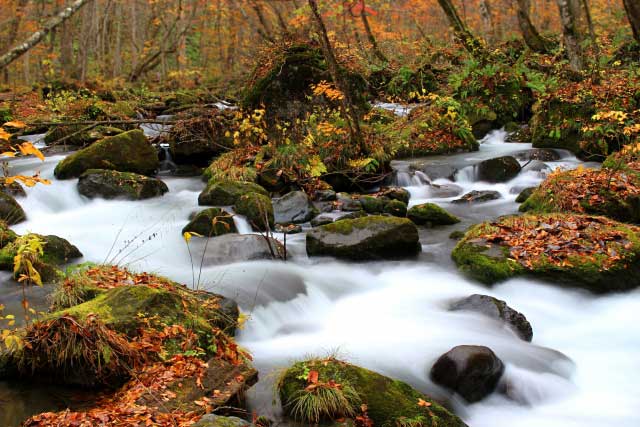 The Oirase Gorge and rapids near Lake Towada is particularly beautiful in the fall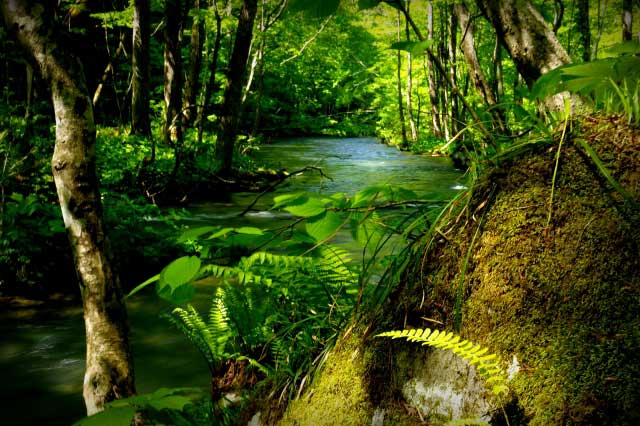 National Highway 103 is the road that follows Oirase Gorge in Aomori Prefecture
Access - Getting to Oirase
If you are driving from Aomori city take National Highway 103 that skirts Mount Hakkoda and the Hakkoda Ropeway heading south. From Aomori City Hall National Highway 103 begins as Kanko Road. From Hirosaki head east on National Highway 102 to arrive at Lake Towada or National Highway 394.
By bus, Oirase Gorge is about 50 minutes from JR Hachihohe Station or 2 hours from Aomori Station.
Accommodation on Lake Towada
There are a number of ryokan and hotels on the shores of lake Towada near Towada Jinja and the Statue of Otome. These include the reasonably-priced Towada-ko Backbackers, Hotel Towada-so, with outdoor hot spring bath (rotemburo), Japanese-style rooms and a spacious restaurant and Towadako Shinzantei, with tatami floors, traditional futon bedding and an indoor hot spring (onsen). Towadako Lakeside Hotel is as the name suggests, very close to the lake.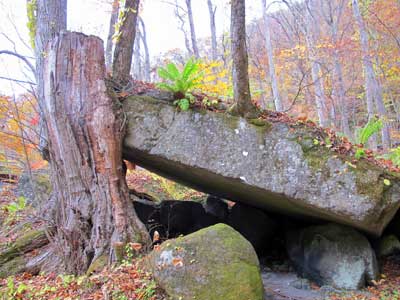 The Fudo or "Immovable Rock" at Ishikedo in Oirase Gorge is supported by just a single tree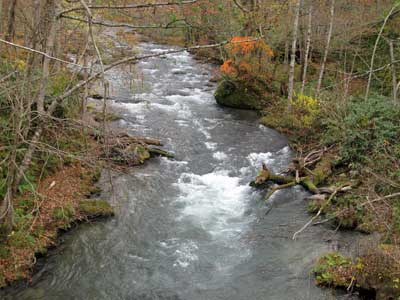 According to local legend a beautiful but evil woman lived here, who would rob and kill unwary travelers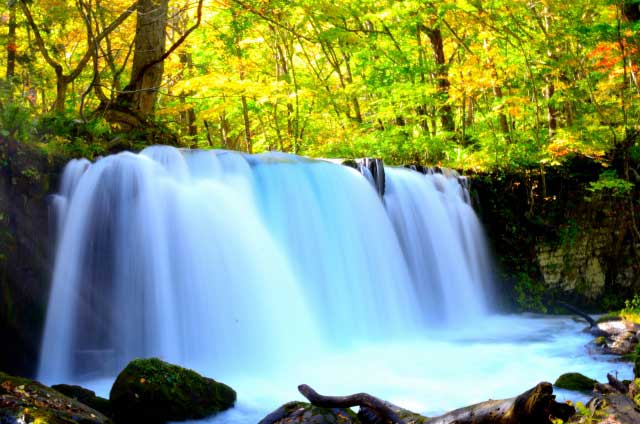 The Oirase Stream is a favorite with hikers from all over Japan, high season is in the summer months of July and August and for the autumn leaves in October
Maps of Aomori
Map of Aomori
Map of Oirase Gorge
Oirase Stream Aomori
Oirase Gorge: read a guide to the picturesque Oirase Stream & Gorge that flows from Lake Towada in Aomori Prefecture, Japan.
All the themes of the city