Oze National Park
Oze National Park: read a guide to Oze National Park including places to see and stay in the Oze National Park area.
Japan Guides: Oze National Park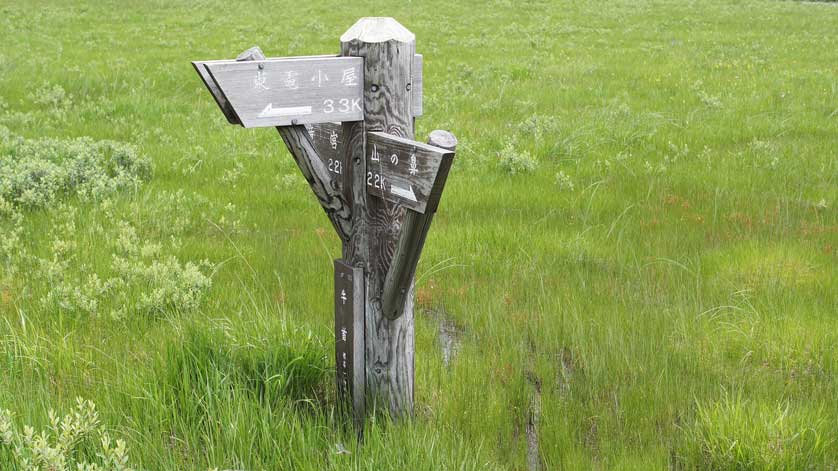 Signpost in Oze Marsh
popular hiking destination 2 hours from Tokyo
noted for its board-walked marshlands, wild flowers, birds
mountainous, at over 1400 meters elevation
Mt. Hiuchigatake 2,346 meters
part of Gunma, Niigata and Fukushima Prefectures
see skunk cabbage and yellow alpine lily in season
Oze 尾瀬
Oze ('oh-zeh') is a 25,000 hectare tract of north-eastern Japan that until summer of 2007 made up part of the gargantuan Nikko National Park. Oze sprawls across parts of no less than three prefectures: Gunma, Niigata and Fukushima.
This is Japan's largest area of highland marsh, and is renowned for its vistas of wild flowers and majestic mountain scenery. Oze is a spectacular example of what beauty nature can produce with fire and brimstone. Lava from an eruption of nearby Mt. Hiuchigatake dammed the Tadamigawa River creating the marshlands, which Kita Tadamigawa is still the prime source of water for.
The plethora of streams here provides much of Tokyo's energy requirements, no less than 70% of the land in the park being owned by the Tokyo Electric Power Company (TEPCO).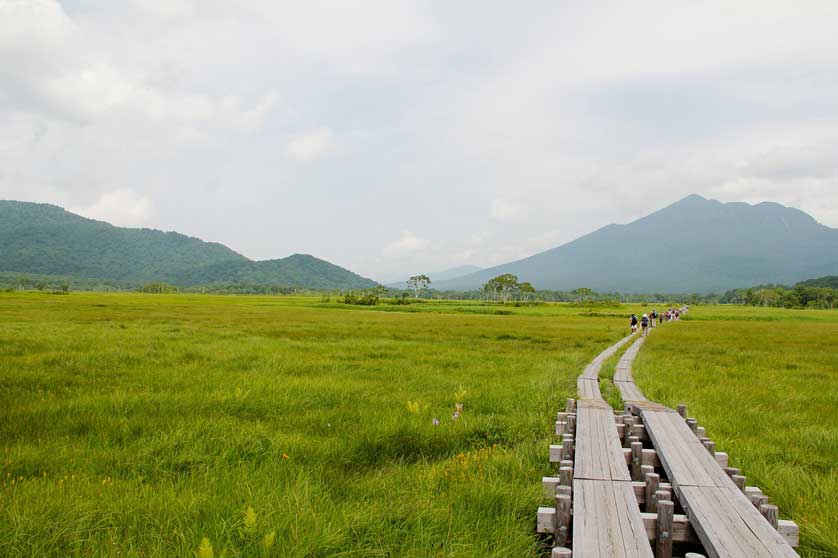 Boardwalk

History of Oze
Nikko National Park, of which Oze was a part, came into being in 1934 as Japan's fourth largest. In 2005, it was included in the Ramsar List of Wetlands of International Importance (the Ramsar Convention on Wetlands being an international convention adopted in 1971).
In summer of 2007 Oze was formally detached from Nikko National Park and given the status of a new park: Japan's twenty-ninth.
Nikko is one of Japan's busiest tourist spots, and the rationale behind this move is to reduce the tourism impact on Oze and nurture it as a true natural reserve.
Getting around Oze
Entry to Oze is through a lodge, which is where you buy your park entrance ticket. Then, it is a hike up and over a mountain to get into the park.
The path has been laid with planks in most areas, so the walking is relatively easy-going on the wooden trails. However, it is strongly recommended that visitors put a couple of weeks' effort into getting extra fit before attempting this hike.
It is a climb up and then a long way down into the marsh with very few stopping areas along the way. These areas have been thoughtfully chosen, though, and make for great pictures looking out into the trees or over the marsh.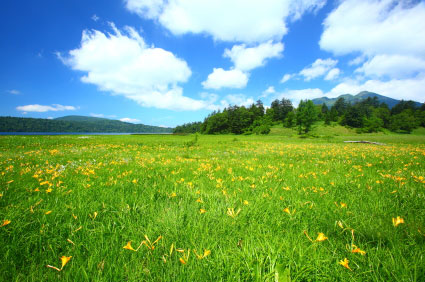 Wild flowers in Oze
Inside Oze
The most popular times to visit Oze are in the spring when the marsh is crowded with the unmistakable white flowers of the misobasho (Japanese skunk cabbage), or at the very end of summer or early fall when the nikko-kisuge (yellow alpine lily) takes over. Fall is also a very popular time for taking in the brilliant colors of the dying leaves. Creeping pines and beeches are everywhere and run all the way to the mountains in the distance.
Wooden boardwalks have been placed throughout the marsh allowing visitors access to the middle of it among the flowers and greenery. They are about 45 cm (a foot and a half) wide and run through the marsh in parallel. Infrequent stopping places, something like very small docks with a couple of benches, can be found along the boardwalks and make for great photos. If you stage it right, you can look as though you are out in the marsh, or even walking on the water.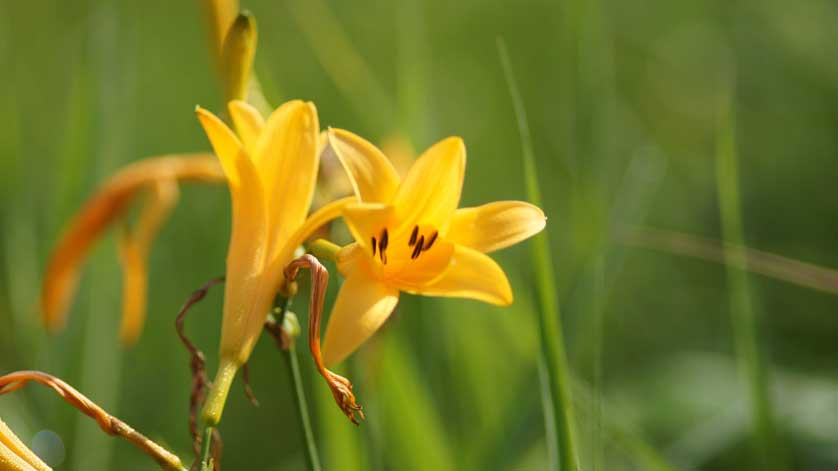 Yellow alpine lily
A visitor center full of interesting information about the plants and animals, and formation of the marsh is located along these boardwalks. There are vending machines, toilets, and a caf there, so it's a great place to stop for a break and gather some information about what you're experiencing. They have large Oze rubber stamps and ink for everyone's use, too.
Staying in Oze
Oze has campgrounds, with running water in the toilets, showers, and sinks. If you want more comfort, there are lodges in the park, and plenty of lodging can also be found in the numerous small towns around Oze.
If you plan to go at peak times, however, rooms should be booked well in advance. However, to come all this way and treat yourself to such scenery, anything other than camping, or at least staying in one of the park's lodges, can seem like a waste, especially if you want to catch the spectacular sunrises and sunsets over the marsh with its mountain backdrop.
Although I missed the seas of misobasho (Japanese skunk cabbage) and was too early for the overcrowding of nikko-kisuge (yellow alpine lily), I did see some of both. I also missed walking behind long lines of tourists, having to take turns for the photo ops, dealing with a crowded camp ground, and waiting to use a toilet.
The hardiest of the misobasho (Japanese skunk cabbage) were still bright white and in full bloom, and the new nikko-kisuge (yellow alpine lily) were fresh and leapt vividly from the deep green of the marsh. The forest and mountains are a sight that never spoils with even constant viewing.
There was rain, but that only made the air fresher and the views more dazzling when the sun came out again. So if you would rather take things at your own pace making stops on a whim, enjoying the feel of having the marsh almost to yourself, head out to Oze in early July.
Getting to Oze
Once you get to Tokyo from wherever you are, you can take the JR Joetsu Shinkansen Line. It takes an hour and 20 minutes to get to Jomo-Kogen Station. There are other ways to get to Oze that are cheaper, but slower.
There is a night train if you want to get an early start on your hike into Oze. You have to take a bus from the train station to O-shimizu which takes 2 hours and 10 minutes. It is a long, winding road, so if you have sensitive inner ears, and are prone to motion sickness, sit near the front of the bus and enjoy the scenery.
Contact information: Oze Ranger Office (May to October)1 Aza Hiuchigatade, Hinoemata-mura, Minamiaizu-gun, Fukushima 967-0531Tel: 81-241-75-2247 (ask for the Ranger)
North Kanto Regional Office for Nature Conservation 9-5 Honmachi, Nikko-shi, Tochigi 321-1434Tel: 81-288-54-1076Fax: 81-288-53-4154
Oze Marsh Visitor CenterOze Marsh Facilities Cluster Zone of Nikko National ParkTel: 81-241-75-2247
Hours early May to November 3rd: 8 am to 7 pm weekdays; 7 am to 7 pm weekends and holidays
Oze Preservation Foundation (www.oze-fnd.or.jp)
Access
Bus
From Tokyo take a bus from either Tokyo or Shinjuku Stations to Oshimizu, Hatomachi-toge or Numayama-toge.There are buses from Numata to Oshimizu (2 hours).
Train
From Ueno Station in Tokyo take a Joetsu Line rapid train (kaisoku) to Takasaki (90 minutes), then a local train (futsu) to Numata (45 minutes).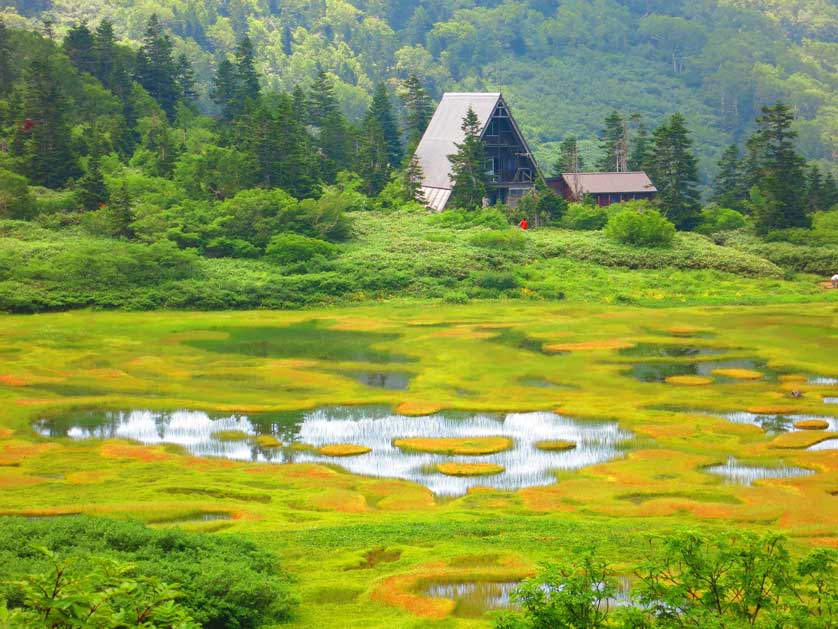 Oze Marsh, Japan

Japan Articles by Jennifer May
Having Surgery in JapanUnderwear TheftIwakuni CastleTanabata Star Festival in Shimizu
Kamikochi Hiking Guide
Book Hotel Accommodation in Japan Here
All the themes of the city