Hita Guide
Hita guide, Oita, Kyushu: Hita is often called the Kyoto of Kyushu due to its atmospheric historic streets which were in part indeed originally modeled after Kyoto.
Hita, Oita Prefecture 日田市 大分県
Johannes Schonherr
Hita is a city of about 65.000 inhabitants in northern central Kyushu, about half-way between Fukuoka city on the north-western coast of Kyushu and Oita city on the north-eastern coast.
Hita is often called the "Kyoto of Kyushu" due to its atmospheric historic streets which were in part indeed originally modeled after Kyoto.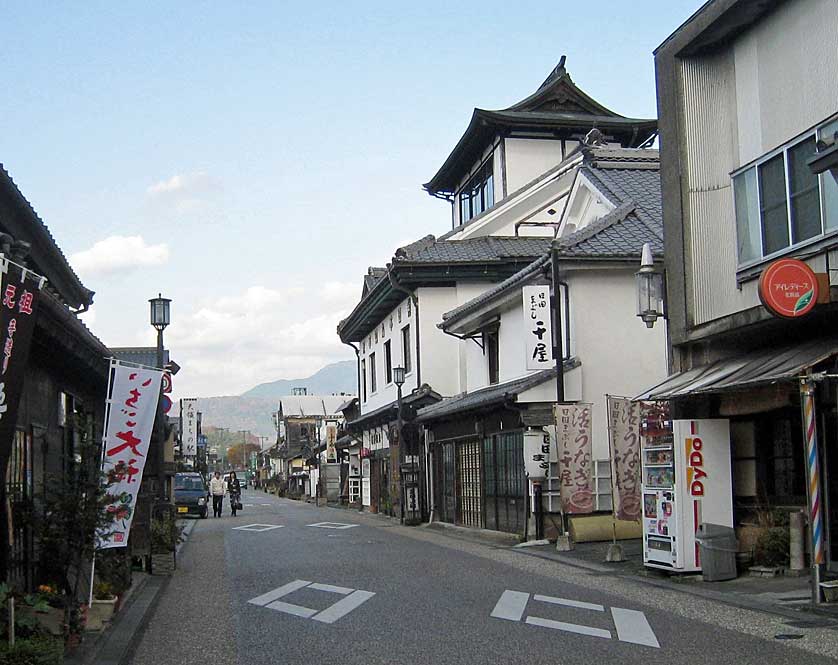 Kamimachi Dori, Mameda, Hita, Oita Prefecture
History
Human settlement in the area dates back to the earliest history of Japan. Located very centrally in Kyushu, in medieval times Hita was a trading outpost and the site of large shrines which brought further economic development.
Hita entered more recent history when the settlement was taken over in 1593 by Toyotomi Hideyoshi (1536 - 1598), a warlord central to the unification of Japan after the civil wars of the Sengoku Period lasting for more than one hundred years.
Hideyoshi fortified the town and made it his main base overseeing his further conquest of Kyushu.
Hideyoshi passed Hita on to Tokugawa Ieyasu (1534 - 1616), the first shogun of the Edo Period (1603 - 1868) during which Japan was largely closed towards the outside world.
Ieyasu established Hita as a Tenryu town, a town under the direct control of the Edo shogunate.
During the Edo Period, Hita grew substantially. Kyoto and its merchant culture served as model for the city, architecturally as well as in terms of cultural and economic aspirations.
This heritage is still very vibrant in Hita today and draws large numbers of visitors.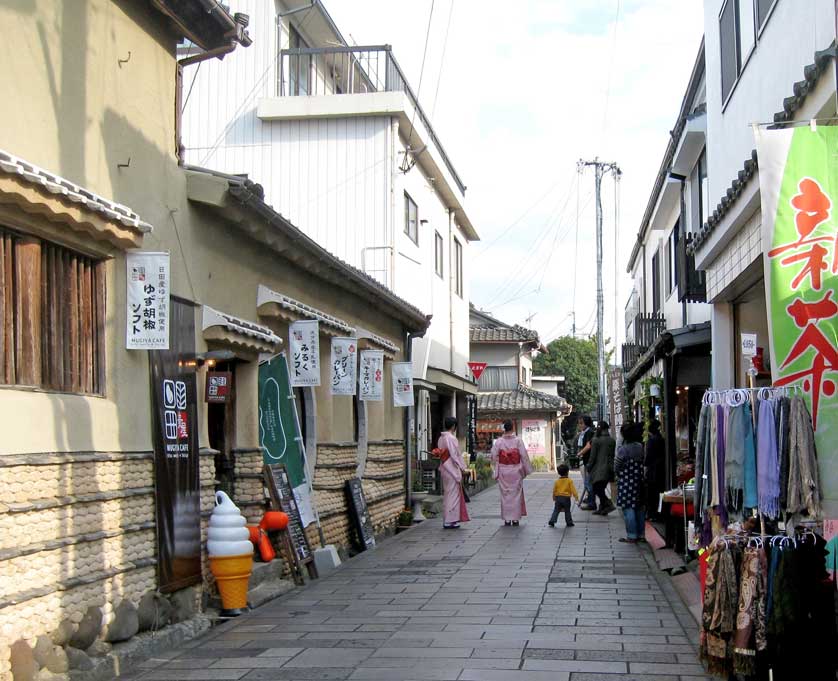 Mameda, Hita, Oita Prefecture
Hita City Lay-out
Surrounded by mountains, Hita is situated in a basin in which several rivers converge.
The central, historic part of the city is bordered to the north by the Hanatsuki River and to the south by the Mikuma River with JR Hita Station conveniently located about halfway between the rivers.
North of the train station, you arrive after a short stroll in the Mameda neighborhood.
That is the main area modeled on Kyoto. Like Kyoto, it is arranged in a rather rigid system of straight parallel streets connected by more or less straight side streets.
All of Mameda's streets and alleys are lined with historic buildings worth exploring.
The old Kuma neighborhood bordering the Mikuma River, a short walk south of the train station, on the other hand, grew out of a traditional river fishing village.
JR Hita Station separates the two traditional neighborhoods, the station's immediate surroundings featuring modern buildings and a few high-rise hotels.
All of central Hita can easily be explored on foot.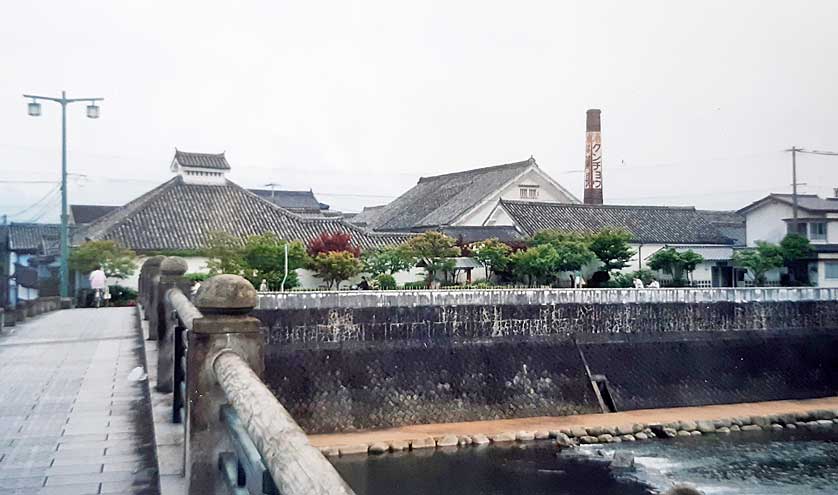 Kuncho Shuzo Sake Brewery, Mameda, Hita, Oita Prefecture
Mameda
Most visitors to Hita choose to explore the Mameda neighborhood first. Rightly so, it has much to offer.
Walking north from JR Hita Station, you cross a small stream and suddenly find yourselves in almost entirely ancient surroundings.
Many of the buildings date back right to the Edo Period, though many underwent some form of re-construction in the Meiji Period (1868 - 1912) or later.
The original design of the buildings including the wall construction using "bricks" made of clay and straw was kept in place however.
Even today, ancient construction techniques and materials are used when a traditional Mameda house is getting refurbished.
Shops along the streets sell traditional craftwork and snacks. If you feel like dressing up in a kimono to walk the streets in style, you can easily rent one.
Strolling through the streets, you will inevitably arrive at the Kuncho Shuzo Sake Brewery, located right at the Hanatsuki River.
The sake brewery makes for a great place to start exploring Hita a bit more deeply.
Enter, and you find the factory store on your right. Free sake is always available for a tasting. Take a shot or two, then head further into the ancient factory.
A free museum offers information on all the details of sake and shochu production, all labeled in English. There are plenty of historic artifacts to see, including vintage sake delivery bicycles and the like. It's a fun museum.
Head up the steep steps and you find a large collection of vintage sake making tools in the spacious attic.
Understandably, you cannot enter the modern sake making facilities, though. Those need to be kept absolutely clean to guarantee high-quality product output.
Buy a bottle of sake or two on your way out and maybe have another free tasting shot to get you into the right mood to enjoy your Mameda exploration.
Address: 6 - 31 Mameda Machi, Hita
Opening times: daily from 9 am to 4.30 pm
Admission: free
Tel: 0973 22 3121
Website: www.kuncho.com (in Japanese)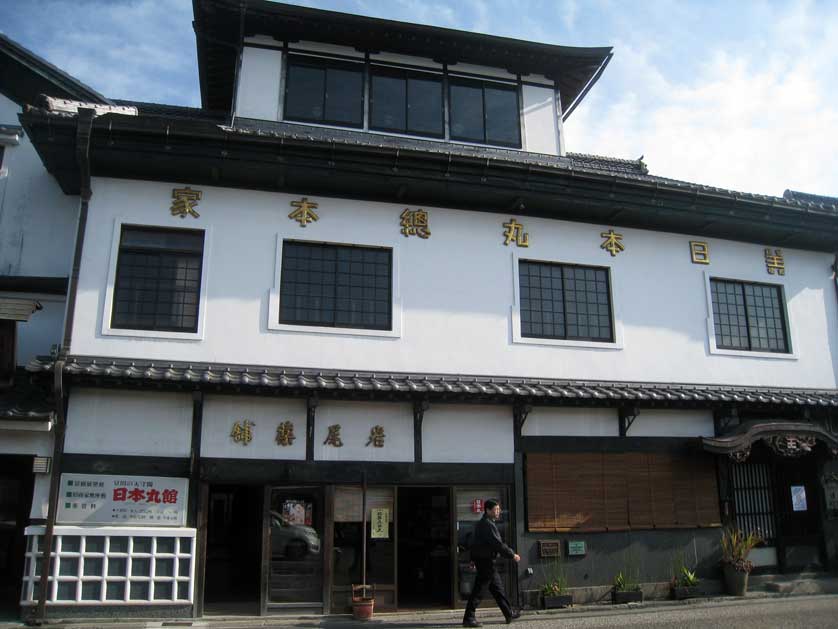 Nihon Marukan Traditional Medicine Museum, Mameda, Hita, Oita
Nihon Marukan Traditional Medicine Museum
The Nihon Marukan Traditional Medicine Museum is only a few steps from the Kuncho Shuzo Sake Brewery on the same street, Kamimachi Dori.
The Nihon Marukan, an Edo era pharmaceutical factory, is easily the most impressive building in Mameda, its name spelled out in large golden letters on its front.
Today, the Nihon Marukan serves as a museum on the making of traditional Chinese / Japanese medicine.
Going to its top floor, you get a great view all over Mameda and further out to the mountains.
Address: 4 - 15 Mameda Machi, Hita
Opening times: daily from 10am to 4pm
Admission: Adults 350 yen, school children (elementary to high school) 250 yen
Tel: 0973 23 6101
Website www.iwaoyakuho.com (in Japanese)
Another must-see in Mameda is the Hita Shoyu Hina Goten on Miyuki Dori, the next parallel street to Kamimachi Dori to the west.
As the name implies, it is a museum of traditional Japanese hina dolls operated by a traditional soy sauce manufacturer.
You enter the soy sauce store and perhaps make a purchase for your kitchen there. For an additional admission fee of 300 yen, you can enter the museum in the back.
It's large - the dolls on display must number in the thousands. And it's not just ordinary hina dolls, there are plenty of unusual creations, too. Dolls depicting people at traditional Hita festivals for example, carrying large mikoshi festival floats.
Address: 13-6 Mameda Machi, Hita
Opening times: daily 9 am to 5 pm
Admission: Adults 300 yen
Tel: 0973 22 2456
Website: hitasyouyu.com (in Japanese)
Eel in Mameda
Walking the streets and alleys with all their quirky shops will eventually get you hungry.
In Edo times, when the eating of four-legged animals was prohibited for Buddhist religious reasons, eel became a top class delicacy.
Mameda adheres to that tradition and offers a good number of family-run eel restaurants going back centuries.
I always ended up going to the Mabushi Senya Eel Restaurant on Kamimachi Dori although many other eel restaurants were available for a choice.
That's maybe because the Mabushi Senya seemed to offer the most traditional environs and the most traditional dishes.
Try the Hita Mabushi eel dish offered for 3,000 yen.
Fried eel on rice over another layer of fried eel on rice. Plenty of condiments are offered to choose from but perhaps the best and most simple is just to go with the shichimi togarashi (seven peppers), the traditional Japanese spice mix.
With a cup of local sake from the Kuncho Shuzo Brewery just up the street, it's the perfect Mameda meal.
Address: 4 -14 Mameda Machi, Hita
Opening times: Monday - Friday 11 am to 5 pm, Saturday and Sunday 11 am to 8 pm.
Tel: 0973 22 3130
Website: www.hita-yoroduya.com/senya (in Japanese)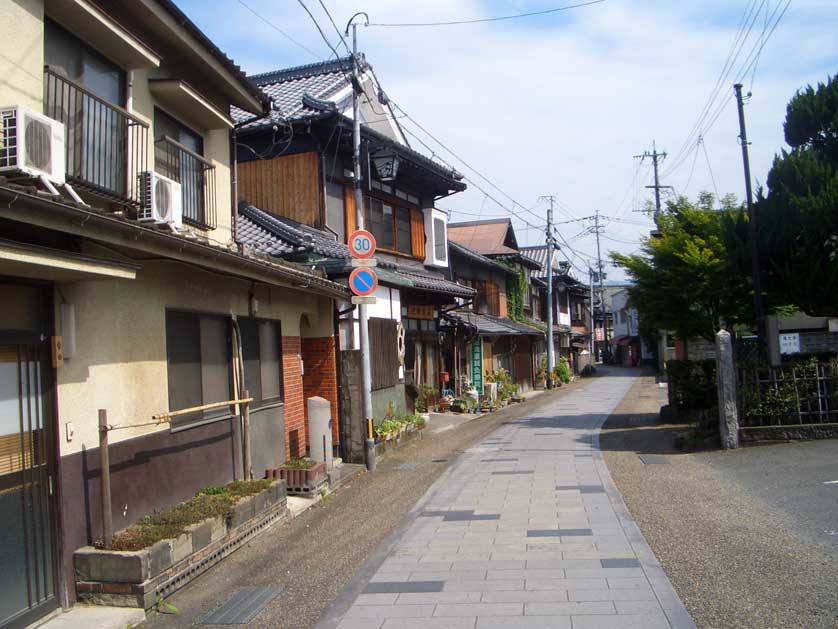 Street in Kuma, Hita, Oita Prefecture
Kuma
The other area to definitely visit in Hita is Kuma, a short walk south from JR Hita Station.
Kuma is not only a picturesque old area with wooden houses lining curvy old alleys, it is also the onsen hot spring area of Hita city.
Along the fairly wide Mikuma River, you find a good number of onsen ryokan but also several modern western-style high-rise hotels which pump up the hot spring waters to large baths on their top floor.
The major attraction of the Kuma neighborhood however are the many yakatabune restaurant boats offering dinners while slowly cruising the river.
Cormorant Fishing
While eel dishes are the favorite of Kyoto-style Mameda, the favorite fish of Kuma is the ayu, a small river fish.
The river boats offer a unique experience - watching the ayu caught by trained cormorants and directly delivered to the boat's kitchen.
This fishing method, called u-kai in Japan, has survived for centuries in Hita and is today a major tourist attraction: the cormorants fly out and pick the ayu from the river. Then they are quickly roped in by the leash attached to their feet. The fish are taken out of the birds' beaks before they make another fishing round.
The fishing season starts with the Hita Kawabiraki Kankosai (River Opening Festival) held annually on the first weekend after May 20th and lasts until late October.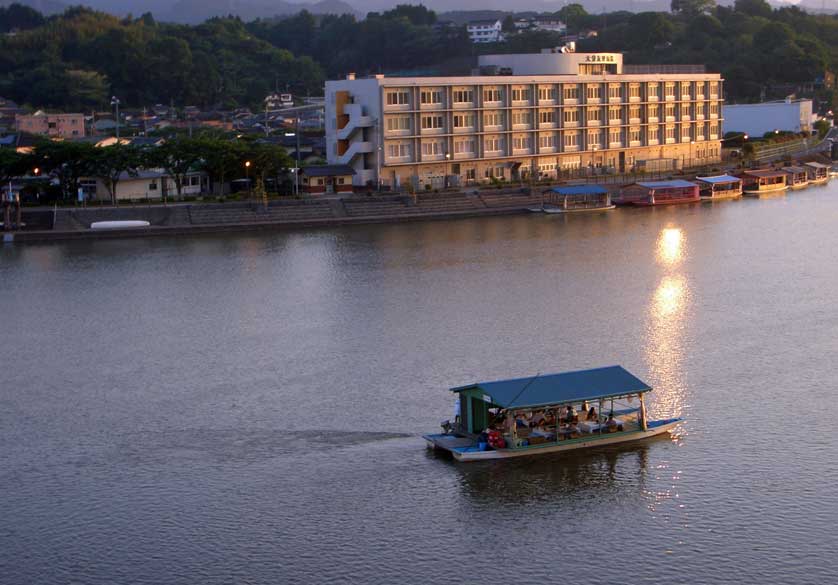 Yakatabune restaurant boat on Mikuma River, Kuma, Hita, Oita Prefecture
Yakatabune Boats
While it's certainly entertaining to watch cormorant fishing from the riverside, the real experience is being on a yakatabune boat oneself.
Unfortunately, you can't just walk to a boat and ask for a ride with dinner and u-kai fishing.
You need to stay in one of the six hotels / inns listed below, all located along the Mikuma River in the Kuma section of Hita and you need to book your yakatabune dinner tour with cormorant fishing in advance through the hotel / inn:
Biwa-no-ki Inn Tel: 0973 24 1666
Kameyama-tei Hotel kizantei.com (in English)
Yakushinoyu river onsen hot spring bath, Amagase, Oita Prefecture
Amagase
Amagase is a small hot spring town stretching along the Kusu River east of central Hita. It was merged with Hita city in 2005.
It is said that the first hot spring baths in Amagase opened about 1300 years ago.
Today, Amagase sports many onsen hotels and ryokan. Its most unusual onsen bath however is the Yakushinoyu, located right inside the bed of the Kusu River.
Enjoy the hot water there with your friends of all genders under the open sky while the river slowly flows by. It's a unique experience.
Amagase access:Take a JR Kyudai Line train from JR Hita Station bound for Oita city to Amagase Station. The trip takes about 15 minutes.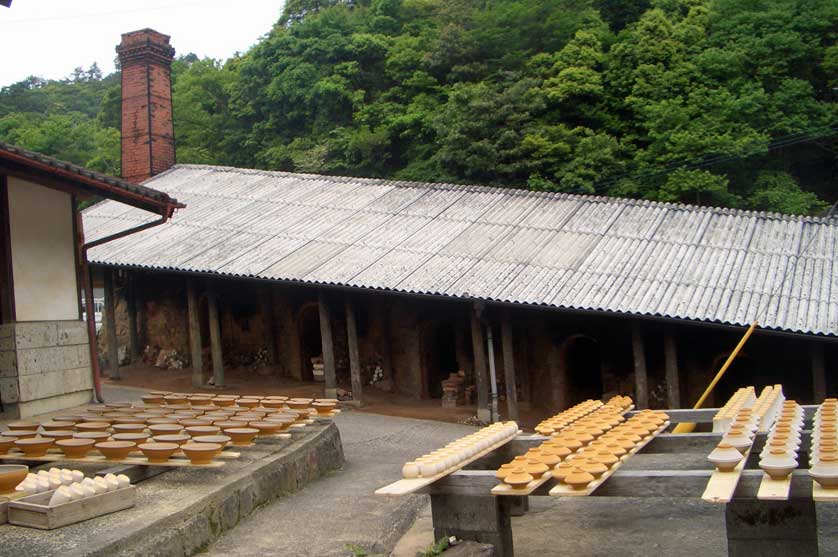 Onta ware and kiln, Onta Village, Hita, Oita Prefecture
Onta
Onta is a vintage pottery village about 15 km north of Hita, by now incorporated into Hita city.
Traveling to Onta feels like time traveling. Water-powered hammers pounding down on the dry clay which forms the base for the Onta ware sound their tok-tok-tok all day.
All pottery work is done using man-driven equipment unchanged for hundreds of years before the ware is burned in kilns operated according to ancient methods.
Onta ware is heavy duty kitchenware, sturdy, durable and beautiful to look at. Read more about Onta here
Onta access: Best go there by rental car - a car definitely helps to transport your purchases.
Bus connections are spotty and mostly of the school bus variety. If you want to try your luck with the buses take one to Sarayama stop (皿山) from Hita Station.
Otherwise, a taxi would be a good option.
Access - How to get to Hita
Train
Hita is located on the JR Kyudai Line, connecting Kurume city south of Fukuoka with Oita city, thus crossing almost all of northern Kyushu.
So, if you want to go to Hita from Fukuoka, take either a Kagoshima Shinkansen or a rapid train from Fukuoka's Hakata Station to Kurume, change there to the JR Kyudai Line. Get off at JR Hita Station. The trip takes about 90 minutes when using the Shinkansen to Kurume.
Car
Take the Oita Expressway from Fukuoka towards Oita, get off at Hita Exit.
English-language Hita city sightseeing website en.oidehita.com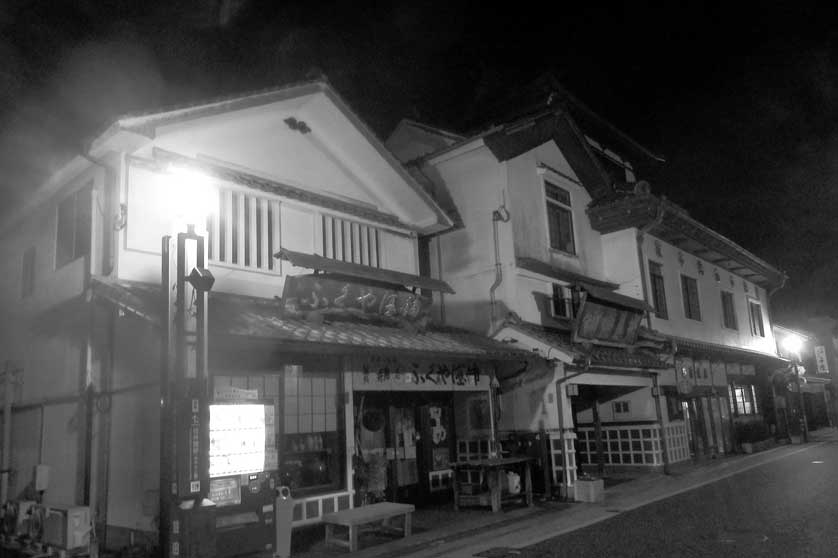 Mameda at night
All the themes of the city