Mojiko Moji Port Guide
Mojiko (Moji Port): read a guide to the historic Moji Port in Kitakyushu where the historic waterfront has many 19th century and early 20th century buildings.
Mojiko (Moji Port) 門司港 北九州
Things to see and do in Moji-ko, Kitakyushu
Mojiko - Moji Port - is a port in the city of Kitakyushu, in Fukuoka prefecture, and is strategically located at the narrowest point of the Kanmon Straits that separate Kyushu - the island it is on - from the main island of Honshu. Mojiko developed into a major international and domestic port at the end of the 19th century.
Moji was one of five towns and cities that merged in 1963 to become Kitakyushu-shi (Kitakyushu city). Besides Moji, the other merged towns were Kokura, Tobata, Yahata with its main attraction of Space World, and Wakamatsu.
Since the opening of Mojiko as a modern, new port, the area around old Mojiko port has been turned into a tourist attraction under the slogan "Mojiko Retro."
Mojiko is small enough to be explored on foot, or bicycles can be rented near the inner harbor.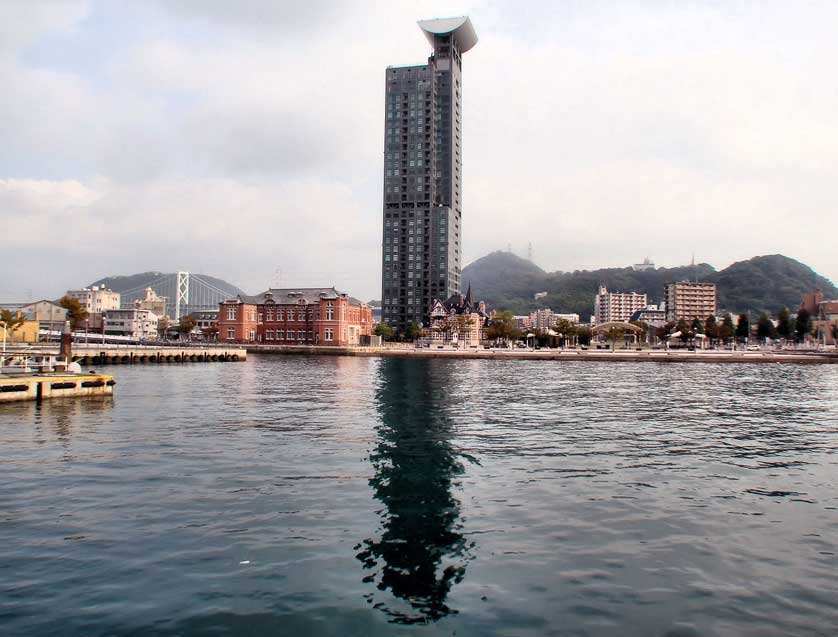 Mojiko (Moji Port), Kitakyushu, Kyushu

Mojiko Station
The terminus of the first railway line built in Kyushu, Mojiko Station is the most likely place of arrival for visitors. Built in 1914 it is one of the few remaining large wooden stations in Japan and was the first station to be listed as a national Cultural Property.
Mojiko Station is built in a Neo Renaissance style and is claimed to be based on the old Termini Station in Rome, but that seems unlikely. Until 2018 the station is undergoing major renovations and will likely be shrouded in scaffolding.
Inside the station is a Tourist Information Office, open from 10am-6pm.1-5-31 Nishikaigan, Moji-ku, Kitakyushu-shi, FukuokaTel: 093 321 6110.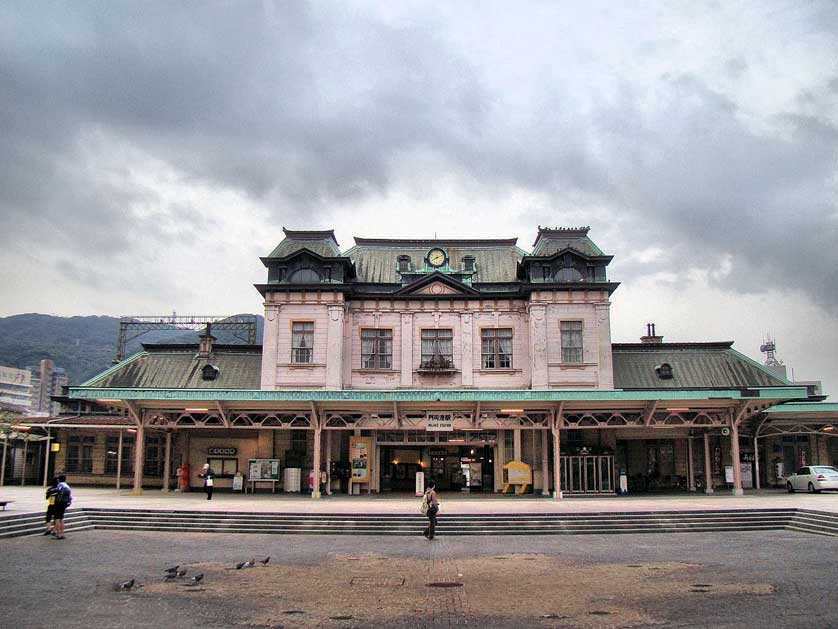 Mojiko Station building, Moji Port, Kitakyushu, Kyushu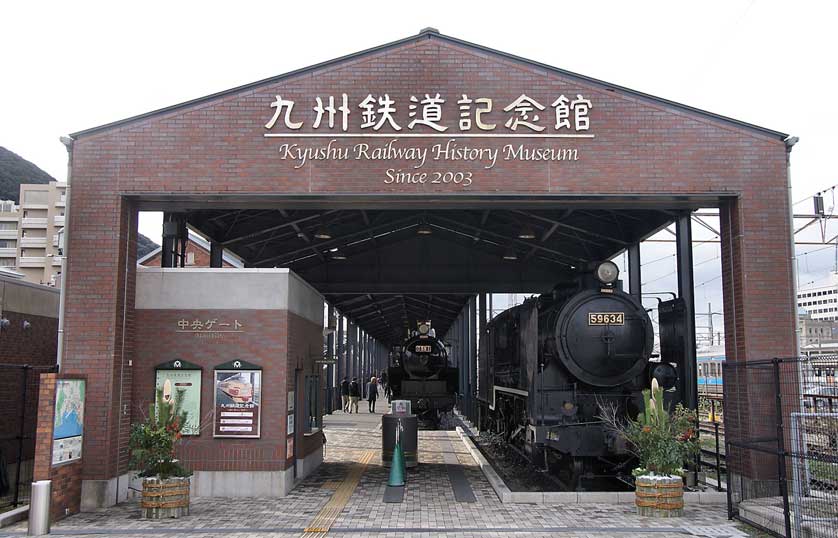 Kyushu Railway History Museum, Kitakyushu, Kyushu

Kyushu Railway History Museum
Housed in a two storey redbrick building that was the former headquarters of Kyushu Railways, the Kyushu Railway History Museum is a few minutes walk from Mojiko Station along a well-signed route.
The Kyushu Railway History Museum has an extensive set of exhibits including model railways, dioramas & simulators as well as equipment and photos documenting the history of rail in Kyushu.
There are plenty of interactive exhibits and a big shop selling rail souvenirs, but the stars of the museum are outside; a series of locomotives and trains from the age of steam up to the 1960's. Many can be boarded.
Kyushu Railway History MuseumOpen from 9-5.Closed 2nd Wednesdays.Entrance 300 yen adults, 150 yen kids.2-3-29 Kiyotaki, Moji-ku, Kitakyushu-shi, Fukuoka 801-0833 Tel: 093 322 1006
Kyushu Railway History Museum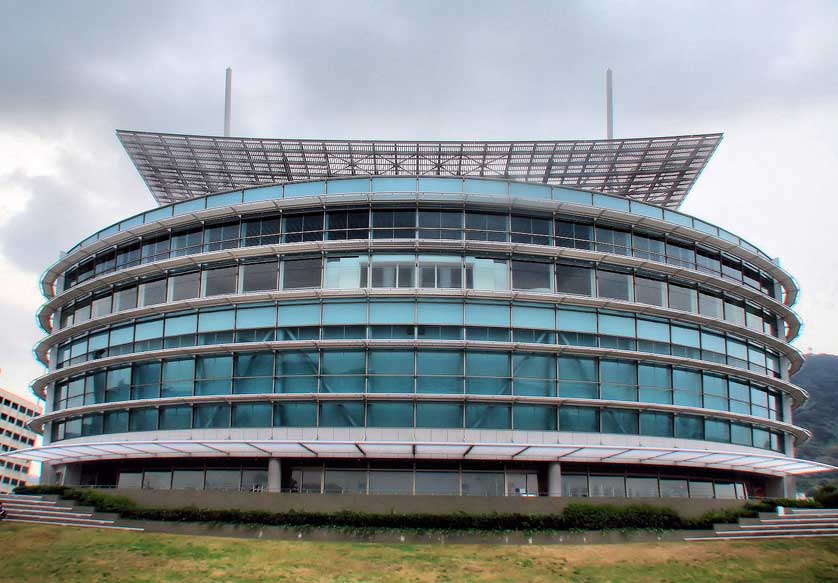 Kaikyo Dramaship, Mojiko

Other Attractions in Mojiko
The focus of Mojiko Retro is on the architecture of the Meiji and Taisho periods, 1868-1930, the period when the town flourished as an international port.
Old Mitsui OSK Line Building was constructed in 1917 and currently houses a small museum and two art galleries. The Seizo Watare gallery has an entry fee of 100 yen, the others are free.
Old Moji Mitsui Club was built in 1921 as a guest house for important visitors. Albert Einstein and his wife stayed here in 1922. There is a small museum commemorating Einsteins stay as well as that of writer Fumiko Hayashi.
Old Moji Customs Building, built in 1912 now houses a coffee shop and art gallery. Entrance is free.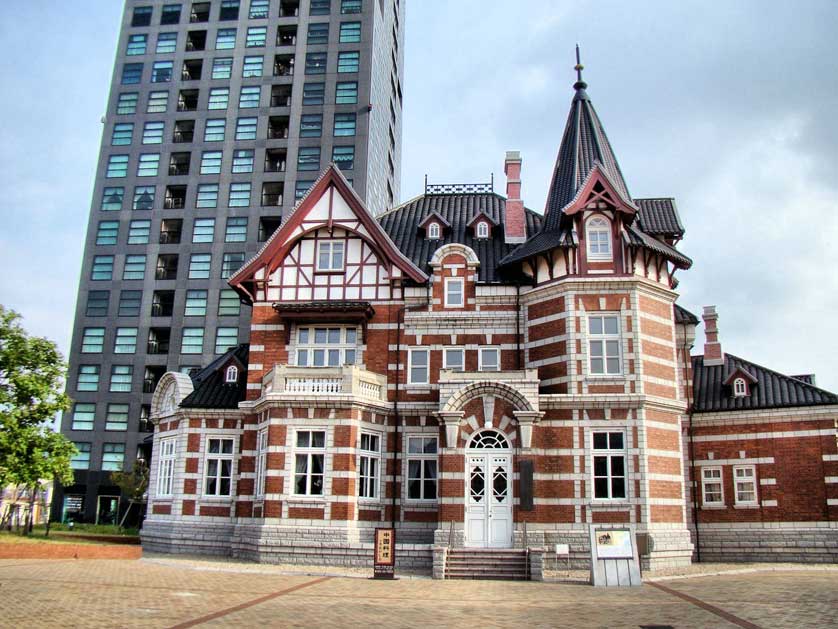 Chinese Eastern Railway Office, Mojiko
The Chinese Eastern Railway Office is unusual in that it is a modern reproduction of a Russian Building built in China! It was built to commemorate 15 years of friendship between Kitakyushu and Dalian in China. The Chinese Eastern Railway Office now houses a library of Chinese and East Asian literature and a restaurant. Entrance is free.
There are a few more galleries and museums of note in Moji-ko.
Kaikyo Dramaship is a large, distinctive, modern building located right on the waterfront. Opened in 2003 it is a museum on all aspects of the Kanmon Straits, the narrow channel separating Kyushu from Honshu. There are displays on the natural history and the cultural history of the area as well as a kids area and a restaurant.
Kaikyo DramashipOpen every day from 10 to 5Adults 500 yen, Children 200 yen1-3-3 Nishi-kaigan, Moji-ku,  Kitakyushu-shi, Fukuoka 801-0841Tel: 093 331 6700
Idemitsu Museum of Arts is housed in renovated Taisho-era warehouses and displays artwork from the collection of Idemtsu Kosan, a major petrochemical company founded by Sazo Idemitsu a little over 100 years ago. The museum shows themed exhibitions of works from the collection of Japanese paintings and calligraphy and East Asian ceramics. There is also a permanent exhibition of the works of American painter Sam Francis. An annex shows the history of Sazo and his company.
Idemitsu Museum of ArtsOpen 10-5. Closed Mondays.600 yen entrance.2-3, Higashi-minatomachi, Moji-ku, Kitakyūshū-shi, Fukuoka, 801-0853 Tel: 093 332 0251
The Matsunaga Library is a private collection open to the public with free entrance focusing on the history of theater and film in Japan. There are over 12,000 items including posters, scripts, pamphlets and photos.
Matsunaga LibraryOpen 9.30 am to 5 pm.Tel 093 331 8013
Kaikyo Plaza is the tourist development built around the old inner harbor. Lots of shops and restaurants. Mojiko was the port that handled most imported bananas, so they figure in a lot of the souvenirs and snacks. There is even a banana beer. Just across the straits is Shimonoseki which is the source of much of Japan's blowfish, fugu, so that features prominently in Mojiko too.
Mojiko is also home to Yaki Curry, a dish based on baked rice and curry. Also of note is the Blue Wing, a 108 meter long drawbridge across the entrance to the inner harbor. It is raised and lowered regularly during the day.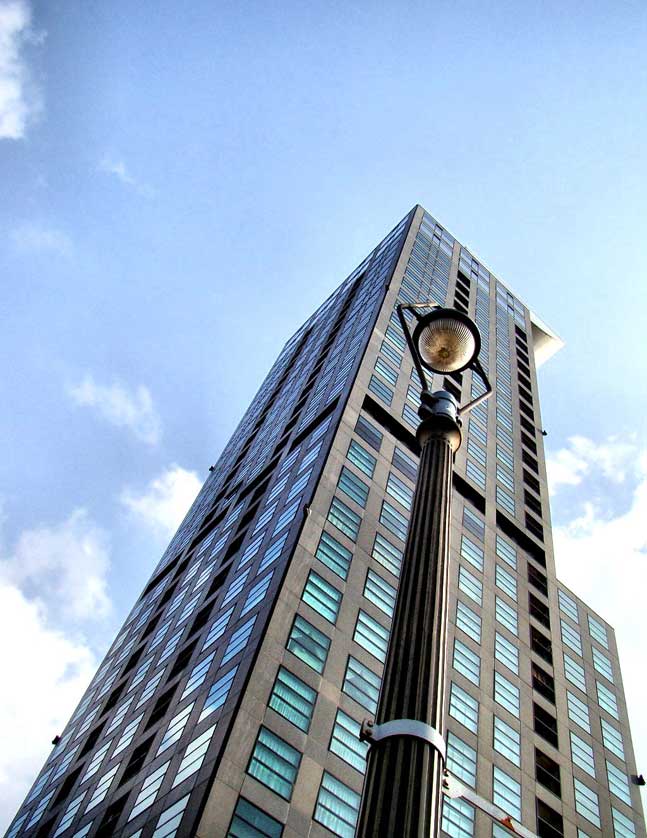 Mojiko Retro Observation Room, Mojiko
The tallest building in Mojiko is an apartment block with 31 floors, the top floor of which is the Mojiko Retro Observation Room. At 103 meters, there are great views in all directions. Open from 10 to 10Entrance 300 yen Adults, 150 yen kids
For views of a different kind head 1 km north of Mojiko to the Mekari area. From here there are close up views of the ships that pass through the straits 24 hours a day, great views of the Kanmonkyo Suspension Bridge joining Kyushu to Honshu, and Mekari Shrine, the northernmost shrine in Kyushu.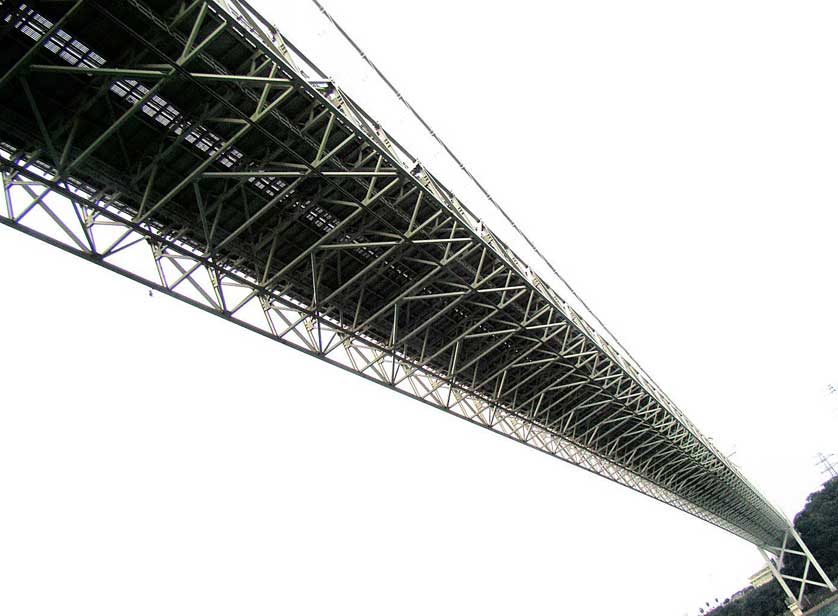 The Kanmon Bridge links Kitakyushu in Kyushu with Shimonoseki in Honshu
Most interesting is the pedestrian tunnel that goes under the sea from Kyushu to Honshu. At a little over 700 meters in length and accessed at either end by elevators, many people walk across and make a round trip by taking a ferry from Shimonoseki for the return. Open from 6am to 10pm, for a 20 yen fee its possible to take bikes, though they must be pushed, not ridden.
Kitakyushu Access - Getting To Kitakyushu
Air
Kitakyushu Airport is a new airport built on an an artificial island and is unusual in that it operates 24 hours a day. Several airlines run scheduled flights to and from Tokyo Haneda Airport, but Fukuoka Airport is less than 30 minutes away by train and has flights from many more domestic and international airports.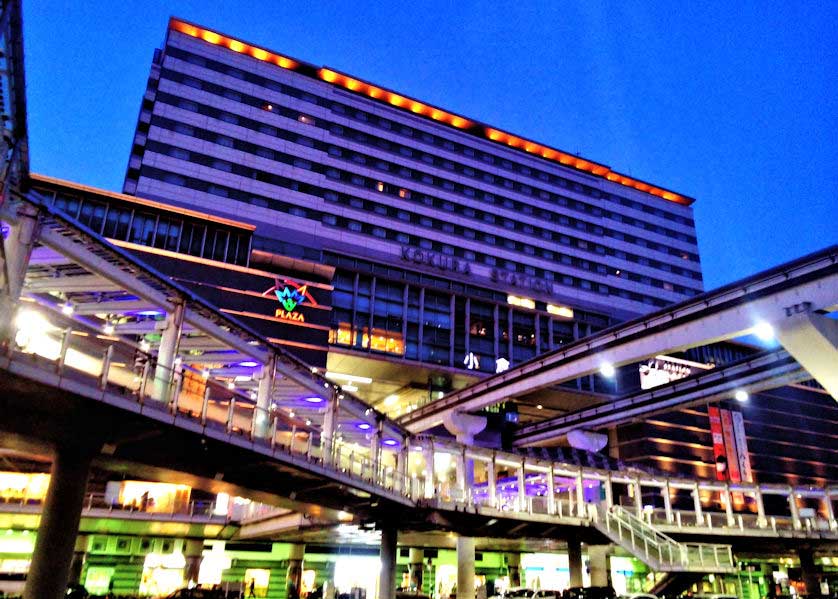 South side of Kokura Station

Train
Kokura Station is the first station of the Sanyo Shinkansen in Kyushu and all trains stop here. It takes less than 5 hours from Tokyo, 3 hours from Nagoya, and a little over 2 hours from Osaka. The newly opened Kyushu Shinkansen connects to Kumamoto in less than an hour and  Kagoshima in just over 100 minutes. From Kokura take the Sonic Limited express to Kunisaki, Oita & Beppu. Mojiko is 12-13 minutes by train (270 yen) from Kokura on the Kagoshima Line.
The Sanyo Line runs a fast shuttle to and from Shimonoseki. The Kagoshima Line and the Nippo Line connect to all areas of Kyushu. Within Kitakyushu the Monorail runs about 9 km from Kokura Station to Kokura Minami.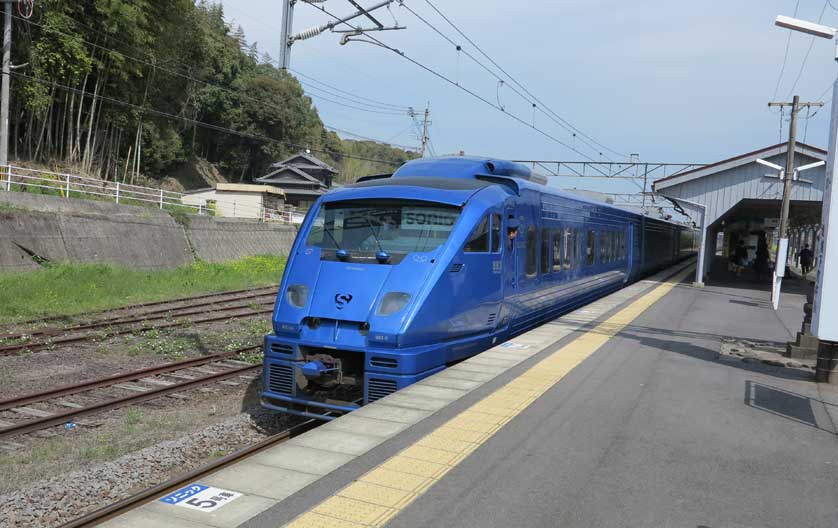 Sonic Express from Hakata & Kokura stations at Kitsuki Station
Ferry
Kitakyushu is served by several long distance domestic car ferries. A daily ferry from Tokyo stops at Tokushima on Shikoku, There are several ferries from Osaka and one from  Kobe, and a direct ferry from Matsuyama on Shikoku. There are also small passenger ferries across the narrow straits to Shimonoseki and also to some smaller nearby islands. There is a high-speed speed ferry to Ulsan in Korea.
More Kyushu
Book Accommodation in Fukuoka
All the themes of the city