Yanagawa: the Venice of Kyushu
柳川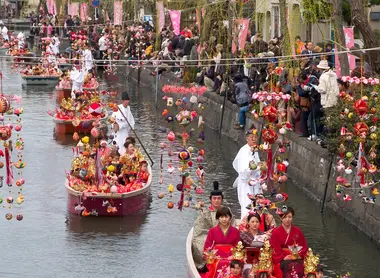 Un tour en gondole
Située dans le sud-ouest de la préfecture de Fukuoka, la ville de Yanagawa, entourée de centaines de canaux navigables en gondoles, est appelé la Venise de Kyushu.
A Little History
At the end of the sixteenth century, the town of Yanagawa developed around its castle - now in ruins. Its residents set up an ingenious system of pipes and a strategic defense system. In 1600, the warlord Moneshige Tachibana lost a bet against the future shogun Tokugawa Ieyasu, during a siege of the castle. The castle was destroyed, but the city's canals remained and were used to develop local agriculture through a clever irrigation system. Years passed, and Yanagawa is now a small, peaceful town in the Japanese countryside.
Yanagawa Today
Today, Yanagawa is a leading tourist destination in Fukuoka Prefecture. Hundreds of thousands of travellers from around the world visit every year.
Its main asset: the gondola rides. One hour gondola tours of the town are offered complete with a private gondolier guide. They share stories and sing old local traditional songs, a cappella, as you glide down canals and pass under bridges.
Yanagawa is also known for its festivals: Hina Matsuri (a festival dedicated to dolls) is a big event there, and there is one held in honor of Hakushu Kitahara, a poet from the city.
---
Address, timetable & access
All the themes of the city