The Mentaiko
明太子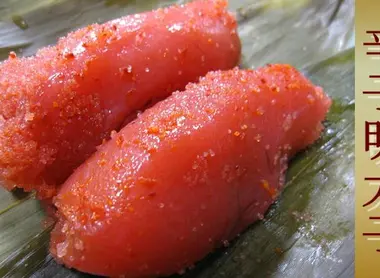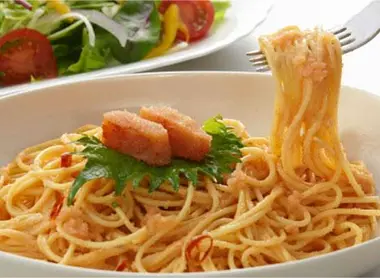 Fish eggs
In Fukuoka, there are ramen noodles (ラーメン) and mentaiko (明太子), known throughout Japan! 
Japan has extraordinary cuisine. Almost every city, every region carries in prestige, with a certain pride, its local specialties. In Fukuoka, mentaiko, with more than 300 producers, 200 shops, and hundreds of recipes, is unquestionably one of the city's culinary pride.
Kezako?
Mentaiko is hake or cod roe . There are several varieties. It is a side dish, an ingredient that can be found in various recipes. Thanks to its tender texture, it melts in your mouth and can be eaten raw or cooked.
Originally a Korean dish, myeongran jeot (명란젓), mentaiko is now a typical dish of Fukuoka cuisine. The mentaiko karashi (辛子明太子) is the declination specific to Hakata (Fukuoka).
In 2015, it was voted best side dish by Shukan Bunshu.
Japanese style
In 1949, under the influence of a Japanese born in South Korea, in Busan, a Korean city twinned with Fukuoka and accessible in 3 hours by boat from the Port of Hakata, the mentaiko develops. The mentaiko karashi (辛子明太子), Fukuoka's most famous variety appears on the tables.
According to other sources, mentaiko arrived in Fukuoka shortly after the Russo-Japanese War (1904-1905).
To all the sauces
The mentaiko karashi辛子明太子 is slightly spicy. This singularity allows it to garnish a fabulous number of dishes. As surprising as it may seem, there are mentaiko pasta, mentaiko pizza, onigiri (rice balls), udon (wheat noodles), and, of course, mentaiko ramen noodles.
The production of mentaiko can be accessed by booking a tour here. You can also learn about his cuisine by registering for the seminar at the Mentaiko Training Center in Fukuoka.
All the themes of the city