The best hikes in Hakone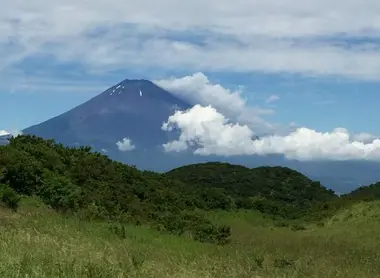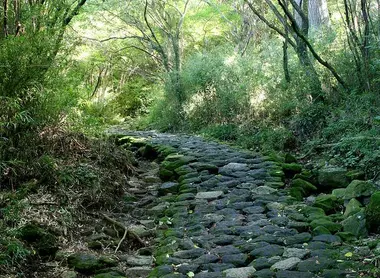 Mythical paths and magnificent landscapes
Hakone is part of Fuji-Hakone-Izu National Park in Kanagawa Prefecture. Tokyo's favorite spa town has a lot to offer and is very popular for its various hiking trails.
What are the hikes to do in Hakone?
Less than two hours by train from Tokyo, the place is appreciated for its onsen, its views of Mount Fuji, and its grandiose landscapes. Discover with us its main hiking trails, whether you are an experienced hiker or a simple walker, you will undoubtedly find what you are looking for.
These hikes can be done in spring, summer, and fall, but fall is the preferred season for its golden and red foliage and blue skies.
Some of them are intended for advanced hikers with professional equipments.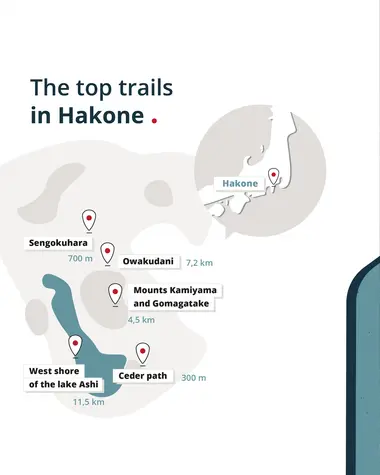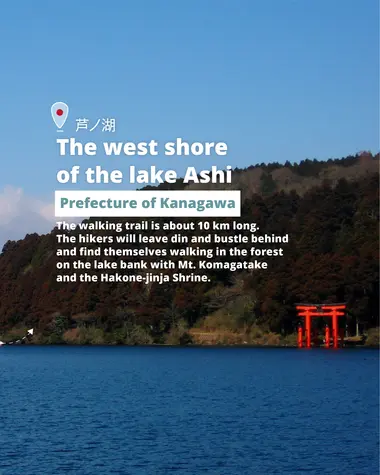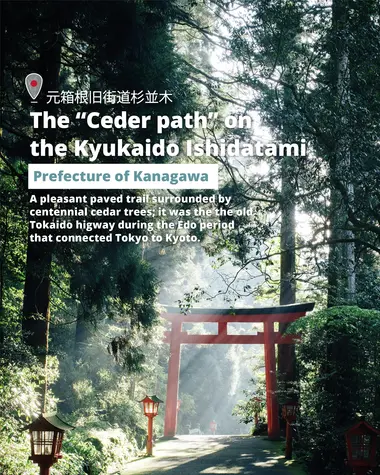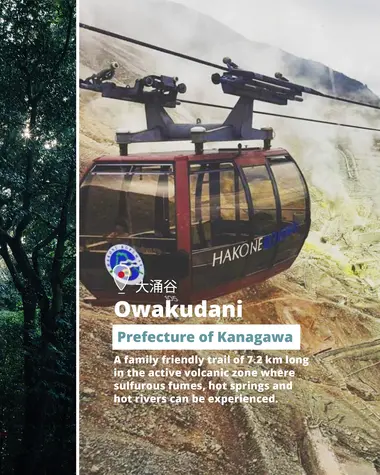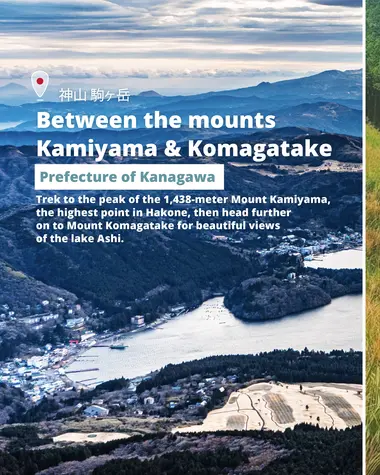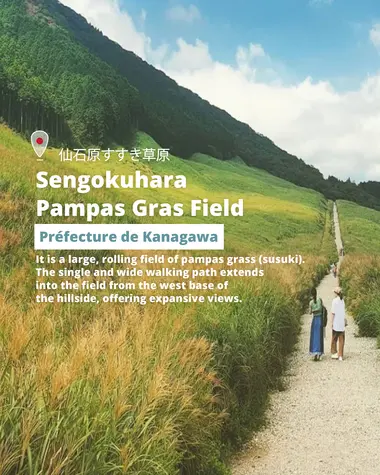 The road to Tôkaidô: Hakone Kyukaido
The Tokaido road connected Kyoto to the city of Edo (the name of Tokyo until 1868). It was used by all kinds of people such as pilgrims, monks, traders, and daimyo, who, under the reign of the Tokugawa shoguns, had to go to the capital once every two years. Today, many Japanese undertake to travel this route, generally only doing one stage at a time (about 32km). Hakone was an important stop on this road. It was the last border post before the capital and this passage was feared for its difficulty and its danger.
Nowadays, it is possible to have a glimpse of what the paths were like by taking the paths of Hakone Kyukaido, (the old road of Tokaido).
The easiest and shortest path is the one that connects Hakone-Machi to Moto-Hakone (by the lake) via the buildings of the old reconstructed border post (Hakone Sekisho) and the "paths of the cedars", a paved path in the middle of cedars, some of which date from the Edo period (1603 - 1868). It only takes half an hour. One can continue walking along Lake Ashi to get to Hakone Shrine.
The brave can walk from Hakone-Yumoto (where the station is) to Moto-Hakone via the old quarter of Hatajuku. This path is very popular in autumn for its foliage. Along the way, it is possible to quench your thirst, like the walkers of old, in the old Amazake Chaya tea house.
The western shore of Lake Ashi (Ashinoko)
A long path of more than ten kilometers allows you to follow Lake Ashi in the middle of the forest, far from the road. After passing through Kojiri Lock, one can walk all along the west shore of Ashiniko, which includes two lovely natural sandy beaches. About 20 minutes from Kojiri Lock is Fukara Lock, which was used to irrigate water in the region 350 years ago.
A pleasant but not always easy walk, with sometimes impressive climbs and descents.
There are splendid views of the opposite shore, including Mount Komagatake and Hakone Shrine. Here, nature is queen, and plants and wild birds decorate the walk which extends over 11.5 km. It takes about 4 hrs of walking.
Owakudani means " the great bubbling valley". It is a volcanic valley with sulfur fumes. Please note: the fairly frequent release of toxic gases leads to the closure of the site and the hiking trails that give access to it. Find out before you go.
The 7.2 km route starts from the Togendai cable car station, passes the Hakone Visitor center (where information on hiking trails and the like can be obtained), and continues to Owakudani. It's a fairly easy walk that can be done as a family (allow around 2h30 of walking).
The course of Mounts Kamiyama and Komagatake
It is a hiking trail that will fascinate geology lovers since it passes through an environment born of volcanic eruptions. There is also abundant flora and forests. It leads from Owakudani to Mt. Kamiyama, the highest point in Hakone, and then to Mt. Komagatake. From here, there are magnificent views of Lake Ashi stretching out in the distance and, in good weather, of Mount Fuji. The descent from Mount Komagatake is done by cable car.
This path is not recommended for novices and it is recommended to bring climbing equipment do not forget to bring water and some provisions. You can cover the 4.5 km in about 2h30 of walking.
Mount Kintoki (1,212 meters above sea level) is linked to the legend of Kintaro, a hero of Japanese folklore, and its ascent is one of the most popular hiking routes in Hakone. Once you reach the top, you have splendid views of Lake Ashi, the Hakone Valley, Owakudani, and Mount Fuji.
Several paths lead to the summit. The most popular is the one that departs from Kintoki Shrine while the descent is via Otome Pass or Yagurasawa Pass. The more adventurous prefer to climb through Yagurasawa Pass or Ashigara Pass.
At the top, in addition to the panorama, two tea houses reward walkers for their efforts. The ascent can be done in about 2h30 (4.6 km). It is advisable to bring water and have hiking equipment.
---
Address, timetable & access
Address

Timetable

- Shinjuku Station, Odakyu Line. Lane for the Super Hakone, "Romance Car" limited express train.- Shinjuku Station, Odakyu Line. Odakyu Line express train or rapid express to Odawara (90 to 95 min). Change at Odawara to the Odakyu Hakone Tozan Line to Hakone-Yumoto Station.
All the themes of the city