Yamaguchi City Guide
Yamaguchi 山口
Yamaguchi is the peaceful capital of Yamaguchi Prefecture right down in the south western corner of Honshu, facing Japan's southern island of Kyushu.
With a population of around 200,000, Yamaguchi has an easy-going feel and is an ideal base for exploring the local area including the historic towns of Hagi, Tsuwano and the limestone caverns of Akiyoshi-dai.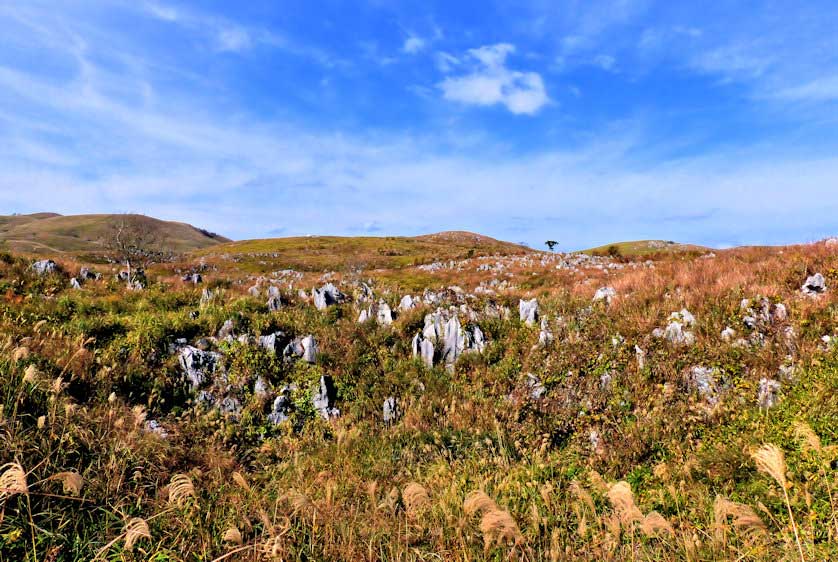 Akiyoshi-dai landscape, Yamaguchi Prefecture
There's plenty to see and do in Yamaguchi - known as the "Kyoto of the West" including the superb Rurikoji Temple and pagoda, the modern St. Francis Xavier Memorial Church and the Zen garden Sesshutei at Joeji Temple, designed by the artist priest Sesshu.
Yamaguchi's attractions are quite spread out so bicycles or a car hire make good sense. Bicycles can be rented at the JR Yamaguchi Station.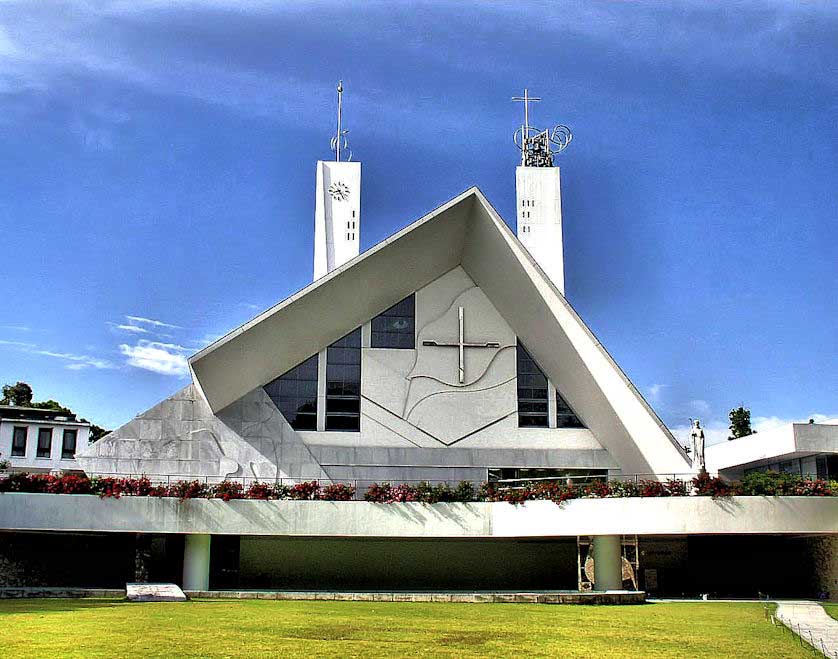 St. Francis Xavier Memorial Church was rebuilt in 1998 in a modernist style of architecture
Yamaguchi Attractions
Close to Yamaguchi Station is the beautiful St Francis Xavier Memorial Church (Sabieru Kinen Seido). The original Gothic-style church, built in 1952 to commemorate the 400th anniversary of Xavier's visit to Yamaguchi, burnt down in mysterious circumstances in 1991 and was rebuilt by 1998 in modernist style with superb stained glass windows.
The church stands atop a hill in Kameyama Park (亀山公園). Below the church is a museum on the life and times of Francis Xavier and his epic journey to Japan.
4-1 B Kameyamacho, Yamaguchi-shi, Yamaguchi 753-0089
Tel: 0839 20 1549
Hours: Open 9 am to 5 pm. Free entry.
Admission: A small museum with displays on the history of Christianity in Japan and on Francis Xavier's travels in the country has a 300 yen entry fee.
At the foot of the hill is the Yamaguchi Prefectural Museum (Tel: 083 922 0294) with a wide range of exhibits covering Yamaguchi's history, nature, geology as well as on the more general themes of science and astronomy.
The Yamaguchi Prefectural Art Museum (Tel: 083 925 7788) also in Kameyama Park has a permanent collection of the photographs of Katsuji Fukuda (1899-1991).
Rurikoji Temple
North east from Kameyama Park is Kozan Park (香山公園), which contains the five-story pagoda of Rurikoji. The beautiful Muromachi era structure dates from 1404 and was built by the then lord of Yamaguchi, Moriharu Ouchi, to commemorate the death of his brother, Yoshihiro.
The pagoda at Rurikoji Temple in Yamaguchi is considered one of the top three pagodas in Japan. The temple park also contains a small museum dedicated to the other 50-plus pagodas in Japan with scale models and photographs. The Rurikoji pagoda is illuminated at night.
Rurikoji
1-28 Kimachi, Yamaguchi-shi
Yamaguchi 753-0095
Tel: 0839 34 6630
Hours: The temple is always open, with free entry, but a small museum in the temple with models of more than 50 other Japanese pagodas is open 9 am to 5 pm. Admission: 200 yen
The temple is a 10 minute walk from Kenchomae bus stop.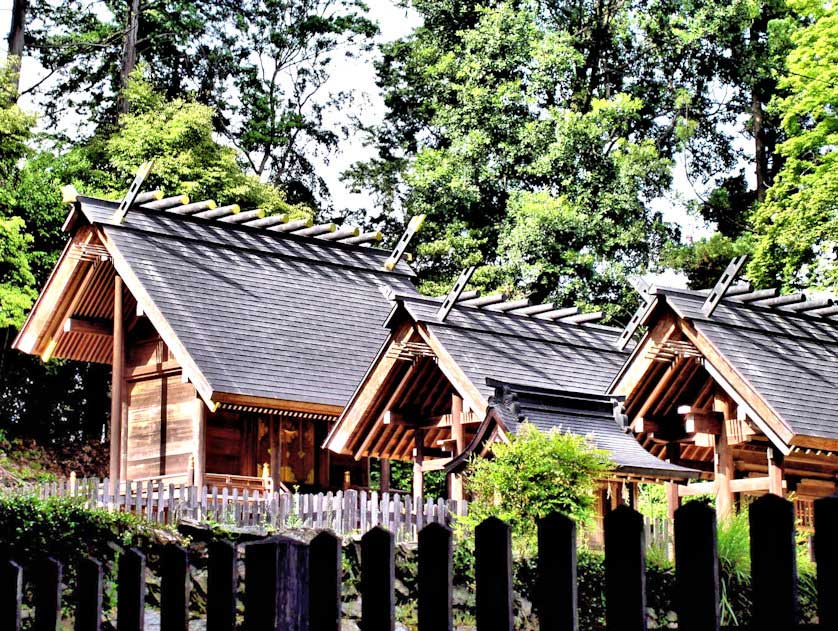 Yamaguchi Daijingu
Daijingu
Yamaguchi Daijingu was built by the local lord in 1518 after he had visited the famous Ise Shrines in central Japan.
Known as the "Ise Shrines of the West," it enshrines the same kami as the Ise shrines and is built in the same architectural style. Daijingu is also rebuilt every 20 years.
Daijingu
4-4 Takimachi, Yamaguchi-shi
Yamaguchi 753-0071
Tel: 0839 22 0718
Always open, entry free.
Daijingu is a 5 minute walk from the Kenchomae bus stop, not far from Rurikoji Temple.
Ryuzoji Temple
Ryuzoji is a mountain temple on the outskirts of Yuda Onsen. The temple has a wide range of statuary inside the temple buildings and in the grounds, including a large Fudo Myo-o. Behind the temple is a waterfall which is particularly spectacular in autumn.
Ryuzoji
1750 Yoshiki, Yamaguchi-shi
Yamaguchi 753-0811
Tel: 0839 24 1357
The temple is accessible by local bus from Kenchomae bus stop.
Toshunji Temple
Also in Kozan Park is Toshunji Temple and the graves of the later Mori lords of Yamaguchi including Mori Takachika, who was active in the overthrow of the Tokugawa Shogunate in the 1860s and was the first daimyo to return his fief (han) to the Meiji Emperor. The Chinryutei tea house is of historic interest as it was used by anti-Tokugawa plotters such as Saigo Takamori to plan the downfall of the shogunate in the 1860's.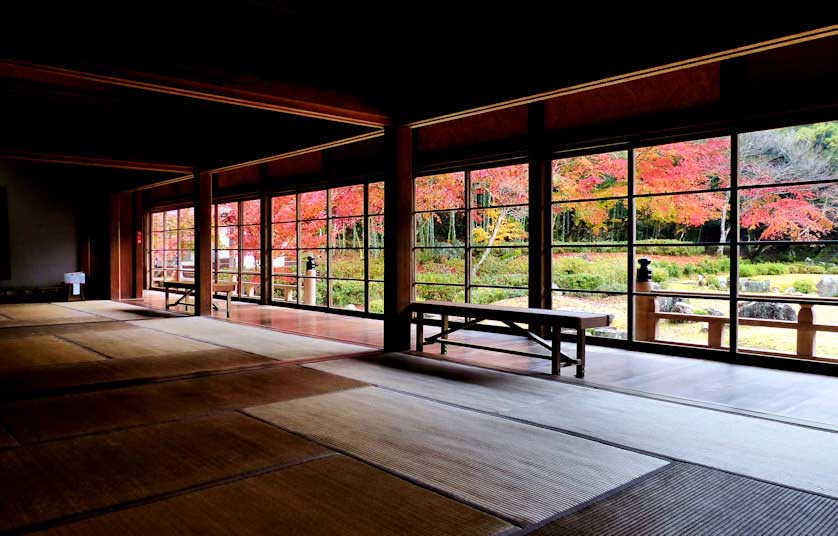 Sesshutei Garden at Joeji Temple, Yamaguchi Prefecture
Sesshutei Garden at Joeji Temple
Heading east on Route 9 out of central Yamaguchi in the direction of Tsuwano brings you to the Sesshutei Garden at Joeji Temple (常栄寺). It is believed that the garden was commissioned in the 15th century by Lord Masahiro Ouchi using the services of the painter-priest Sesshu, who was in Yamaguchi at the time along with many other artists and nobles from Kyoto who had fled the war-torn capital.
The simple rock and moss garden, surrounded by maple trees contains a stone that represents Mount Fuji in its shape. There are paths up into the hills behind the garden.
Joeji Temple
2001 Miyanoshimo, Yamaguchi-shi, Yamaguchi 753-0011
Tel: 0839 22 2272
Hours: Open from 9 am to 5 pm. Admission is 300 yen.
Joeji is a 20 minute walk from JR Miyano Station.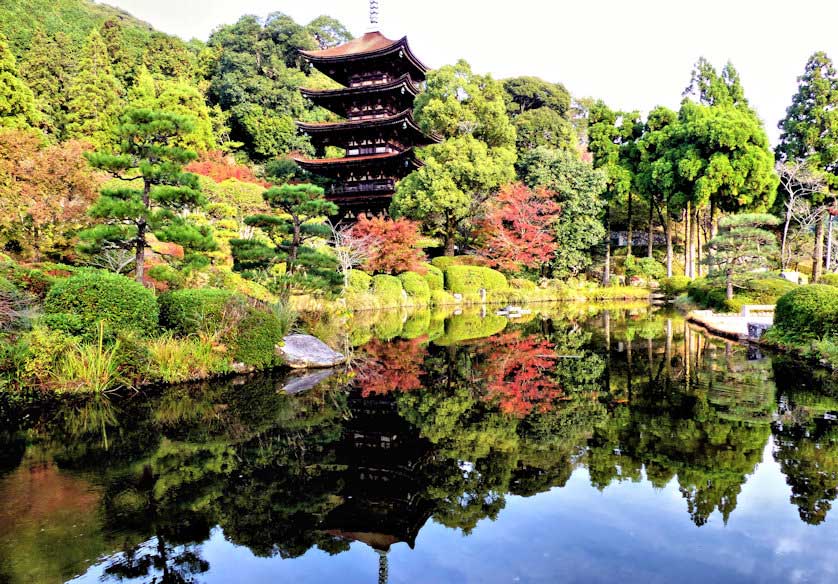 The Rurikoji Pagoda dates from the early 15th century and was built by Moriharu Ouchi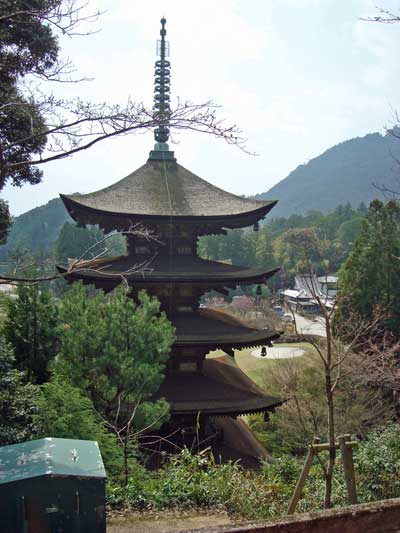 Yamaguchi has a delightful mix of temples and churches revealing its Buddhist and Christian heritage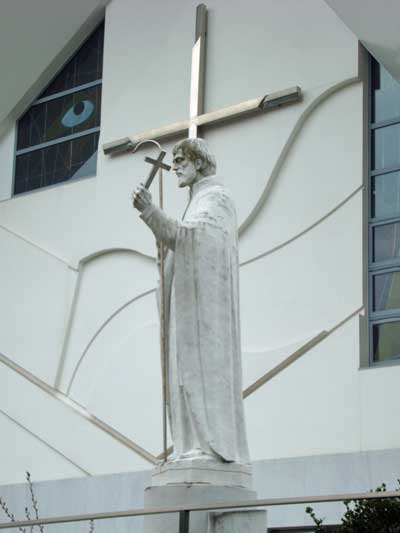 St. Francis Xavier Memorial Church, Yamaguchi city, Yamaguchi Prefecture
Ryufukuji Temple
Ryufukuji is a temple built on the site of what was the residence of the Ouchi lords until the end of the Muromachi Period. The old garden is still visible next to the temple. It is a very popular spot during autumn colors.
Ryufukuji
119 Odonooji, Yamaguchi-shi, Yamaguchi 753-0093
Tel: 0839 22 1009
Open for free all the time.
Ryufukuji Temple is a 10 minute walk from Kami-Yamaguchi Station on the Yamaguchi Line.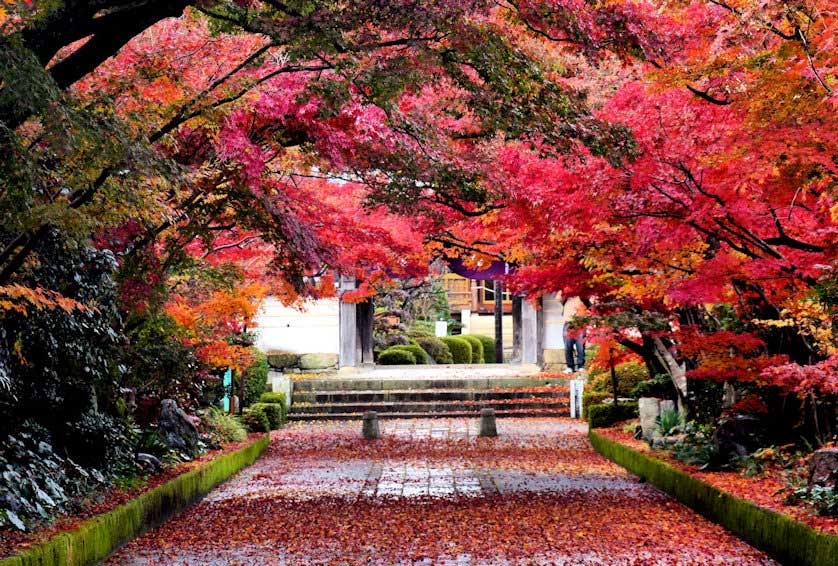 Ryufukuji Temple with spectacular autumn leaves
Jippotei Ishin Museum
A good place to begin exploring Yamaguchi is the Jippotei Ishin Museum, a former lodging house for domain retainers that has been recently renovated.
It was a major site for the preparations for the Meiji Restoration. Here you can pick up an excellent guide map in English for exploring the area around Yamaguchi as well as an app for your smart phone that will help with transportation.
Jippotei Ishin Museum
112 Shimotatekoji, Yamaguchi-shi
Yamaguchi 753-0034
Tel: 0839 02 1688
Hours: Open 9 am to 5 pm; closed Tuesdays.
The museum is a short walk from Kami-Yamaguchi Station just two minutes and one stop from Yamaguchi Station.
Yuda Onsen
Yamaguchi's other attractions include the historic onsen hot springs at Yuda Onsen, one stop west on the train from Yamaguchi Station.
Legend has it that a white fox cured its injured leg in the healing waters.
A giant statue of the white fox looms over Yuda Onsen Station. According to legend a white fox discovered the hot spring. Not far from the station is the Nakahara Chuya Memorial Museum. He was a Dadaist poet in the early Showa Period and his work is still popular today.
Nakahara Chuya Memorial Museum
1-11-21 Yudaonsen, Yamaguchi-shi, Yamaguchi 753-0056
Tel: 0839 32 6430
Hours: Open 9 am to 5 pm. Closed Mondays. 320 yen
Back in Yamaguchi town is the pleasant Ichinosakagawa, which is a lovely place to walk especially when the cherry trees along its banks are in full bloom.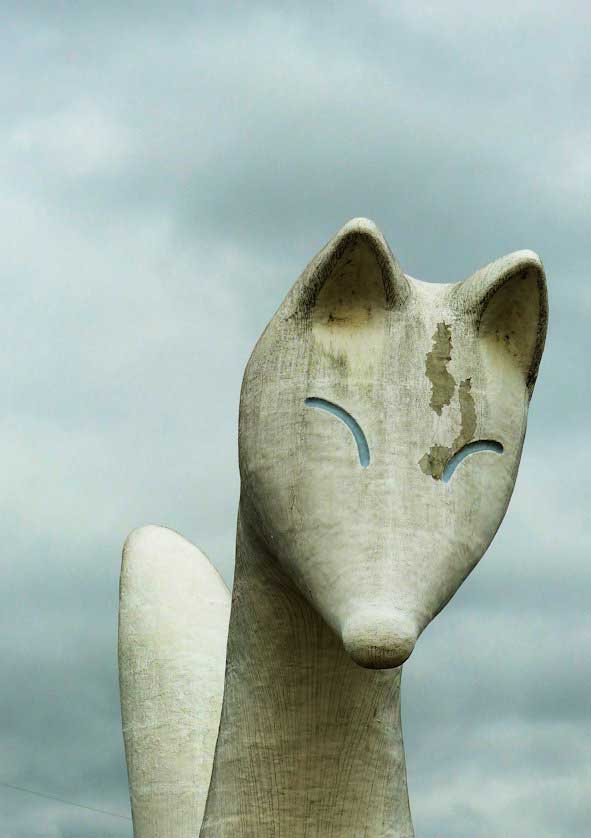 A giant statue of the white fox looms over Yuda Onsen Station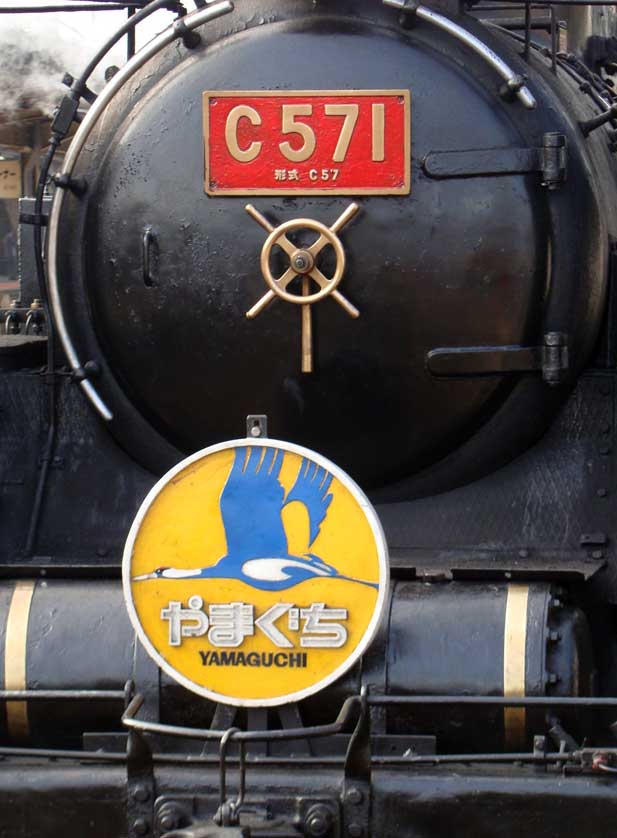 SL Yamaguchi Go Steam Train
SL Yamaguchi Go Steam Train
A fun trip for steam locomotive fans is the SL Yamaguchi Go steam train, which runs the 69 km between Shin Yamaguchi Station, via Yamaguchi Station, and Tsuwano in the mountains of Shimane Prefecture.
The services operates on weekends and national holidays from mid-March to November.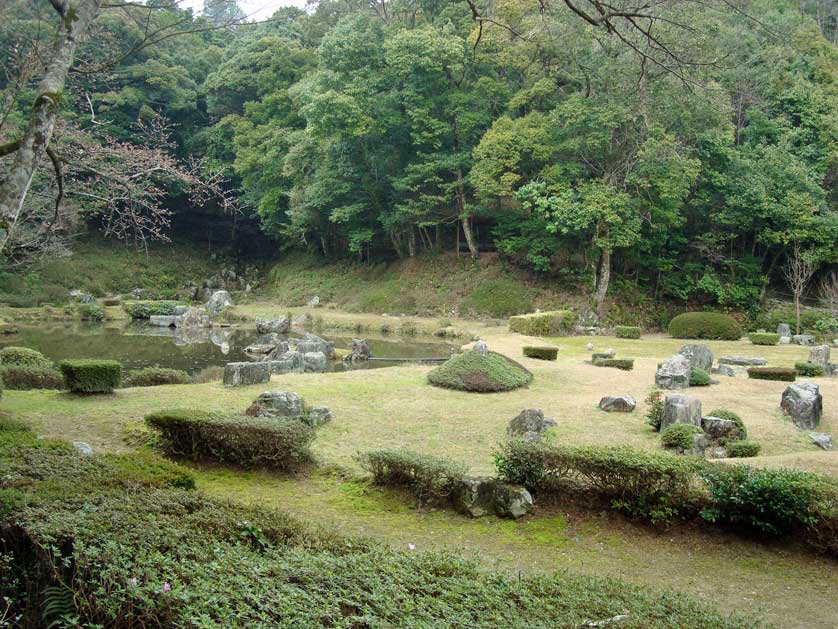 Joeji Temple contains the Sesshutei Garden; notice the moss-covered mound representing Mt. Fuji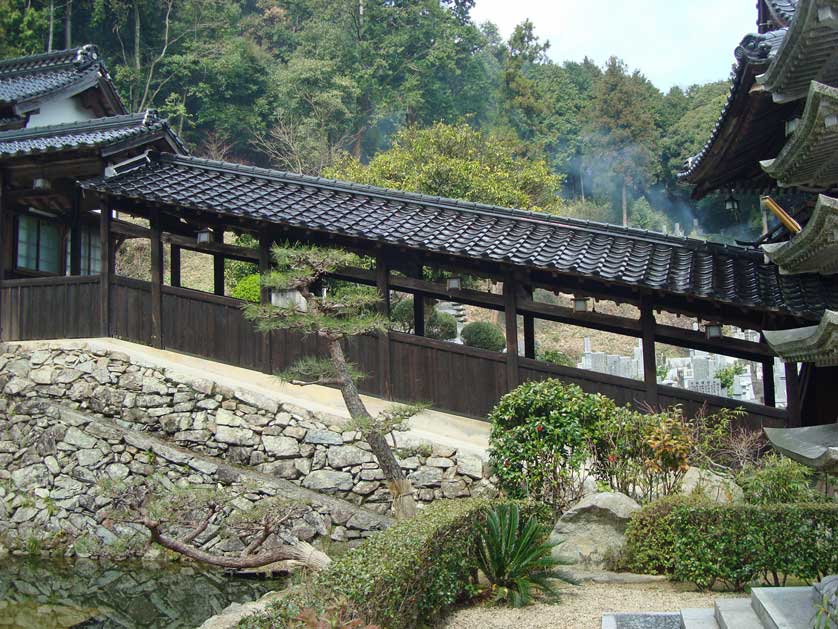 Roofed corridor at Toshunji Temple in Yamaguchi with incense smoke rising in the background
Yamaguchi Access
Shin-Yamaguchi Station is on the main shinkansen line to Fukuoka, Osaka and Tokyo. Change to a local JR train for JR Yamaguchi Station (25 minutes). The Yamaguchi tourist information center (Tel 083 933 0090) is upstairs at the station. The nearest airport is Yamaguchi Ube Airport. There are buses to Akiyoshi-dai (55 minutes), Hagi (70 minutes), Yamaguchi Ube Airport (1 hour) and Tsuwano from JR Yamaguchi Station as well as a number of local city buses. For more information on touring Yamaguchi Prefecture by train.
The South exit for the Shinkansen at Shin-Yamaguchi Station, Yamaguchi Prefecture
Getting Around Yamaguchi
Getting around central Yamaguchi city is easy enough by rental bicycle or on foot. If you wish to see some of the sights around Yamaguchi city such as Akiyoshi-dai, visitors should consider hiring a car, though there are buses from Shin Yamaguchi Station and Yamaguchi Station.
Bicycle Rental around Yamaguchi
Yamaguchi Station 0839 22 0915
Yamaguchi City Saikotei 0839 34 3312
Yamaguchi Furusato Heritage Center 0839 28 3333
Creative Space Akarenga 0839 26 6666
Yuda Onsen Tourist Information Center 0839 01 0150
Hotel Accommodation in Yamaguchi
Yamaguchi Prefecture has a number of good accommodation options: Kamenoi Hotel Iwakuni in Iwakuni, the APA Hotel Yamaguchi Hofu and Dormy Inn Premium Shimonoseki. Near Shin Yamaguchi Station are the Toyoko Inn Shin Yamaguchi Shinkansenguchi and the Comfort Hotel Shin-Yamaguchi.
Yuda Onsen's hotels combine rooms with hot spring spas on the premises.
SL Yamaguchi Go Video
Yamaguchi Map
View Hagi Yamaguchi Map in a larger map
Yamaguchi: read a guide to Yamaguchi city the prefectural capital of Yamaguchi Prefecture in south-west Japan.
All the themes of the city