Kinosaki Onsen Attractions
Kinosaki Onsen attractions: fun things to see and do in Kinosaki Onsen in Hyogo Prefecture in addition to hot spring bathing - temples, museums, walks and the cable car.
Things To See & Do in Kinosaki Onsen
Kinosaki Onsen: More than just hot water
Jake Davies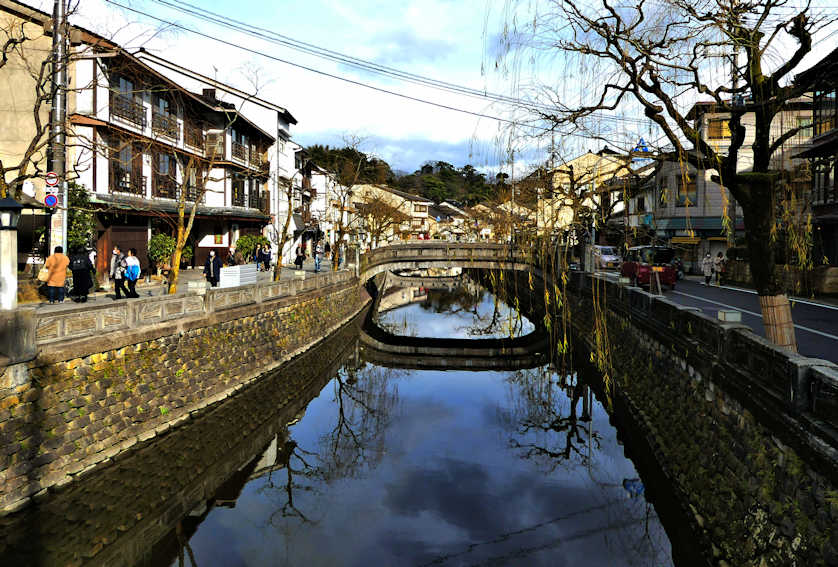 The Otani River runs through the historic hot spring resort of Kinosaki Onsen
Kinosaki Onsen is a very popular hot spring resort in Hyogo Prefecture, which is part of the Kansai region. Only a few hours from Kyoto and Osaka, this old-fashioned resort is large enough to have plenty to see and do, but small enough so you can easily find your way around on foot.
Located in a narrow valley close to the Japan Sea coast, the resort is built along the banks of a pretty river lined with willow and cherry trees and crossed by many small bridges. Kinosaki has seven public baths as well as the baths in the many ryokan in the town. It is tattoo-friendly, family-friendly, and there is enough English spoken to make a visit smooth and hassle-free.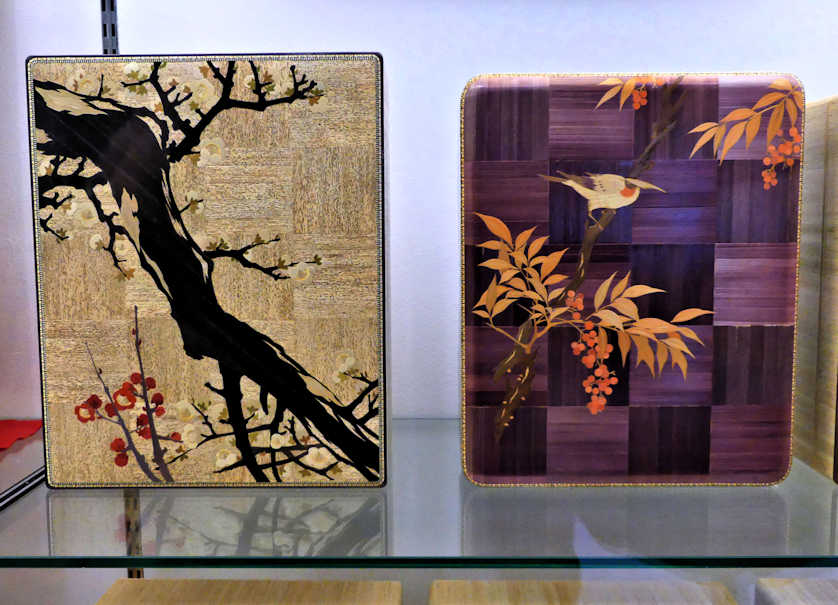 Mugiwara Zaiku is a craft from Kinosaki that features intricate, detailed traditional designs
Yukata Strolls
The primary activity is of course donning a traditional yukata and wandering from bath to bath, imbibing the atmosphere while enjoying good food and drink. Kinosaki is best known for its delicious crabs and also for local Tajima beef. More details on the baths and the town can be found on our guide to Kinosaki Onsen.
For many people there is only so much time spent relaxing in a bath, eating, and drinking that can be done before you crave other stimulation and entertainments. If you are visiting for more than just a one night trip, what else can you do?
Attractions
Fortunately in the town itself and in the surrounding areas, there are a wide range of sights and activities to explore. Your hotel or ryokan will have pamphlets and maps available, or you can stop in at the Tourist Information Office located right across from the train station.
78 Yushima, Kinosakicho, Toyooka-shi, Hyogo 669-6101Tel: 0796 32 3663
Open 9 am to 5 pm, closed on Wednesdays.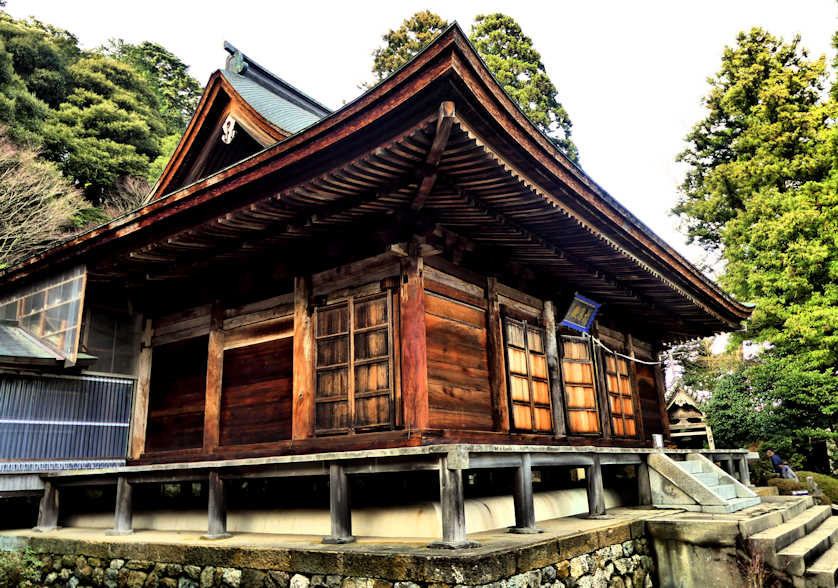 The main hall of Onsenji Temple on the mountainside in Kinosaki Onsen
Shopping, for gifts for friends back home or for souvenirs for yourself, or even simply window shopping, is well catered for along the main streets of Kinosaki.
Being so close to the sea and with crab being the local specialty, there are lots of seafood-based souvenirs.
You must have friends back home who would be delighted with a gift of a jar or two of sea urchin!
Japanese sweets are widely available with many local specialties. You may also notice a lot of objects for sale decorated with rather vivid, and sometimes brightly colored geometric patterns.
These will be mugiwara zaiku, a folk art known as straw art in English, and, in all of Japan, only made in Kinosaki.
Straw Art Museum
At the upper end of the town is the Straw Art Museum, a converted storehouse where you learn about the art's history and see many historical examples as well as contemporary pieces. Both historical and modern styles feature designs that are traditional, but the colors of the older pieces are far more subtle and subdued. A video with English subtitles can be viewed.
376-1 Kinosaki-cho Yushima, Toyooka-shi, Hyogo 669-6101
Tel: 0796 32 0515Open 10 am to 4 pm. Closed Wednesdays.
300 yen for adults, 200 yen for kids
For a small fee you can try out the craft of mugiwara zaiku yourself and take away small things you have yourself produced. For a more extensive class in an artist's studio and with an English speaking guide, you can book in advance at VisitKinosaki.com

Zen gardens at Gokurakuji Temple in Kinosaki Onsen
Gokurakuji Temple
Heading further up the valley, in a small side street near the Mandarayu public spa, you will find Gokurakuji Temple.
Opposite the temple gate is a delightful hillside garden with plenty of statuary and flowing water. But, stepping inside the gate brings you to a truly inspiring landscape of raked gravel and rock.
The grounds in front of the temple buildings are divided into two karesansui, or "dry gardens," and the paths allow you to view them from many different angles.
These may not be as well known as the famous karesansui gardens of Kyoto, but they are free to view and are usually empty of other visitors.
801 Kinosakicho Yushima, Toyooka-shi, Hyogo 669-6101
Tel: 0796 32 2326
The temple offers the opportunity to try zazen, the seated Zen meditation technique, and includes a cup of green tea afterwards while you enjoy the garden from inside the temple. Contact VisitKinosaki.com.
A little further up the valley you come to the hot springs source. Hot water comes bubbling out and you can buy and boil some eggs. There is also a free foot bath to sit in and relax.
According to the legend the hot spring was created when a Buddhist monk performed austerities for 1,000 days in the early 8th century.
He founded a temple on the hillside across from the source. The main buildings of the temple are located halfway up the slope, but down at the base of the mountain is the Yakushi-do, the hall dedicated to the Medicine Buddha.
From here steps lead up the mountain to a cluster of temple buildings that include a pagoda and a museum of temple treasures. In the main hall are various statues some of which date back to the Heian Period. The temple's main statue can be viewed until 2021 when it will become hidden again for 33 years.
985-2 Kinosakicho Yushima, Toyooka-shi, Hyogo 669-6101Tel: 0796 32 2669
Open 9 am to 5 pm. Entry 300 yen. Entry to the Yakushido at the base of the mountain is free.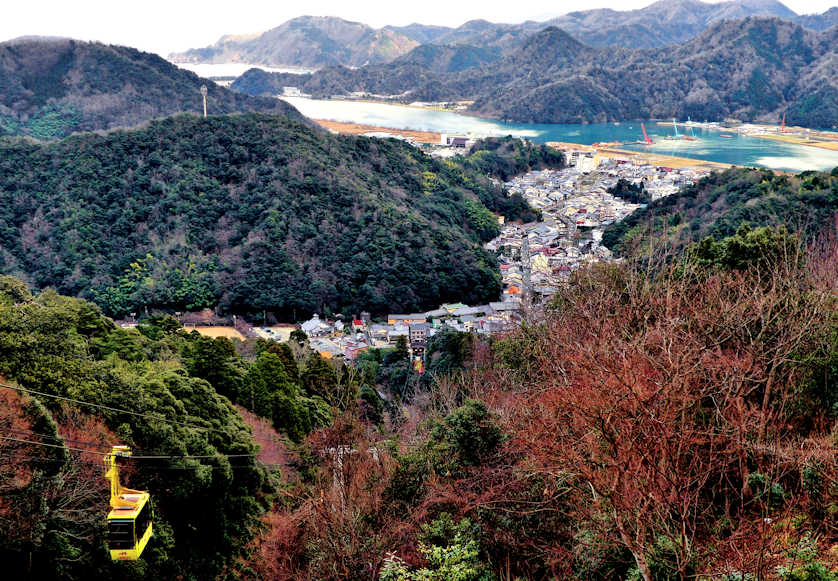 Expansive views as far as the Japan Sea coast from the Kinosaki Ropeway
Kinosaki Ropeway
For more than 1,200 years, visitors to Kinosaki would climb up to Onsenji before visiting the baths, but nowadays most people choose to take the ropeway.
The Kinosaki Ropeway takes 7 minutes to run up to the top of 230 meter high Mount Daishi making one stop at Onsenji Temple.
From the observation platform on top there are great views down onto the town and across the surrounding countryside up to the mouth of the Maruyama River and the Japan Sea coast.
In the cafe you can enjoy the view while eating and drinking a wide variety of delicious snacks. There is a small Buddhist building and for those into hiking a trail leads to 567 meter Mount Kuruhi in about 90 minutes.
806-1 Kinosakicho Yushima, Toyooka-shi, Hyogo 669-610
Tel: 0796 32 2530Operates every 20 mins from 9.10 am to 5.10 pm. The last departure up is 4.30 pm. Running every day, though may be canceled in bad weather.Round trip is 910 yen for adults, 460 yen for children.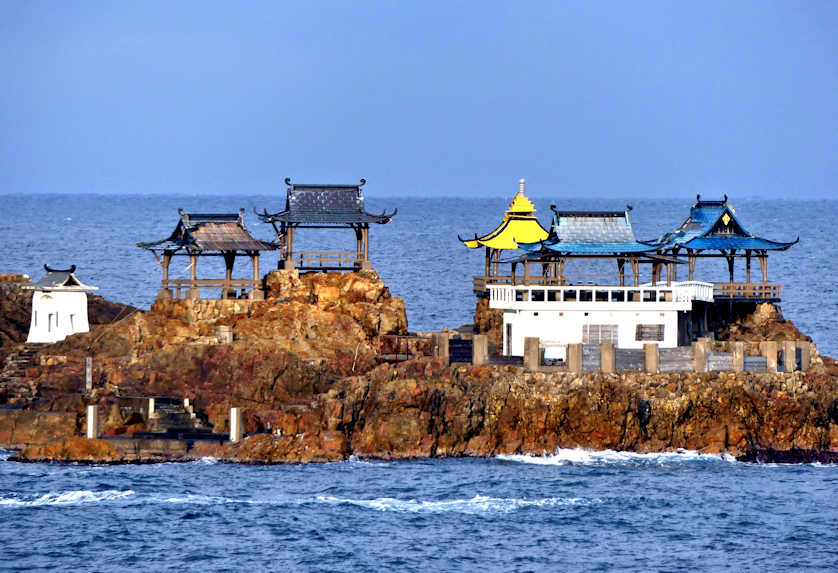 The Dragon Palace on a small islet is connected to an ancient myth of the Undersea Dragon King
Kinosaki International Arts Center
The Kinosaki International Arts Center is for dance, theater, and all kinds of performing arts both traditional and experimental. Artists from Japan and across the world spend time here and offer a wide range of performances, talks, workshops, etc so check the schedule to see if there is something on when you visit.
Outside of Kinosaki Onsen itself there is lots to see and do in the surrounding area. A great way to explore and get around is by renting bicycles. Your ryokan or the Tourist Information Office can help, and a wide variety of guided tours in English are also available.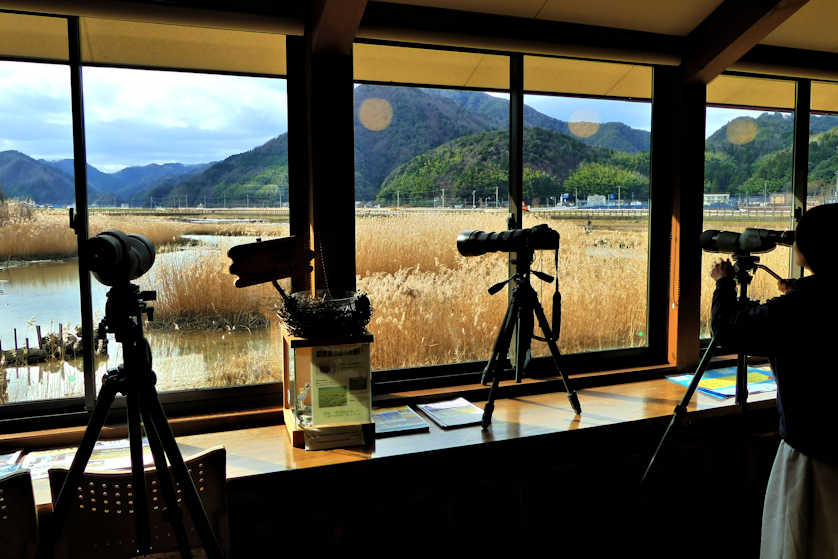 Hachigoro Toshima Wetlands where you can observe the rare Oriental White Stork

Hachigoro Toshima Wetlands
Just across the river from Kinosaki is the Hachigoro Toshima Wetlands an area of marshes inhabited by the rare Oriental White Stork. From the lookout building you can use their binoculars to watch for them and they also have screens where you can see close-ups from live cameras. The staff are very knowledgeable and can show you what to look for.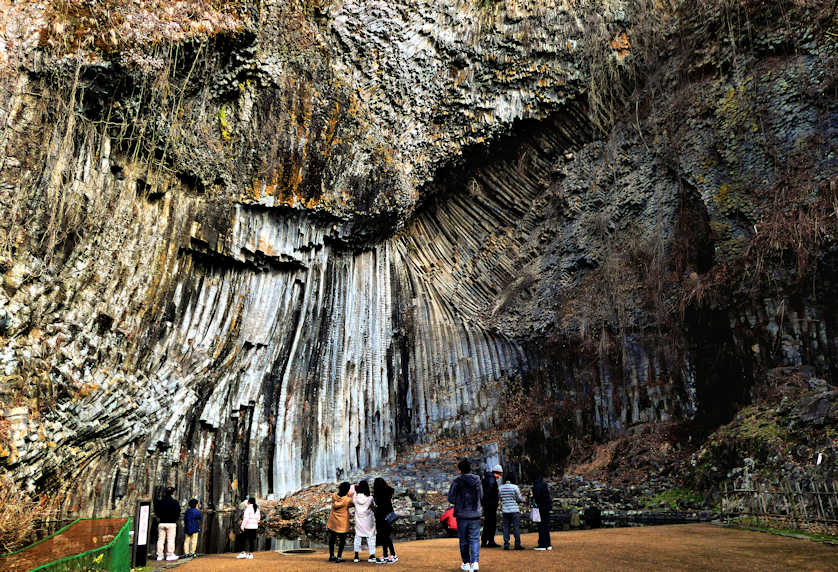 Genbudo caves, a geological wonder formed by volcanic activity
Genbudo Caves
A little further upstream are the Genbudo Caves, a geologic wonder of fantastic shapes formed by volcanic activity. One of the featured sites in the San-in Coast UNESCO Global Geopark within which Kinosaki lies.
The attached museum explains everything as well as offering plenty of dinosaur exhibits for the kids. Genbudo can also be reached by a small ferry from Genbudo Station on the opposite bank.
Before becoming a Global Geopark the area around Kinosaki was made a National Park, and if you head downstream to the sea you will find yourself on the Hiroyama Coast of sheltered bays, white sand beaches, and towering cliffs.
Just offshore is an unusual shrine dedicated to the Dragon King who lives at the bottom of the sea, but onshore is Kinosaki Marine World, a large aquarium and marine center with many attractions including swimming with dolphins.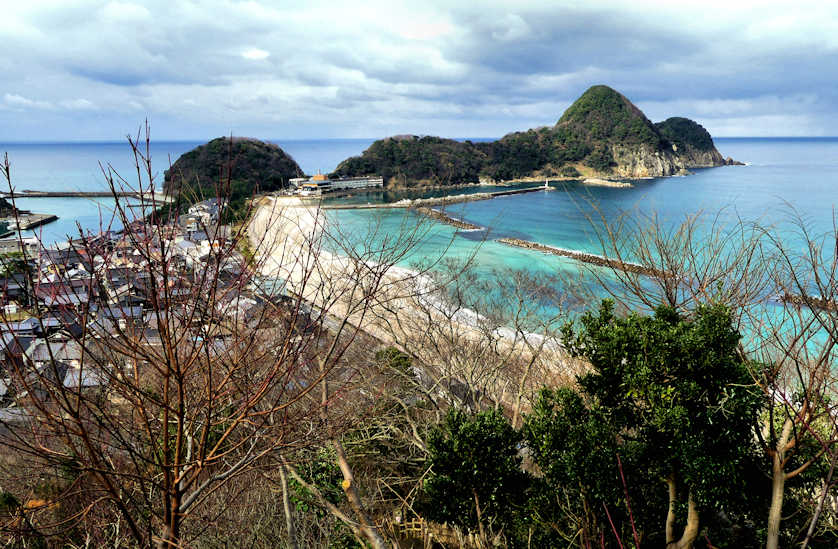 Takeno, an historic port with great beaches
Takeno
A little further along the coast, and best reached by a short train ride from Kinosaki Onsen, is Takeno, a quiet fishing village that was once an historic port and that has a great white, sandy beach. In the summer it's great for swimming and there is a snorkeling center. There are hiking trails out along the Nekozaki Peninsula with panoramic views up and down the coast, and other trails up to overlooks over the area. Or you can simple wander the narrow lanes of wooden houses and soak up the atmosphere and stop in a cafe for a relaxing drink or some food.
A little further afield, but only 90 minutes by bus from Kinosaki, is the historic castle town of Izushi, where you can find more than enough sights and attractions to fill a complete day like a kabuki theater, historic architecture and gardens, and hand-made soba noodles.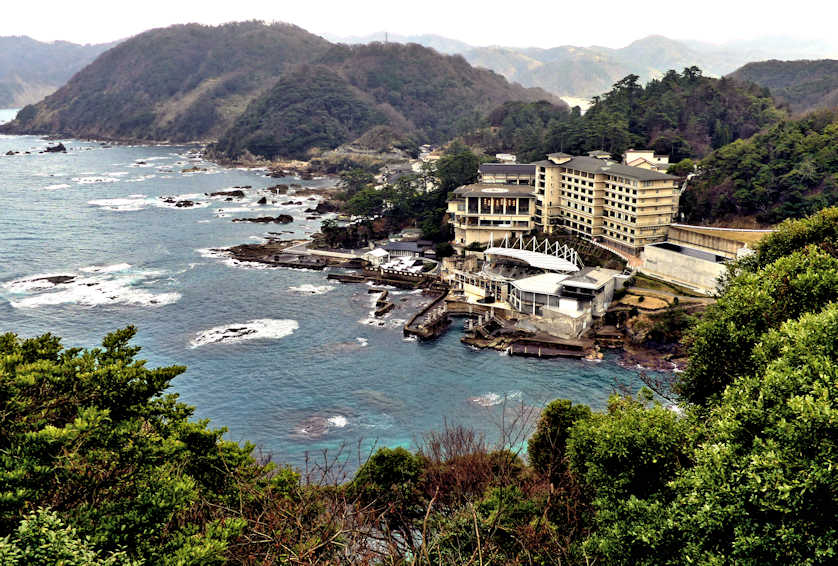 Hiyoriyama Coast with the Kinosaki Marine World aquarium
Access - Getting to Kinosaki
From Kyoto Station, express trains take two and a half hours on the Limited Express Kinosaki; from Osaka, trains take 2 hours and 45 minutes. On some trains from Kyoto you need to change at Toyooka (two stops from Kinosaki) and transfer to a train on the Kinosaki Onsen - Tottori Line.
From Himeji, the Limited Express Hamakaze goes directly to Kinosaki Onsen and takes about 2 hours from Sannomiya Station in Kobe, the same train takes 2 hours and 30 minutes. There are also trains from Tottori and Fukuchiyama on the San'in Main Line. The JR Rail Pass is valid on all these routes.
All the themes of the city