Iida Guide Nagano
Iida 飯田市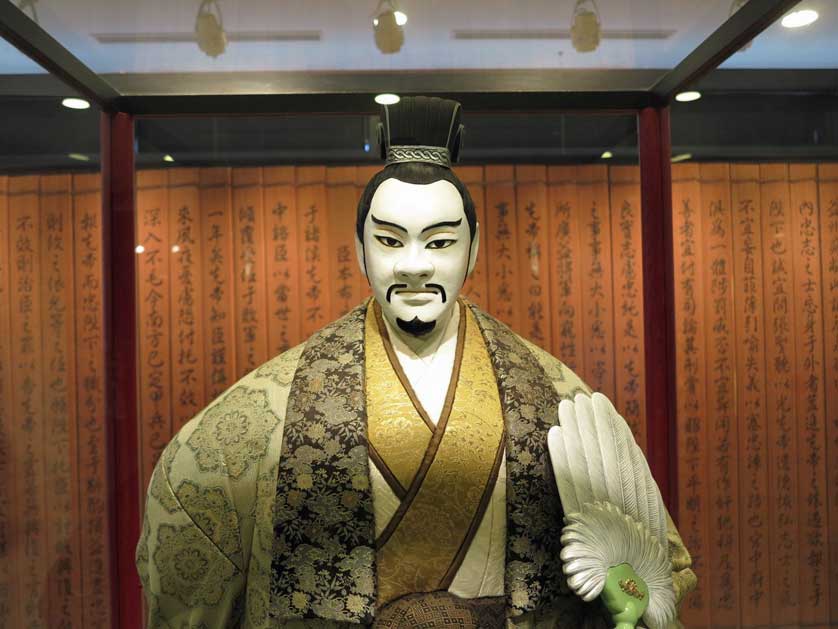 Iida, Nagano Prefecture
Iida is a small city of around 100,000 inhabitants located in the Ina Valley in the south of Nagano Prefecture.
It is located to the east of the Nakasendo and Kiso Valley area of central Japan (Chubu).
The city is best reached from Nagoya on the Chuo Expressway, Shiojiri and Matsumoto but also has direct transport links to Tokyo by highway bus.
Iida Station, Nagano Prefecture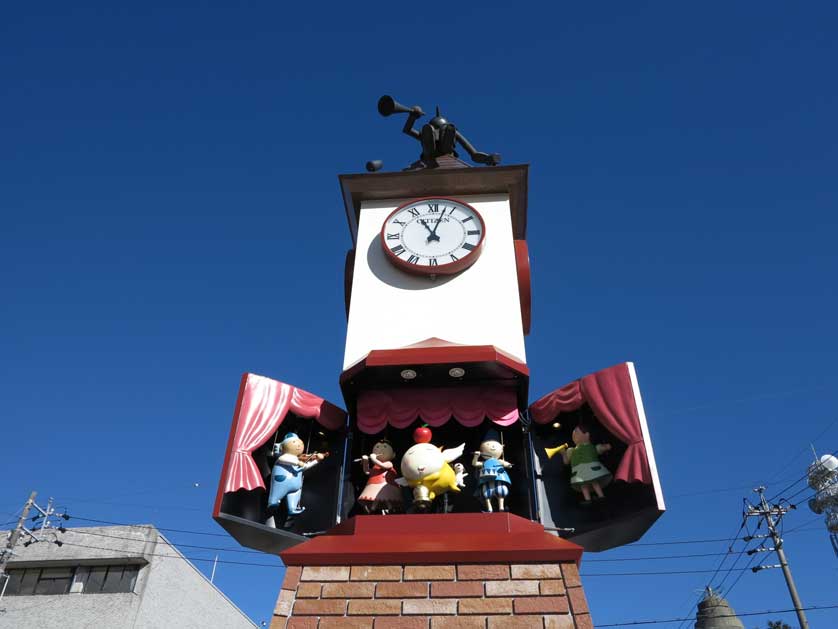 Iida, Nagano, Japan
Iida Attractions
The hinterland of Iida is known for its production of fruit especially apples, peaches, pears, persimmons and strawberries. Japanese sake is another specialty of this mountainous area along with soba noodles, tsukemono pickles and Minami Shinshu beef.
Local crafts include mizuhiki (水引) - a traditional Japanese craft using rice paper, which is tightly binded and wound, starched and then bent into various shapes for use as decoration.
A short drive or bus journey away is the onsen village of Hirugami Onsen, which has a number of ryokan (traditional Japanese inns where guests sleep on tatami in futon bedding), and direct bus connections to Nagoya.
Iida's main attraction, though, is its puppet theater. Puppet theater, ningyo joruri or bunraku, thrived in the area during the Edo Period. Several puppet troupes still survive in and around Iida in the Ina Valley area including the Imada and Kuroda puppet troupes in Iida city, the Waseda troupe in Anan and the Furuta troupe in Minowa.
The Iida Puppet Festa, established in 1979, is now the largest puppet festival in Japan. Every year in August both Japanese and international puppet troupes gather for the festival.
The Iida City Kawamoto Kihachiro Puppet Museum (飯田市川本喜八郎人形美術館) is the town's must-see attraction and a world class museum. Puppet animator Kawamoto Kihachiro visited the Iida Puppet Festa in 1990 and his animated films received an enthusiastic welcome. In response, Kawamoto donated 200 of his puppets which make up the core of the exhibits on display in the modern facility.
The Takeda Memorial International Marionette Museum, just outside town, is a modern museum that presents a traditional puppet stage. There is a video explanation (in Japanese) as well as beautifully-crafted puppets from Japan and the rest of the world. The Takeda name has long been associated with Japanese puppets since the 1660's.
The wooden Shimo-Kuroda Puppet Theater is both the oldest and largest rural puppet theater in Japan. It dates from 1840.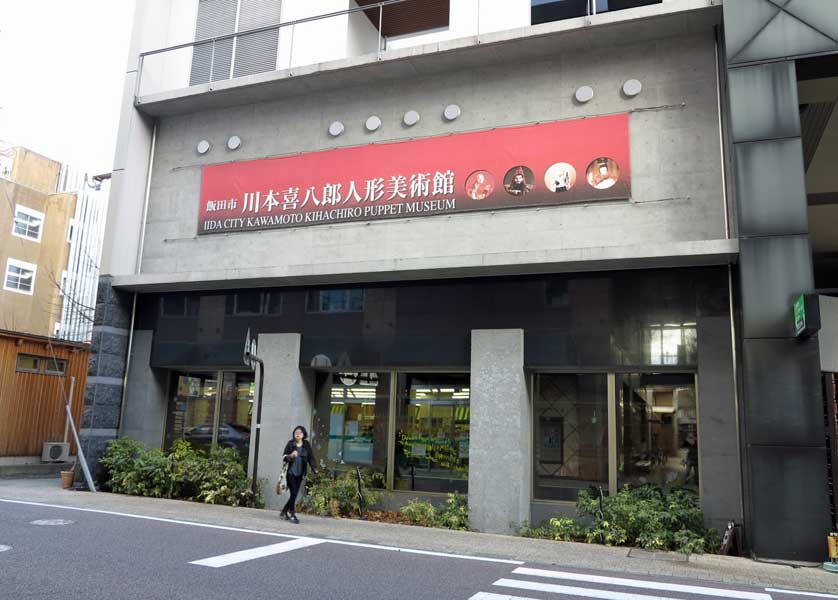 Iida City Kawamoto Kihachiro Puppet Museum
Museums in Iida
Besides the Iida City Kawamoto Kihachiro Puppet Museum, there are a number of other worthwhile museums in the city.
The Kunio Yanagita Memorial Hall is in the grounds of the Iida City Museum. The building is the former Tokyo home of Yanagita and was moved and rebuilt in Iida. Kunio Yanagita (1875-1962), known as the father of Japanese ethnology and folklore studies, was born in Fukusaki, Hyogo Prefecture, but was adopted into the Yanagita family in Iida, taking their name and dropping his birth name of Matsuoka. On display are copies of Yanagita's books as well as original photographs, diaries and other documents that explain Yanagita's work in the field of ethnology in Japan.
Iida City Museum is the largest museum in Iida and has an eclectic collection. The museum has a comprehensive collection of puppet heads representing the local ningyo joruri culture, paintings by local artists, calligraphy, folk art, pottery and a collection of dinosaur fossils.
Furthermore the animal and plant life as well as the geology of the wider area of the Ina Valley is also presented. There are stuffed and plastic animals, relief models, photographs and interactive displays. The museum also contains a popular planetarium with frequent 50 minute shows on weekends and national holidays. The exterior architecture of the building was inspired by the mountains of Japan's southern Alps.
The Konosuke Hinatsu Memorial Hall, also on the grounds of Iida City Museum, is a replica of the poet's former home with exhibits of his calligraphy, drawings and manuscripts. Konosuke Hinatsu (1890-1971) was the pen name of locally-born translator and teacher Higuchi Kunito. A devout Catholic and English professor at Waseda University, Hinatsu is known for his translations of English romantic and Gothic literature into Japanese.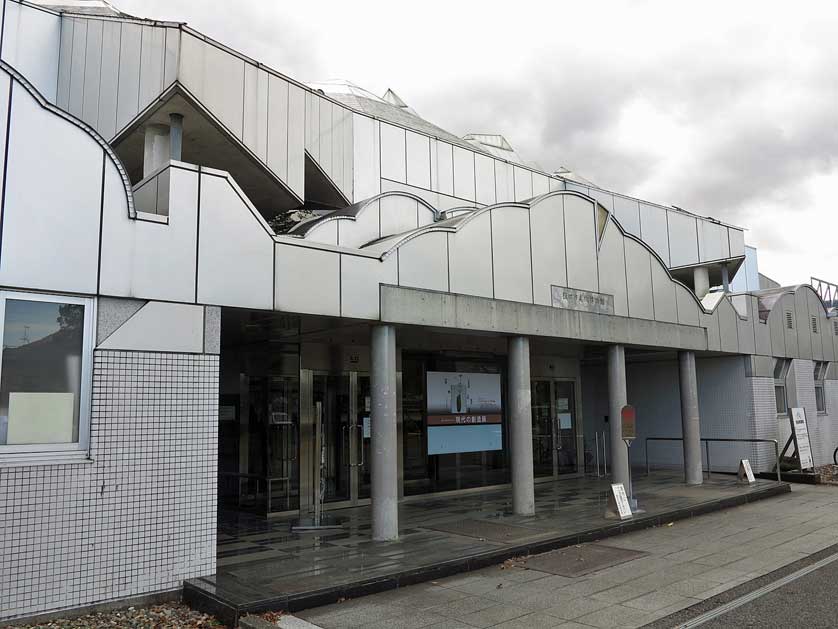 Iida City Museum - the design of the building is meant to represent the southern Alps
Festivals in Iida
The big festival in Iida is, of course, the Iida Puppet Festa in early August.
In addition, other festivals include the Iida Ringon Festival (ringon is a play on the Japanese word for apple - ringo) on the first Saturday of August, the Minami-Shinshu Lion Dance festival in mid-October and the Tokimata Hadaka (Naked) Festival in mid-March when men wearing loin cloths take portable shrines in to the cold waters of the Tenryu River. Also in Tokimata in mid-August is a firework festival with pyrotechnics over and across the river.
Once every seven years the Gokaicho at Moto-Zenkoji Temple and the four day Iida Oneri Festival take place with participants in happi coats and period costume accompanied by lion dances.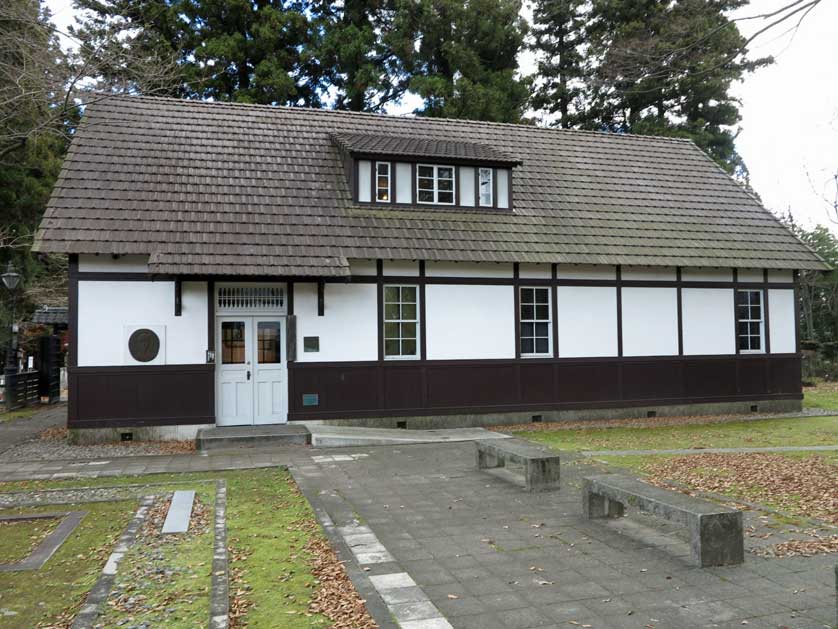 Kunio Yanagita Memorial Hall, Iida, Nagano Prefecture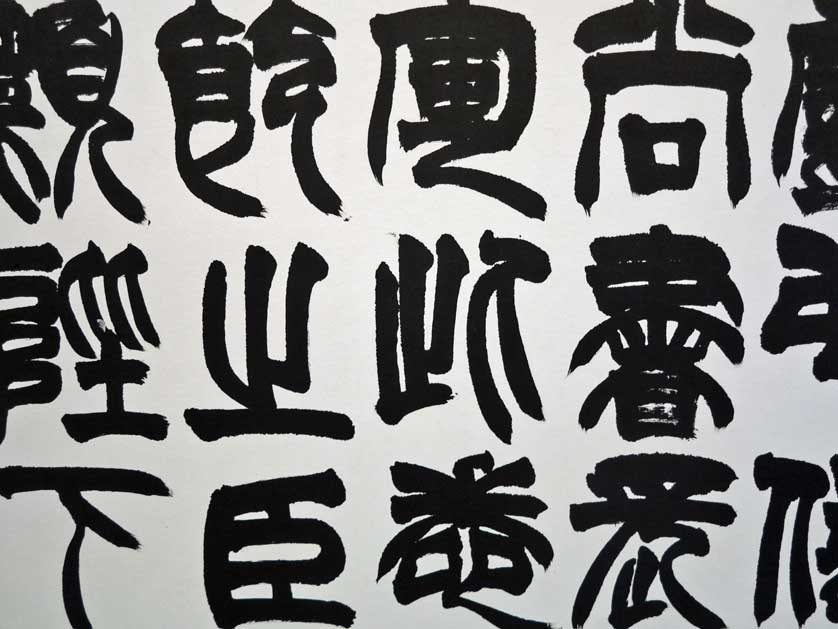 Iida City Museum, Iida, Nagano Prefecture
Accommodation in Iida
The site of the former castle in Iida is now occupied by a shrine and the three star Sangitei Ryokan with its own onsen hot spring.
Hotel Ohashi Iida is a three star business hotel in the center of town with buffet breakfast.
Super Hotel Nagano Iida Inter is out near the Chuo Expressway and offers modern facilities including air-conditioned rooms and free WiFi.
Nearby Hirugami Onsen has more traditional accommodation options which usually include two meals, onsen baths and larger, family-style rooms.
Oyado Sansui is a pleasant, three star ryokan in Hirugami Onsen.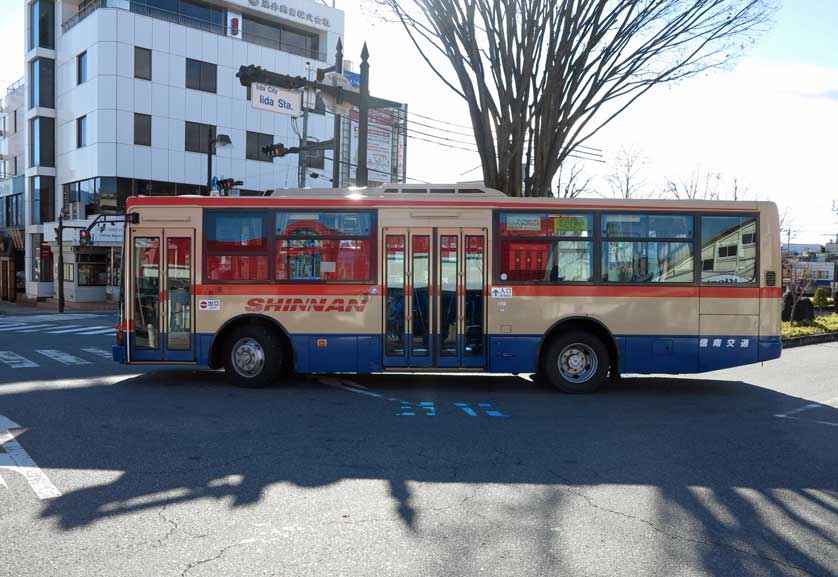 Shinnan Bus, Iida city, Nagano
Iida Access
Air
Chubu International Airport is the most convenient international airport for an onward journey to Iida. There are direct connecting trains on the Meitetsu Centrair service to Nagoya Station and Kanayama Station for JR trains or connecting trains to Toyohashi and then change to a local train for Iida. Total journey time by train from Nagoya to Iida is about 3 hours.
If you are traveling from Osaka take the Shinkansen 90 minutes to Toyohashi and change. Total journey time by train from Osaka to Iida is about 4 hours, 20 minutes.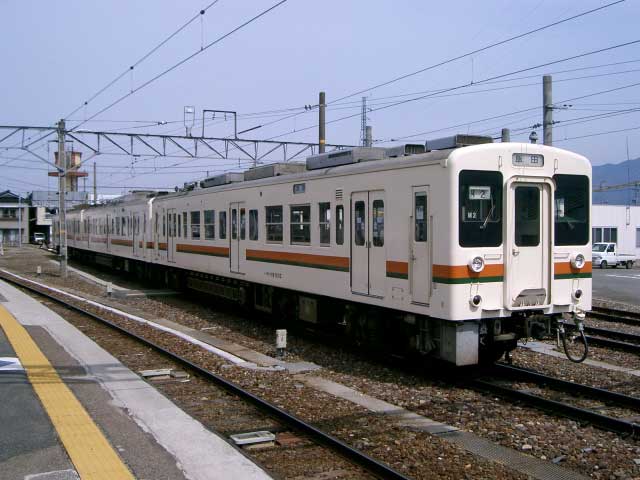 Iida Line Train
Rail
Iida Station connects to Toyohashi on the JR Iida Line. By express the journey is 2 hours, 30 minutes. By local train the journey is much longer at 4 hours with a change at Tenryukyo Station.
Car/Bus
The Chuo Expressway passes close to Iida (exit at Iida IC). Driving or highway bus are much more direct than taking the train via Toyohashi. There are highway buses to Iida (2 hours to 2 hours, 30 minutes for some buses) and Hirugami Onsen from Boarding Point 5 at Meitetsu Bus Station in Nagoya and also from Tokyo (4 hours). Buses leave hourly from 7 am to 9. 10 pm from Meitetsu Bus Station.
Iida Puppet Festa 2015 plaque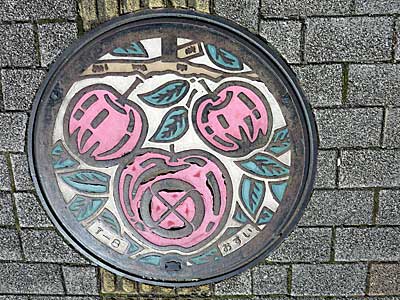 Apples feature on this Iida manhole
Getting Around Iida
Iida is easy to walk or there are cycles to rent around town.
Nearby
Take a traditional rowing boat on the Tenryu River to see the beautiful Tenryukyo Gorge.
Iida Map
Book Hotel Accommodation in Nagano Prefecture Japan
Iida is a small city of around 100,000 inhabitants located in the Ina Valley in the south of Nagano Prefecture. It is famous for its apples and Puppet Festa.
All the themes of the city