Churaumi Aquarium
沖縄美ら海水族館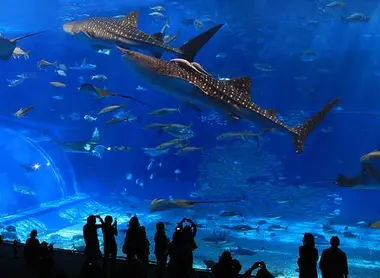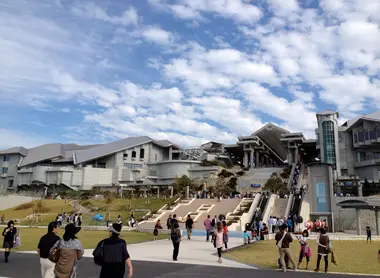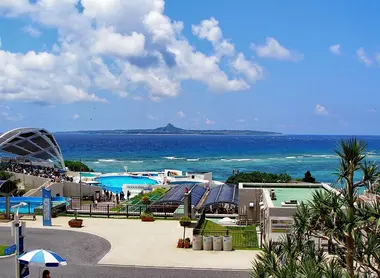 Splendors of the Okinawan seas
It's not surprising that Okinawa should be host to one of the largest aquariums in the world to showcase its tropical underwater fauna and flora . However, Churaumi is more than just an aquarium.
Built on the wasteland of the former international exhibition on the sea of 1975, Churaumi Aquarium was established to promote tourism and the amazing natural heritage of the archipelago of Okinawa. Inaugurated in 2002, the aquarium was given a name from the Okinawan decided by referendum. Chura means beautiful and Umi, the sea.
The second largest aquarium in the world
This is an aquarium of superlatives: 19,000 square meters of exhibition, 77 tanks of 10,000m² of water taken directly from the nearby ocean, unique local species from great depths, but also several giants of the sea. Churaumi is the second largest aquarium in the world and the only one that has several whale sharks together in one pool of 7500m². The Kuroshio tank is famous for its wide 22-meter viewing bay, perfect to observe larger species.
The four floors of the aquarium, however, offer other fascinating exhibitions, a tank to observe marine species that live in the very depths of the sea, usually observable only by submarine. Churaumi is also one of the only aquariums to be able to produce its own coral in a special large tank, recreating a real natural barrier reef. In another part of the aquarium you'll find a space where you can pet some species, including dolphins, an activity found regularly in many Japanese aquariums.
In a natural setting 
Churaumi is not an isolated aquarium. It's located in the great Motobu Park, which is a repository of the natural and human heritage of Okinawa. This vast park, complete with a hotel, has protected beaches to guard the sea turtles that frequent it. Motobu Park also contains an unspoilt mangrove forest, and a traditional village in the ancient culture of the Ryukyu Islands. An ethnographic museum of the ancient inhabitants of Okinawa completes the park.
Motobu Park is located north of the main island of Okinawa and is a bit isolated, but it's undoubtedly one of the main attractions of the archipelago apart from Naha, the capital. You can easily spend two days here discovering Okinawa and its riches.
---
Address, timetable & access
All the themes of the city