Sasayama Castle
Sasayama Castle in Hyogo Prefecture north of Kobe was built in just six months on the orders of shogun Tokugawa Ieyasu in 1609.
Sasayama Castle, Hyogo Prefecture 篠山城
Jake Davies
Built under orders of Tokugawa Ieyasu shortly after assuming control of Japan, Sasayama Castle in Sasayama, Hyogo Prefecture was built in the amazingly short time of just six months.
In 1608 Ieyasu's son was put in charge of Yagami Castle. This fortress stood atop Mount Takashiro a little to the southwest of where Sasayama Castle now stands in central Hyogo Prefecture.
A year later Ieyasu ordered the construction of Sasayama Castle and Yagami was dismantled to help build it.
Todo Takatora (1556-1630) was tasked with designing the castle. He was also responsible for designing Edo Castle, Wakayama Castle, Uwajima Castle, Imabari Castle and Iga Ueno Castle.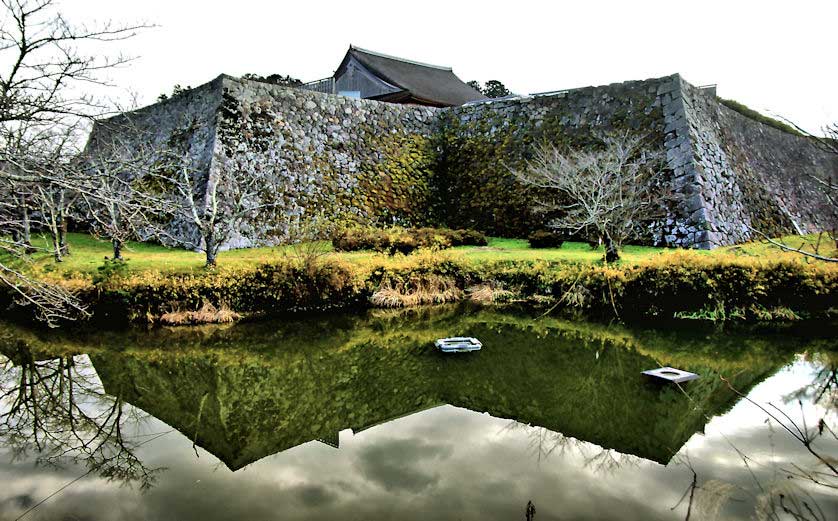 Sasayama Castle seen from across the inner moat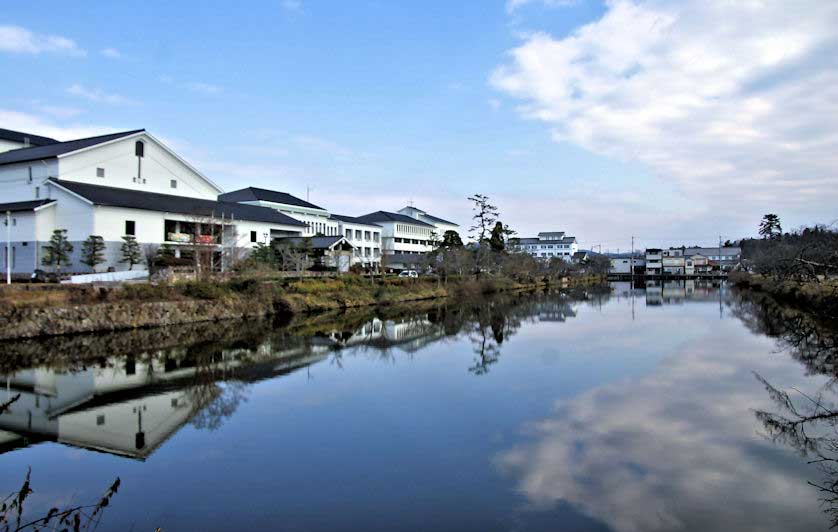 The wide outer moat of Sasayama Castle in Hyogo
Sasayama Castle History
The remarkable thing is that the castle was completed in just six months, thanks to a system created by Ieyasu called Tenka Bushin.
Former enemy daimyo were ordered to supply the labor and materials for the castle construction. In the case of Sasayama, 20 different domains were involved and in essence the system was a drain on the finances of those daimyo and helped ensure their obedience.
In some of the stone work visible at the castle now can be seen the crest of the different clans carved into the stones, though it is not clear if this was done to mark the areas of the construction that each clan was responsible for or if it was to stop the stones being stolen by work crews from other clans.
The Tenka Bushin system was obviously successful for Tokugawa Ieyasu as immediately following the construction of Sasayama Castle he ordered the same 20 daimyo to begin constructing Nagoya Castle.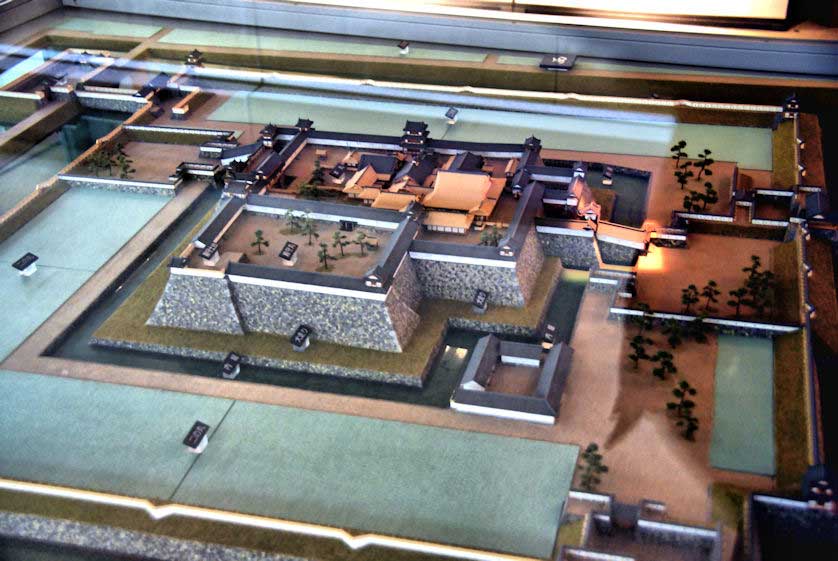 A model of how Sasayama castle looked in its heyday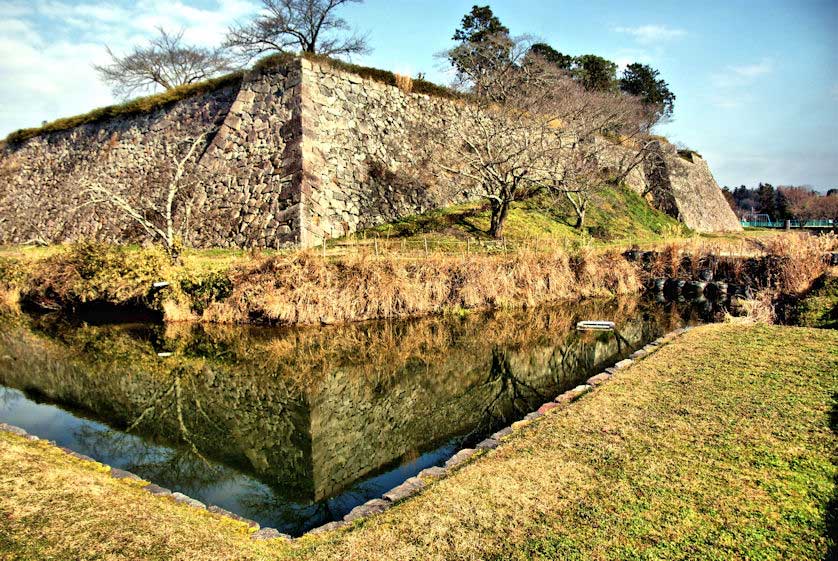 The inner moat at the southwest corner of Sasayama Castle
When it was constructed, a stone base for a keep was built, but no keep was built. Ieyasu said that the castle was strong enough without one, and would be too strong with one if it fell into enemy hands.
The castle design is fairly simple, with a large and wide outer moat and an inner moat. One fairly unusual design feature is called umadashi. These were fortified gates outside the castle wall, kind of like small islands in the outer moat. Sasayama Castle had three, two of which remain.
What the castle did have was an Oshoin, a grand palace, similar to the Hommaru Palace at Nagoya Castle or Nijo Castle in Kyoto.
Several different branches of the Matsudaira clan held Sasayama Castle until the mid-18th century when it was passed to the Aoyama clan who held it until the castle was decommissioned in 1871 in the Meiji Period.
All the buildings were dismantled at that time except for the Oshoin Palace which survived until a bombing raid by the USAF in 1944. It was reconstructed in 2000, and is now open to the public.
It is possible to dress up as a samurai or a ninja for a small fee.
An Umadashi, a kind of fortified gate at Sasayama Castle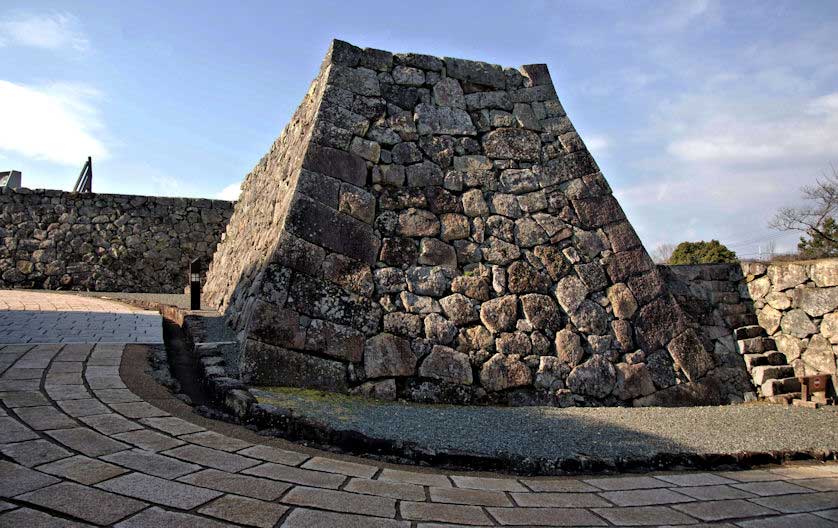 Fortified main entrance into Sasayama Castle
Access To Sasayama - how to get to Sasayama Castle
2-3 Kitashinmachi, Tanbasasayama-shi, Hyogo 669-2332
Tel: 079 552 4500
Open 9 am to 5 pm. Closed Mondays.
Entry is 400 yen for adults, but a 600 yen ticket gets you access to the castle and three other nearby sites including a samurai residence, so is much better value.
The castle is a 30 minute bus ride from the closest train station, Sasayamaguchi on the JR Fukuchiyama Line. It is just over an hour from Osaka Station. The cheapest fare is 1,140 yen. Limited Express trains take 51 minutes but cost 2,630 yen.
The whole town of Sasayama is registered as a Japan Heritage Site. It has a nicely preserved samurai district and merchant district as well as other tourist sites. While close to Osaka, Kyoto, Kobe, Himeji, etc it is still off most visitors' radar and therefore offers a more relaxed atmosphere.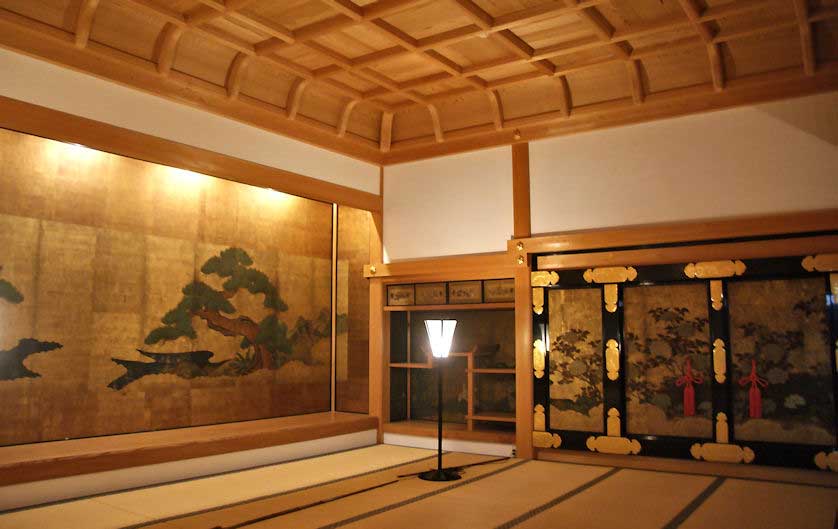 The luxurious interior of the Oshoin Palace at Sasayama Castle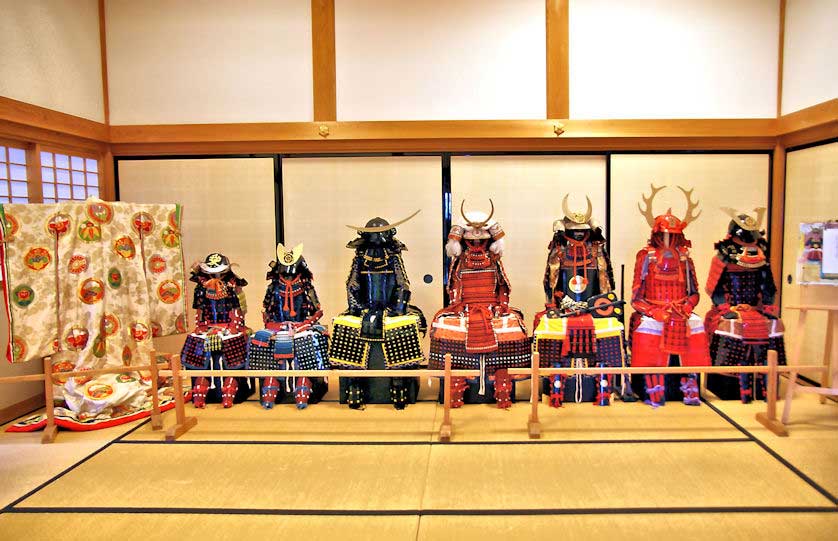 Reproductions of samurai armor can be rented by visitors for photo ops at Sasayama Castle in Hyogo

Nearby
By car Sasayama is easily reachable from Kameoka on National Highway 372 in about 1 hour. The town is also about 1 hour north of Kobe by car.
Book Hotel Accommodation in Japan Near Sasayama Castle
All the themes of the city