Tobita Shinchi 

飛田新地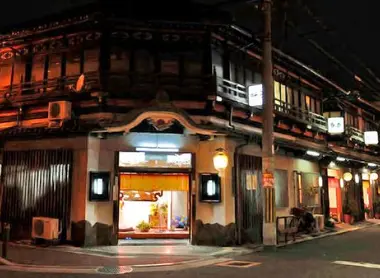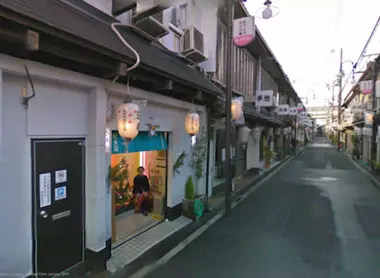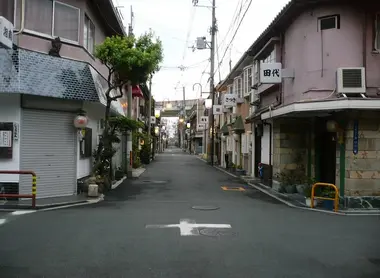 Osaka's Red-light District
Osaka's red-light district emerged in the early 1900s, and become the largest pleasure area in the West of Japan, despite the prohibition of prostitution. Sordid place but authentic, visiting Tobita Shinchi is like taking a walk into the past.
Although prostitution is officially banned in Japan since 1958, the activities practiced in the red light district are unequivocal.
The old brothels, aligned next to each other, may have officially converted into "Japanese restaurants" (Ryoutei 料 亭), and the ladies declared "waitresses", however many of these businesses do little effort to hide their true activities.
It is therefore easy to see on the ground floor, a room "showcasing" a prostitute behind a glass - in sexy outfit or disguise (often schoolgirl or nurse) -  sitting under a bright light. In front of her stands another older woman who solicits passersby. Right next to the room is a staircase to go upstairs ...
Welcome to the last century
Located in one of the poorest neighborhoods of southern Osaka, sandwiched between a housing project, a bridge road and a dilapidated shopping street, Tobita Shinchi is decidedly sordid ...
However, despite its murky and depressing side, it may be worthwhile to go for a visit. The atmosphere is very special and offers a journey into the past.
This popular area has escaped the property speculation, it contains an atmosphere of Taisho era (1912-1925) with old buildings that have survived in this part of town. Of course, most are crumbling but there are still old wooden buildings with beautiful sculptures of old billboards or old lanterns that illuminate the fronts.
So the municipality ended up taking interest in this last century architecture, and in 2000 the Taiyoshi Hyaku Ban-building (鯛 よ し 百 番) was declared a cultural property. Built in 1918 to house a brothel and then converted into a restaurant in 1970, the twenty-one rooms of this establishment are almost still in its original form. Here, nothing of the legendary simplicity of Japanese architecture and decoration.
There are imitations of temples, bridges, docks, sculptures, exuberant murals...in short, an abundance of decorations and a change of scenery.
Neither traditional nor high-tech, a far cry from the touristy areas, Tobita Shinchi, sordid but authentic, offers a very different version, but no less real, image that one has of Japan.
All the themes of the city