Osaka Shôchiku-za
大阪松竹座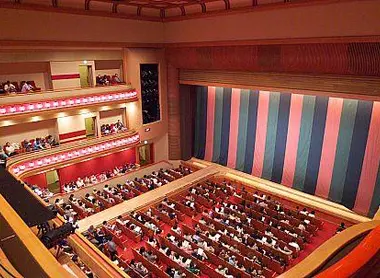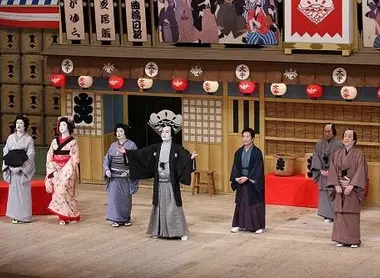 Tonight at the theater
Amid the buildings of the Dôtomburi neighborhood, decked out in neon lights, a strange building catches the eye of passersby. Columns and marble, a whiteness that takes aback this electric chaos. This is Osaka kabuki theater, the Shôchiku-za.
Even today, the long history of Kabuki is perpetuated in several theaters of in of country, which each season, put on plays from a classical repertoire. The Osaka theater is surprising due to its Western architecture, described by its creator as "neo-renaissance". Nicknamed the "arch of triumph", it takes the classic codes of Western buildings, to present very Japanese works. In sharp contrast, the curiosity of the visitor is even more fueled. Dare to push open the doors to this great institution.
Built in 1923, this theater was originally planned to host Western theatrical and cinematographic works, which explains its design. But after World War II, the traditional Japanese theater gained a new momentum and Shochikuza became one of the most important kabuki theaters in the country.
Sumptuous decor
The interior of the building is a reflection of its marble exterior, large and refined spaces, it is a far cry from tatami rooms partitioned by sliding doors. The theater has nothing to envy of the most beautiful theaters in Europe with its thousand vermilion seats and its red and white harmony.
Each year about five Kabuki plays are on the billboard each month. In addition to these works, the theater hosts many performances such as plays, concerts and musicals.
Keep in mind that kabuki performances, the purest Japanese aesthetic style, last on  average one day and are formulated in a classical Japanese, which is difficult to understand. Some uninitiated Japanese people themselves admit their inability to grasp all the subtleties of the texts.
But even without understanding the words, fans can always find refuge in the senses: the breathtaking beauty of the costumes, and the melodious pronunciation of the texts enchant the mind. In addition, most plays are great classics and a synopsis is usually available on the Internet or in reference books.
What better place that Osaka, the show town, for an authentic and unique kabuki experience?
---
Address, timetable & access
All the themes of the city