11 must-see places for otaku in Japan
日本のオタクスポット11選

Going to Japan and wondering how you can immerse yourself in the country's otaku culture? Japan is the birthplace of otaku culture and discovering it is an exciting adventure for manga, anime and video game fans.
In this article, we present 11 must-see places where you can immerse yourself in the unique atmosphere of this very special culture. Get ready to explore specialized stores, dedicated museums, festivals, and let us guide you through these dream destinations!
1 - Akihabara - The Mecca of Otaku
No otaku pilgrimage to Japan would be complete without a visit to Akihabara.  The famous district in central Tokyo that has become synonymous with pop culture, anime, manga, video games, and technology, Akihabara, often abbreviated to Akiba, is home to hundreds of stores selling everything from action figures and cosplay costumes to retro video games and electronic equipment. The streets are lined with colorful billboards, giant posters with anime characters, and maid cafes, where waitresses dressed in frilly outfits serve drinks and other snacks. Akihabara is also a place where many otaku events take place, such as anime screenings, idol concerts, or video game tournaments.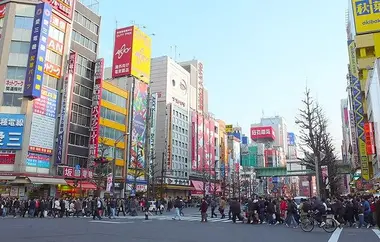 2 - The Pokémon Center & the Pokémon Café - Dive into the world of Pokémon
If you are a Pokémon fan, there is no shortage of Pokémon Centers all over the country. These are stores specializing in products derived from the famous video game and animation franchise. Each of these Pokémon Centers offers exclusive Pokémon plushes, playing cards, clothing, stationery, and other items, some of which are only available at a particular Pokémon Center. You can also participate in rare Pokémon giveaway events or create your own personalized Pokémon card.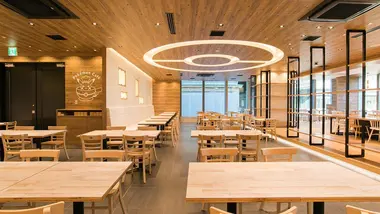 The Pokémon Café, meanwhile, is a themed restaurant that offers an immersive experience for fans of all ages. It is sure to delight the senses, with its Pokémon-inspired decor and food and drinks inspired by the franchise's most iconic Pokémon. The menu changes regularly, depending on the seasons and game releases, so that each visit can be different. Currently, two Pokémon Cafés are open in Japan: one in Tokyo at Nihonbashi and the other in Osaka. Fans can also buy exclusive Pokémon Café souvenirs, such as limited edition mugs, bags and keychains.
Pokémon Café addresses:
Chuo District, Nihonbashi, 2nd District, 11-2, Nihonbashi Takashimaya S.C. East Building, 5th Floor, Tokyo, 103-0027, Japan
1 Chome-7-1 Shinsaibashisuji, Chuo Ward, Osaka, 542-8501, Japan
3 - The Ghibli Museum - The enchanting world of Miyazaki
The Ghibli Museum, opened in 2001 in Mitaka, west of Tokyo, is a must-see destination if you are passionate about animation and Studio Ghibli films. It's a whimsical museum that features interactive exhibits, original artworks, and a small screening room, the Saturn Theater, which shows exclusive short films, most of which are directed by the master Hayao Miyazaki himself. You can also explore an enchanting rooftop garden and enjoy lovely snacks at the on-site Straw Hat Café.
To reserve a seat, however, you'll need to do so (far) in advance, as this museum is a popular destination. The museum is open every day from 10 am to 6 pm except on Tuesdays.
Address: 1 Chome-1-83 Shimorenjaku, Mitaka, Tokyo 181-0013, Japan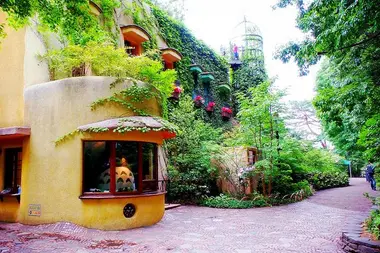 4 - Nakano Broadway - A collector's paradise
If you're looking for a more low-key, nostalgic otaku experience, head to Nakano Broadway, a shopping complex located in the Nakano district of Tokyo. Nakano Broadway is a four-story building filled with small stores and stalls selling a wide range of anime items, manga, retro games and toys, and collectible figurines. The atmosphere is warm and relaxed, and you can easily spend hours browsing the shelves and chatting with the owners of the various stores. Some stores specialize in rare and vintage items, while others offer custom items or fan-made creations. As you stroll through the aisles, you might just find the perfect piece of jewelry, as there is something for every taste and budget.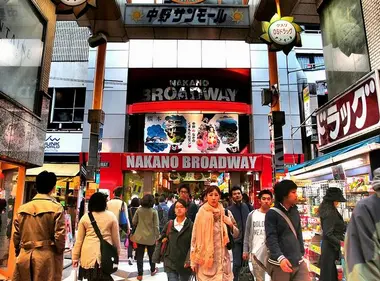 5 - The Comiket - The biggest gathering of manga fans
Comiket, short for Comic Market, is a bi-annual event in Tokyo that attracts hundreds of thousands of manga, anime, and video game fans from around the world. Comiket is the largest market for doujinshi, fanzines created by amateurs and sold at affordable prices. You will also find works by professional artists, exclusive merchandise, and impressive cosplays. Comiket is a unique experience for fans of all genres and cultures, but it is important to prepare in advance, as the lines can be long and the crowds large.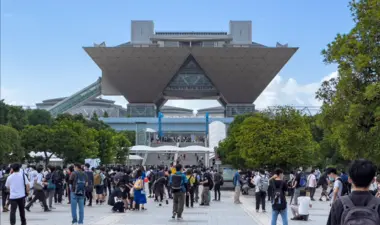 6 - Den Den Town - The Akihabara of Osaka
Den Den Town is a vibrant and lively area located in Osaka, famous for its electronics and anime culture.
It is home to a multitude of stores selling a wide range of electronics, gadgets, and anime-related products. Visitors can find everything from classic video games and retro consoles to the latest high-tech gadgets and anime-related products. The shopkeepers, passionate and experts in their field, are always ready to share their knowledge and exchange ideas with visitors.
Den Den Town is also famous for its cosplay culture, with many fans dressing up as their favorite characters and roaming the streets. The charm of Den Den Town also lies in its friendly and authentic atmosphere. With its lively atmosphere, unique shopping experience, and diverse cultural offerings, Den Den Town remains a must-see place for otaku visiting Osaka.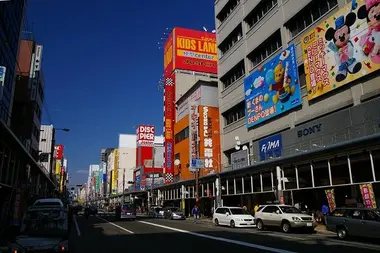 7 - Universal Studio Osaka - The ideal theme park for otaku
Universal Studios Japan, located in Osaka, is a theme park where you can experience a multitude of attractions related to pop culture, including manga and video games. One of the park's star attractions is the enchanting world of Harry Potter, where fans of the saga can stroll through the cobblestone streets of Hogsmeade and enjoy a delicious Buttercup.
Universal Studios Japan is also the perfect place for video game enthusiasts, with the recently opened Super Nintendo World area. This part of the park transports visitors to the iconic world of Nintendo, where they can wander through the Mushroom Kingdom in the colors of Mario, Luigi, Toad, and other iconic characters from the Super Mario franchise.
Don't miss the attractions and places dedicated to other famous licenses such as Spider-Man, the Minions, Jurassic Park, or Hello Kitty. Finally, you can find temporary special events, often featuring the latest anime or video game releases, as well as movie screenings and signing sessions with artists and creators.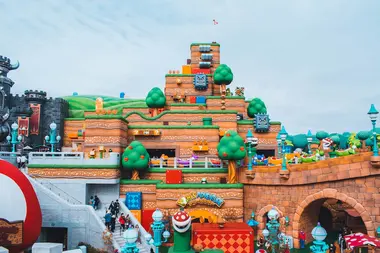 8 - Otome Road - the paradise for female manga lovers
Located in Tokyo's bustling Ikebukuro district, Otome Road is an iconic street for its community of fans who are passionate about anime and manga aimed at a female audience. You can find a multitude of different items, such as action figures, cosplay accessories, music CDs and video games.
Since its opening in the early 2000s, Otome Road has become a must-see pilgrimage for fans of shōjo, girls' manga. Iconic titles such as Sailor Moon, Fruits Basket and Yuri on Ice are among the most popular series, offering merchandise of all kinds. Otome Road does not limit itself to selling merchandise, however.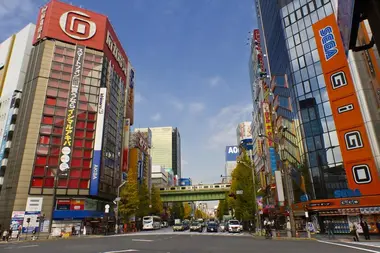 Themed cafes, inspired by anime and manga series, are also popular, and it is possible to enjoy food and drinks inspired by famous anime and manga, while chatting with other fans with similar interests. In addition, special events are regularly held in the stores and cafes, ranging from book signings with manga authors to meetings with artists and celebrities related to the industry.
9 - JUMP Shop - dive into the universe of Weekly Shōnen Jump
At the JUMP Shop, present all over Japan, you will find a varied selection of articles related to the main series of Shonen Jump, such as One Piece, Hunter x Hunter and Bleach, among many others. Quality figurines, clothes with the effigy of your favorite characters, or notebooks decorated with original drawings: this is a sample of what you can discover in this store. They also offer exclusive limited edition products, which change frequently to keep up with the news of the famous pre publication magazine.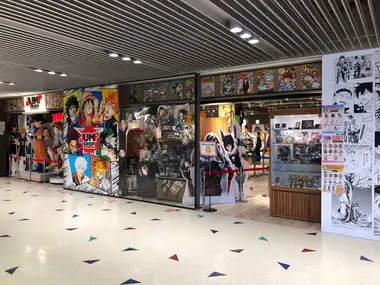 10 - Cosplay restaurants - culinary immersion in the otaku universe
These are restaurants and cafes with a particular theme. The most famous are the maid cafes, where the waitresses dress as maids and treat their customers like kings. These Japanese establishments have been gaining popularity since the early 2000s and have become an emblem of otaku culture: they are mainly present in the Akihabara district. In these themed cafes, you will be greeted by an "okaerinasai" (welcome home) and called "goshujin-sama" (master) or "ojō-sama" (mistress). In addition to kawaii menus, you will have the opportunity to chat with the waitresses, play games with them or even watch live performances.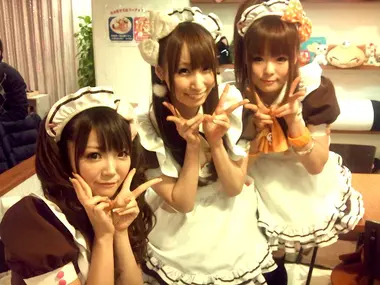 There is also a male equivalent: butler cafés, where service is provided by men in butler suits. Some rarer variants exist, such as cat-maid cafés, where the waitresses have cat ears and tails in addition to their maid costumes and punctuate their sentences with "nya" (meow) and other feline mimics. Finally, there are the tsundere cafés where the waitresses play "tsundere" characters, a popular archetype in anime and manga that designates a person who, at first, seems cold and distant but who gradually reveals her warm and caring side. In these cafes, it is not uncommon for the waitresses to ignore you, or to be aggressive with you at first.
11 - Ikebukuro - The ideal shopping area
Ikebukuro is another district of Tokyo very popular with otaku. It hosts the famous Animate chain of stores present all over Japan, a must for all animation and manga fans. The one in Ikebukuro is the biggest in Japan! This spacious and animated place offers an impressive variety of merchandise, such as figurines, posters, DVDs, and Blu-rays, among many others, enough to satisfy all visitors.
Other points of interest include the Mugiwara Store, a space dedicated to the One Piece universe, where fans can find goodies and clothes featuring their favorite characters. The Pokémon Center, on the other hand, offers a range of products dedicated to the famous creatures, including stuffed animals and trading cards.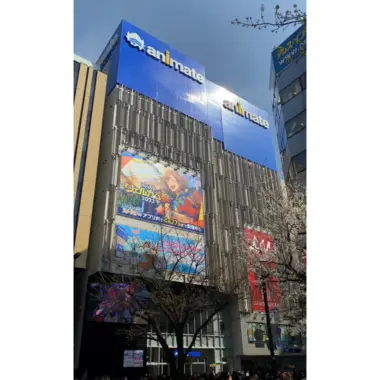 Bonus - Kabukicho Tower - the huge futuristic entertainment tower
Newly opened in April 2023, this tower is now the largest entertainment complex in Japan. With 48 floors and a retro-futuristic look, it offers a variety of atmospheres that will satisfy everyone's taste. For example, the second floor, with a matsuri theme, is filled with izakaya, those typical Japanese restaurants. Otaku will also be delighted to find Gachapon, UFO Catcher, Taiko, and other arcade and virtual reality games. Luxury hotels, a gym, a concert hall, an escape game, cinemas, and theaters are also part of this complex. Finally, many temporary events are organized there, often related to anime, like Sword Art Online or Evangelion.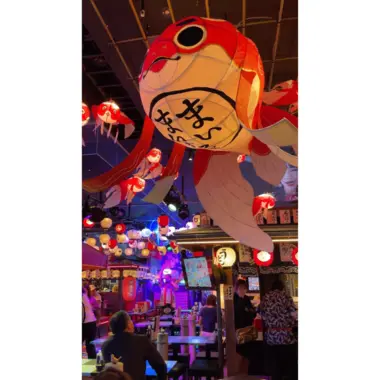 Discover our manga and traditions tour!
All the themes of the city