Akihabara Shopping
Read about the main shopping attractions in Akihabara, Tokyo's biggest and most bustling electronics and anime culture district.
Tokyo Area Guide: Akihabara Shopping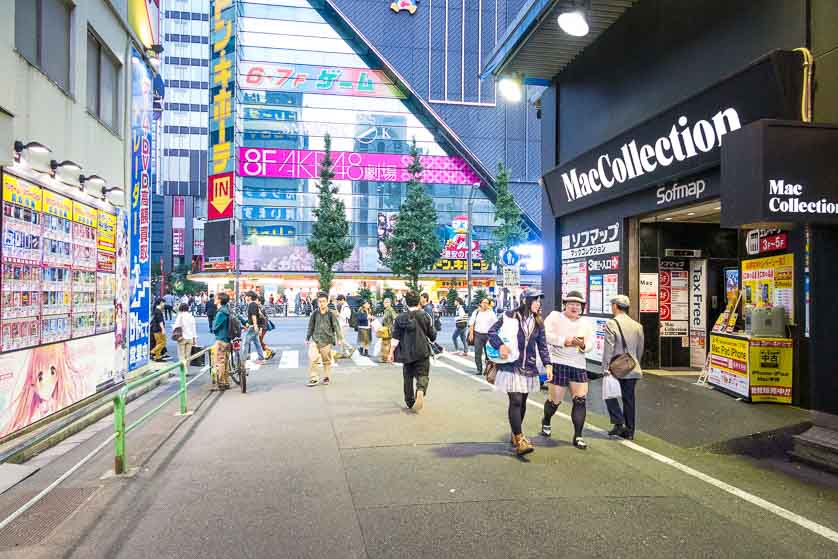 Akihabara shopping street, with AKB48 Theater
Akihabara, or "Akiba," in Chiyoda ward, is Tokyo's mecca for computer-related, electronics, home appliances, hobbies, and the otaku geek culture of gaming, anime, manga and maid cafes.
The area around Akihabara Station and north up Chuo-dori ("Central Street") is packed with shops from the massive to the tiny selling everything in electronics and anime/manga culture from exclusive high-end goods to virtual trash.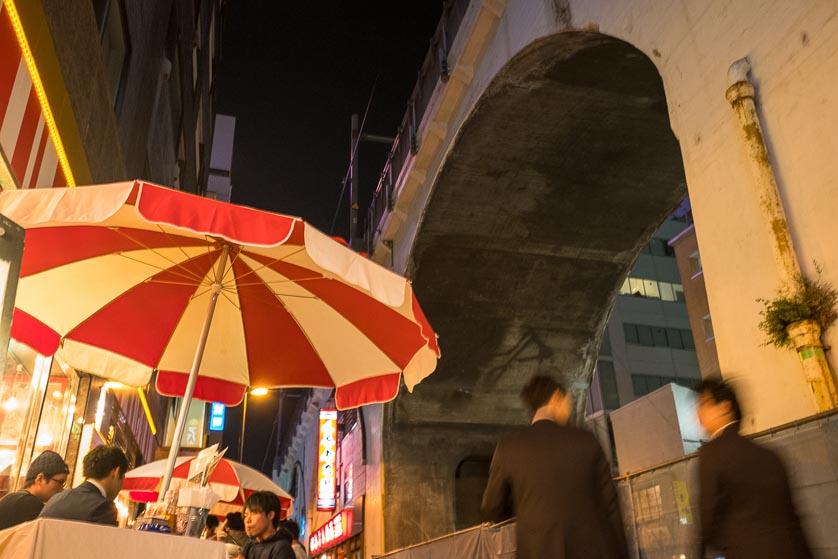 Outdoor cafe in Akihabara, Tokyo, under Chuo-Sobu Line arches
Chuo-dori is dominated by big chain stores, each of which has several different branches within Akihabara. The side-streets running parallel to Chuo-dori are home mainly to smaller specialist stores and some maid cafes. The smaller off-Chuo-dori stores generally offer better bargains than the big names, so it pays to shop around.
Akihabara Station has three exits: the easternmost Showa-dori Exit, the Central Ticket Gate Exit, and the westernmost Electric Town Exit. This guide also covers shopping and dining very near Akihabara.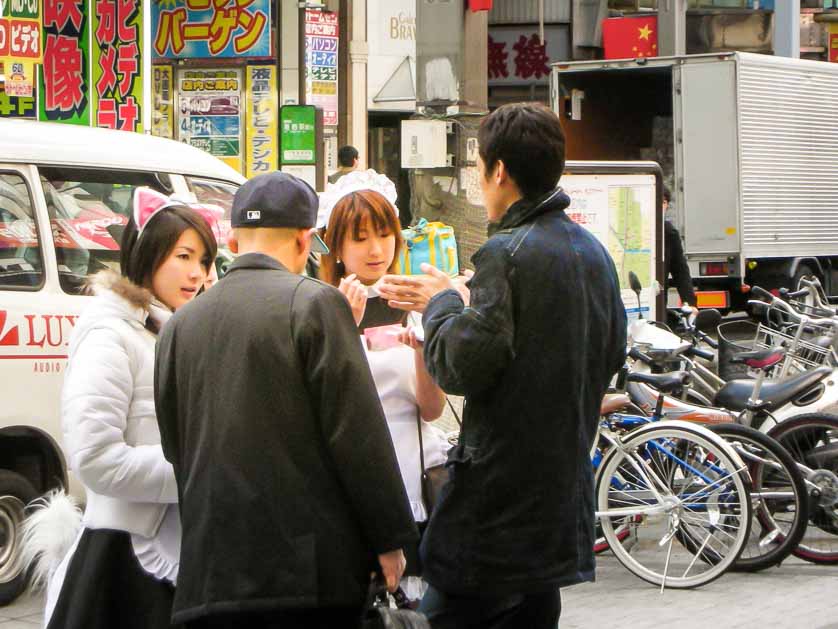 Akihabara maids, Tokyo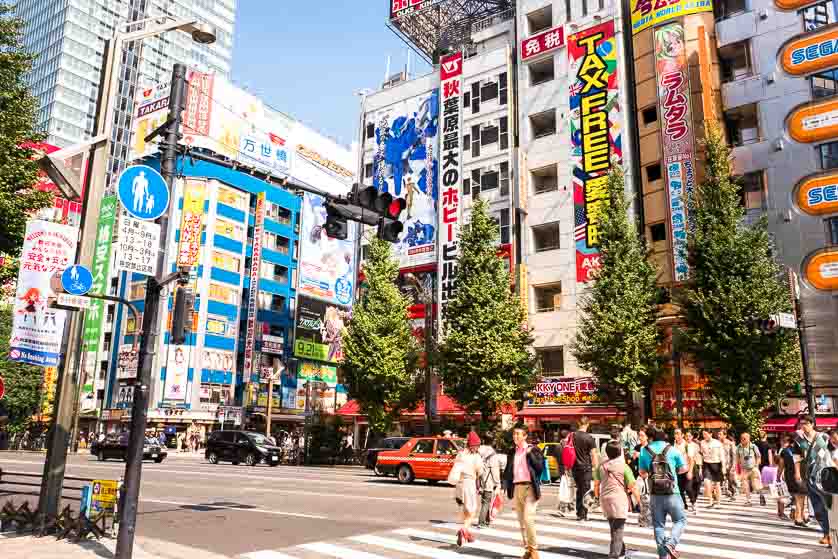 Stores along Chuo-dori Avenue, Akihabara, Tokyo
Main Akihabara shopping
Showa-dori Exit
Yodobashi Camera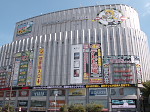 Yodobashi Camera is on the east side of the JR Yamanote line: the other side from the main bustle of Akihabara, but generates enough bustle of its own. The Akihabara presence of the Yobobashi Camera chain headquartered in Shinjuku, this is a massive department store of everything electric and electronic, plus sporting-, car-, office-related, and more.Shares the Yodobashi Akiba building with cafes (1F), restaurants (8F), Yurindo Books, and Tower Records (both 7F).Hours: 9.30am-10pm, 365 days.
1-1 Kanda-hanaoka-cho, Chiyoda-ku, Tokyo 101-0028
Tel. 03-5209-1010Google Map
Atre Akihabara 2
Atre Akihabara 2, beside Yodobashi Camera, has five floors of cafes and restaurants. It is one of the two Atre department stores at either end of the station, the other one being Atre Akihabara 1 at the station's Electric Town Exit.
Hours: 7am-11.30pm, 365 days. 1-9 Kandahanaokacho, Chiyoda-ku, Tokyo 101-0021. Tel. 03 5289 3800Google Map
Central Ticket Gate Exit
Akiba Tolim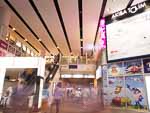 Akiba Tolim is a 7-floor (including one underground floor) shopping building just south of, and across the road from, the Central Exit of JR Akihabara Station. Akiba Tolim offers everything from beauty on the B1 floor (a hair removal salon) up to dining and drinking on the 5th and 6th floors (including ethnic cuisine and an ale house). Between-floors are coffee shops (1F Starbucks), glasses, ice cream, and clothing (3F Mujirushi, 4F Uniqlo).
Hours: According to store, but generally opening mid-morning and closing anywhere from between about 9:30 p.m. and midnight.1-6-5 Kanda-Sakumacho, Chiyoda-ku, Tokyo 101-0025. Tel. 03-5524-7805
Electric Town Exit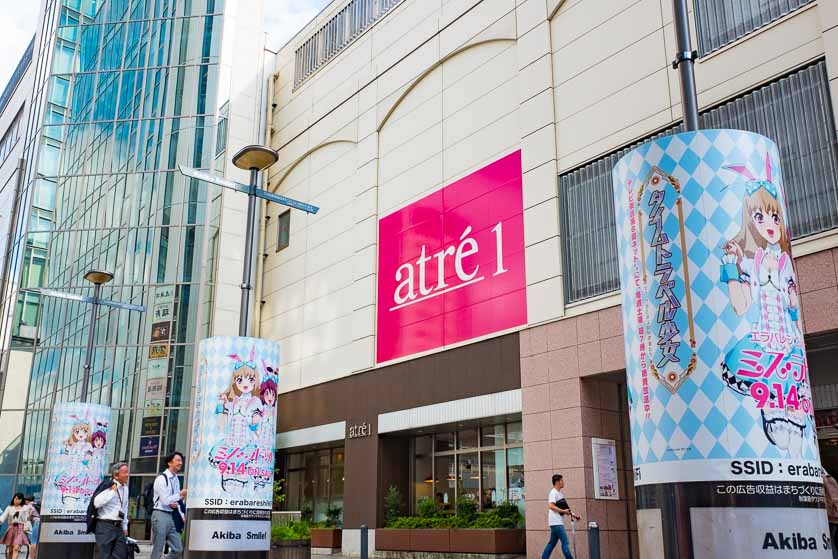 Atre Akihabara 1
Atre Akihabara 1
Atre Akihabara 1 is a shopping building of six floors. Like Atre everywhere, it is somewhat up-market, with cafes and restaurants (1F & 4F), fashion, accessories, hobby-related, cosmetics, books, drugstore, delicatessen etc. on 2F & 3F (a Uniqlo on 2F, Starbucks on 3F/4F), and 5F and 6F with the Relaxe bodycare/yoga/relaxation clinic. Atre Akihabara 1 is accessible both from both the Electric Town Exit as well as directly from the Chuo-Sobu Line platform of Akihabara Station, which has its own special "Atre Exit." The Starbucks here has the special feature of windows directly onto the train platform. There is also another Atre: Atre Akihabara 2, at the station's Showa-dori Exit, full of cafes and restaurants.
Hours: 10am-9pm, 365 days. 1-17-6 Soto-Kanda Chiyoda-ku, Tokyo 101-0021. Tel. 03 5289 3800Google Map
Akihabara Crossfield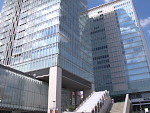 Akihabara Crossfield is made up of two linked buildings, the Akiba Dai-Biru, nearest the station, and behind it the UDX Building. The UDX Building is a hive of activity, especially on weekends and holidays, with a regular outdoor fair that takes place on its west side, with tables and stands selling clothes and trinkets. The 1-3F is the Akiba Ichi ("Akiba Mart") containing numerous cafes and restaurants, and the 4F has the Tokyo Anime Center: with a small exhibition space and a bigger shop. There is also a post office and supermarket on the 1F. Three underground floors of parking.
Hours: 10am-10pm, 365 days. 1-15-8 Soto-Kanda, Chiyoda-ku, Tokyo 101-0021. Tel. 03-03-5207-6711Google Map
Sofmap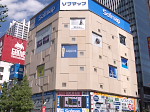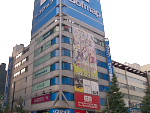 Sofmap dominates Akihabara with its multitude of specialist stores. (Japanese names in parentheses. Click linked names for map.)
Main Store Hours: 11am-9pm Mon-Fri, 10am-9pm Sat, Sun, public holidays. 365 days.4-1-1 Soto-Kanda, Chiyoda-ku, Tokyo 101-0021. Tel. 03-3253-1111
Akky Dutyfree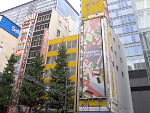 Akky Dutyfree is perhaps the most foreigner-friendly chain in Akihabara with multi-lingual staff and foreign-friendly goods, such as English language OS computers, and duty free.
Hours: 9.30am-8pm1-12-1 Soto-kanda, Chiyoda ku, Tokyo 101-0021
Tel. 03-5207-5027
Labi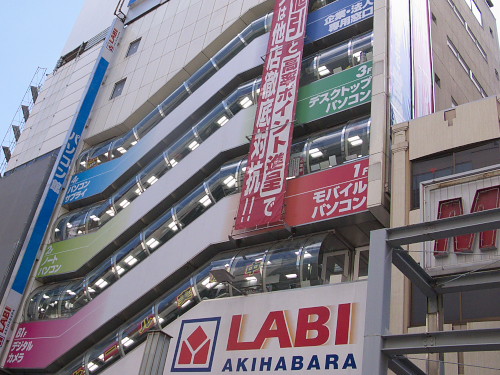 Labi is run by Yamada Denki (i.e. Yamada Electrical) and is one of the company's almost 300 stores nationwide. Labi's 6 floors stock digital cameras and video cameras, electronic dictionaries, digital audio players, computers and computer peripherals.
Hours: 10am-10pm, 365 days. 1-15-8 Soto-Kanda, Chiyoda-ku, Tokyo 101-0021. Tel. 03-03-5207-6711Google Map
Radio Kaikan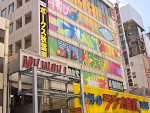 Radio Kaikan reopened in July 2014, and now offers in two buildings - instead of the original single building - much of the same eclectic mish-mash of stores representing everything Akihabara has to offer, from the latest high-end audio, to antique electronics, to anime, and hard-core "hobby"-related. Home to the Yellow Submarine hobby and game store and K-Books stocking everything from trading cards to books to hobby-related to dolls. Radio Kaikan is the place for hard-to-find parts, and while it is not the "hidden treasure" rabbit warren of tiny stores that it used to be, it still caters to a wide variety of specialist electronic and nerd-related wants and needs with its more than 30 stores occupying 10 floors.
Hours: 10am-8pm. Open every day.
1-15-16 Soto-kanda, Chiyoda-ku, Tokyo 101-0021Google Map
Ishimaru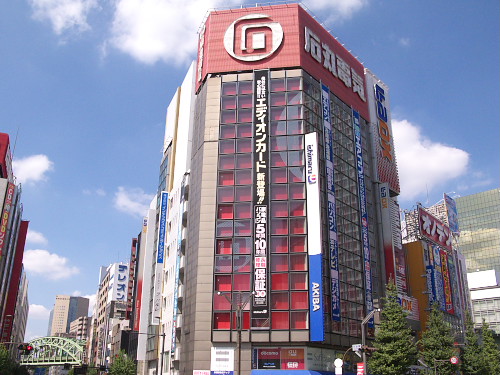 Ishimaru is an electronics chain with four stores in Akihabara. (Click names for maps.)
Hours: 10am-8pm
Main Store: 1-9-14 Soto-Kanda, Chiyoda-ku, Tokyo 101-0021. Tel. 03-3255-1500.
Laox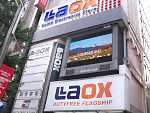 Laox is a foreigner-friendly electrical store in Akihabara with four premises in the area:
Main Store Hours: 10am-8pm (till 9pm Fri, Sat). Other stores hours slightly different.
1-2-9 Soto-Kanda, Chiyoda-ku, Tokyo. Tel. 03-3253-7111
Mandarake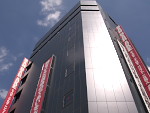 Mandarake has 11 department store-style shops nationwide specializing in manga, anime, games, toys, models, cosplay and dojinshi - many of them second-hand. This huge multi-story emporium is an otaku's delight. Mandarake has numerous other stores at its headquarters in Nakano Broadway, about a 25 minute ride west on the Chuo-Sobu Line.
Hours: noon-8pm
3-11-12 Soto-Kanda, Chiyoda-ku, Tokyo.Tel. 03-3350-1701Google Map
Don Quijote Akihabara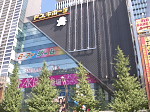 Don Quijote Akihabara is one of a chain of nationwide stores selling almost every consumer knick-knack imaginable, including groceries, throughout its seven floors, which include numerous specialist stores. Open 19 hours a day. The AKB48 Theater is on the 8th floor of the building.
Hours: 10am-5am 4-3-3 Soto-Kanda, Chiyoda-ku, Tokyo 101-0021.Tel. 03-5298-5411Google Map
Gundam Cafe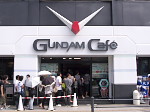 Gundam Cafe was opened by the Bandai Corporation in April 2010 themed after its most successful manga/anime character, Mobile Suit Gundam.Lunch 11am-4.30pm, dinner 5pm till closing. Gundam-themed cocktails from 5pm till closing.
Hours: 10am-11pm Mon-Fri, 8.30am-11pm Sat, 8.30am-9.30pm Sun & public holdidays.Last food orders: 1 hour before closing. Last drink orders: 30 mins before closing. 1-1 Kanda-hanaoka, Chiyoda-ku, Tokyo 101-0021.Tel. 03-5298-5411
Google Map
Near Akihabara
2k540 Aki-Oka Artisan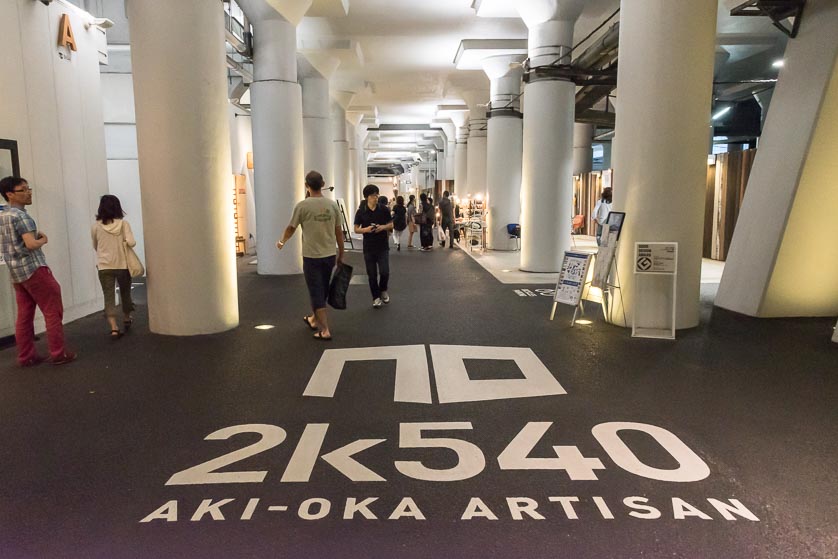 2k540 Aki-Oka Artisan shopping arcade, near Akihabara
2k540 Aki-Oka Artisan is a mall-type collection of small artisanal stores selling a wide variety of only-in-Japan goods. Everything from hand-dyed tenugui hand towels to hand-crafted umbrellas to handmade ceramics to home-made Japanese jars of pickles, 2k540 Aki-Oka Artisan has it all in one large, easily explorable space: clean and spacious, but with something of an underground feel. 2k540 Aki-Oka Artisan is about a 6 minute walk north up Chuo-dori Avenue from Akihabara Station.
Maach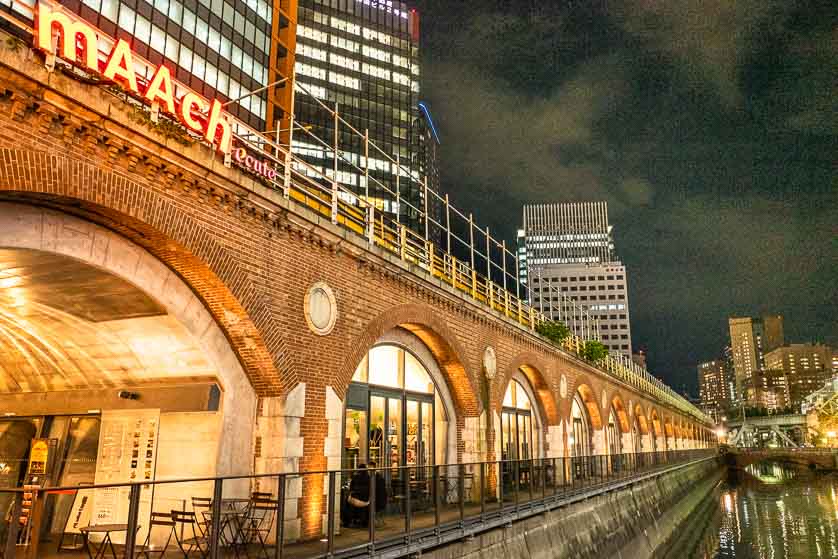 Maach Akihabara riverside shopping and dining mall by night
Maach is the former "Manseibashi Railway Station," dating from 1912, under the JR Chuo Main Line and very near Akihabara. It has been stylishly renovated as a shopping and dining building, and is notable for its atmospheric brick arches. A line-up of classy stores selling lifestyle goods, and numerous tasteful cafes and restaurants (some with outdoor seating) offering an interesting range of dining and drinking choices makes a visit to Maach the icing on the Akihabara cake for those seeking a little respite from the incessant push and shove. There is a terrace looking out over the river and the south end of Akihabara. Upstairs are the platforms of the old station where you can watch Chuo Line trains whizz by either side - while eating a meal, if you like, at the restaurant there. Maach is just across Manseibashi Bridge from Akihabara, on the other side of the Kanda River. Maach is unmissable with its brick arches and prominent sign.
Hours: Stores: 11am-9pm Mon-Sat, 11am-8pm Sun/public holidays. Restaurants and cafes: 11am-11pm Mon-Sat (last orders 10:30pm), 11am-9pm Sun/public holidays (last orders 8:30pm). 365 days. 1-25-4 Kanda-Sudacho, Chiyoda-ku, Tokyo 101-0041. Tel. 03-3257-8910
Akihabara Shopping Map
Images of Akihabara by the photographer Guillaume Marcotte.
Book Hotel Accommodation in Akihabara Tokyo Japan
All the themes of the city