Sanno Festival
山王祭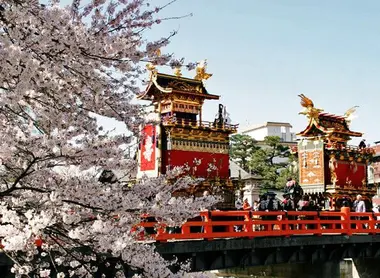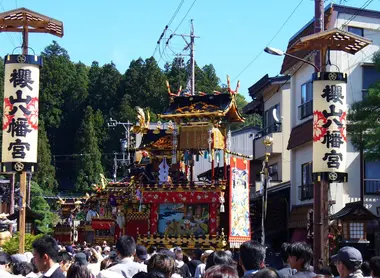 Very floaty!
When the cherry blossom festival is coming to an end, the Sanno Festival in Takayama celebrates the arrival of spring with a parade of floats through the city.  
The cherry blossoms have already bloomed, the weather is becoming warmer, the perfect time to celebrate spring and pray for a good harvest. That is what the Sanno festival does. On April 14th and 15th each neighborhood in Takayama presents a float they have decorated.
Called Yatai, these floats travel the streets of the old town in their best regalia. Lacquer, engravings or drapery, the floats try to catch everybody's attention. The teams surround them in ceremonial costume: kimono and other cloth.
Because of its beauty, this gathering is one of Japan's most popular especially among families. Indeed some floats have puppets that come to life through a mechanism like clockwork figures. Children are left in awe.
If the weather is not good, no problem. The floats return to their "stables" but the hangar doors are open to allow the curious to enjoy the show and the spendid work.
In the evening, the floats change their appearance and sport lanterns to be seen and admired during the evening.
All the themes of the city