Fussa Tokyo Guide
Tokyo Area Guide: Fussa City 福生市
Matthew Baxter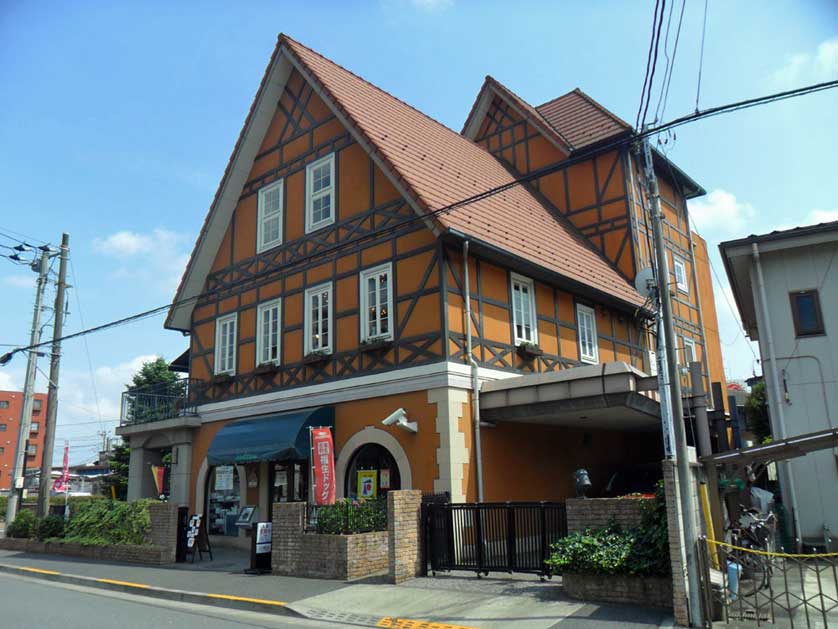 Tokyo-X, Fussa, Tokyo
Fussa city is situated in west Tokyo.
About 1 hour from central Tokyo.
Famous for its American Air Force base.
A popular bedroom community for workers in Tokyo.
Near to the western mountains, such as Mount Okutama and Mount Takao.
Quiet, but stunning place for autumn leaves.
Population around 59,761.
Fussa Attractions
Fussa city is a city on the west side of the Tokyo metropolis that is different from any other in Tokyo due to the presence of Yokota Air Base, the HQ for the American Air Force in Japan. There are therefore strong American influences all over city, which help to make Fussa such a unique, but still Japanese, city.
Yokota Air Base is about 5 to 10 minutes walk north of Fussa Station. It's not possible for normal citizens or tourists to usually have a look inside, but there have been reports of occasional tours, so ask one of the guards standing outside if you want to have a peek inside his huge base.
The road along Yokota Air Base is great for window shopping and stocking up on lovely, greasy American food. Demode Diner, which offers a good selection of real American burgers with cool retro architecture, is a good place to come for lunch. The road is full of candy, bagel and American pancake shops. The most famous for ice cream is Big Dip, while Fresh Bagels Cafe Hoop has plenty of interesting toppings and flavours. There are so many shops selling random retro American toys and clothes, but Big Mama has the best selection of American antiques.
Along the way to and from Yokota Air Base you will come across TOKYO-X, which is well known for its delicious selection of Japanese ham. The site was opened by one of the first Germans to live in the area and also has an attached restaurant.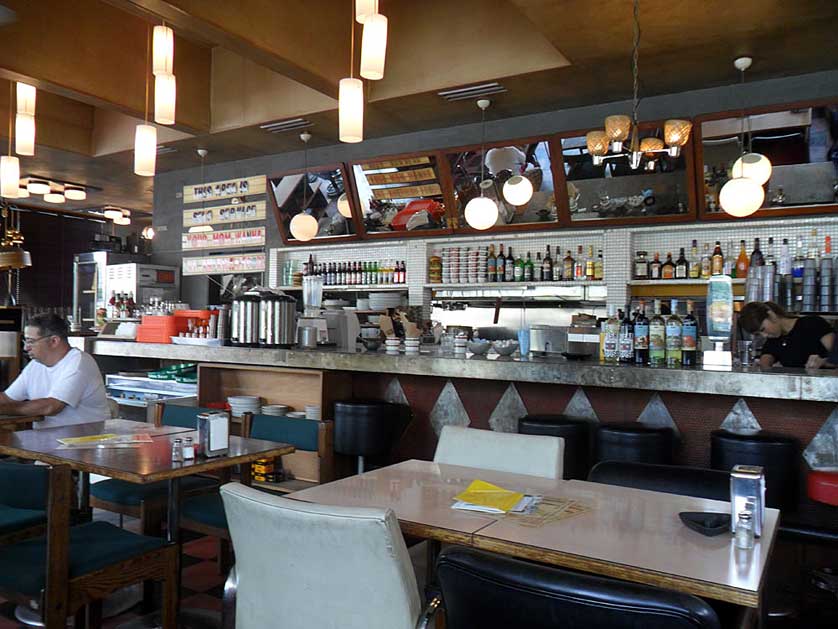 Laid back American food at Demode Diner, Fussa, Tokyo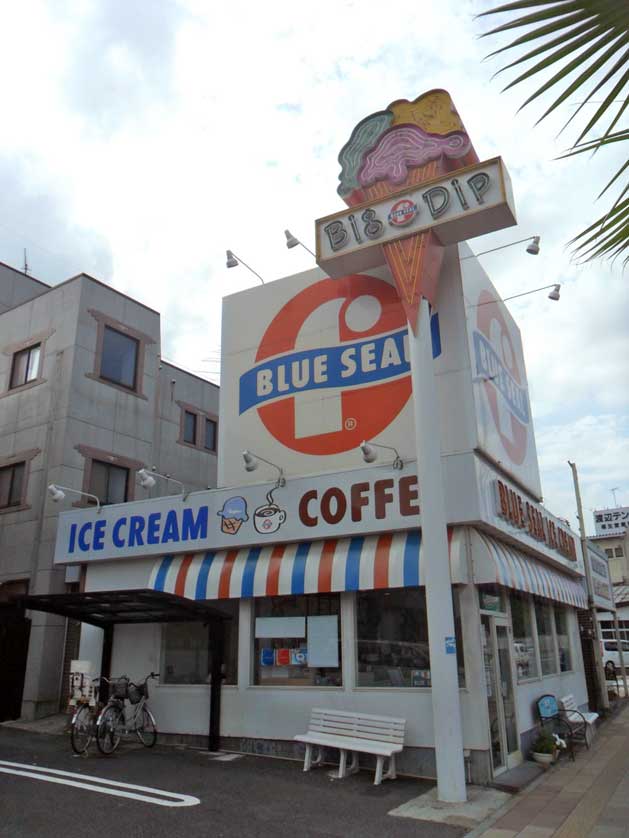 Cool down in Big Dip, Fussa, Tokyo
Shinmei Shrine (神明社), 400 metres from Fussa station, is a small, quiet shrine complex. It's particularly nice in the autumn, when the trees around the area turn red and gold. Near to this is Seishu Kasen Sake Brewery (open 8am to 9pm), where visitors can get a free tour, learning about the breweries history and being shown around the traditional sake warehouses. It's also possible just to walk around by yourself. The brewery is not too big, not too small and has a really old Edo feel to it.
Continue north of the Seishu Kasen Sake Brewery and you end up at Tamagawa Josui, woods that go along a small stream near Tamagawa River. It's a quiet, relaxing stroll and a good place to sit down and enjoy a bento or beer. At the end of the stream you will come to the main Tamagawa River, another great place for autumn colours and cherry blossoms.
Along the stream is Fussa's standout temple, Seigain Temple. With a stunning pond, pretty little streams and some mighty statues, you have to come here if visiting Fussa. The beautiful scenery in the temple's Japanese garden has been well preserved at this over 800 year old temple. Nearby Naka-Fussa Park is more modern and a good place to take kids with its water displays, plus there is some modern art for the adults.
Near Fussa City
Fussa is a great location to start a hiking trip into the mountains of west Tokyo. Highlights include Mount Mitake (40 minutes to nearest station), Mount Takao (about 30 minutes) and Okutama (1 hour). They all have easy to navigate routes with English signage and a variety of routes for different levels of difficulty.
A few stops down the JR line from Fussa is Haijima Station, which has Yurakirari Hot Spring. It only takes a few minutes to get there, so makes for a nice place to chill out and have a massage after a day in Fussa.
Fussa City Tourism Association
Tel: +81 042 530 2341
Hours: 10am-6pm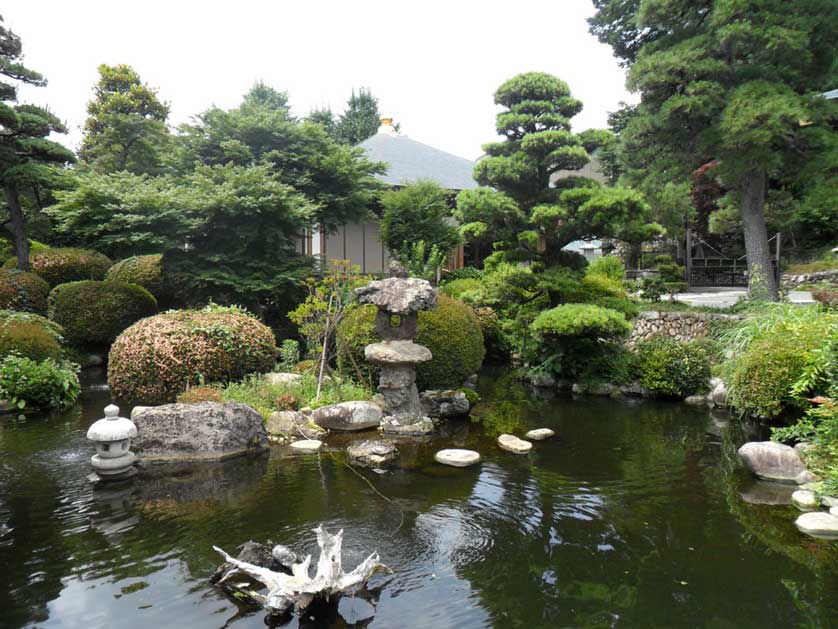 Seigain Temple Garden, Fussa, Tokyo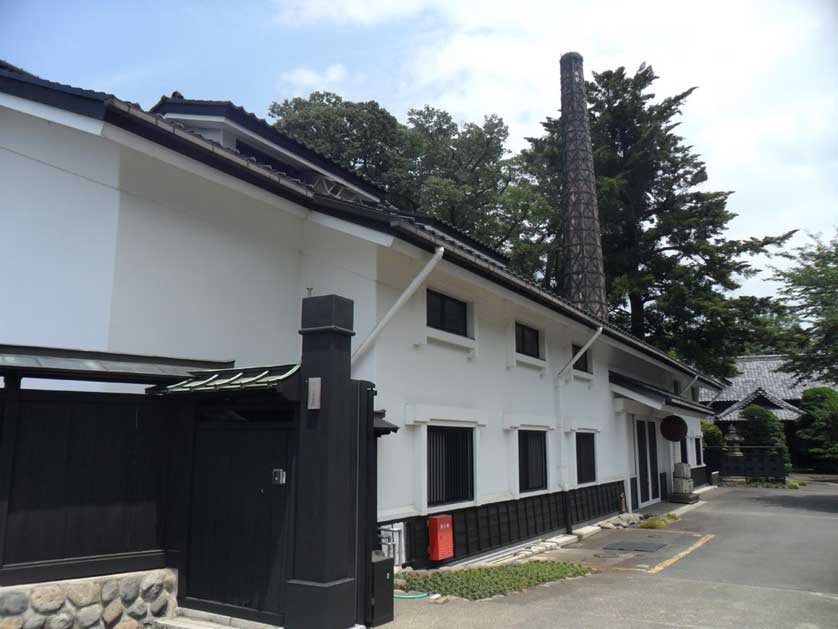 Seishu Kasen Sake Brewery, Fussa, Tokyo
Fussa Accommodation
The best hotel is Toyoko Inn Tokyo Fussa-ekimae Higashi-guchi, as this is right next to the station and has reasonable prices. Most people stay in Tokyo and come to Fussa for a day trip.
Fussa Access
From Tokyo, go to Shinjuku Station and take the JR Ome Line to Fussa station (1 hour, 470 yen). You may need to travel on the JR Chuo Line to Tachikawa and then transfer to a JR Ome Line train if there is not a direct train.
Getting around Fussa
It's best to walk around Fussa on foot, as bus services are not so frequent and many interesting sights, such as little temples or streams, are seen as you walk to the main tourist spots. Pick up a free map from Fussa Station and walk from there.
Naka Fussa Park, Fussa, Tokyo
Book Hotel Accommodation in Tokyo
Fussa: read a guide to Fussa, west of Tokyo, a town influenced by the US Yokota Air Base located in the city.
All the themes of the city