Happo-en Garden
八芳園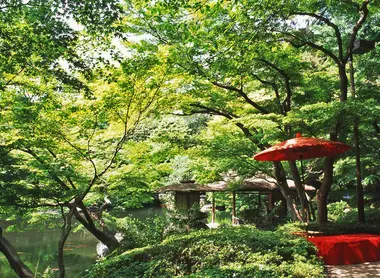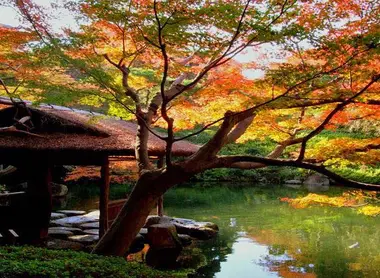 Garden lovers
To get married, Tokyoites choose, without hesitation, Happo-en. Traditional houses and its romantic pond make for a perfect place to exchange vows.
At the green getaway in the heart of "Little Milan" in Tokyo, in the Shirokanedai neighborhood, full of fashion addicts, lies Happo-en. With captivating aesthetics, this "garden of eight views" as the name suggests, always looks good, regardless of the angle at which it is seen. Whether summer or winter, for the cherry blossoms or the autumn colors of the maples, it never loses its serene charm. Hence the popularity among young couples looking for the perfect place for their wedding. The fact remains that this garden is a delight for the senses.
Whether enjoying macha tea (powdered green tea), or admiring five hundred year old bonsai, this place inspires humility. For fans of traditional Japanese weddings, ceremonies can often be watched on weekends from afar. However, for anyone who would rather enjoy the tranquility of the place without the risk of unintentionally intruding on the union of two lovers, it is advisable to come during the week. Guided tours are offered in Japanese, and with an interpreter for an exorbitant price, but include a meal. However, it is more sensible and economical to take a stroll around the garden by yourself and eat at a restaurant of your choice.
Another plus is the authentic tea house Muan and modest tea ceremonies can be had for a reasonable price. Happo-en is an ideal garden to visit if you are unable to get out of Tokyo on your visit but want a break from the city.
Interested in the gardens? Do not hesitate to book our activity dedicated to the historic garden of Tokyo.
Visitez les jardins de Tokyo avec un guide !
---
Address, timetable & access
All the themes of the city