Ski Resorts near Tokyo
Tokyo Ski Resorts: Tokyo is one of the world's few major metropolises in close proximity to top class ski resorts.
Skiing near Tokyo: Ski Resorts close to Tokyo
Geoff Botting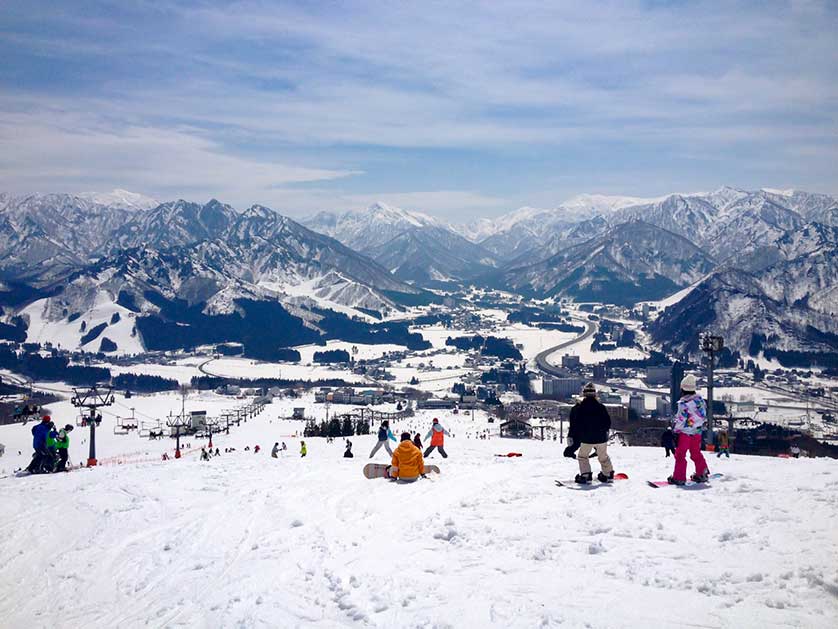 Gala Yuzawa - a ski resort near Tokyo
For many Tokyoites, if they are not at work, winter weekends and the meager handful of days off around New Year, are a time to hibernate, lingering indoors, perhaps curled up under the kotatsu, drinking tea and doing nothing more strenuous than reading or watching TV.
For others, however, the low mercury means action and adventure. It's ski season!
Though few people are aware of it, Tokyo is close to scores of ski resorts - so close, that you can have breakfast in Tokyo, ski or snowboard all day, and be back in town for dinner: a convenience that very few capital cities in the world can boast.
When the Tokyo skiing population wants a quick and simple ski or snow-boarding break, they head for a cluster of small and medium-size ski resorts in Karuizawa, which is only an hour from Tokyo on the Nagano shinkansen (bullet train) line, or Niigata Prefecture, only 160 kilometers, or just under 90 minutes, from Tokyo station on the Joetsu shinkansen line. During the ski season, frequent trains leave Tokyo Station from around 6 a.m.
Most of the passengers headed for Niigata alight at Echigo Yuzawa Station, which is ringed by a dozen-odd skill hills. Public transport or special shuttle buses are waiting to whisk them off to their chosen hills. Some resorts are so close by that they are walking distance away.
Echigo Yuzawa Station
Gala Yuzawa - skiing from the shinkansen
The optimum in convenience is a special snow playground built just with shinkansen skiers in mind. Just a couple of kilometers along a spur track is another station, Gala Yuzawa, constructed exclusively for these shinkansen skiers.
The Gala Yuzawa Snow Resort is unique - probably in the world - for being wholly integrated with the train station. Once off the train and past the ticket gate, skiers immediately find themselves inside the lodge. From there they climb aboard gondolas that take them to the top of the mountain. In other words, from entering Tokyo Station to stepping out of the gondola into the arms of the weekend's ultimate thrill, they have never actually had to spent any time outdoors.
Snow resort though it might be, Gala is no traditional skiing lodge. Do not think cozy fireplaces and wood paneling, but garish shopping mall, with escalators, boutiques, restaurants, the Gala-No-Yu spa, the inevitable game corner, and the department store-style PA announcements ubiquitous in Japan. The Galano-Yu sento-style bathing facility in the base lodge is possibly the resort's most memorable feature. As any Japanese skier will tell you, nothing feels better after a full day on the top of a cold mountain than a naked soak in near-scalding water.
Gala Yuzawa ski areas
Gala Yuzawa is made up of three areas, the Northern, Central and Southern. At present the Southern area is not in use. The Northern area has six slopes which range in length from the Broadway course, an intermediate course with a length 700 meters, maximum gradient 27, and the Swan (freestyle, 700 meters, max gradient 17), to the Joanna (intermediate, 250 meters, 18). The Central area also has six slopes ranging from the Edelweiss (beginner/intermediate, 1,600 meters, max gradient 19), to the Gigi (intermediate, 1,000 meters, max gradient 30), to the kids' slope.
Ishiuchi Maruyama
Ishiuchi Maruyama is an adjacent hill connected to Gala Yuzawa by a run. It is considerably larger and maintains some old-world charm. The Sansan Kyotsu, (三山共通) lift pass provides access to both Gala Yuzawa and Ishiuchi Maruyama, in addition to a very small hill nearby called Yuzawa Kogen. The extra accessibility costs several hundred yen extra, but is well worth it. In other words, never buy a lift pass for Gala Yuzawa only, unless you take a perverse pleasure in congestion and long lineups.
Arguably the finest resort in the Yuzawa region is the Joetsu Kokusai Ski Resort. There are 22 slopes, the runs total 23 kilometers with the steepest at 38 degrees, and seem to all meander all over the mountain. It is easy to get lost here. The base lodge and adjacent Hotel Green Plaza Joetsu are eye-catchers. They are big with steep roofs, half-timber exterior and high ceilings: one of the very few modern examples of mock-trad European architecture in Japan that is pleasing to the eye and a decided step up in terms of elegance and quality (not to mention price) from Gala Yuzawa. The only (minor) drawback is that access to Joetsu Kokusai's superb grounds and facilities requires a 15-minute ride on a local train from Echigo Yuzawa Station.
Maiko Korakuen ski resort
Another winner in the area is Maiko Korakuen. The resort is close to the Yuzawa shinkansen station, and only a kilometer from Route 17's Shiozawa Ishiuchi interchange if you're driving, and boasts plenty of nicely laid-out trails. Skiiers and boarders share these spacious facilities about 50/50. The base lodge contains all the facilities you'd ever need for a one-day jaunt, although there are the wonted hotel facilities here, too, if you wish to stay.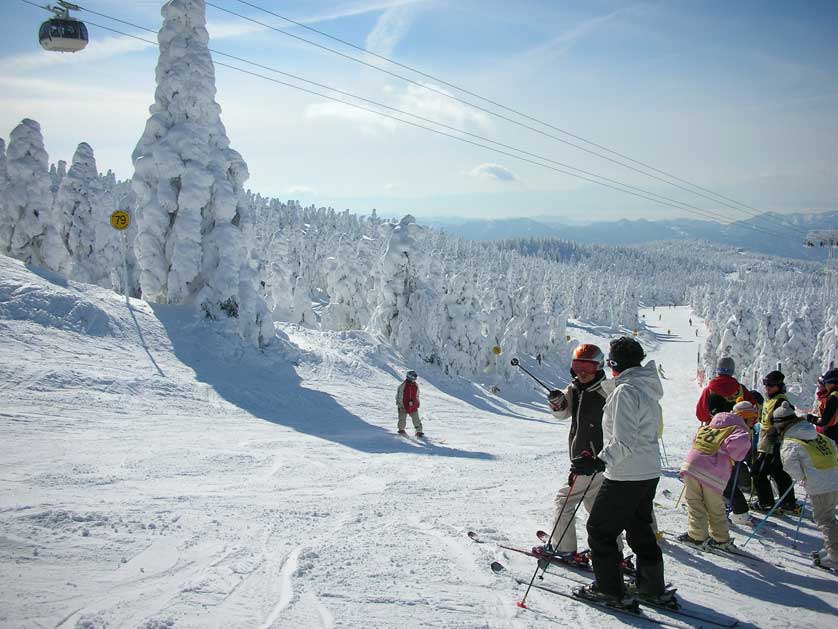 Skiing in Japan
If you take your apres-ski hot-spring experience anything like as seriously as your skiing, then Pine Ridge Resorts Kandatsu will be to your liking. The skiing here is decent, and the boarding somewhat better than average thanks to a couple of very wide runs.
One of the biggest draws, however, is the "Spa" located on the top floor of the base lodge. In addition to large hot- and cold-water baths and saunas, there are outdoor baths (called "rotemburo" in Japanese) on a veranda overlooking a section for the mountain. Soaking in piping hot water amidst clouds of rising steam with the snowflakes falling on your shoulders adds a whole new dimension to the after-ski experience.
Pine Ridge also has English-speaking instructors available.
Package trips to ski resorts near Tokyo
The easiest, and usually cheapest, way of booking a one-day ski or snowboard jaunt is to buy a package. These are available at nearly every local travel agency in Japan and comprise roundtrip tickets for the shinkansen, an all-day lift pass and a booklet of discount coupons. Commonly a voucher for food or admission to a sento or onsen is also thrown in. Vju (びゅう), a chain of travel booking agencies operated by JR East and located at large train stations, is a good place to book your trip.
Prices are reasonable by Japanese standards, ranging from around 11,000 to 15,000 yen per package. If you opt for bus or conventional train transportation - which will at least double the time it takes to get there and back - prices drop by a few thousand yen. So given such convenience, choice and value, you have no excuses for frittering away another winter in front of the TV.
JTB (Japan Travel Bureau) can also be contacted on (03) 3276 7777.
Happy skiing!
Text by Geoff Botting
All the themes of the city