Tokyo Metropolitan Govt Building Tocho
Read about the Tokyo Metro Government Buildings, or Tocho, in Tokyo's Shinjuku ward, the seat of the Tokyo Governor.
Tokyo Area Guide: Tokyo Metropolitan Government Buildings 都庁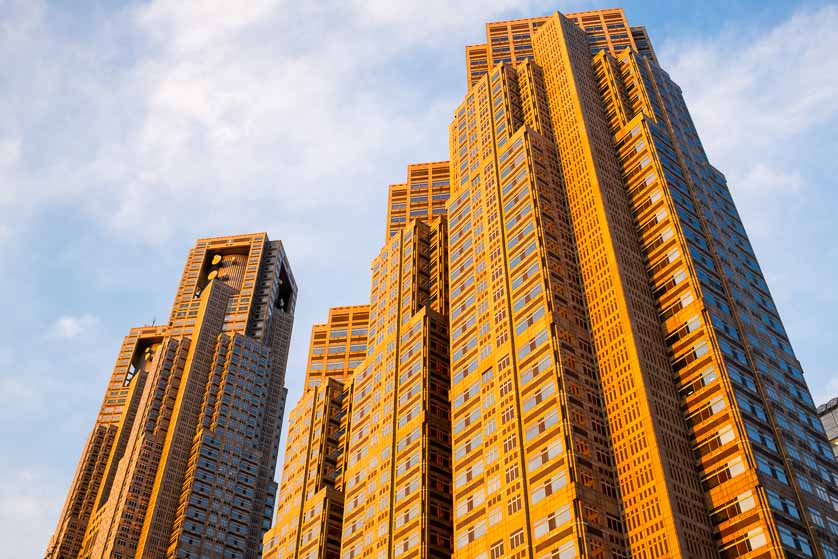 Tokyo Metropolitan Government Buildings, West Shinjuku
The Tokyo Metropolitan Government complex, or "Tocho," is in Tokyo's Shinjuku ward. This twin-towered structure is the headquarters of the Tokyo Metropolitan Government, and is the most imposing of the many skyscrapers that dot the area just west of Shinjuku station.
The top floors of Tocho are open to the public as observation points for a panoramic view of the whole of Tokyo, the Kanto plain beyond, and even Mt. Fuji on clear days.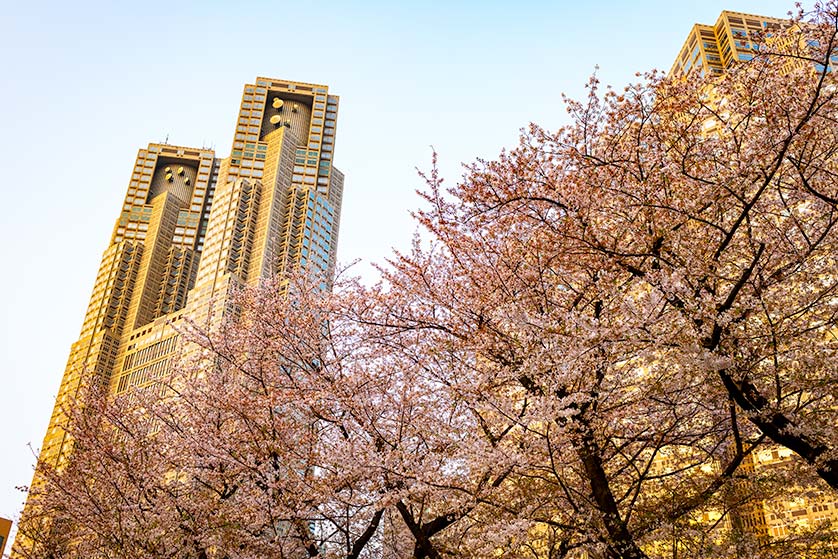 Tokyo Metropolitan Government Building (Tocho) from Shinjuku Chuo Park
Tocho History
Construction of Tocho began in April 1988 and was completed in December 1991 at a cost the equivalent of over US1 billion, making it a major monument of Japan's bubble economy, which began to burst at the time of Tocho's completion.
Until Tocho was built, the Tokyo metropolitan government was located in the Marunouchi district east of the Imperial Palace. However, by the 1970s, problems such as the aging of buildings, and lack and fragmentation of space, led to demands for a new headquarters. Then Governor of Tokyo, Junichi Suzuki, first proposed moving the seat of metropolitan government to Shinjuku, which had already been designated a "metropolitan sub-center," or fukutoshin, in 1958. The proposal was formally resolved on in 1985, work began on Tocho in April 1988 and was completed in December 1990.
Moving the metropolitan government from Marunouchi to Shinjuku was a somewhat radical move. The Imperial Palace is the main magnet of wealth, power and status in Tokyo. Marunouchi, just east of the Palace, is a major center of corporate power; Ginza, south-east of the Palace is Tokyo's most prestigious shopping district; and Kumagaseki and Nagatacho, south and south-west of the Palace, are the seat of the Japanese government. So moving the metropolitan government 4 miles (almost 6.5km) west to the commercial downtown hubbub of Shinjuku was unprecedented.
However, the move was recognition of Shinjuku's growing importance and, perhaps more significantly, of west Shinjuku's geological credentials. The 1923 Tokyo Earthquake established the present skyscraper disctrict of west Shinjuku as a safe place to build, as buildings there were largely unscathed.
Tocho was designed by the Japanese architect Kenzo Tange and is said to have been inspired by the Notre Dame in Paris. Compared with the sparer lines of most of the skyscrapers that surround it, cathedral-like magnificence is apparent in the complexity of its structure and surfaces, and its grandiose scope.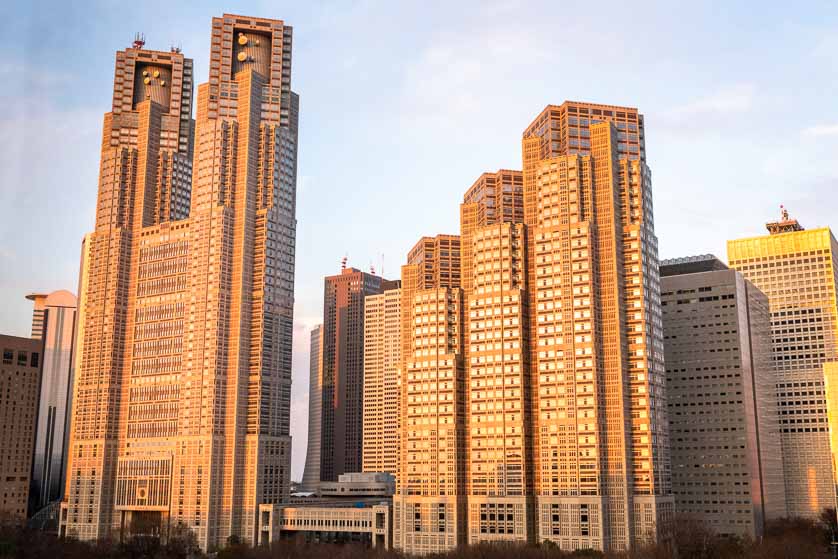 Tokyo Metropolitan Government Buildings
Tocho Layout
The Tocho complex incorporates the:
Tokyo Metropolitan Main Building No.1, 48 stories (243 meters, 797 feet)
the main twin-towered building with an observation deck in each tower
Tokyo Metropolitan Main Building No.2, 34 stories (163 meter, 535 feet)
equally architecturally striking as No.1 for its angular triple-tower effect
Tokyo Metropolitan Assembly Building, 7 stories (41 meters, 135 feet) facing the No. 1 Building.
Tokyo Panorama
This 4.3 hectare (almost 11 acre) block has Shinjuku's tallest building, the twin-tower Tokyo Metropolitan Main Building No.1, 48 stories and 243 meters (797 feet) tall.
Both the North and South Towers of Tokyo Metropolitan Main Building No.1 have an observation deck on the 45th floor (at 202m, or 663 feet), each offering a different view.
Tocho is therefore an ideal spot from which to get a panorama of the Tokyo metropolis and beyond. On a clear day you can even see Mt. Fuji.
The observation decks have photographs above each window identifying the main sights, and multi-lingual audio guides are also available. They both have a cafe and the North Tower observatory has a souvenir shop.
Tokyo Tourist & Residents' Information
The North Tower of Main Building No.1 has a Tourist Information Center on the ground floor, packed with useful guides to, and maps of, Tokyo in numerous languages including English.
English speaking staff are also on hand.
Tocho also contains the Tokyo Metropolitan Government Foreign Residents' Advisory Center on the 3rd floor of the Main Building No.1.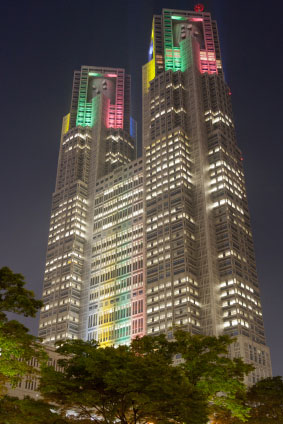 Tokyo Metropolitan Government Buildings illuminated at night
Tocho Hours & Access
North Tower Observatory open 9:30a.m.-11:00p.m. Closed on the 2nd and 4th Monday of each month.
South Tower Observatory open 9:30a.m.-5:30p.m (or until 11pm when North Observatory closed.) Closed on the 1st and 3rd Tuesday of each month.
The scheduled day off is postponed to the next day if it falls on a national holidays.
Closed December 29 and 31, and January 2 and 3, as well as on occasional building inspection days.
Last admittance is 30 minutes before closing time. Entry is free.There is a security check before boarding the ground floor elevator.
2-8-1, Nishishinjuku, Shinjuku-ku, Tokyo 163-8001 Japan
Tel. 03-5321-1111
Access is from Tocho-mae Station on the Toei Oedo Subway Line, exit A4.
Tocho-mae Station to Tocho Access Map
Tocho Video Guide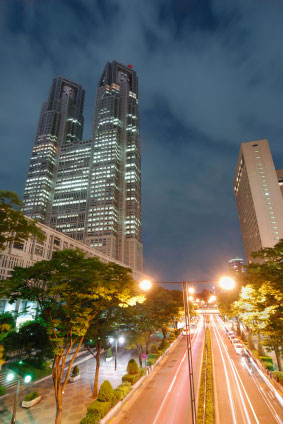 West Shinjuku and the Tokyo Metropolitan Government Buildings illuminated at night
See a full listing of Tokyo Museums & Art Galleries
Book Hotel Accommodation in Tokyo Near Tocho
All the themes of the city