Ueno Natsu Matsuri
上野夏祭り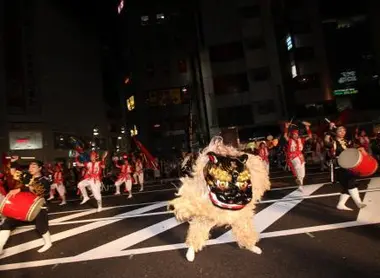 Ueno celebrates summer
If Ueno is known for its zoo and museum, it also home to one of Tokyo's major summer festivals: Uneo Natsu Matsuri. Between music, folk dances, secondhand markets and giant water lilies, Ueno celebrates summer in its way.
From July 16th to August 7th, Ueno Park celebrates mid-summer with great pomp, with Natsu Matsuri Ueno. A unique festival with the immoderation of Tokyo, in a park where it is nice to take a stroll in the summer heat.
Put to music
The summer festival Ueno is a concentration of all the festivals of Japan. For almost a month, no day is the same. Every day the Suijo Ongaku stage (outdoors) offers a different concert. From classic to enka (Japanese popular variety), as well as pop, music sets the rhythm of the festival. Around Lake Shinobazu, a giant secondhand market spreads outs for you to find bargains and rare gems. What is more original, the festival welcomes an ice sculptor, for intriguing and ephemeral creations.
Parade
July 19th, is the highlight of the festival: the grand parade. From 1 p.m., a long procession goes from the station to the Suijo Ongaku. Folklore dancers, cheerleaders, samba dancers, drummers and floats waggle down Chuo-dori avenue. And in the evening, the toro-nagashi (floating lanterns) illuminate Lake Shinobazu.
All the themes of the city